Lately, I find myself inadvertently nudged toward baking this recipe, an inclination for vibrant and flavorful food to combat the chilly weather outside. The wholesome taste and hearty texture of this bread wriggled the idea of the loaf forward in my mind, surfacing the desire unconsciously as if I spontaneously discovered it. An, "oh, I should bake this bread this week!"—as if I hadn't already made up my mind minutes before as the wind howled, as the fading snow seemed to turn the oven on itself. You see, this is a typical winter for me—the weather giving me (more?) proper justice to bake anything and everything bread. And after many bakes tweaking this and that, the resulting spelt, rye, and whole wheat sourdough bread found itself among the cadre in regular baking rotation. Which, by any measure, can only mean it's a successful recipe (wintertime or not).
With its abundant flavor, this loaf brings with it a little more sourness than my typical recipe: a welcome addition elevating the wholesome character of the crumb and crust. Sure, it has all the usual zest that comes with increasing the whole grain percentage, but also something more.
But what? Is it the texture of the crust or the tenderness of the crumb altering my taste, or is it the perception of the loaf itself. Sometimes I wonder if the full range of textures, colors, and flavors I experience are genuinely there, visible to my eyes and present on my palate, or if I manufacture them when I see something mouthwatering. Much the same way a barista might salivate at the sight of a properly pulled espresso as the aroma just touches the nose, conjuring that recent summer strawberry, the allusion of toffee, black licorice. That something more seems to change as the loaf cools, hardens, matures — an ever-changing kaleidoscope of flavors and textures.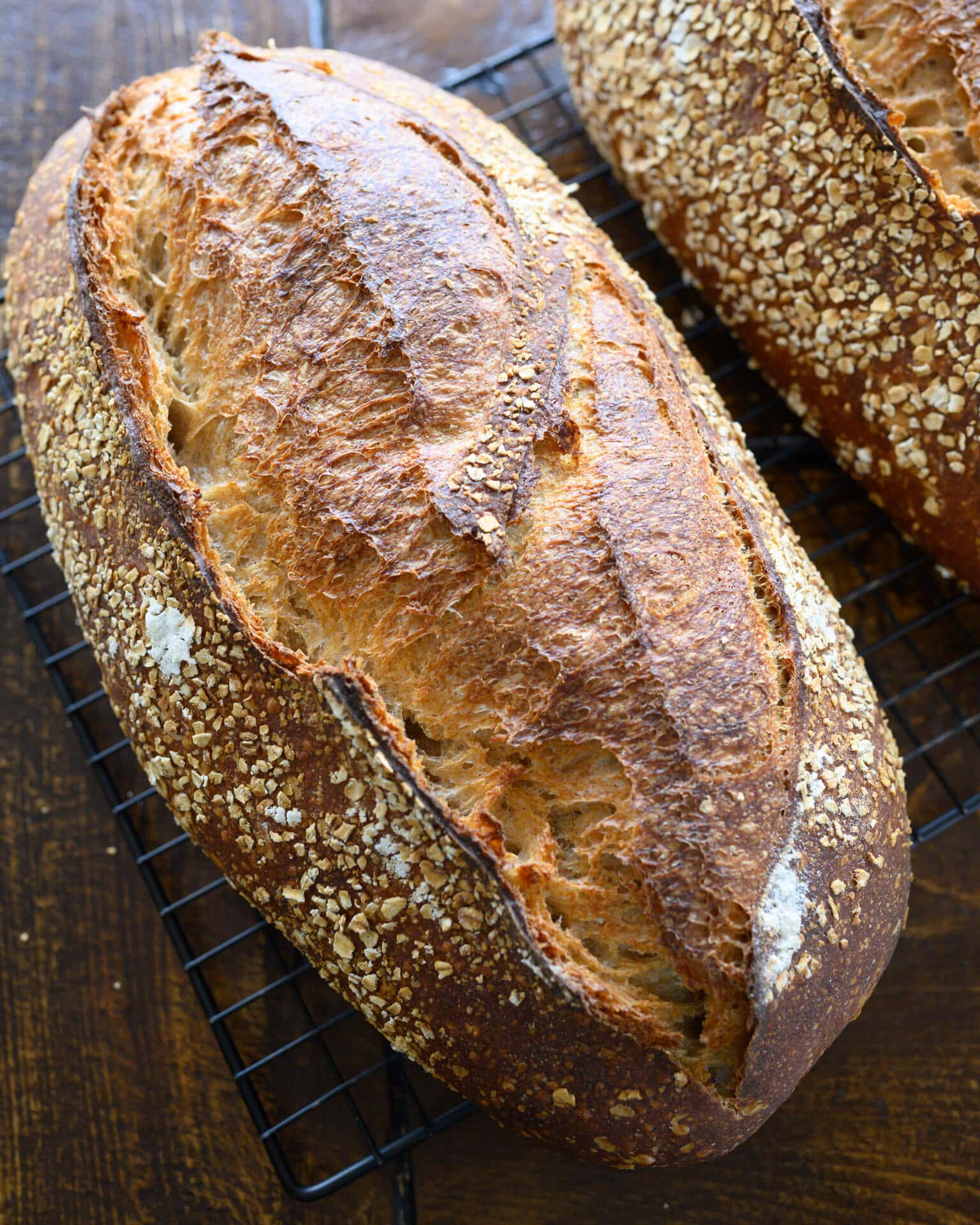 Baking a loaf of sourdough seems to be the only food that does this to me. I think it has something to do with the art of the craft, the work that goes into it, the satisfaction that results. It's like a woodworker sitting in their precisely constructed no-nail design chair, corners fitting just so and pieces curved where they're to be curved, straight where they're to be straight. A well-executed bread is undoubtedly more than the aesthetic of it, but the result from executing—by hand—that part of the construction amplifies everything. It fits every piece in the right groove, makes it all just taste right, shifting flavors and textures like fragments of colored glass from one bite to the next.
Of course, it's likely all of this is simply a result of my obsession with baking naturally leavened bread. But! I do proclaim this is a great recipe that is sure to make those who eat it smile, perhaps with even a split-second eye closure to savor the moment1. And I do imagine that this bread will push it's way to the top of your baking priorities more often than not.
And with that newly amped-up zeal, I ask: shall we bake?
---
Flour Selection
Similar to my Beginner's Sourdough Bread recipe, I love the small addition of rye flour in this recipe. Rye, even in a small percentage, seems to bring loads of flavor and color to the crust. And this loaf was all about flavor.
I used whole grain Flourist Red Fife for the whole wheat percentage of this recipe, which added significant character to this already flavorful bread. If you have Red Fife, I'd recommend it, but if not, any whole wheat variety will also work very well.
Spelt, Rye, and Whole Wheat Sourdough Bread Recipe
Vitals
| | |
| --- | --- |
| Total Dough Weight | 2,000 grams |
| Pre-fermented Flour | 5.25% |
| Hydration | 85.00% |
| Yield | 2 x 1000g loaves |
Total Formula
| Weight | Ingredient | Baker's Percentage |
| --- | --- | --- |
| 520g | White bread flour, malted (Central Milling Artisan Baker's Craft Plus, 11-12% protein) | 50.00% |
| 260g | Whole-grain spelt flour (Central Milling Whole Grain Spelt) | 25.00% |
| 208g | Whole-grain wheat flour (Flourist Whole Grain Red Fife) | 20.00% |
| 52g | Whole-grain rye flour (Central Milling Whole Rye Flour) | 5.00% |
| 885g | Water | 85.00% |
| 20g | Salt | 1.90% |
| 55g | Sourdough starter (100% hydration) | 5.25% |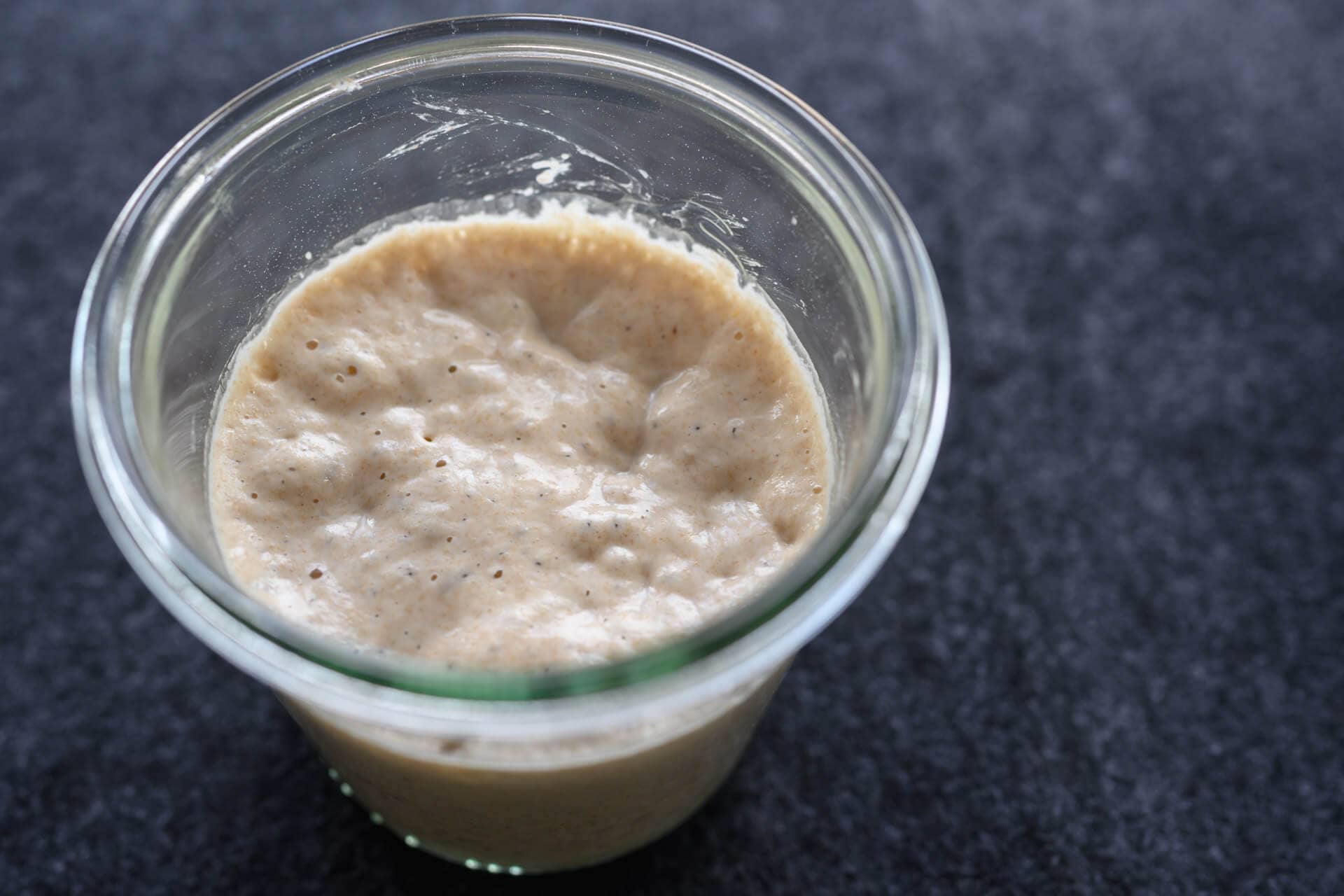 Levain Build
This is a short and warm levain build, try to target a final dough temperature of 78-80°F (26-27°C) by warming the mixing water to ensure it's fully ripe and ready for use after three hours.
| Weight | Ingredient | Baker's Percentage |
| --- | --- | --- |
| 55g | Ripe sourdough starter (100% hydration) | 100% |
| 27g | White bread flour, malted (Central Milling Artisan Baker's Craft Plus, 11-12% protein) | 50% |
| 27g | Whole-grain spelt flour (Central Milling Whole Grain Spelt) | 50% |
| 55g | Water | 100% |
Dough Formula
| Weight | Ingredient |
| --- | --- |
| 493g | White bread flour, malted (Central Milling Artisan Baker's Craft Plus, 11-12% protein) |
| 233g | Whole-grain spelt flour (Central Milling Whole Grain Spelt) |
| 208g | Whole-grain wheat flour (Flourist Whole Grain Red Fife) |
| 52g | Whole-grain rye flour (Central Milling Whole Rye Flour) |
| 830g | Water |
| 20g | Salt |
| 164g | Ripe liquid levain (see Levain Build table, above) |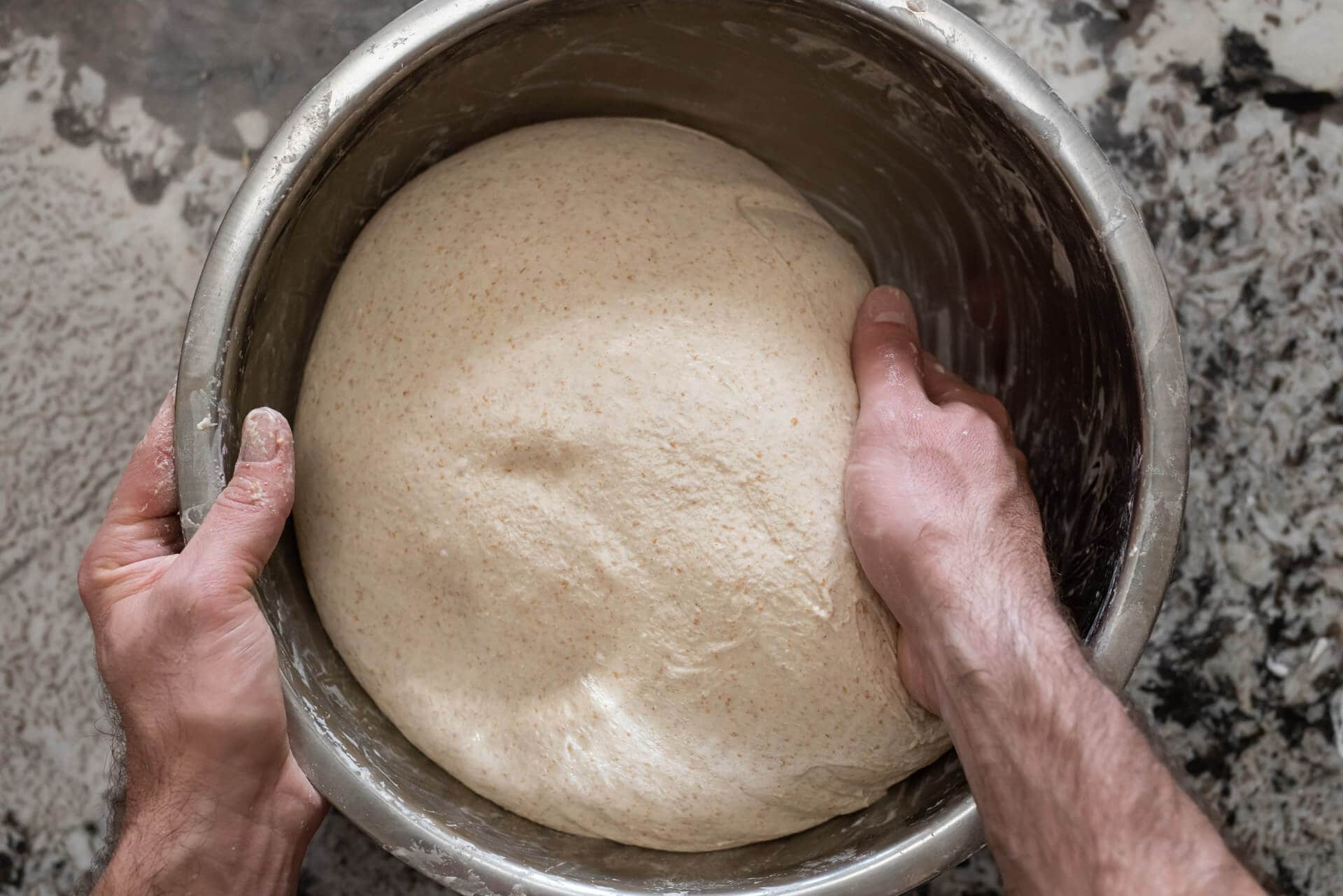 Method
1. Liquid Levain – 10:00 a.m.
Add the called for mature sourdough starter, water2, and flour listed in the Levain Build section above to a clean jar. As I mentioned above, try to hit a final dough temperature of 78-80°F (26-27°C). Mix well and cover loosely for 3 hours.
2. Autolyse – 12:30 p.m.
Note: This dough has a fairly high hydration. If you're familiar with the flour you're using and you know it can handle it, proceed, otherwise, you might want to withhold more water through mixing than the 100g I do (I'd suggest 200g). Add this reserved water in slowly through mixing if it feels like the dough can handle the addition.
Add the called for flour and all but 100g of the water to a mixing bowl. Using your hands, mix to incorporate the ingredients until there are no dry bits of flour remaining. Cover, and keep somewhere at warm room temperature until it's time to mix 30 minutes later.
3. Mix – 1:00 p.m.
Add the liquid levain, salt, and appropriate amount (add this reserved water in slowly as the dough handles it) of the remaining water to the mixing bowl holding the autolysed dough. Using your hands, mix everything until it comes together into a shaggy mass. Then, dump the bowl out to the counter and slap and fold the dough for about 8 minutes to develop strength. This is a wet dough, and it benefits from a little extra kneading time.
I recently uploaded a new post to my Baking Guides page with more information on the slap and fold technique, including the video below. Check out the Slap and Fold Guide Page for more information on this technique.
When the dough is mostly smooth and starts to hold its shape on the counter, transfer it to a container for bulk fermentation and cover.
3. Bulk Fermentation – 1:15 p.m. to 4:45 p.m.
During the three and a half hour bulk fermentation, give the dough three sets of stretch and folds. The first set will be 15 minutes after the start of bulk fermentation, then every 30 minutes thereafter. Let the dough rest after the last set of stretch and folds for the remainder of bulk fermentation.
4. Divide & Preshape – 4:45 p.m.
Fill a bowl with a little water and place it near your work surface. Gently scrape out your dough from the bulk container onto your dry counter. Divide the mass in half using a bench knife and using a wet hand and the knife, preshape each half into a very taut round.
Let the dough rest, uncovered, for 20 minutes.
5. Shape – 5:05 p.m.
This recipe is nice shaped as a boule or batard, but I tend to prefer the long, oval shape because of how it slices. However, a boule is a nice change now and again — it's up to you. If you do go with a batard, I would suggest shaping it a little tighter than usual, and when scoring, a double (or triple) score will help eke out a bit more rise3.
I rolled the final, shaped dough on a towel with a layer of instant rolled oats spread from edge to edge to get them to stick to the exterior. Then, place the dough in the final proofing basket.
6. Proof – 5:10 p.m. to 9:00 a.m. (the next day)
Cover both proofing baskets entirely and put them in the fridge to proof overnight.
7. Bake – 9:00 a.m. (pre-heat oven at 8:00 a.m.)
Preheat your oven with a baking stone or Baking Steel inside to 500°F (260°C).
I baked these loaves on my Baking Steel in my oven: see my post on how to steam your home oven for baking. However, you could also use a Dutch oven: see my post on how to bake with a Dutch oven (in which case don't use a baking stone or Baking Steel).
The next morning, preheat your oven with baking stone/steel for one hour at 500°F (260°C). See my post on the best way to store bread to keep it fresher, longer.
Score each piece of dough and load it using one of the two methods listed above, then turn the oven down to 450°F (232°C). Bake for 20 minutes with steam. Then, remove the steaming pans from inside the oven (or remove the lid to your combo cooker or Dutch oven) and bake for an additional 30-35 minutes, or until done.
Once fully baked, cool your loaves on a cooling rack for 1-2 hours.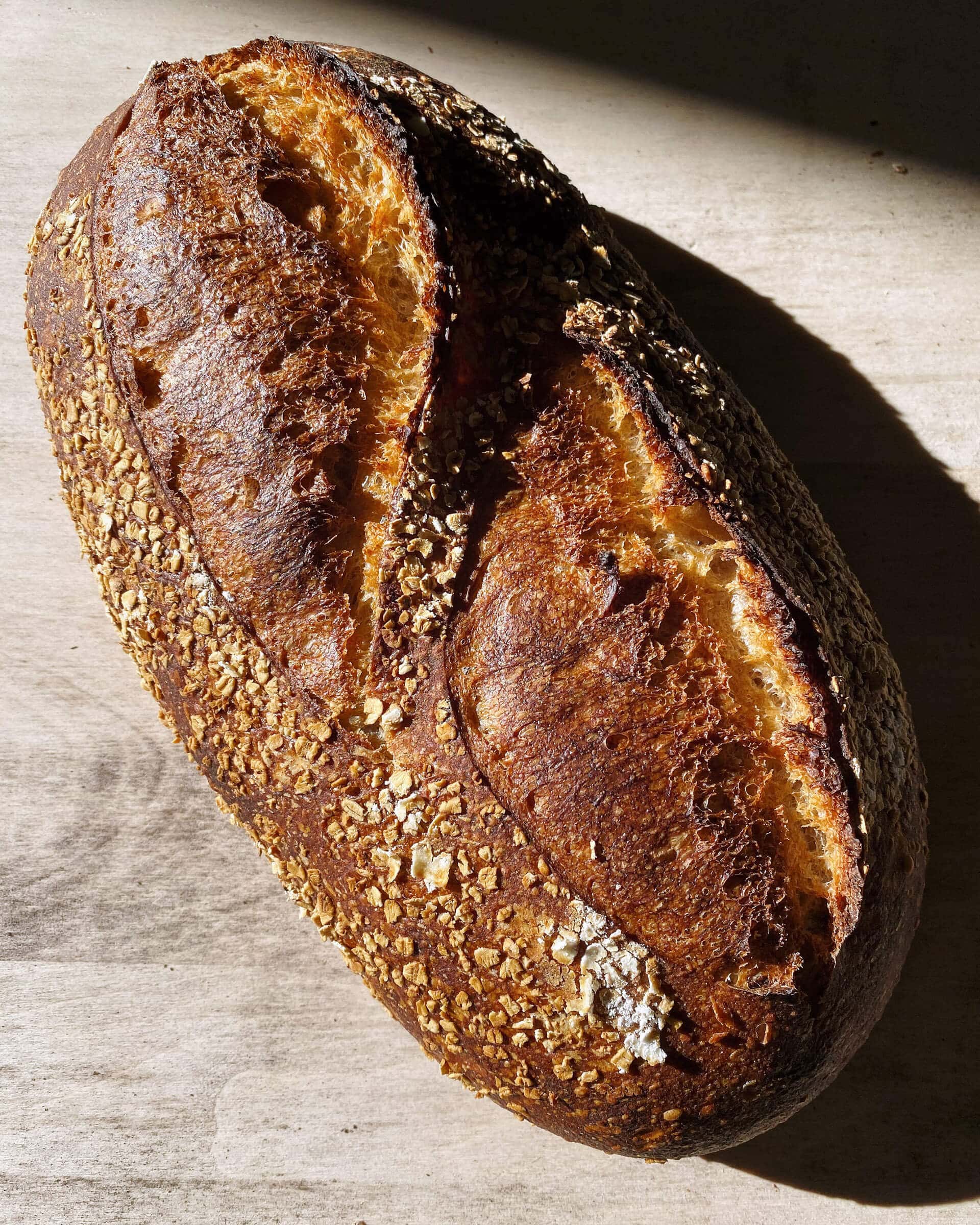 Conclusion
It's bread like this that gets me excited and propelled to keep baking and experimenting. A loaf that surprises and delights, bringing contentment with every facet of the outcome—utterly satisfying.
After testing and changing and modifying, each piece fit just right to bring this loaf together. A recipe I'm sure to keep baking long into Spring, Summer, Fall, and certainly next winter.
Crust
Pleasantly thin, deeply colored (you'll see some more than others in this post), and almost reminiscent of a loaf with durum: rustic, ragged lines, and dramatic fissuring. All evidence of a strong rise in the oven despite the high percentage of whole grains.
As you know, the crust is likely my favorite part of a good loaf of bread, and this one fills up all the wants I might have, making me carve slices from the loaf a bit wider than is sensible. So be it!
Crumb
Like I mentioned earlier, my goal for this spelt, rye, and whole wheat sourdough bread was a tender interior. An interior that practically melts in your mouth, the stark opposite of gummy or tough. Using lower protein white flour (without any stronger flour mixed in) helped, but so too did the increased levain percentage, higher hydration, employing a higher final dough temperature, and fully and sufficiently fermenting the dough.
Taste
Spelt always brings with it a sweet and nutty flavor, but the Red Fife also played its part. It's a variety that struck me as something different the first time I baked with it, and there's a reason why you can now find it more and more, it's that delightful. It seems to bring not only abundant wheaty flavors but also a deep color to the crust. Match these two up with the smidgen of whole grain rye, and you can see the flavor profile take shape.
This loaf is a little squatter than a tall all-white loaf, but one that brings with it so much flavor it makes eating loaves with less whole grain taste quite tame in comparison. I certainly do taste a wide range of flavors locked up in this bread, characteristics amplified by the striking crust, soft texture, and the overall joy of everything in its right place. A successful loaf to be sure.
Buon appetito!