Hey there new baker! My name is Maurizio, and I'm the baker here; welcome.
This new baker, start here page has a rollup of resources that'll help you get baking sourdough bread quickly in your home kitchen. It begins with creating a sourdough starter from scratch (just flour and water!), your first sourdough bread, a few guides, and some of my favorite (and reader's favorite) recipes.
For new bakers, sourdough can be intimidating, but it doesn't have to be. You'll be baking crusty and healthy loaves of bread with a few essential basics in short order. And if you get stuck? I'm almost always lurking around here, answering questions and providing help — leave a comment, and I'll get back to you.
Step 1. Create your sourdough starter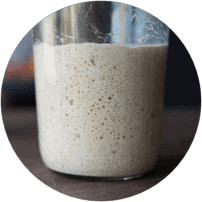 A sourdough starter is the most important aspect of baking sourdough bread at home, and without it, you'd have flour and water mixed. It takes a little care to keep it alive, but it'll reward you with countless loaves of bread, pizza, and more.
It takes about 5-7 days to get a starter going from scratch, using only flour and water. But, of course, if you have a friend who is a sourdough baker, you can always ask if they'll give you a bit of theirs to get going. If not:
Check out my guide to creating a sourdough starter from scratch →
Step 2. Bake your first loaf of bread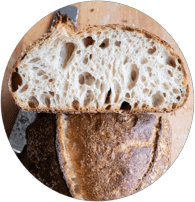 Once your sourdough starter consistently shows the same signs of fermentation each day, it should be strong enough to bake a loaf of bread. I have two recipes here that are great introductions to baking sourdough at home. The first is a long post with lots of detail on each aspect of baking. Scroll through that post if you want a little more in-depth information:
Detailed: Bake my Beginner's Sourdough Bread Recipe →
If you want a more condensed recipe that gets straight to baking, have a look at my simple weekday sourdough bread:
Easiest: Bake my Easy No-knead Sourdough Bread →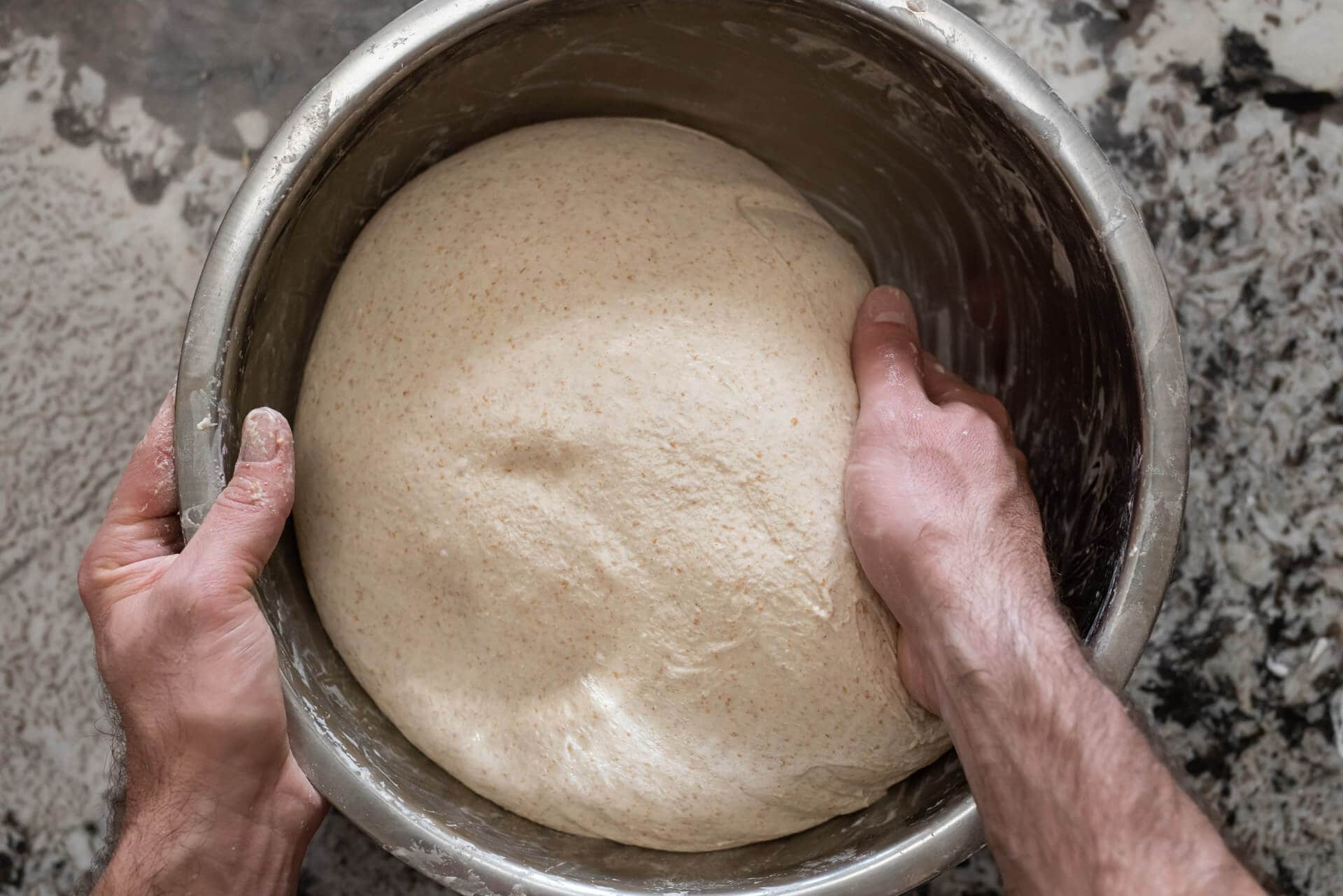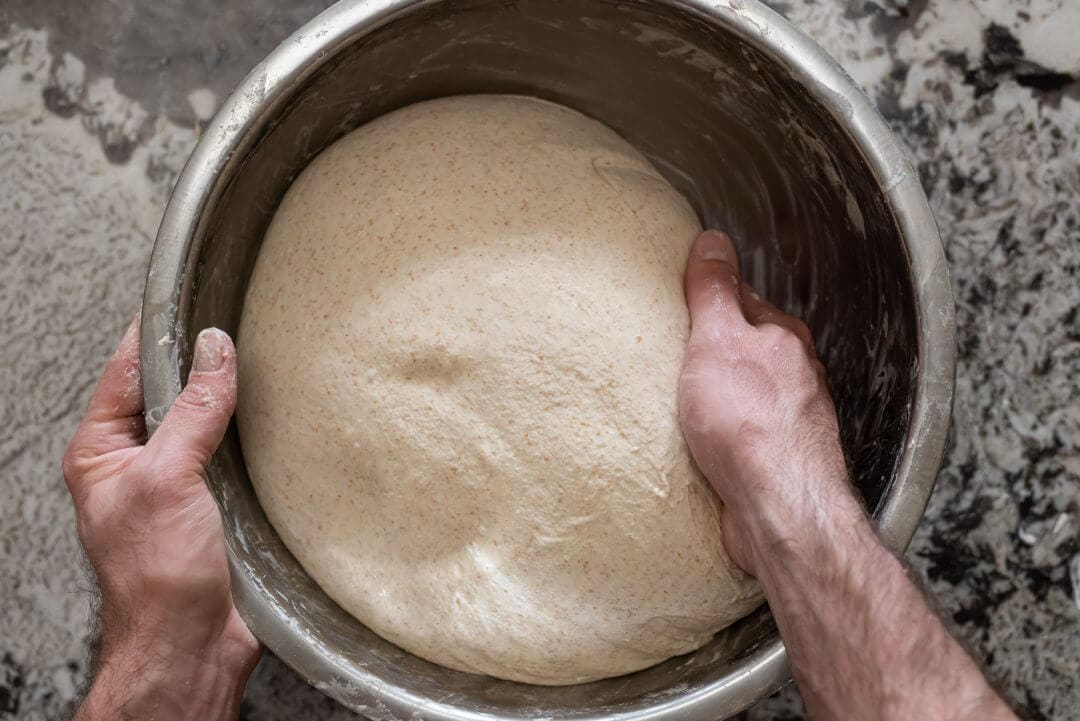 Step 3. Review baking guides
Once you have that loaf of bread crackling on the counter as it cools, review some of my baking guides to increase baking consistency and confidence. These guides have in-depth tips on maintaining a sourdough starter (with video walkthrough), creating baking schedules around your busy work week, working with baker's percentages (baker's math) to scale up and down recipes, and numerous guides to shaping bread dough.
📝 Download and print out my baking notes page to help you track each bake in your home kitchen. Taking notes is a simple yet effective way to help you remember what worked (and didn't!).
My Guides Page is a great place to bookmark and return to from time to time to review the basics and expand your baking toolset:
Explore my baking guides page →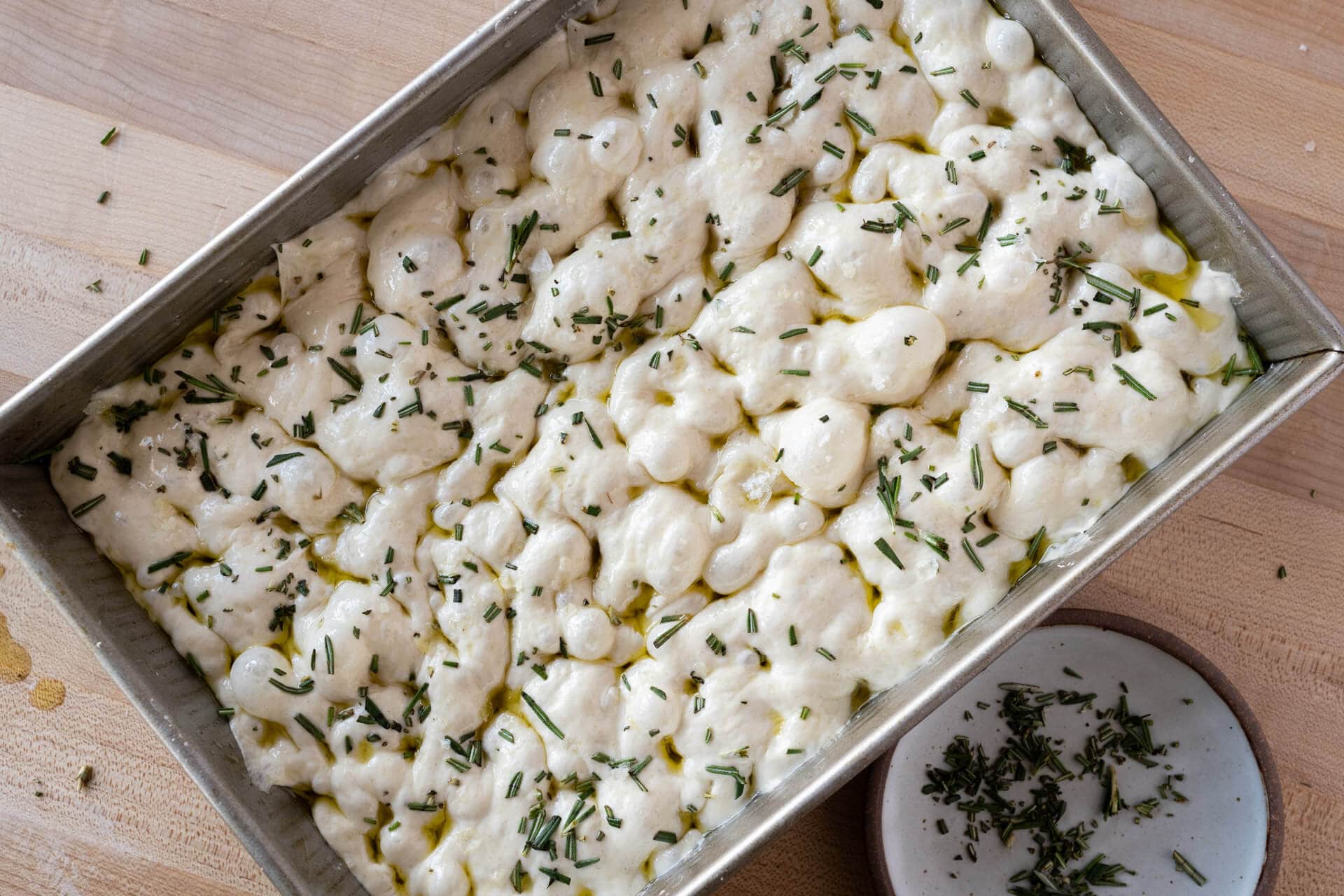 Step 4. Use your sourdough starter for other things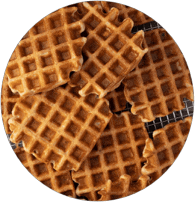 Because a sourdough starter requires fresh flour and water each day (or less if you're keeping it in the fridge), we tend to have sourdough starter discard—don't throw it away! Instead, I like to save up the discard in a container in the fridge during the week, then use this to make sourdough pancakes, sourdough waffles, and sourdough banana bread.
I'm also a huge fan of focaccia. This is probably one of the most-baked items in my kitchen, and my recipe couldn't be easier. Use all of your sourdough starter discard one morning, and you'll have fresh focaccia for dinner (and it's an amazing canvas for any veggies in season!): check out my sourdough focaccia recipe.
See my collection of sourdough starter discard recipes →
Step 5. Upgrade your baking tools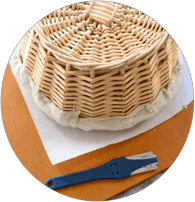 One of the challenges of baking at home is consistency. It can be hard to bake consistently great loaves when the environment—our hectic home kitchens!—is always changing. I've collected my tried-and-true tools in one place, and they'll help you make the bread easier and more repeatable in your home kitchen.
My top 3 recommended tools (read: if you're going to buy anything, get these):
A simple kitchen scale to accurately measure ingredients
An instant-read thermometer to quickly and accurately measure dough temperature (temperature is so important in baking)
A foldable dough proofer to keep your dough warm and fermentation activity high
Explore all my favorite baking tools →
Step 6. Check out my top 10 favorite sourdough recipes
Step 7. Join the 1600+ member community and come chat
Join the TPL Membership to access our community Discord to talk baking tips, tricks, and troubleshooting. Plus, access exclusive member baking tool discounts, live baking events, and view all pages here ad-free—and a few secret things, too 🤫
Check out the baking community and membership →
Step 8. Experiment, have fun, and happy baking
One last note: don't be afraid to experiment and have fun—after all, what's the worst that can happen? No matter what comes out of your oven in almost every case, it's perfectly edible and delicious. Some of my most significant baking improvements came from accidents that turned into opportunities for me to learn and grow as a baker.
Happy baking!
Be sure to tag @maurizio on Instagram and use the hashtag #theperfectloaf so I can take a look at all you're baking in the kitchen.