It finally happened: your sourdough bread turned out smashingly well. But then, you sit back and wonder, why did this loaf turn out so beautiful and taste so delicious, but not the one last week?
This question is unavoidable for bakers hoping to improve their skills. And the greatest tool I've found to help with the answer is taking baking notes. The habit of jotting down what you did during every bake will prove to be a great resource for becoming a better baker.
The top 3 reasons I find baking notes so valuable:
💡 Taking baking notes prompts you to pay attention to the details
📝 Notes let you reference why something went right (or wrong) in specific bakes
🔍 It helps you spot trends (more on this below)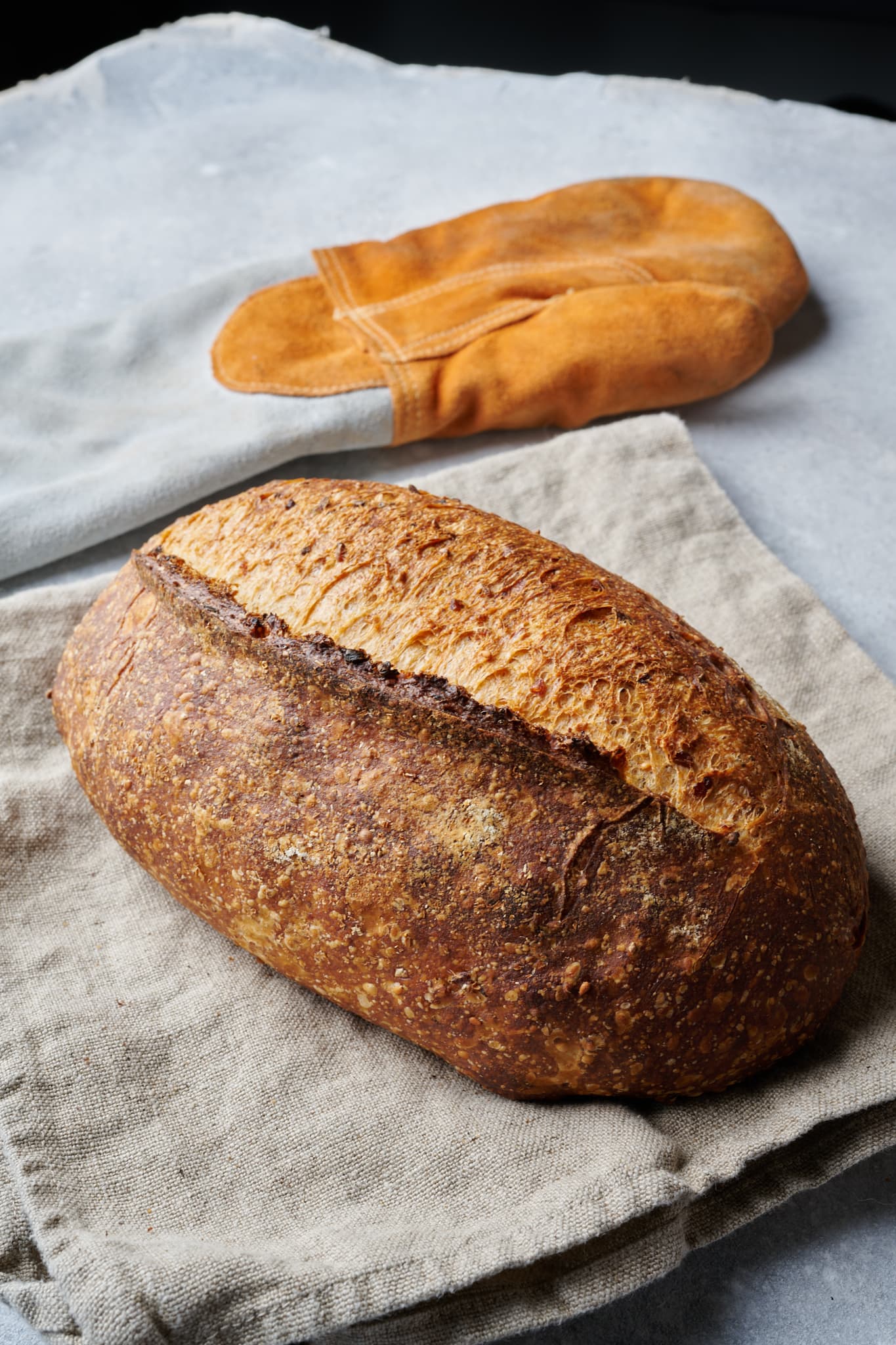 I've been taking baking notes for over 10 years. I've filled countless notebooks with temperatures, durations, little sketches of how I scored loaves, and tips and tricks I've discovered along the way.
And despite what your 8th-grade history teacher told you, note-taking doesn't have to be comprehensive and super complicated. Simple scribbles in my notebook or taps into my phone's notes app are enough to help me move toward consistently baking great bread more often.
And as bakers, consistency is everything, isn't it?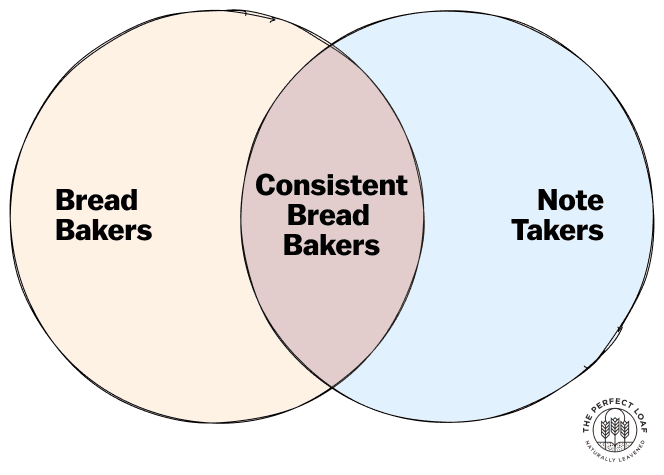 Writing something down has a way of solidifying what you're doing in memory, and it also gives you a place of reference when you inevitably say, "This bread came out better last time. I wonder why."
You can use the notes app on your phone, a scrap piece of paper, the margins of a good book (*ahem*), or the printable notes sheet I've included at the end of this post. The point is to get in the habit of jotting things down quickly while you're baking. After a while, it'll become second nature, and you'll have built up a record of great (and not so great) bakes that will provide you with information for the future.
Let's look at what I think is helpful to record each time you bake and why.
What notes should I be keeping each time I bake?
Your baking notes don't have to be in-depth or complicated; just record the key variables. The list below includes the six items I like to track. I see these as points of inflection during the bread-making process, and they are the items that can drastically change the outcome.
Note Item
Description
Reason
Levain final dough temp (FDT)
The temperature of the levain after mixing
Dictates fermentation schedule, flavor, and performance
FDT
The final dough temperature of the dough after mixing
Dictates fermentation schedule, flavor, final bread texture, and more
Mixing time
The amount of time spent mixing and strengthening the dough.
E.g.:
Mechanical mixer: 3 minutes speed 1, 3 minutes speed 2.
By hand: 5 minutes using slap and fold
Establish a baseline time for strengthening a particular dough
Bulk fermentation duration
The amount of time the dough is in bulk fermentation (first rise)
It helps you decide if you should shorten or lengthen this time based on how the final loaf bakes (e.g. could shorten bulk next time if the dough over proofed)
Number of sets of stretches and folds during bulk fermentation
Stretching and folding dough during bulk fermentation increases dough strength
Determine if you should adjust the number of sets in subsequent bakes if you find the dough was too weak or too strong during preshaping/shaping
Proof time and temperature
The amount of time the dough undergoes its final rise (this can be at a warm temp or cold temp)
Determine if you should adjust the final proof time, which is a critical step in the bread-making process: too short of a time can result in under proofed loaves, and too long of a time can result in over proofing
The key details to record in your baking notes for every bake.
If you had a piece of paper with just the above variables listed on it, that's all you'd need.
But I like to build on these basics to include a few more things—like writing the full recipe formula in baker's percentages—but six items for your baking notes would help answer many of the "why did that bake work?" questions.
Now, let's look at why taking notes is important and how it's helped me over the past decade.
How does note-taking help with baking?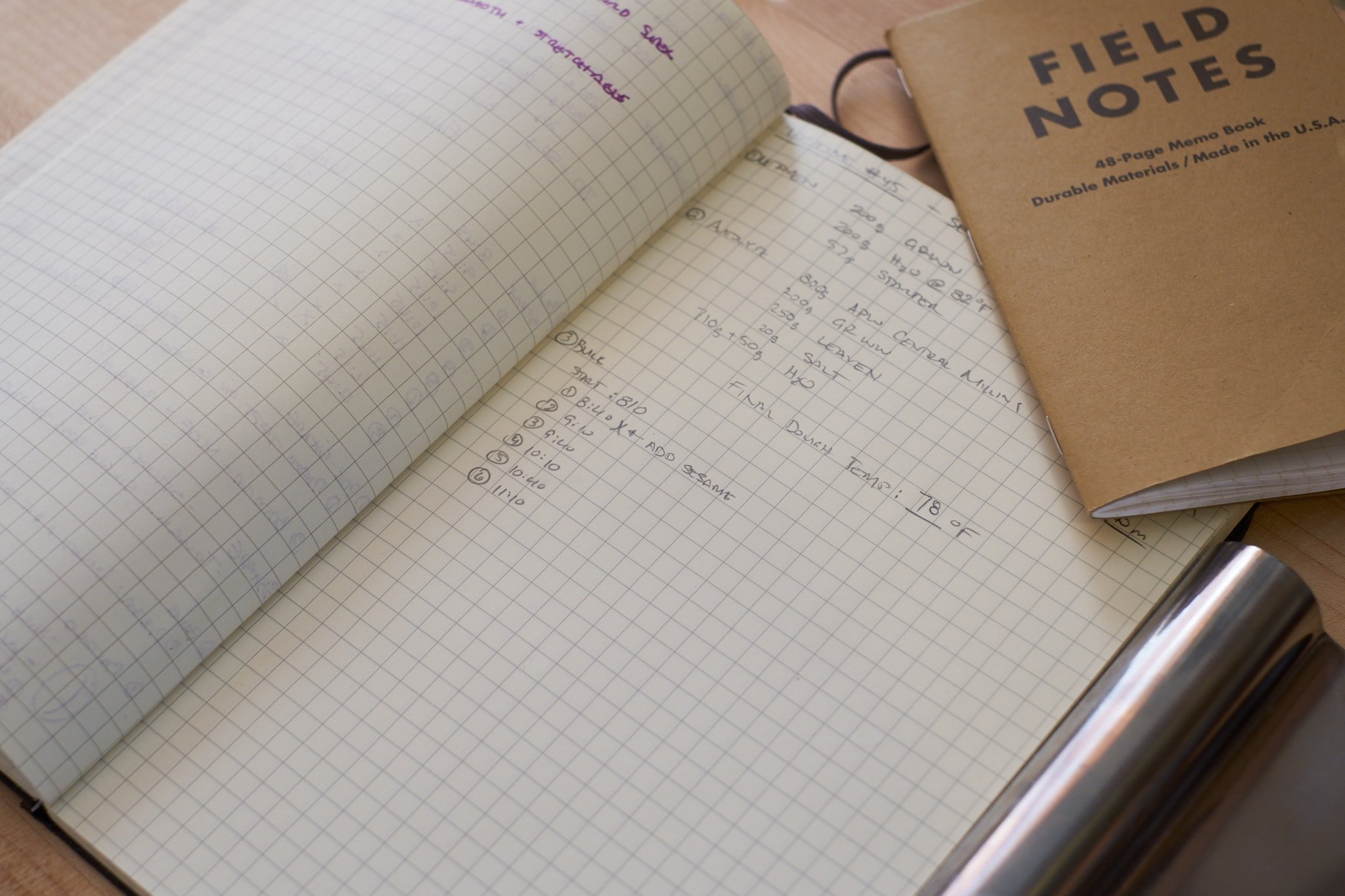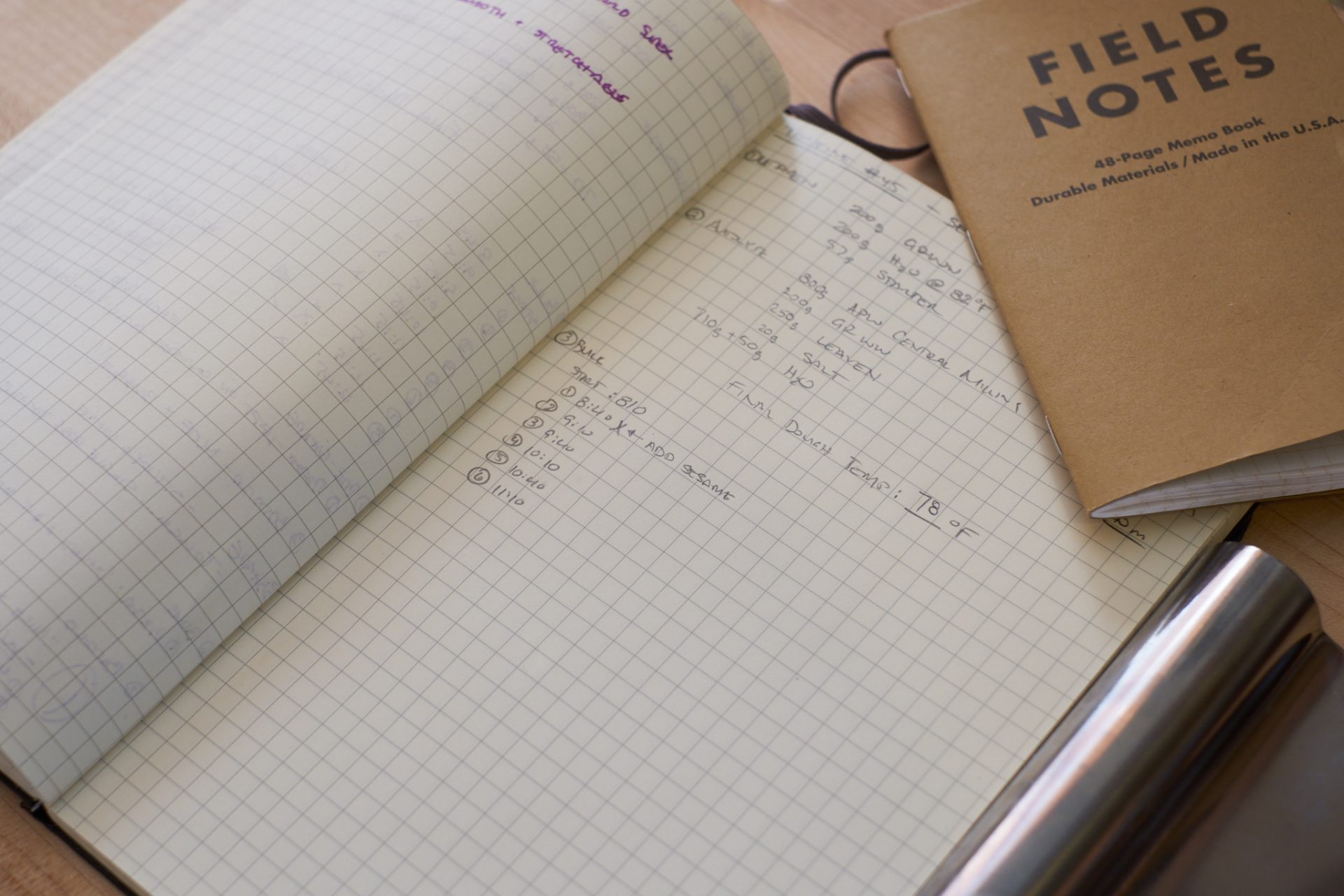 When baking bread, consistency is key. Conditions like temperature, humidity, starter ripeness, and so on change daily in the kitchen. And because fermented goods are so susceptible to even the smallest changes, the ability to spot these changes and correlate them to a successful bake becomes important.
So, to be a successful baker, it helps to have a system for measuring and recording the variables that lead you to your most successful bakes.
An example where my baking notes helped me diagnose a baking problem
The other week, I made my sourdough einkorn miche for a gathering I attended. The listed final dough temp in the recipe is 78°F (25°C)—typical for many of the loaves here at TPL—but the temp in my kitchen was a bit cooler than usual: 70°F (21°C) versus 74°F (23°C). It's been hot here, and the air conditioner ran more than usual, hence the lower ambient kitchen temperature.
My miche turned out pretty good, but it wasn't quite as great as I remembered it. When looking back at my baking notes, I spotted a trend: if I undershot my FDT for the recipe, it usually led to a miche that had nice oven spring and crust, but that lacked that extra shot of flavor I find addictive with loaves that are perfectly proofed (or even slightly over-proofed).
Having a few simple pages of notes helped me spot the trend, and even though my baker's sense and experience tell me under proofed loaves tend to lack flavor, it was the act of reviewing the notes that helped me fully appreciate my error.
Download my baking notes worksheet
Click the button below to download my baking notes worksheet in PDF form. You can print it from there to carry into the kitchen, get wet, scribble in the margins, and file away into your baking folder.
How to use the baking notes worksheet
Use one baking note sheet for each bake. After finishing your bake, fill out the sheet and store it in a notebook or binder for later reference. There's ample space for notes at each step, a way to rate the bake at the top, and other little areas for recording each of the key baking variables discussed earlier.
The star rating up top is meant to give you a quick way to see your best (and even worst) bakes. I like to reserve a 5-star rating only for the best bread possible. This way, when I'm flipping through my binder, I can quickly find those bakes I'd like to make again.
Here's an example where I filled out my sheet for my green olive and herb sourdough bread: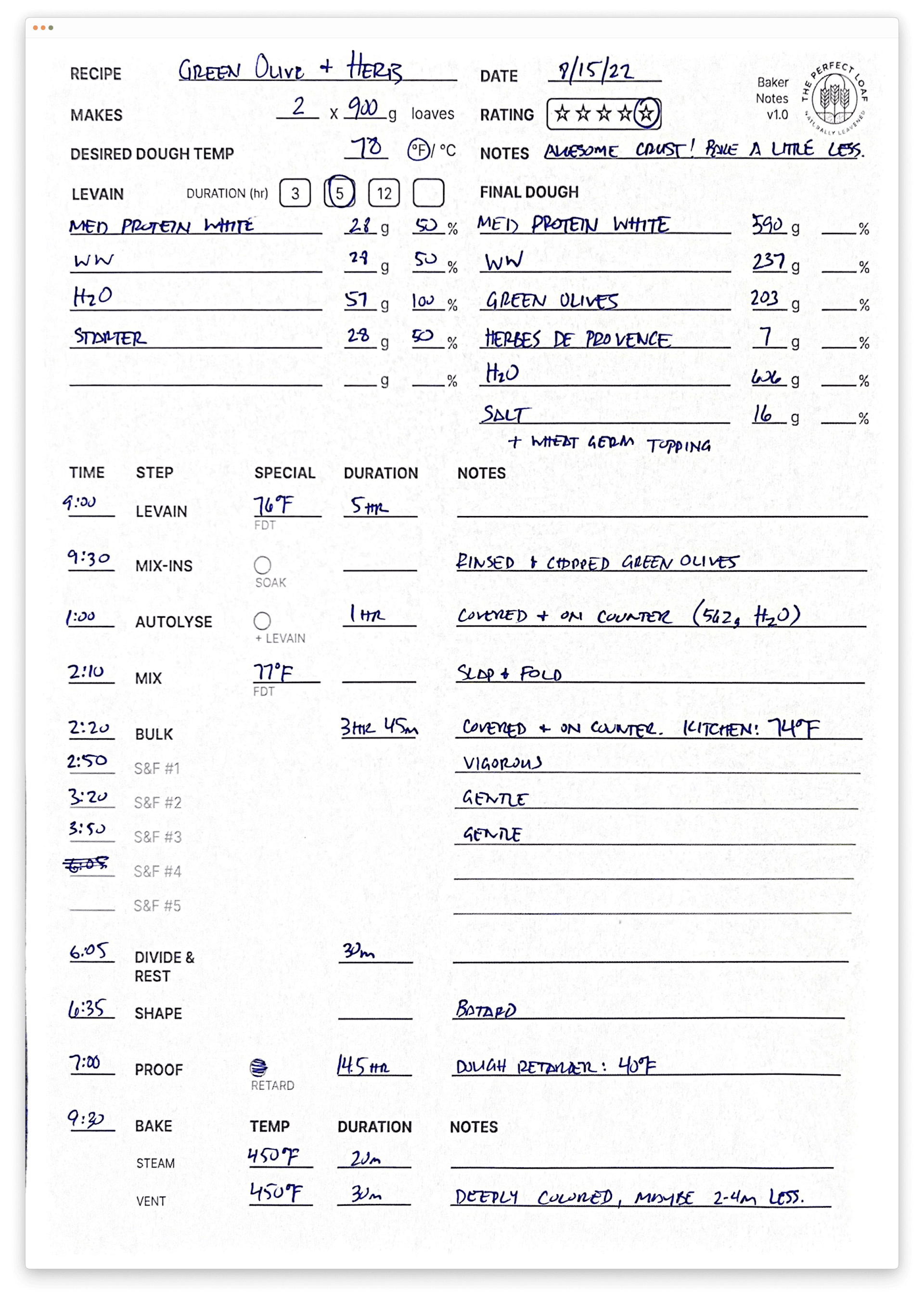 The rest of the items on the sheet should be self-explanatory, but if you are stuck or have any questions, feel free to leave a comment below!
Baking notes: an easy step to better bread
There are so many little things bakers can do day-to-day to improve their baking, but I'm not sure there's anything easier than taking quick notes. Print out my sheet above, grab a notebook, or fire up your phone and start jotting down the little bits that make up your next bake. I'm positive you'll find it valuable.
If you stop by my kitchen, chances are you'll find my notebook of flour-riddled, water-marked scribbles, with lots of smiley faces 🙂–and even a few frowns 😏, too.
What's next?
With your new note sheet in hand, why not tackle a delicious loaf of spelt sourdough bread? Or perhaps a simple but healthy and delicious pan loaf!
Please chime away below if you have any feedback on the notes sheet. I'll be updating it in the future (and I'll keep a version history here, too).
Happy baking!