I love rye and almost always blend a little bit into my country bread formulas. I find that it improves the flavor by adding some earthy spiciness, it improves the texture by making it a little more tender, and it improves the fermentation because the yeast and bacteria feed voraciously on it. I also love dark, whole-grain rye recipes, although those tend to require some different handling than wheat dough due to the different composition of the grain.
This deli rye loaf is a great in-between. It has enough rye for a noticeable rye flavor without being as intense as a bread with mostly or all rye flour. A little bit of scalded rye (similar to tangzhong) makes it extra tender and helps it last beautifully for up to a week. The addition of caraway is a divisive topic; bakers tend to be all-in on one camp or the other. If you're a can't-stand-caraway kind of person, leave it out.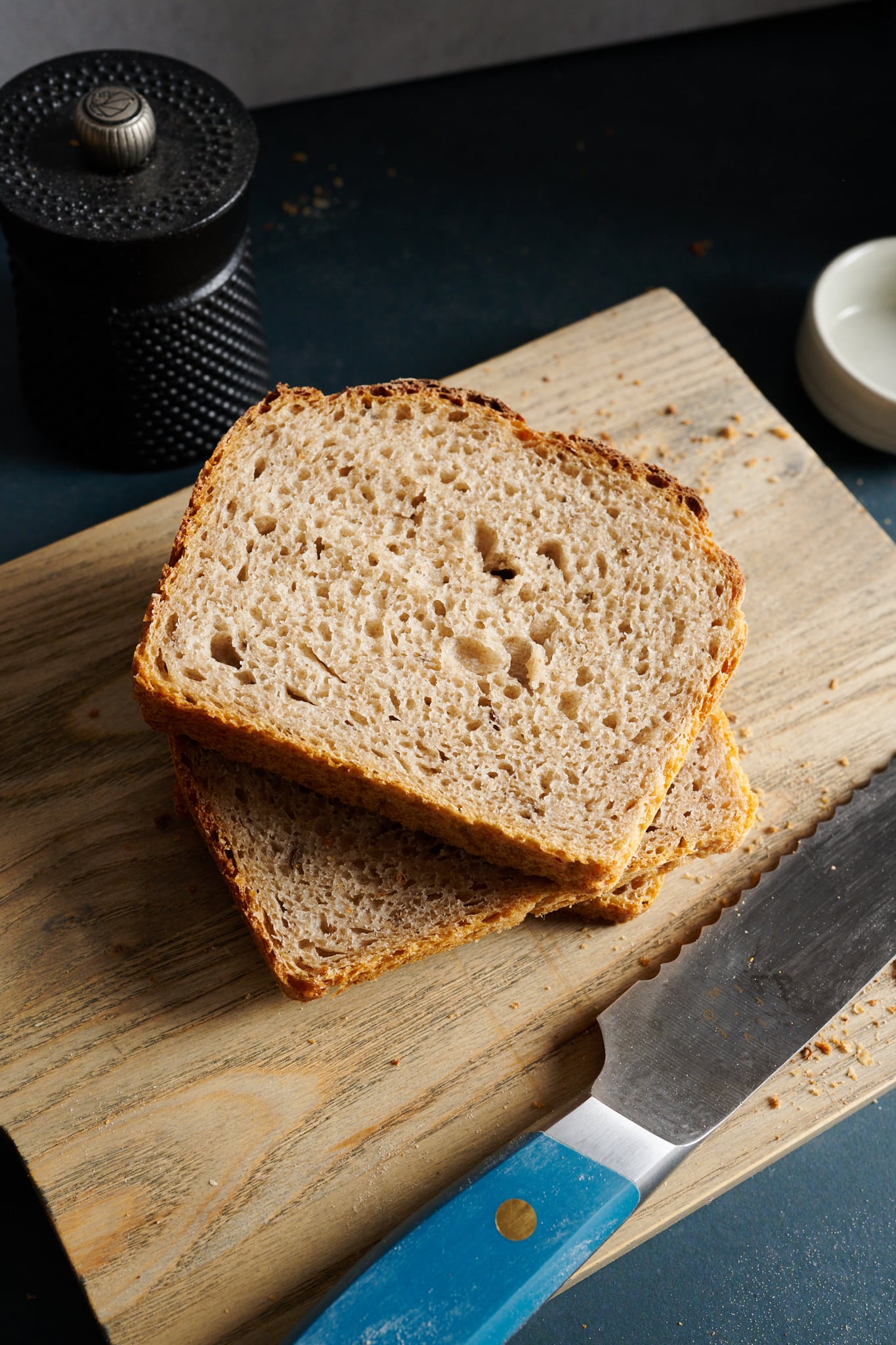 This bread just begs to be made into a ham, roast beef, or leftover Thanksgiving turkey sandwich.
Baking Schedule
This light deli rye sourdough bread can be made all in a single day. Alternatively, the dough can be proofed in the refrigerator (retarded) overnight and baked the next day in the morning, afternoon, or evening.
Light Deli Rye Bread Recipe
For tips on calculating baker's percentages or modifying this formula, see the guide to baker's percentages (baker's math).
Vitals
| | |
| --- | --- |
| Total dough weight | 1600 grams |
| Sourdough starter in final dough | 15.0% |
| Hydration | 77.0% 2 |
| Yield | Two 800g pan loaves |
Total Formula
Desired dough temperature: 78°F (26°C) (see my post on the importance of dough temperature).
| Weight | Ingredient | Baker's Percentage |
| --- | --- | --- |
| 639g | Type 85 flour (Cairnsprings Trailblazer Bread Flour) or High-protein white bread flour (King Arthur Baking Bread Flour) | 80.0% |
| 160g | Whole grain rye flour | 20.0% |
| 6g | Lightly toasted caraway seeds (optional) | 0.75% |
| 40g | PORRIDGE: Whole grain rye flour and water (20g whole grain rye flour and 60g water, cooked) | 5.0% |
| 615g | Water (Mix) | 77.0% |
| 20g | Fine sea salt | 2.5% |
| 120g | Ripe sourdough starter, 100% hydration | 15.0% |
Additional ingredients
Neutral oil for greasing pan
Bread flour for dusting the top of the dough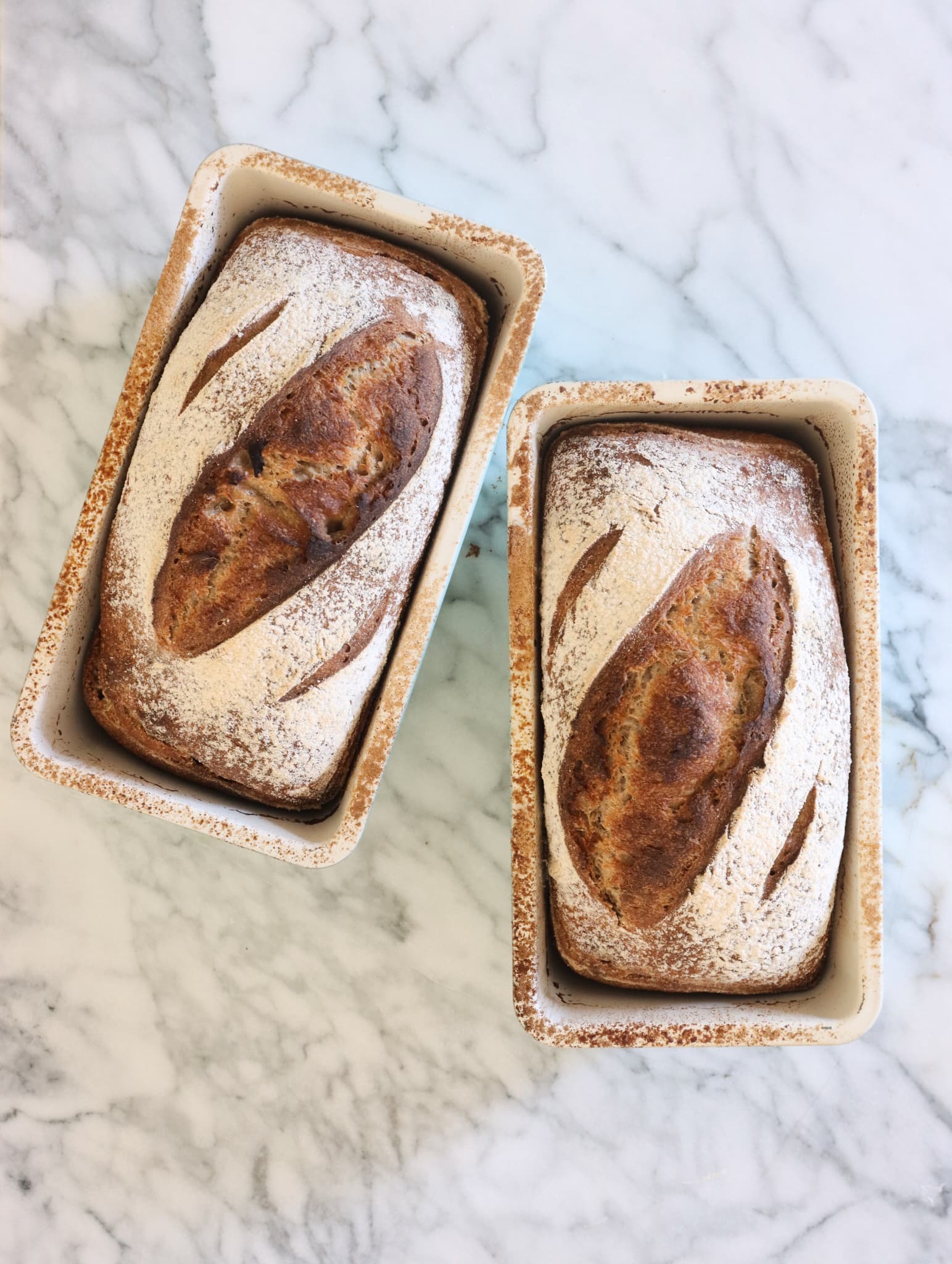 Print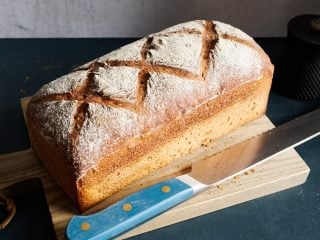 Light Deli Rye Bread
Author:

Jen Latham

Prep Time:

6 hours

Cook Time:

40 minutes

Total Time:

6 hours 40 minutes

Yield:

2 loaves

Category:

Lunch

Cuisine:

American
---
Description
This loaf has a great balance of wheat and rye flours. It has a bit of rye flour and scalded rye to add flavor and tenderness, but not so much that the dough is difficult to handle or the flavor of the rye is overwhelming. It makes a perfect sliced bread for ham, roast beef, or leftover Thanksgiving turkey sandwiches.
---
Scalded Rye Flour Porridge
20g

Whole Grain Rye Flour

60g

Water
Main Dough
639g

Type 85 Bread Flour or high-protein white bread flour

160g

Whole grain rye flour

6g

Lightly toasted caraway seeds (optional)

615g

warm water

20g

Fine sea salt

120g

Ripe sourdough starter, (100% Hydration)

All of the rye porridge
---
Instructions
In a small saucepan over medium-low heat, combine the whole-grain rye flour and water. Cook for 3-5 minutes, stirring often, until the mixture has thickened and is glossy. Remove from the heat and let cool.


Toast the caraway seeds by pre-heating a skillet and shaking the seeds in the hot skillet for about 30 seconds, or just until fragrant.



In a medium mixing bowl (or in the bowl of a stand mixer fitted with the dough hook attachment), combine the water, sourdough starter, cooled scalded rye, caraway seeds, salt, and flour. Mix until everything is combined. Cover with a clean dish towel and let rest in a warm, draft-free spot for 20 minutes.

Knead the dough in the bowl. To do so, lift up one side, fold it over the middle and press down. Rotate the bowl a quarter-turn and repeat. Continue lifting and folding for about 5 minutes. 

Let the dough rest, covered with an airtight cover, for three hours in a warm spot—the dough temperature should remain about 78°F (26°C). During this time, give the dough two sets of

stretches and folds

, one set after 1 hour and a second set after 2 hours.

After three hours, the dough should have risen noticeably and have bubbles on top and throughout. 

Scoop the dough from the bowl onto a clean work surface. Divide in half and round gently into balls. Let rest on the worksurface for 15 minutes.


Prepare two 1 lb bread loaf pans (8.5 x 4.5 inches) by liberally coating them with a few tablespoons of neutral oil. Alternatively, a 9 x 4-inch Pullman pan can also be used.

Shape the loaves. To do so, flour the tops of the rested rounds. Use your bench knife,flip one over so the floured side is down. Pat and stretch the dough into a long oval shape, with the shorter sides closest to and farthest from you. Starting from the top of the loaf, use your fingertips to roll the dough down towards you until it is all rolled into a log shape. Pinch the bottom seam shut. Place the dough, seam-side down, into the prepared pan. Repeat with the other round.

Loosely cover with a clean dish towel and let the dough proof for about an hour. (Alternatively, you can place the loaves in the refrigerator and bake them the next day.) During this time, preheat an empty oven with a rack in the middle to 460°F (238°C).

After an hour, the dough should have risen noticeably, just touch the rim of the 1 lb. pan, and

spring back slowly when pressed

. If the dough hasn't risen or still feels dense, give it more time to proof. To prepare for baking, lightly flour the top of the loaves and score decoratively.

Bake the loaves for 40 minutes at 460°F (238°C) until the loaves are golden-brown all over.

Remove the pans from the oven and let cool briefly. Remove the loaves from the pans and let cool on a cooling rack until cool to the touch. These can be eaten once fully cooled, but they are best the next day.
---
Notes
To make only a single loaf, halve all of the ingredients.
The caraway seeds can be left out or substituted for fennel seeds.
This bread can be made in a traditional 1 lb. pan or a 9 x 4-inch Pullman pan. For additional pans and shaping techniques, see the guide to pan loaves.
Keywords: Rye, caraway, deli, NY rye, NY style rye bread, Roast beef
Light Deli Rye FAQs
Can I substitute caraway seeds for something else?
Fennel seeds can be substituted for the caraway for this light deli rye sourdough bread.
What does scalding rye flour do?
Scalding the rye flour causes the starch molecules to burst and gelatinize. When you add scalded flour to a dough, you get structure and texture from the gelatinized starch instead of from gluten (which rye is low in anyway). The scalded flour also locks in more moisture, which helps keep the loaf softer for longer.
What's Next?
For sourdough bread with a higher percentage of whole rye flour, check out Rye Sourdough and Smørrebrød (rye bread with recipes for open-faced sandwiches).
Making this bread during the holidays? Check out the Bread Baker's Gift Guide for the best tools to gift (or for yourself!).