It's been cold here in New Mexico, like really, really cold. When it's ten degrees outside you only want one of a few things: 1) a cup of hot coffee and light the fireplace, 2) a big bowl of homemade minestrone with a crunchy slice of sourdough bread, or 3) go outside for approximately 2 minutes while the dog runs through the snow, be thankful for a warm home, and promptly return indoors. Don't get me wrong, I love snowboarding (and we have excellent snowboarding nearby), snowshoeing, and dog walks with 3-plus jackets on, but a day inside with hot coffee and comfort food is a beautiful thing. And this is where this rye sourdough and smørrebrød comes into play.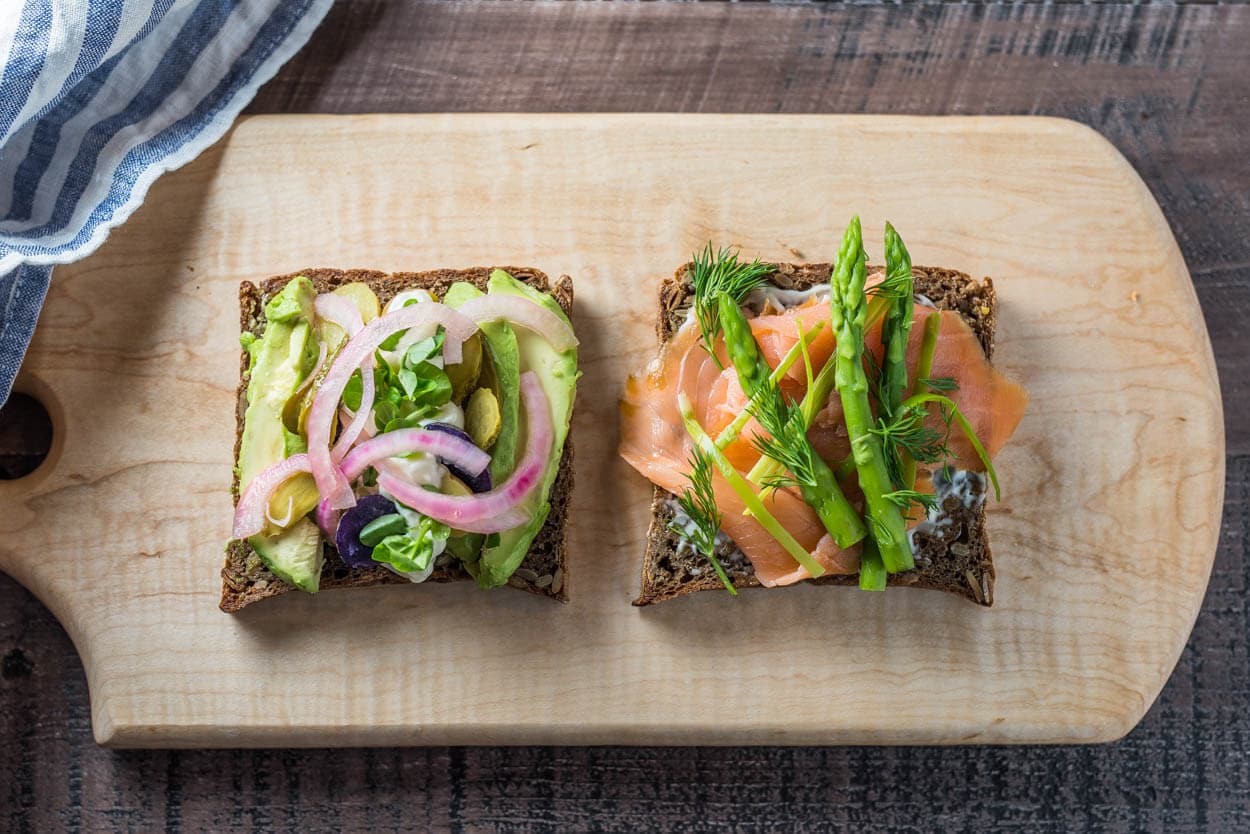 The cold weather had me motivated to look at traditional foods made in colder regions, and thus my recent acquisition of The Nordic Cookbook by Magnus Nilsson (in case you're wondering, yes, I have more baking and cookbooks than I know what to do with. Something is terrific about cookbooks: they instantly transport you to the kitchen of another cook and are filled with endless potential for exquisite new food). When they say, it's a tome they are not exaggerating. Upon opening, I immediately paged to the section titled smørrebrød, which translates to "butter and bread," but represents the daily ritual of "open sandwiches" in Nordic cultures. Placed on a slice of rugbrød, or sourdough rye bread, these open sandwiches are miniature works of art with delicately placed meats, cheeses, butter, vegetables, pickles, and greens. One can easily get lost in the research of smörgås, as the Swedish call them, there are endless variations with a myriad of delicious ingredients. Rye bread is a foreign thing to me. I didn't grow up eating it, and my parents, being Italian, surely didn't eat it often or bake it at home. I equate it with a bitter, strong taste that can be overwhelming, and yet I find it strangely appealing. While I baked a few of these in the past, they mostly went uneaten here in my house — as I read through The Nordic Cookbook, I was inspired and wanted to give them another try.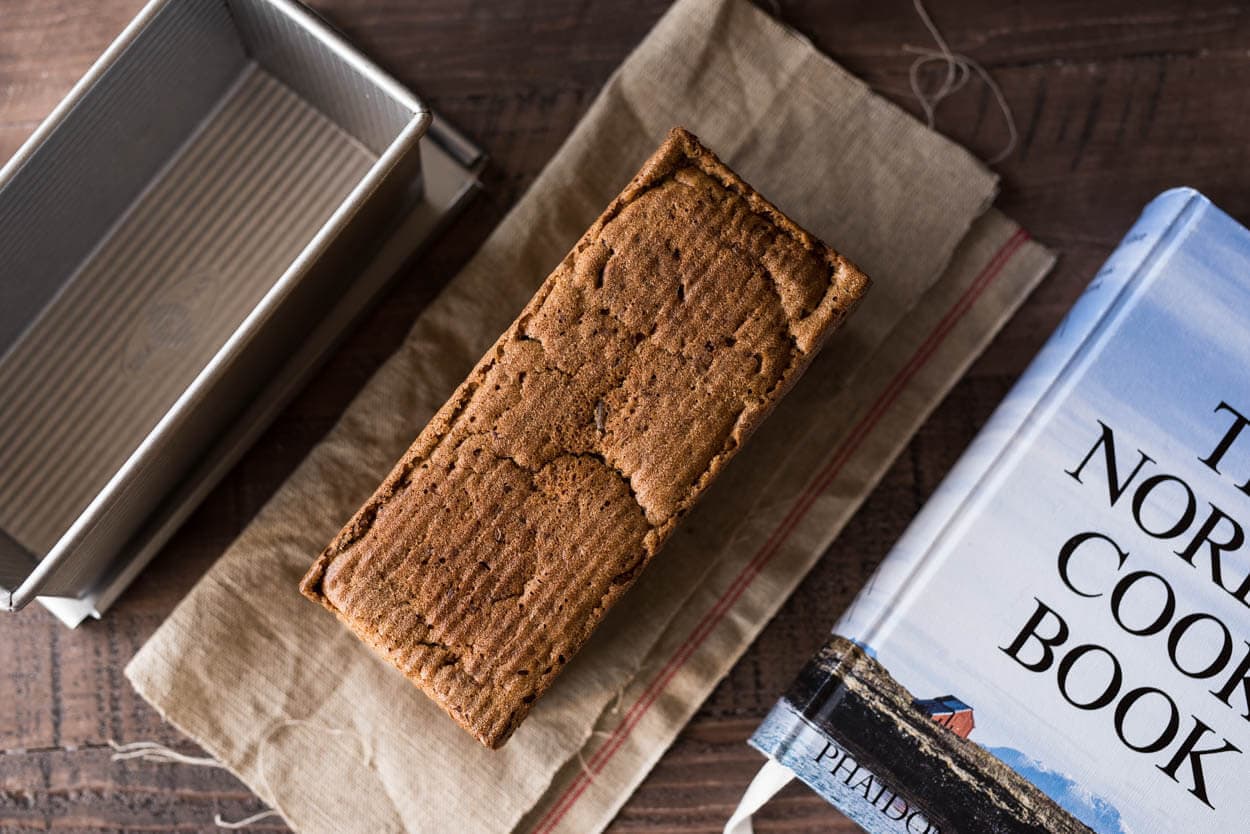 When I think of rye bread, I think of hearty slices of dense bread with a dark, almost black, color to the crust and crumb. In my mind, I had visions of opening up this bread a little, not so much as to completely obscure the purity of traditional rye but enough to bridge the gap. I was determined to tone down the sour notes and intense rye flavor, to try and transform this bread from something that will keep you alive through Nordic winters to bread that might get you through a couple of light winter days here in the Southwest. I think my results accomplished that—it's a tasty bread that I'm sure you'll enjoy on those cold, winter days.
In this post, I've included my rye sourdough recipe, quick pickled red onions, and a couple of smørrebrød that were inspired by The Nordic Cookbook.
Flour Selection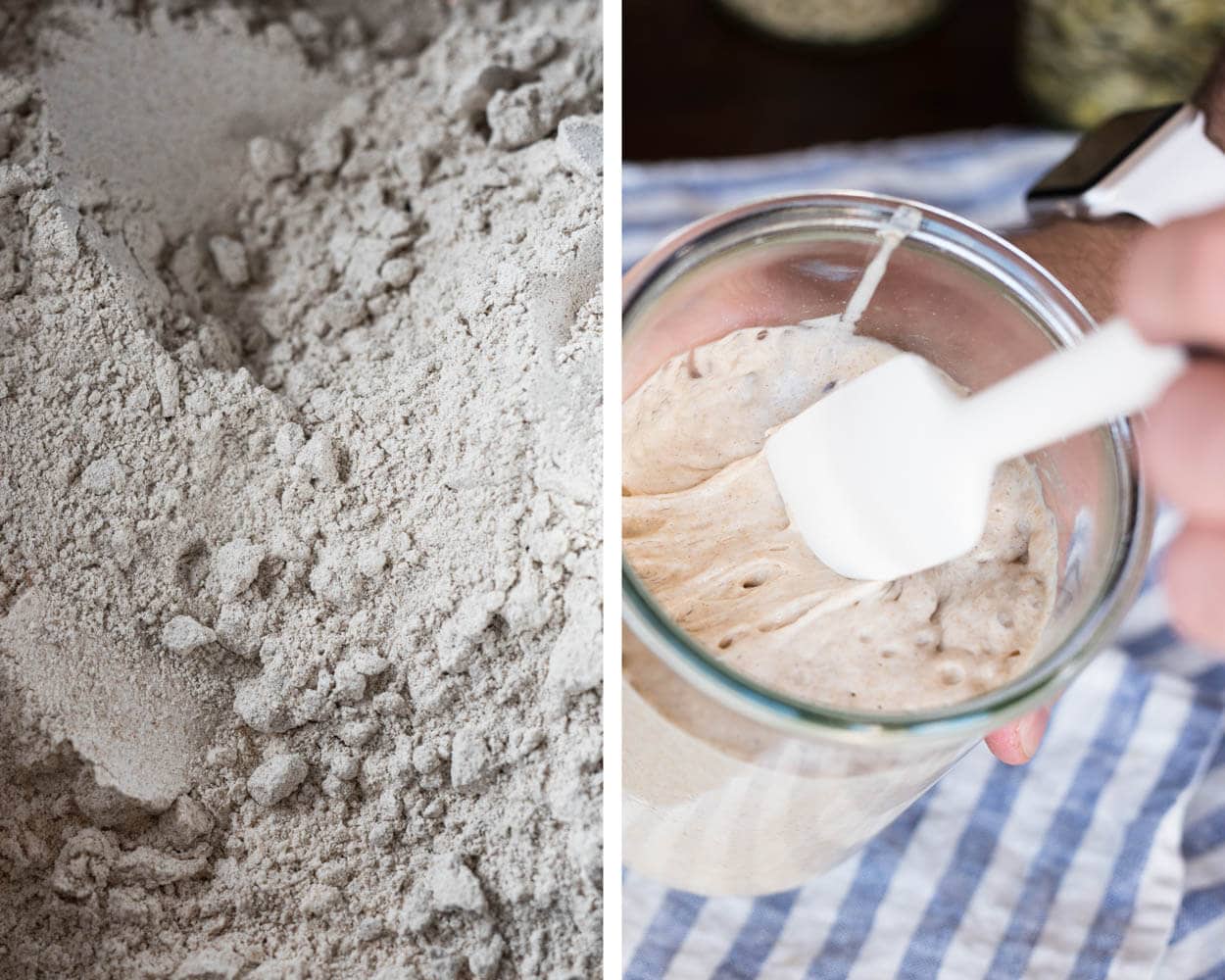 In the past, my rye bread was composed of 100% dark whole-grain rye. The flavor of these loaves was quite intense and, as I mentioned earlier, this go-around I wanted to tone down those flavors and make more balanced bread. I planned to mix part dark rye, part medium (or white) rye, and part something else, in this case, freshly milled spelt.
You could modify this recipe to change the percentages as you see fit, however, know that the more spelt or traditional wheat you add, the more rise your bread will have. A conventional rye bread should be a rather dense thing, with a hearty flavor, especially if you want them to stand up to some of the smørrebrød I outline below. I tacked on a few test bags of Central Milling Dark Rye and Medium Rye to my last bulk order, and I've found the flour to be great (big surprise). It's milled super fine and has a fluffy, smooth texture to it. Any whole grain rye flour will work well in this recipe. I've been playing with freshly milled spelt for a while now and love the results when mixed with traditional wheat (I'll have a future writeup on this) and it works equally well here in this bread while keeping the whole grain percentage rather high.
"Medium Rye" can be made by sifting any dark rye you purchase. I've done this previously using a #50 sifting screen to sift out some of the larger particles from the dark rye. Alternatively, you could use all dark rye flour with the expectation that your bread will have a slightly more intense flavor.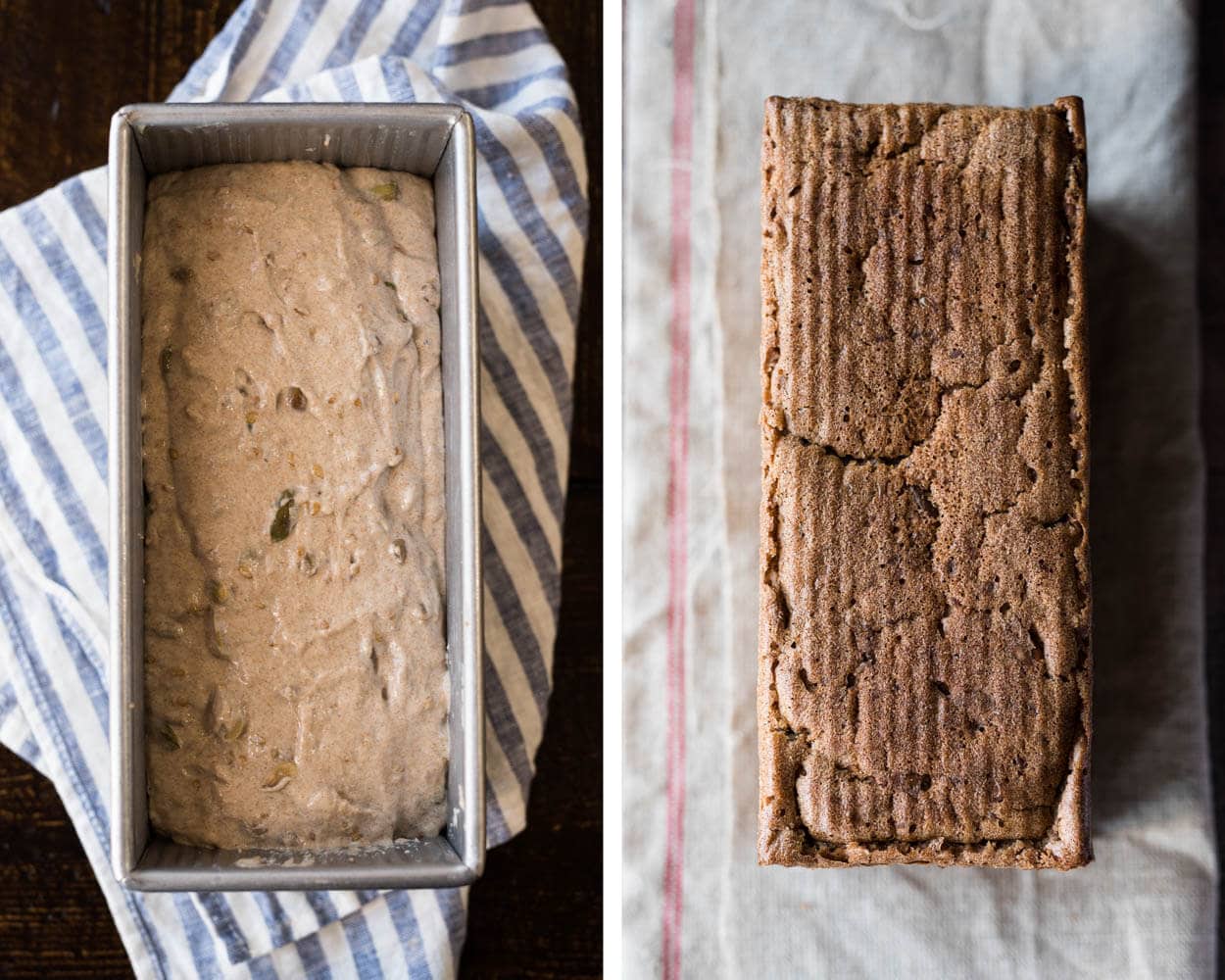 Rye Sourdough Recipe
Vitals
| | |
| --- | --- |
| Total Dough Weight | 1,200 grams |
| Pre-fermented Flour | 40.00% |
| Hydration | 95.00% (water + beer) |
| Yield | One 9" x 4" x 4″ Pullman pan loaf |
I used my 9" x 4" x 4″ Pullman Pan for this bread. It has a nice lid you slide on to create that flat top, and you'd be hard-pressed to get anything to stick to the sides of this thing. If you have a 9×4 pan that doesn't have a lid I'm sure that will work just as well, you'll end up with a domed top which would be just fine.
See my guide to shaping a loaf pan for more pan sizes and examples.
Total Formula
| Weight | Ingredient | Baker's Percentage |
| --- | --- | --- |
| 234g | Sifted Rye Flour (Central Milling Medium Rye) | 40.00% |
| 176g | Whole Grain Rye Flour (Central Milling Whole Rye) | 30.00% |
| 176g | Freshly Milled Whole Grain Spelt | 30.00% |
| 468g | Water | 80.00% |
| 88g | Dark beer (stout, black lager, etc.) | 15.00% |
| 12g | Fine sea salt | 2.00% |
| 47g | Ripe sourdough starter | 8.00% |
Levain Build
The night before you plan to bake, prepare the levain and soaker (directions to follow). Let the levain ferment for 12 hours overnight at room temperature, about 70-72°F (21-22°C).
| Weight | Ingredient | Baker's Percentage |
| --- | --- | --- |
| 47g | Ripe starter (100% hydration) | 20% |
| 234g | Sifted Rye Flour (Central Milling Medium Rye) | 100% |
| 234g | Water | 100% |
Soaker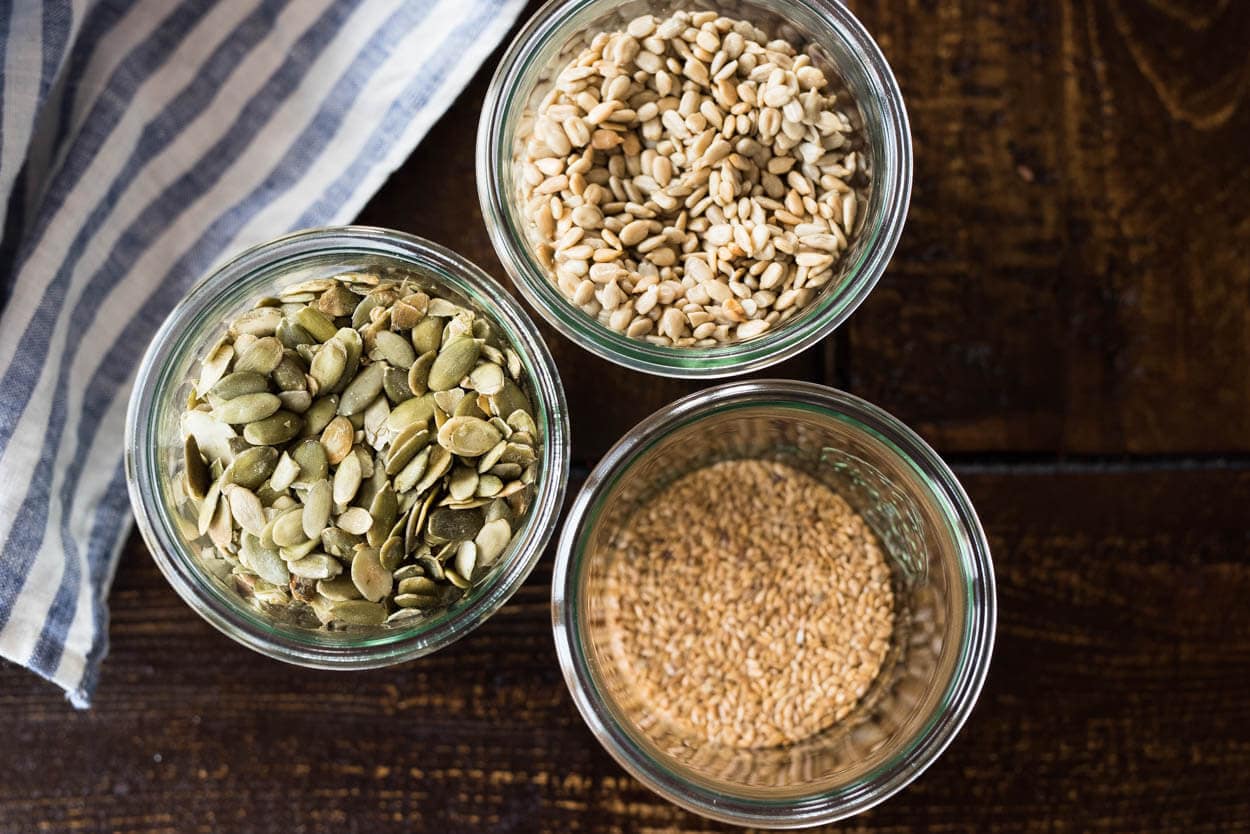 Prepare this soaker at the same time you prepare your levain—the night before you plan to bake. Soaking the seeds softens them and helps to bring out their oils, which later wonderfully infuses the mixed dough.

| Weight | Ingredient |
| --- | --- |
| 65g | Sunflower Seeds (unsalted) |
| 65g | Pumpkin Seeds (hulled & unsalted) |
| 30g | Flaxseeds (raw) |
Spread the seed mixture out in a single layer on a rimmed baking sheet lined with parchment paper (save this when done toasting the seeds to use it later when you bake the bread) or a silicone mat and toast at 350°F (175°C) for 15 minutes. Toss around once midway through and keep an eye on them towards the end, seeds can go from toasted to burned rather quickly.
Place toasted seeds in a glass bowl, pour enough hot water over them (I used hot water from the tap) to cover. Wait until the mixture cools a bit and then loosely cover the bowl with a lid to rest.
Dough Formula
Note that the baker's percentages listed below are concerning the final dough ingredients and do not take into account the levain.
The target final dough temperature (FDT) is 80°F (26°C).
Note: Due to feedback from readers (thank you!) I've reduced the hydration of this recipe to help avoid an overly gummy interior and potential separation at the top between the crust and the crumb. Additionally, I've modified some of the percentages and ingredients after many test bakes of this formula.
| Weight | Ingredient |
| --- | --- |
| 0g (all of this was used in the levain) | Sifted Rye Flour (Central Milling Medium Rye) |
| 176g | Whole Grain Rye Flour (Central Milling Whole Rye) |
| 176g | Freshly Milled Whole Grain Spelt |
| 234g | Water |
| 88g | Dark beer (stout, black lager, etc.) |
| 12g | Fine sea salt |
| 515g | All the ripe levain (see above) |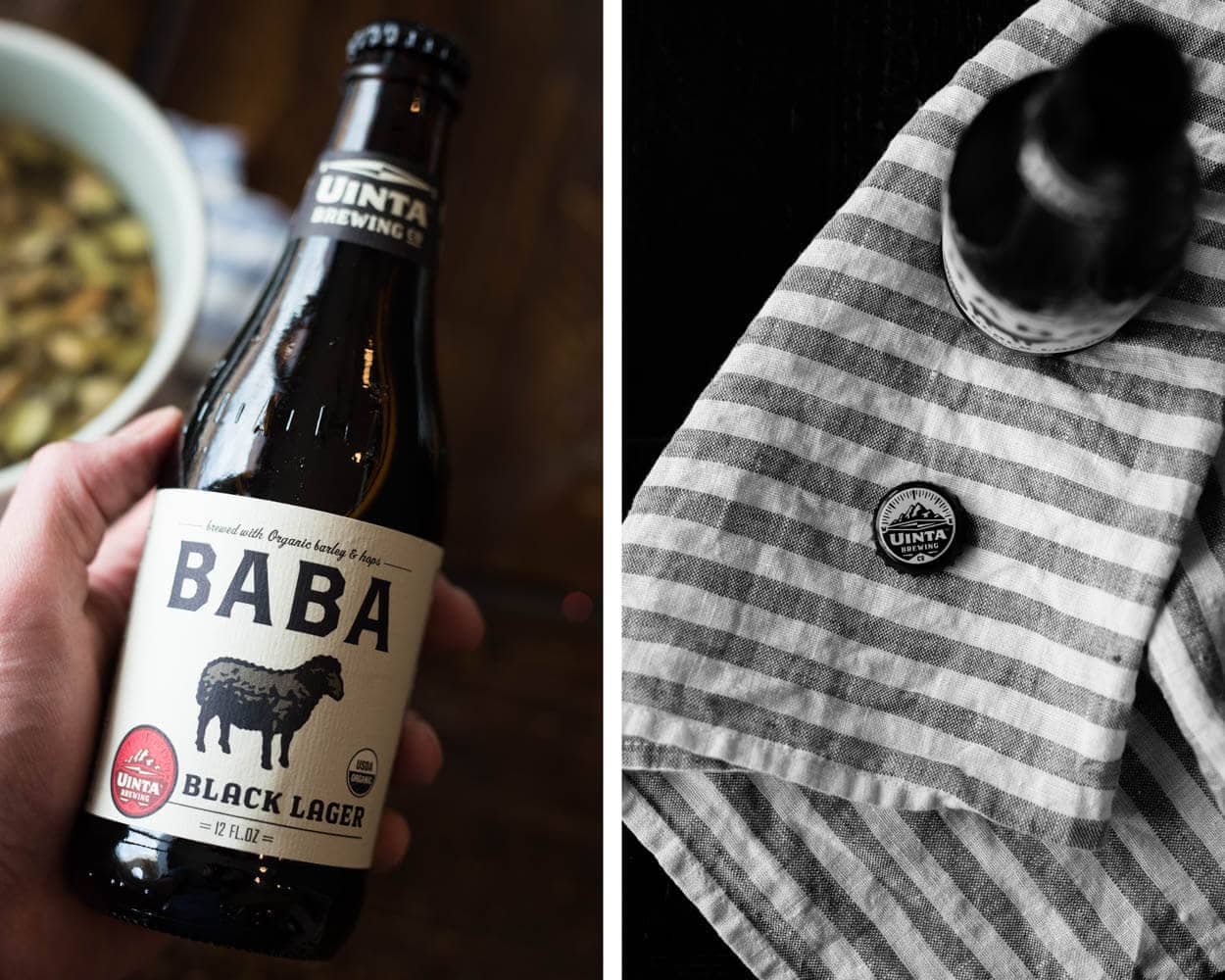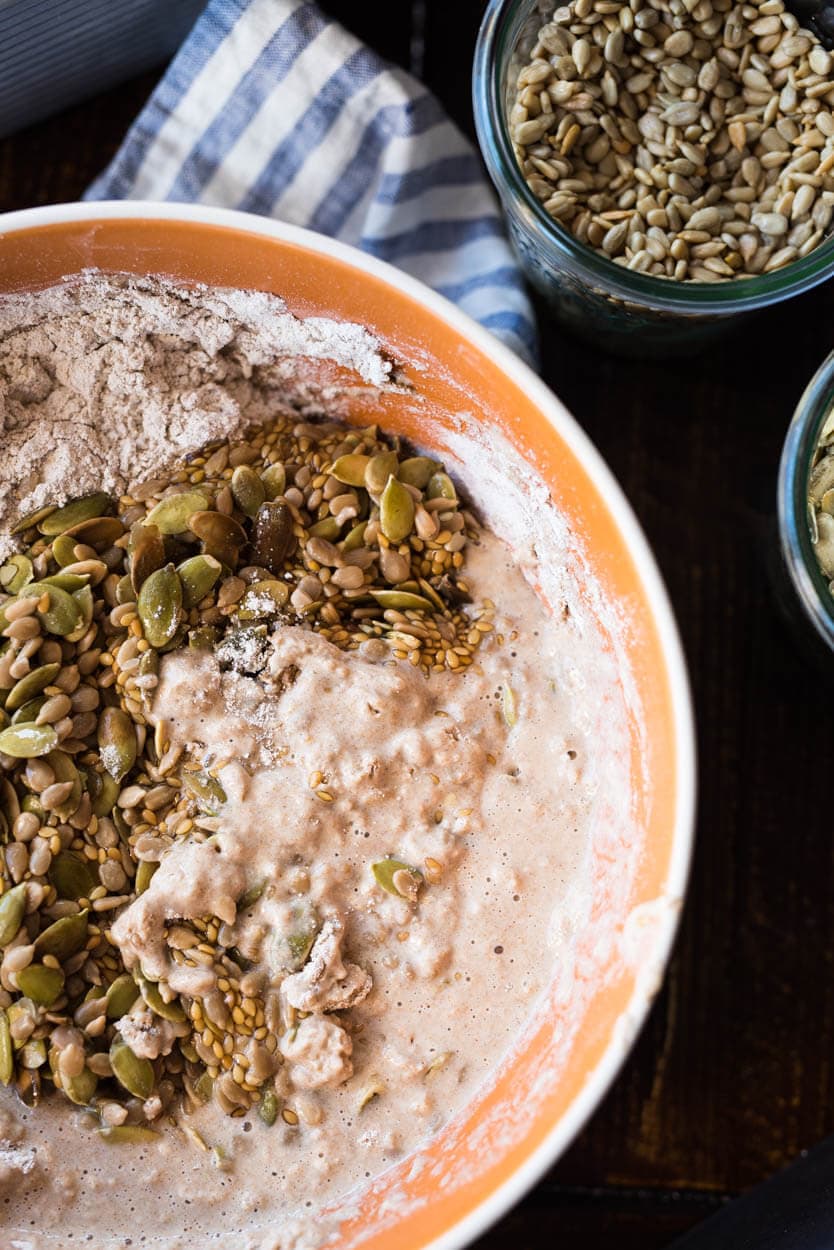 Method
1. Levain & Soaker – 10:00 p.m. (the day before baking)
Mix the ingredients for your levain and set somewhere to ferment for 10-12 hours at around 72-74°F / 22-23°C (see my post on the Importance of Dough Temperature for more information).
At the same time, toast your seeds and soak them in hot water for the same duration as your levain.
2. Mix – 10:00 a.m. (the next day)
Drain the seed mixture using a fine-mesh sieve and let sit while you prepare the rest of the ingredients.
Add the levain to a mixing bowl along with the beer and the room temperature water and stir around to dissolve the levain. Add in all the dry ingredients plus the drained seed mixture. Mix well with wet hands or a spatula. Make sure you mix thoroughly so there are are no dry bits of flour remaining, and the seeds are incorporated well.
5. Bulk Fermentation – 10:10 a.m.
Cover the bowl and let bulk ferment for 30 minutes at 74°F (23°C) ambient temperature.
No stretch and folds are necessary.
6. Proof – 10:40 a.m.
Lightly grease your Pullman pan (I used a light coating of butter) and scoop out the dough, a.k.a. "wet concrete," from the bulk container into your greased Pullman pan. Smooth the top with wet hands or a spatula. Let proof, covered with reusable plastic, for 1.5 to 2 hours at around 74°F (23°C). The dough should rise to about 1" below the top rim of your pan.
7. Bake – 12:15 p.m.
Preheat the oven to 400°F (200°C).
I baked this bread the entire time with the lid on. Place the Pullman pan on a baking sheet lined with a silicone mat (or the recycled parchment paper when you toasted your seeds) and bake for 35 minutes at 400°F (200°C). Turn the heat down to 350°F (175°C) and bake for 1.5 to 2 hours until the internal temperature reaches 208-210°F (97-98°C). Check the loaf occasionally in the last 20 minutes to check for doneness.
When I baked this bread it rose high enough in the pan to spill out the top of my Pullman; thankfully I had the thought to bake this on a baking sheet. I reduced the ingredients in this to hopefully prevent that from happening to you, but if it does, it's not a big deal, continue with the bake. The spillage will be caught by the baking sheet without any issues.
I think I could have baked the loaf pictured in this post an additional 10-15 minutes or so. The internal temperature read 208°F (97°C), and while it was baked, I would have liked a bit more crunch on that crust. Be flexible with your baking duration and check the loaf periodically towards the end.
There is no need to steam your oven for this bread if you're baking with the lid on.
8. Rest
Once your bread has finished baking, remove the lid to your Pullman pan (if used) and let sit on a wire rack until cool to the touch. Gently remove the bread from the pan, wrap in a kitchen towel or baker's linen (couche) and let it rest on the counter for 24-48 hours. If you slice too soon, you'll end up with a gummy interior. See my post on storing bread to keep it fresh for more on this.
Smørrebrød Recipes
The possibilities here are endless. Below are two recipes I found and slightly modified to suit the ingredients I had on hand and found at the market — they both turned out to be so delicious I made another pair the next day for lunch.
While these look like two puny pieces of meticulously decorated toast, don't for a second think they are not filling. I ate two, I mean just two, and I was stuffed for hours. The hearty rye bread, healthy fats, and protein from the salmon will keep you satiated for longer than you might think.
According to Magnus in his cookbook, open-faced sandwiches should be piled high with ingredients, enough to completely cover the rye sourdough below. I came close, but next time I'll be piling more on top.
Avocado, Potato, and Homemade Pickled Red Onion with Watercress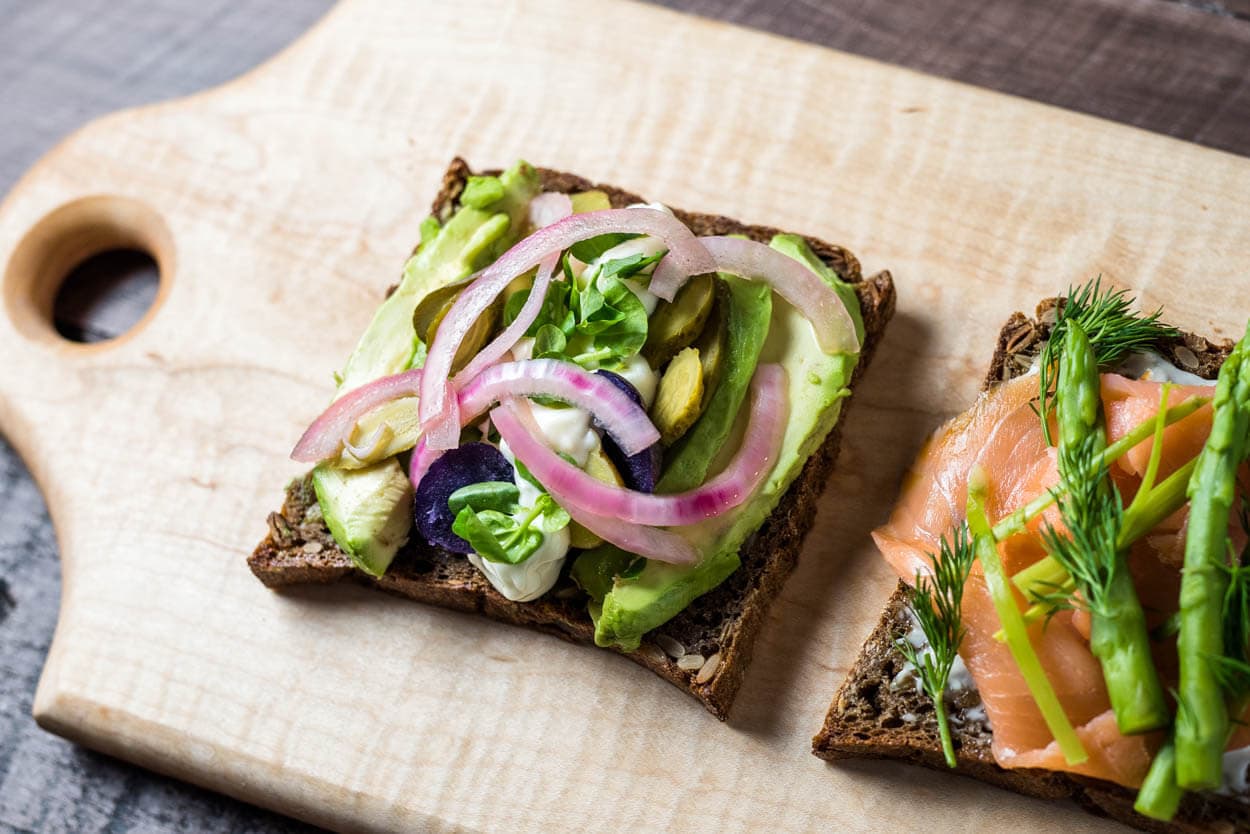 Avocado and mayonnaise go well together, so I knew this would be a hit. The hearty rye bread holds up to the fatty, sweet ingredients and the pickled red onion gives this an incredible acid punch. Avocado probably isn't a traditional ingredient in Scandinavian countries, but out here good quality ones are just about everywhere. Makes two slices.
Ingredients:
1 ripe avocado, thinly sliced
A handful of small potatoes (I used a mix of colored potatoes, but new potatoes would work well here), boiled in salted water for about 15-20 minutes until tender but not mushy, sliced thin
A few thin slices of pickled red onion (see recipe below)
A few French-style gherkin baby pickles
2 Tbsp mayonnaise
Watercress to top
Small pinch flaky sea salt
Method:
Place sliced avocado flat on top of toasted rye sourdough
Scatter sliced potatoes on top of avocados
Make a thick line of mayonnaise down the middle
Top mayonnaise with small watercress
Scatter a few thinly sliced gherkins, pickled red onions and a small pinch of sea salt on top of all
Smoked Norwegian Salmon with Asparagus Spears and Mayonnaise
Smoked salmon isn't something I eat often. I think the last time I had salmon this way (sushi doesn't count) was a bagel & lox breakfast in New York City almost ten years ago (I know, lox is not smoked salmon, but it's the closest thing I've had!). The smoked salmon, mayonnaise and fresh dill all work well together — a natural combination. I boiled the asparagus spears for about 8 minutes until they were starting to wilt. While they have no seasoning directly, they impart a subtle, balanced flavor to the rest of the ingredients. And again, the hearty rye bread carries this whole thing wonderfully. Makes two slices.
Ingredients:
Smoked Norwegian Salmon (you can find this in vacuum packs at the market)
6 small asparagus spears — tops left whole, hard bottoms discarded and middle discarded save for a few shavings with a vegetable peeler
2 Tbsp mayonnaise
Handful fresh dill
Small pinch flaky sea salt
Method:
Boil, or steam, the asparagus spears for 8 minutes until they start to wilt, don't overcook. Cut off the bottom half and use a vegetable peeler to make a few thin strands
Spread a thin layer of mayonnaise on a slice of toasted rye sourdough
Place a layer of smoked salmon on top of the mayonnaise
Place asparagus tips and asparagus shavings on top of salmon
Top with scattered fresh dill and a tiny pinch of flaky sea salt
Homemade Quick-Pickled Red Onion
For the sandwiches above you could get away with half a red onion, but I used a full onion and saved the rest in the fridge for more sandwiches or potatoes later in the week. The pickled onions will keep refrigerated for about a week covered in the brine.
You could use any combination of vinegar you'd like; I used mostly white vinegar with some red vinegar to give them a bright pink color.
Ingredients:
1/2 red onion, sliced very thin
3/4 cup white distilled vinegar
1/4 cup red vinegar
1 garlic clove, halved
2-4 sprigs of thyme
very small pinch of red chili flakes
1/2 tsp raw sugar
small pinch of salt
Method:
Place all the ingredients except the onion in a small saucepan and bring to a boil
Once boiling, pour the hot brine over the red onions in a small bowl, or directly in their final glass storage jar (make sure the onions are completely submerged)
Let sit at room temperature for at least 30 minutes before using, preferably 1 hour or more
Conclusion
Although rye isn't something I've had much experience eating, baking this hybrid rye and using it for smørrebrød has opened my eyes to an endless universe of open sandwiches. A deliberate selection of fresh and pickled ingredients coupled with meticulous placement and design, make them something I wouldn't mind preparing for an occasional lunch and possibly a weekly winter ritual. Since rye sourdough has excellent keeping qualities, it's great to have hearty bread like this on hand through the winter when you need something especially nourishing and hefty.
Crust
Provided you let the rye bread rest, wrapped and sealed as I instructed above, the crust will stay moist and cuts very quickly. It does not have a detectable crunch to it like most another sourdough I bake, but it's not needed here.
Crumb
The small percentage of freshly milled spelt and medium rye helped to open up the interior of this bread compared to traditional rye bread I've baked in the past or have seen online. I like that. Even though this bread is rugbrød, it has a light texture that I enjoy.
Taste
Given the high amount of rye flour and somewhat long fermentation time (for this much rye and whole grain), it is expected that this bread has a definite sour note to it, but it's not overwhelming and probably less than "traditional" rye bread. For me, this has the perfect amount of tang and heartiness to balance out whatever ingredients it might provide a vehicle for.
What's Next?
I hope you enjoy this rye sourdough and smørrebrød recipe set as much as I do! And please, do as Magnus says: "enjoy them for lunch with a beer on the side and a glass of Aquavit!"
If you're looking for more recipes with rye flour, look at our Light Deli Rye, a lighter bread perfect for sandwiches.
Velkommen! (Buon appetito!)