Flour at the market is hard to come by these days, but even if it is at the market, this recipe comes together so quickly and with such little effort it's hard to imagine not wanting to throw this together every day during the week (since we're home anyway, right?). I've received many emails and comments from readers asking for a straightforward recipe using 100% all-purpose flour since that's what many of us have in the pantry right now. But even when abundant flour choices return to the market, this same-day sourdough bread with all-purpose flour might become a weekly staple in your kitchen.
This recipe makes a single 900g loaf of bread all in a single day. It begins with your mature starter in the morning and ends in the late afternoon with a fresh loaf of bread ready for dinner. What could be better? And while it's similar to my recent simple weekday sourdough, it's just a bit different, using different flour and a modified timeline. They're different, but both practical ways to sneak baking in more often than not.
What Makes This Recipe Easy?
It uses only one type of flour: all-purpose white flour
It's a same-day bread, meaning the day you mix is the day you bake
There is no need for a levain, use your sourdough starter in the mix
It makes a single loaf of bread, no scaling or dividing dough
You can add up to 15% mix-ins: walnuts, pecans, seeds, or dried fruit
You can substitute flour: use 5% (23g) whole grain rye, or 10% (46g) whole wheat flour (remove that amount of AP flour) without modifying the rest of the formula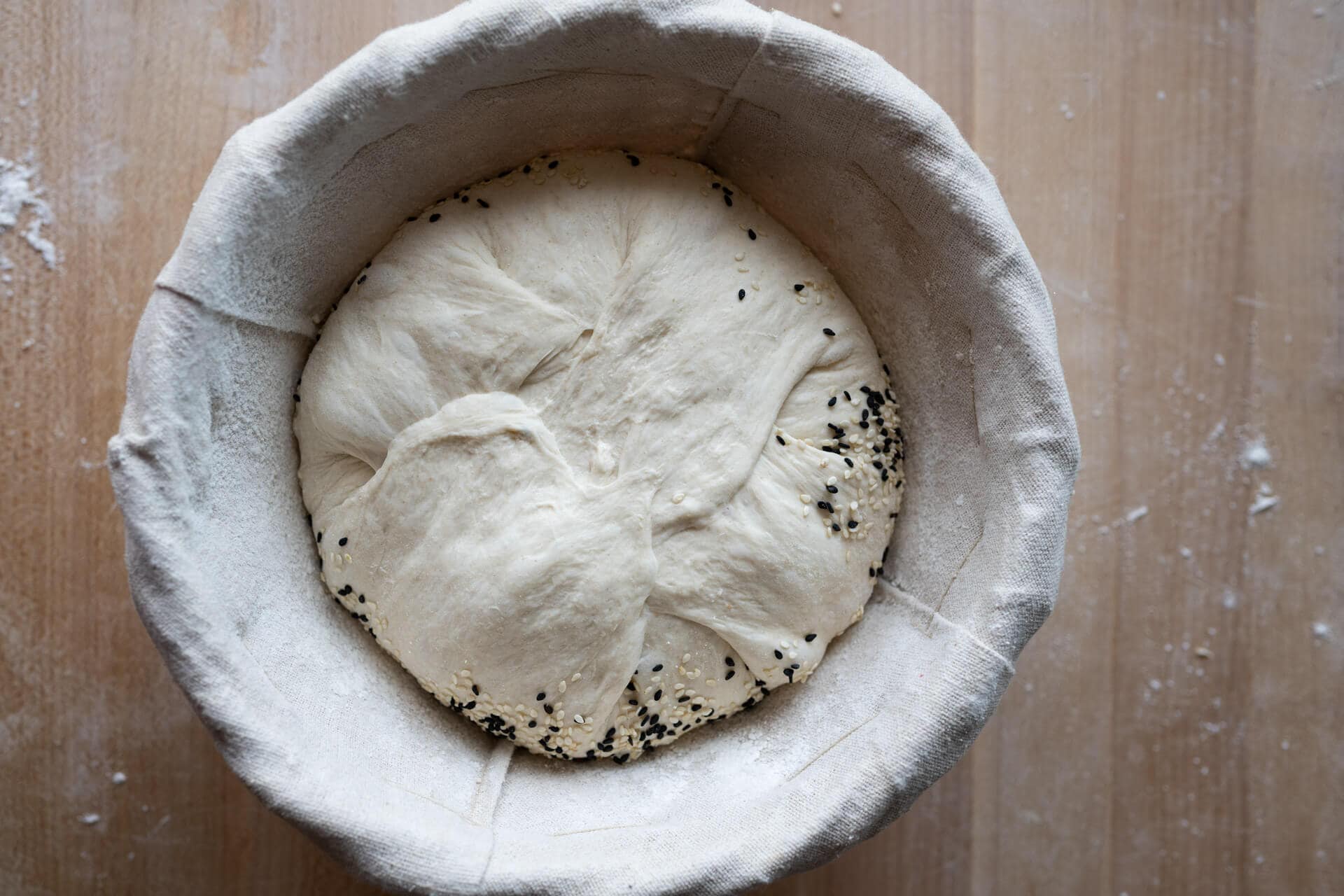 Flour Selection
One essential modification in this recipe versus my simple weekday sourdough (which uses all high protein bread flour) is slightly reducing the hydration, especially if there are no whole grains in the recipe. Because all-purpose tends to mix up to a softer, slack dough, lowering the hydration brings strength and makes for a loaf with more rise and a crunchier crust.
Additionally, I cut out the autolyse time for this recipe, but if you'd like to bring a little more strength to this dough and reduce mixing time (which is already minimal!), you could autolyse for 30 minutes: mix the flour and water in the mixing bowl and let sit, covered, until your sourdough starter is mature and ready to use.
See my guide to the autolyse technique for more information on its benefits →
Then, follow the rest of the process in the Method, below.
Flour note: If your "all-purpose" flour is lower in protein than the flour I used, King Arthur Flour Unbleached All-Purpose at 11.7% protein, you might want to keep an eye on the hydration as you're adding water in the mix and add less if the dough feels overly wet. Also, you might want to strengthen the dough up front, either through folds in the fold or a more intensive strengthening technique such as slap and fold.
Recommended reading: the best way to store flour for the longest shelf-life.
Baking Schedule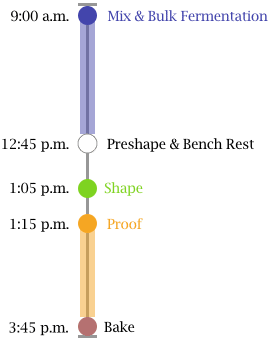 The intention for this recipe is for it to be a same-day dough, meaning you mix in the morning, and you bake in the late afternoon. However, you can also place the shaped and covered dough into the refrigerator to finish the proof overnight (instead of on the counter). This way, you can have fresh bread for dinner on day one or fresh bread for lunch on day two.
Sourdough Bread with All-purpose Flour
For tips on how to calculate baker's percentages or how to modify this formula, see my post on baker's percentages (baker's math).
| | |
| --- | --- |
| Total Dough Weight | 900 grams |
| Pre-fermented Flour | 10.00% |
| Hydration | 76.00%4 |
| Yield | One 900g loaf |
Total Formula
My final dough temperature for this dough was 78°F (26°C). See my post on the importance of dough temperature for more information.
| Weight | Ingredient | Baker's Percentage |
| --- | --- | --- |
| 460g | All-purpose white flour, ~ 11.7% protein (King Arthur Unbleached All-Purpose Flour) | 100.00% |
| 340g | Water | 74.00% |
| 9g | Salt (sea salt) | 1.90% |
| 92g | Sourdough starter (100% hydration) | 20.00% |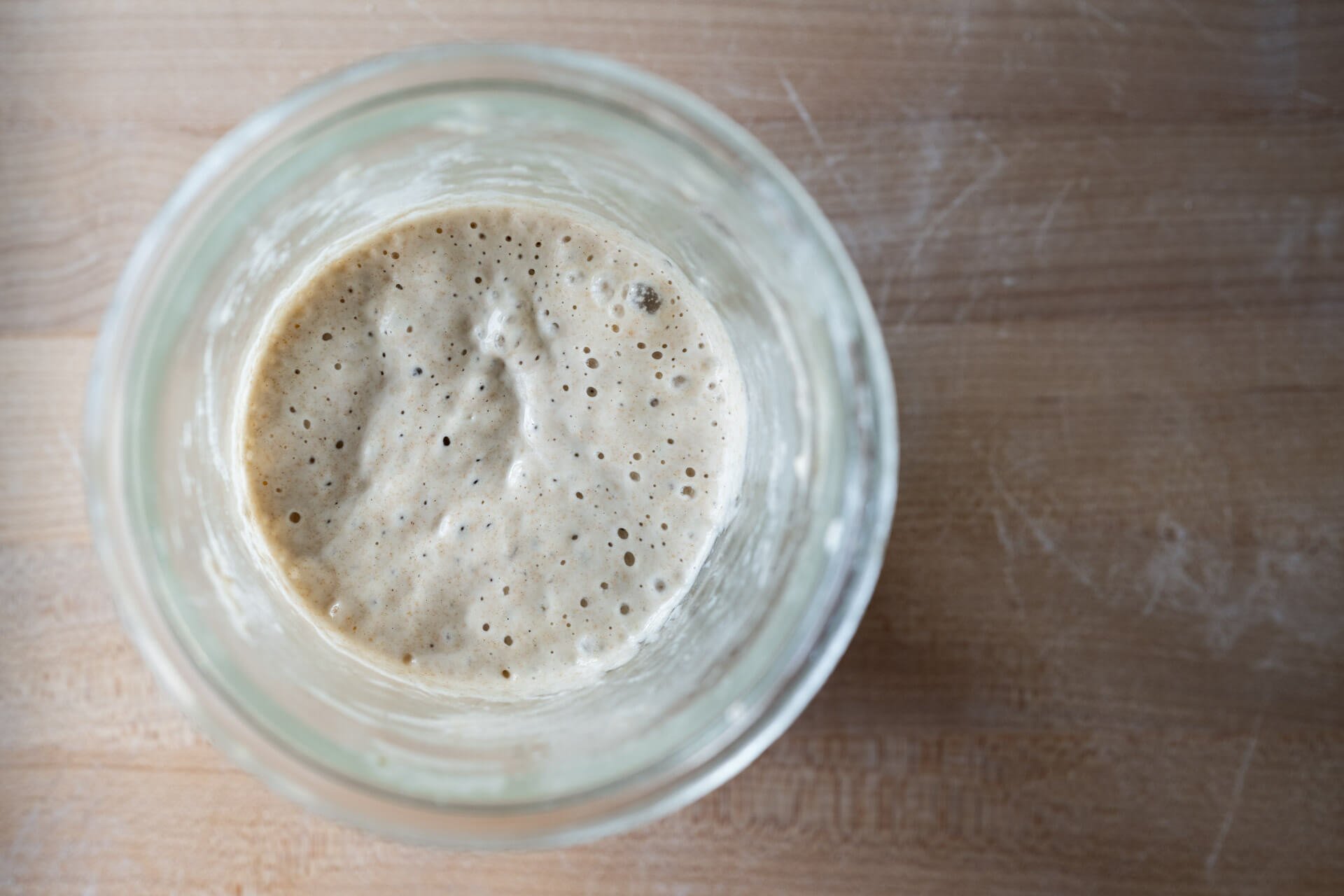 Sourdough Bread with All-purpose Flour Method
1. Mix – 9:00 a.m.
When your sourdough starter is mature (see the image, above), add the ingredients below to a large mixing bowl:
| Weight | Ingredient |
| --- | --- |
| 460g | All-purpose white flour (King Arthur Unbleached All-Purpose Flour) |
| 340g | Water |
| 9g | Salt (sea salt) |
| 92g | Sourdough starter (100% hydration) |
Using wet hands, mix everything — except 50g of the water (add 290g and hold back 50g) — until it comes together into a shaggy mass. I like to hold back a little of this water when mixing to pause and assess the dough: does it feel super wet and "soupy?" If so, omit the reserved 50g. If it still feels manageable, add it in slowly as your strengthening the dough in the bowl with folds.
This dough doesn't require intensive kneading (like slap and fold) but do give it a series of folds (pickup one side and fold it over, rotate the bowl and repeat) in the bowl for 2-5 minutes until it smooths slightly and comes together in a cohesive ball.
I like to fold this dough more than my simple weekday sourdough, even though they both don't require kneading on the counter, because this recipe is comprised of 100% all-purpose flour. I find this dough benefits from a little extra strength before bulk fermentation by performing these folds.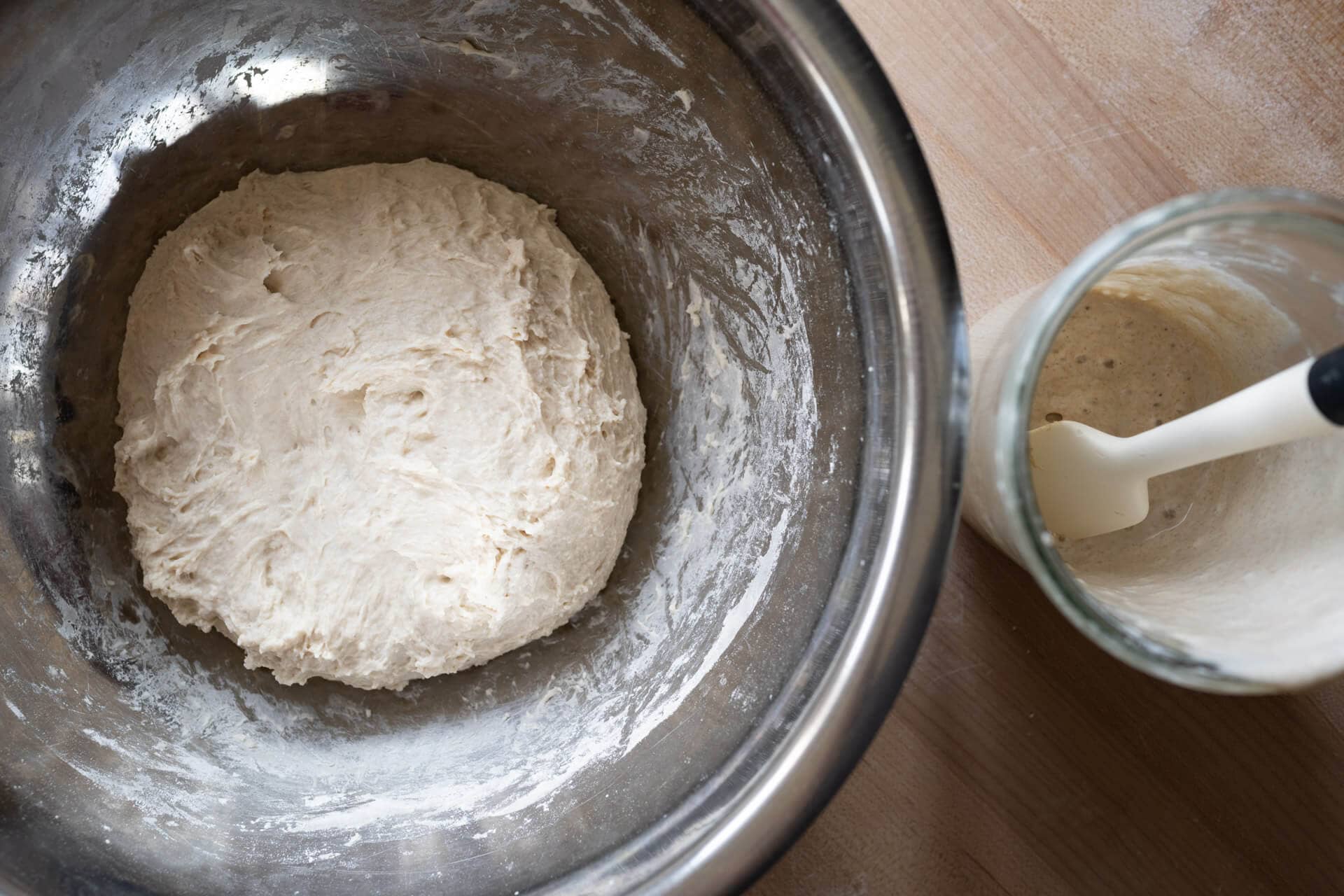 Cover the bowl with reusable plastic and keep somewhere warm in your kitchen for bulk fermentation.
2. Bulk Fermentation – 9:15 a.m. to 12:45 p.m. (3.5 hours)
At 75°F (24°C), bulk fermentation should take 3.5 hours. During this time, we will strengthen the dough through a series of stretch and folds directly in the bowl.
For each set wet your hands, grab one side and stretch it up and over the dough to the other side. Rotate the bowl 180° and perform another stretch and fold (this forms a long rectangle in the bowl). Then, rotate the bowl 90° and do another stretch and fold. Finally, rotate the bowl 180° and do one last stretch and fold.
Give the dough 4-5 sets of stretch and folds as indicated below:
| Set | Time |
| --- | --- |
| Fold set 1 | 9:30 a.m. (15 minutes after the start of bulk fermentation) |
| Fold set 2 | 9:45 a.m. (15 minutes after fold set 1) |
| Fold set 3 | 10:15 a.m. |
| Fold set 4 | 10:45 a.m. |
| Fold set 5 (as needed) | 11:15 a.m.5 |
After the last set of stretch and folds, let the dough rest, covered, until the next step.
3. Preshape – 12:45 p.m.
After 3.5 hours the dough should have risen in your bulk fermentation container, smoothed out, and show bubbles on the sides and surface. You want the dough to feel more elastic and strong, it should also feel alive and aerated. I also like to look at the edge of the dough in the bulk container: it should be domed, not flat indicating the dough needs more time to rise6.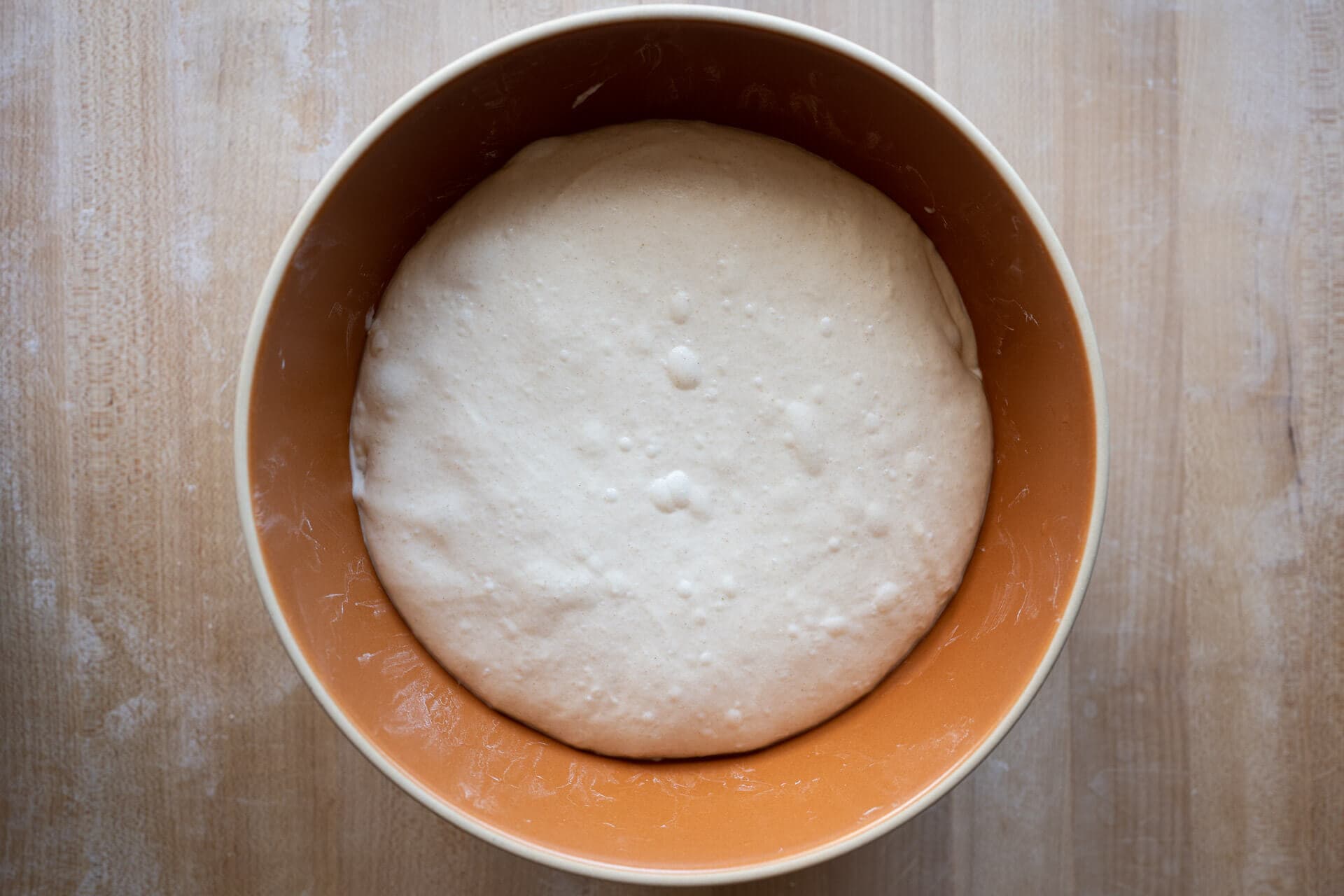 Fill a bowl with some water and place it on your work surface — I use water to keep the dough from sticking on my hands and my bench knife. Scrape out your dough from the bulk container onto your dry counter. Wet your hand and top of the bench knife and gently preshape the dough into a loose round.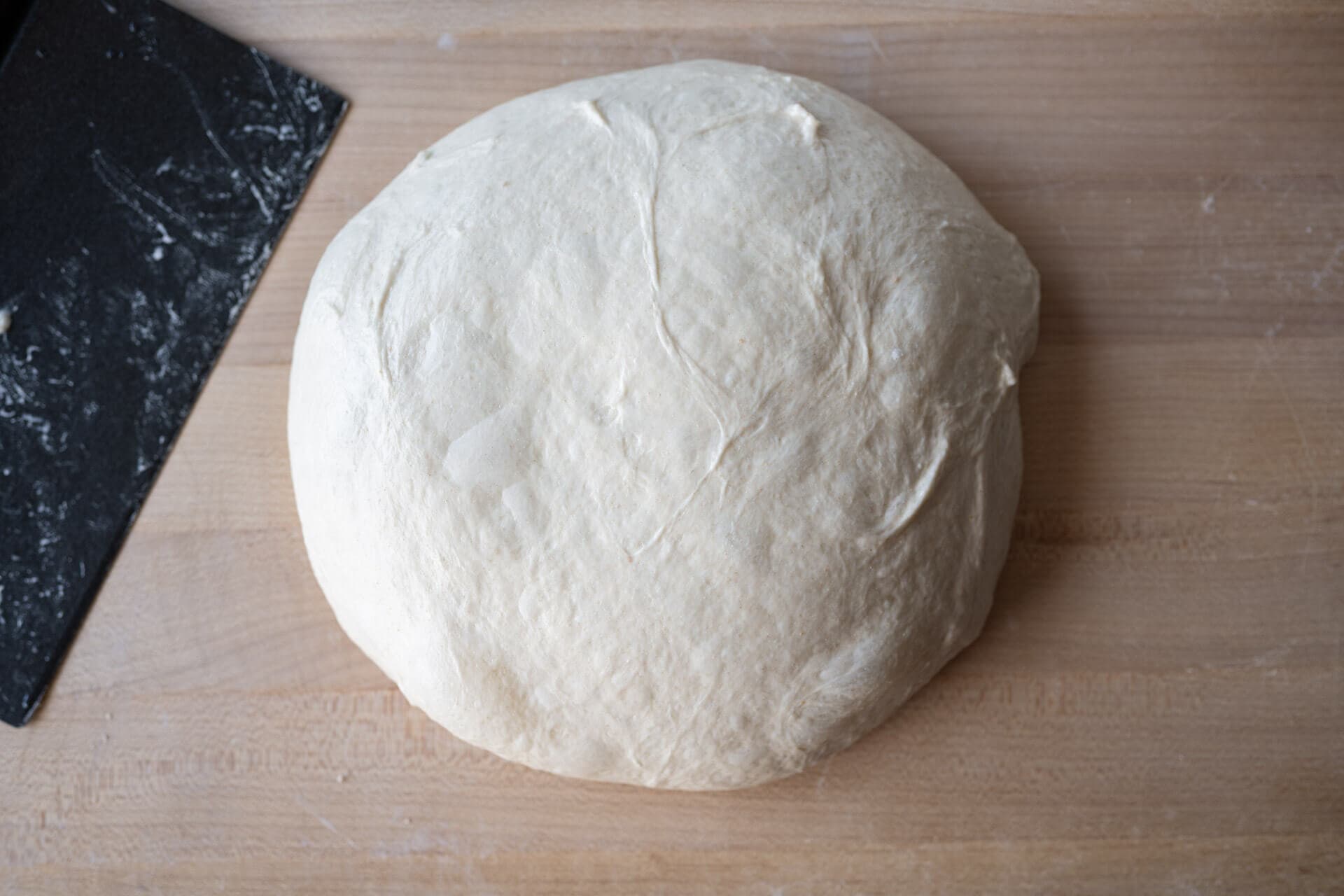 Let the dough rest, uncovered, for 20 minutes until its relaxed outward.
4. Shape – 1:05 p.m.
I went an extra step with this dough and coated it with a mixture of black and white sesame seeds for flavor. You can omit toppings altogether or use sesame as I did, rolled oats, flaked barley, pumpkin seeds, or anything you think would taste wonderfully toasted in the oven. Lay a towel next to your work surface and spread the topping out thinly. After you shape the dough, roll the smooth side on the towel to pick up these toppings (as shown in the video below).
Flour the work surface, your hands, and the top of the rested dough. Using your bench knife flip the round over onto the floured work surface. Next, take the left edge and fold it over midway to the right. Take the right side and fold it over the left. Take the top edge and fold it down to the middle. Pick up the bottom edge (closest to you) and fold it up over to the top of the dough but keep going until it touches the work surface, flipping everything over so the seams are now on the bottom.
Next, using both hands drag the dough down toward your body using your pinky fingers to pinch the dough between your fingers and the work surface. Rotate the dough and continue dragging to create tension on the top and outside of the dough. It's not necessary to excessively tighten this dough (unless it feels fragile and slack to you), and as you can see in the video below, my dough was strong and did not require a firm hand to fully shape.
Read through to my guide to shaping a boule for more in-depth instruction on shaping boules.
5. Proof – 1:15 p.m. 3:45 p.m. (or when dough is ready)
Cover the proofing basket entirely and let it sit out on the counter for 2 to 4 hours, temperature depending. My dough was ready after 2.5 hours at about 75°F (23°C).
Overnight option: At this point, you can also place the covered proofing basket directly into your refrigerator and continue the process the next morning, afternoon, or even the next evening.
Use the "poke test" (as seen below) to determine when the dough is ready. While I don't think this test is appropriate for all doughs, it's a good test because it's made from all-white flour, it's moderate hydration, and it was proofed at room temperature. Notice how my pokes slowly spring back and don't always fill in the indentation. Additional signs it's ready are that it is well-risen in the proofing basket and quite gassy.
Read through my complete guide to the poke test for more information on this useful tool →
6. Bake – 3:45 p.m. (pre-heat oven at 3:00 p.m.)
Preheat your oven with the rack at the bottom third to 450°F (232°C). Place your combo cooker or Dutch oven inside, open, with the lid and bottom side-by-side. Review my guide to baking in a Dutch oven for in-depth details.
Cut a piece of parchment paper to fit over the proofing basket and place a pizza peel (or large cutting board) on top. Using both hands, flip the entire stack over and remove the basket.
Score the dough and load it into the Dutch oven; then, bake for 20 minutes covered. After this time, remove the lid and finish baking for 30-35 minutes or until done. The internal temp should be around 205-210°F (96-99°C).
Remove the loaf to a cooling rack for 1-2 hours before slicing. Follow my guide to storing sourdough bread to keep it fresh for the next week (or freeze for longer!).
Conclusion
What a wonderfully simple loaf of sourdough bread. I rarely bake a single loaf (unless it's a miche), but this was so simple and so easy to put together I wonder what keeps me from making a loaf like this every day. Baking sourdough bread doesn't have to be overly complicated; it can be as easy as mixing flour, water, salt, and your sourdough starter and giving it some guidance and time to mature into a delicious loaf of bread.
Crust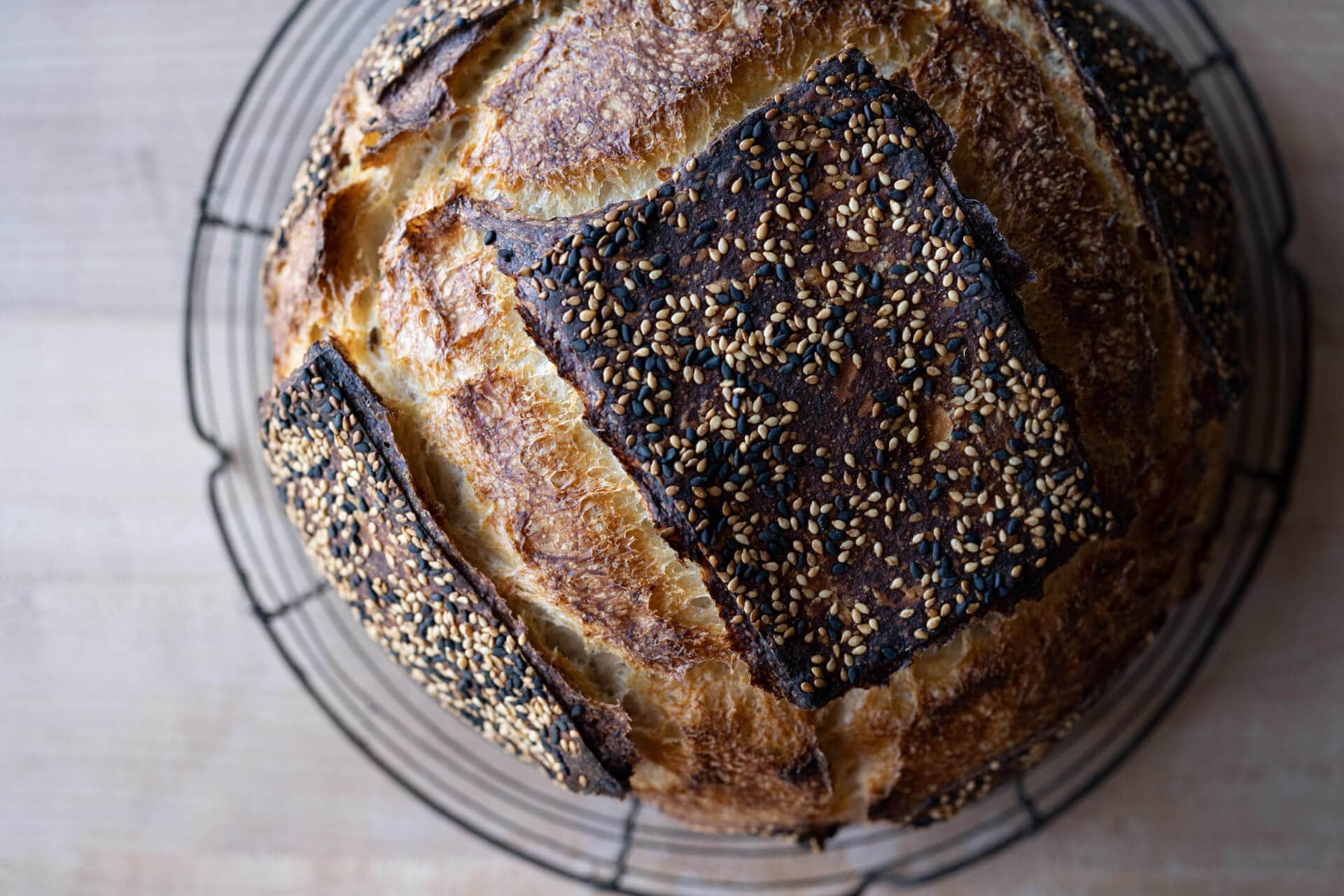 The crust was a rugged one, something I don't mind one bit. The variegated colors from the sesame add some visual interest — not to mention tons of umami—but the color on the crust would be enough to satisfy my visual appetite. And the crust itself has all the appreciable crunch I look for in one of my sourdough loaves. And perhaps most importantly the crust tastes incredible dipped in some olive oil—this has me yearning for middle summer when tomatoes will be ready in the garden.
Crumb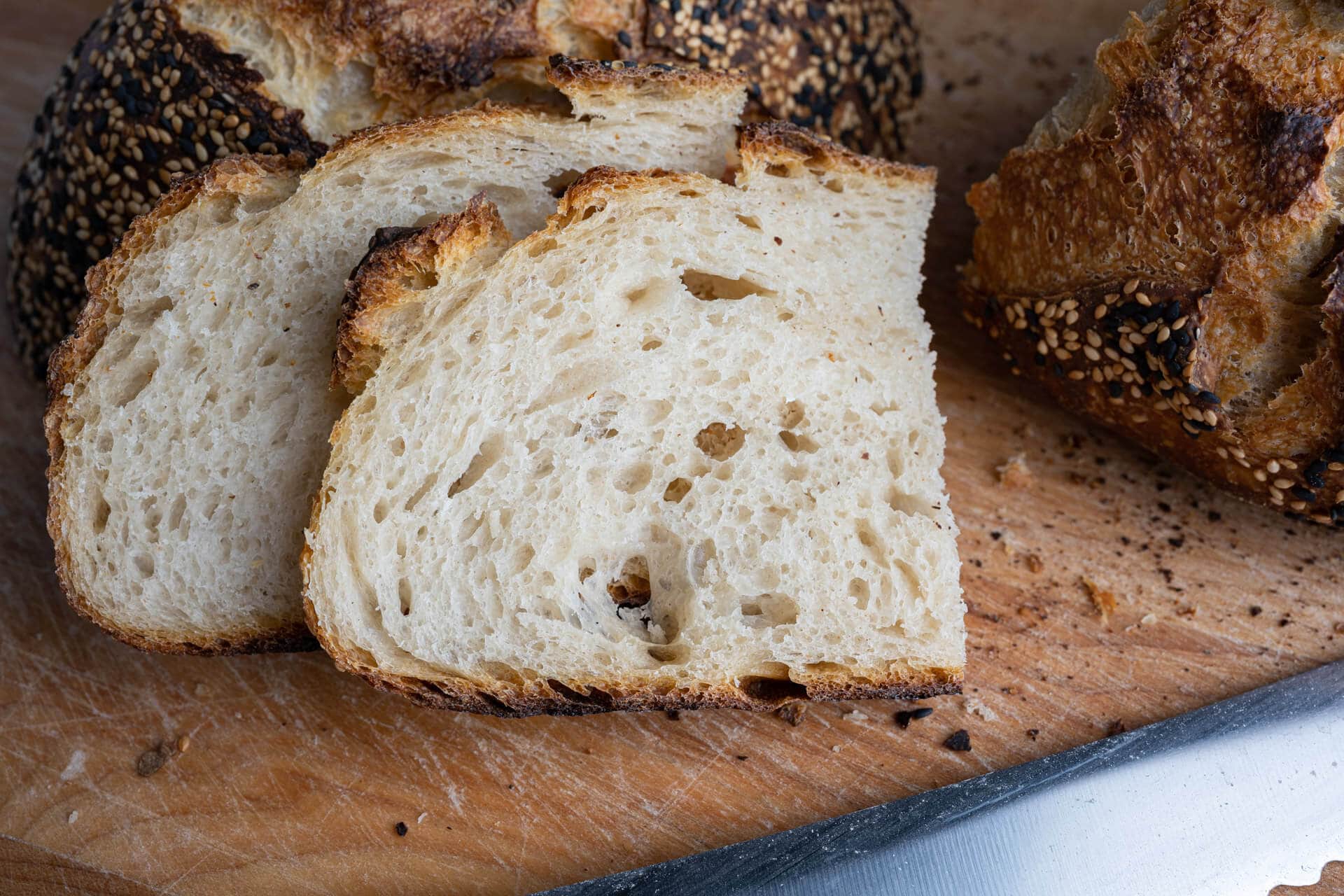 The crumb was tender, light, and wonderfully chewy. A good honest loaf of bread this is, and while not dramatically open, it's evenly fermented and just what you'd expect—and want—from a straightforward bread recipe with minimal fuss.
Taste
Same day sourdough loaves tend to exhibit a milder flavor with reduced sourness and complexity — but this doesn't mean it is flavorless. It's a delicately flavored loaf with wheat flavor standing tall at the front. It still has some tinge of sourness to it, one that arrives at the very end of a bite and serves to remind you of the natural fermentation process, how healthy this bread is, and how delicious it can be when we give the dough the time to ferment properly.
Print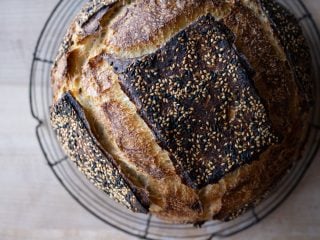 Sourdough Bread with All-Purpose Flour
Author:

Maurizio Leo

Prep Time:

12 hours

Cook Time:

1 hour

Total Time:

13 hours

Yield:

1 loaf

Cuisine:

American
---
Description
My recipe for an easy loaf of healthy and nutritious sourdough bread made with all-purpose flour—all made in one day. No complicated levain steps with this recipe; just get mixing with your ripe sourdough starter!
---
Main Dough
460g

all-purpose flour

340g

water

9g

salt

92g

ripe sourdough starter
---
Instructions
Mix (9:00 a.m.)
Add the Main Dough ingredients, reserving 50g of water, to a mixing bowl and mix with wet hands. Mix and strengthen the dough for 2-5 minutes, pinching the ingredients together and folding the dough over itself repeatedly until it's cohesive and smooths. During this time, slowly add in the 50g of the reserved water if the dough feels like it can handle it: it shouldn't be soupy or extremely wet, if it is, don't add the remainder of the reserved water.
Bulk Fermentation (9:15 a.m. to 12:45 p.m.)
This dough will need 4 to 5 sets of stretch and folds during bulk fermentation, the first set 30 minutes after bulk fermentation begins. Perform the rest of them at 30-minute intervals as needed. After the last set, let the dough rest the remainder of bulk fermentation.
Preshape (12:45 p.m.)
Lightly flour your work surface and scrape out your dough. Using your bench knife, lightly shape the dough into a round shape. Let the dough rest for 20 minutes, uncovered.
Shape (1:05 p.m.)
Shape the dough into a round (boule) or oval (batard), then place the dough in proofing baskets.
Proof (1:15 p.m. to 3:45 p.m.)
Cover the proofing basket entirely and let it sit out on the counter for 2 – 4 hours, temperature depending. My dough was ready after 2.5 hours at about 75°F (23°C).
Bake (3:45 p.m., preheat oven at 3:00 p.m.)
Preheat your oven with a baking surface or combo cooker/Dutch oven inside to 450°F (230°C).

When the oven is preheated, remove your dough from the fridge, score it, and transfer it to the preheated baking surface or combo cooker. Bake for 20 minutes with steam. After this time, vent the steam in the oven or remove the lid (you can keep it in the oven or remove it) and continue to bake for 30 minutes longer. When done, the internal temperature should be around 204°F (95°C).

Let the loaves cool for 2 hours on a wire rack before slicing.
---
Notes
The dough can be placed into the refrigerator at the Proof step in its proofing basket and sealed bag to proof overnight. The next day, take it out and bake it straight away in a preheated oven as indicated in the Bake step.
What's next?
This sourdough bread with all-purpose flour is straightforward, but no less delicious, than those with complicated flour blends. If you want an even more hands-off approach to baking sourdough bread, check out my no-knead sourdough bread recipe. On the other hand, it can be fun to experiment and discover what other flavor profiles we can draw out with a whole wheat sourdough sandwich loaf, or a fifty-fifty sourdough with 50% whole wheat—that is, once we readily have these flour choices at the market!
If you use this recipe, tag @maurizio on Instagram so I can take a look!