A boule, or round, is a simple and straightforward way to shape bread dough. There are many ways to accomplish this, and some are more gentle than others, but the method I show below is my most used approach. It's a great starting point for developing your own style for shaping a boule — perhaps you change the final motions or leave out a few in the middle, whatever works best for you and the dough on your work surface.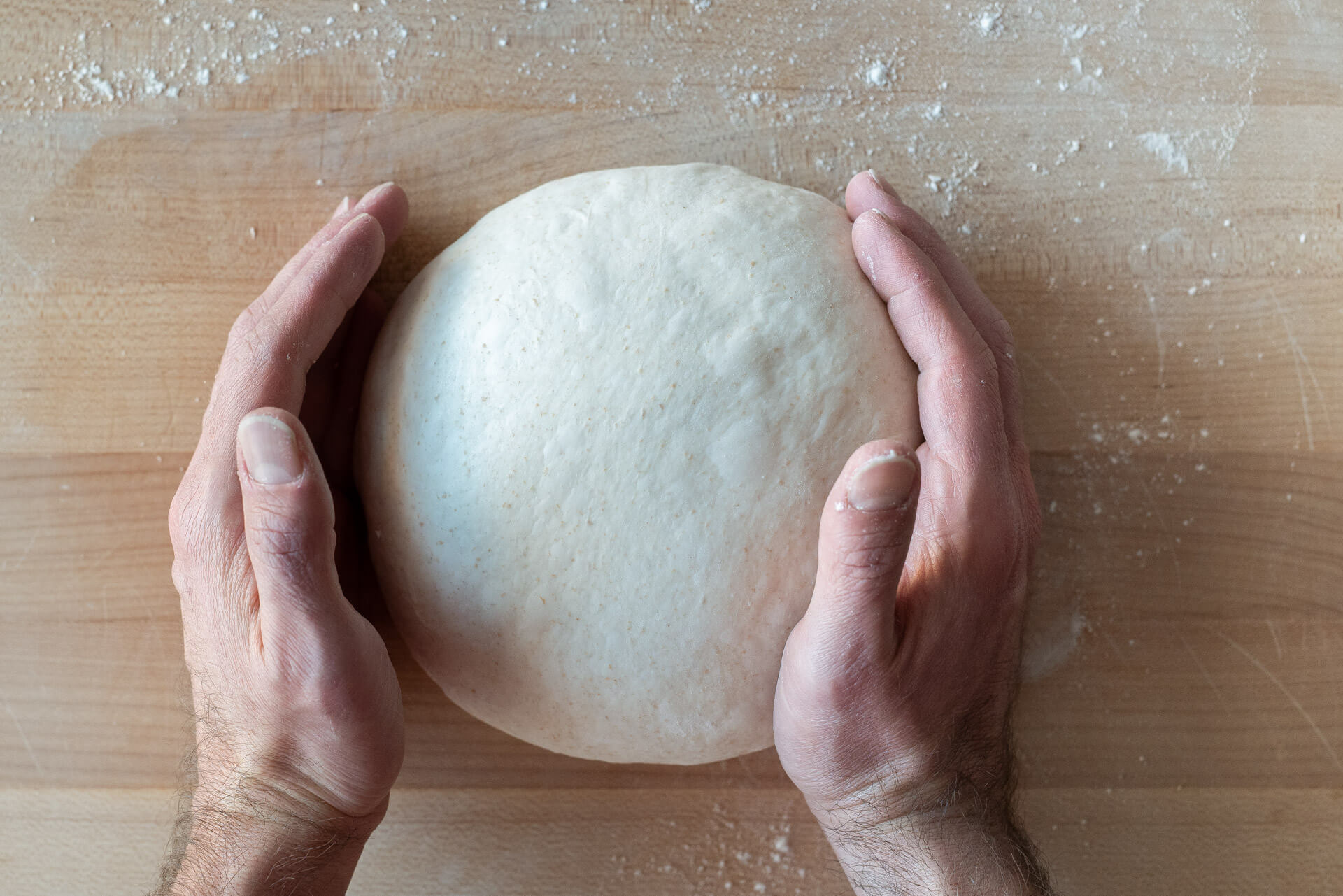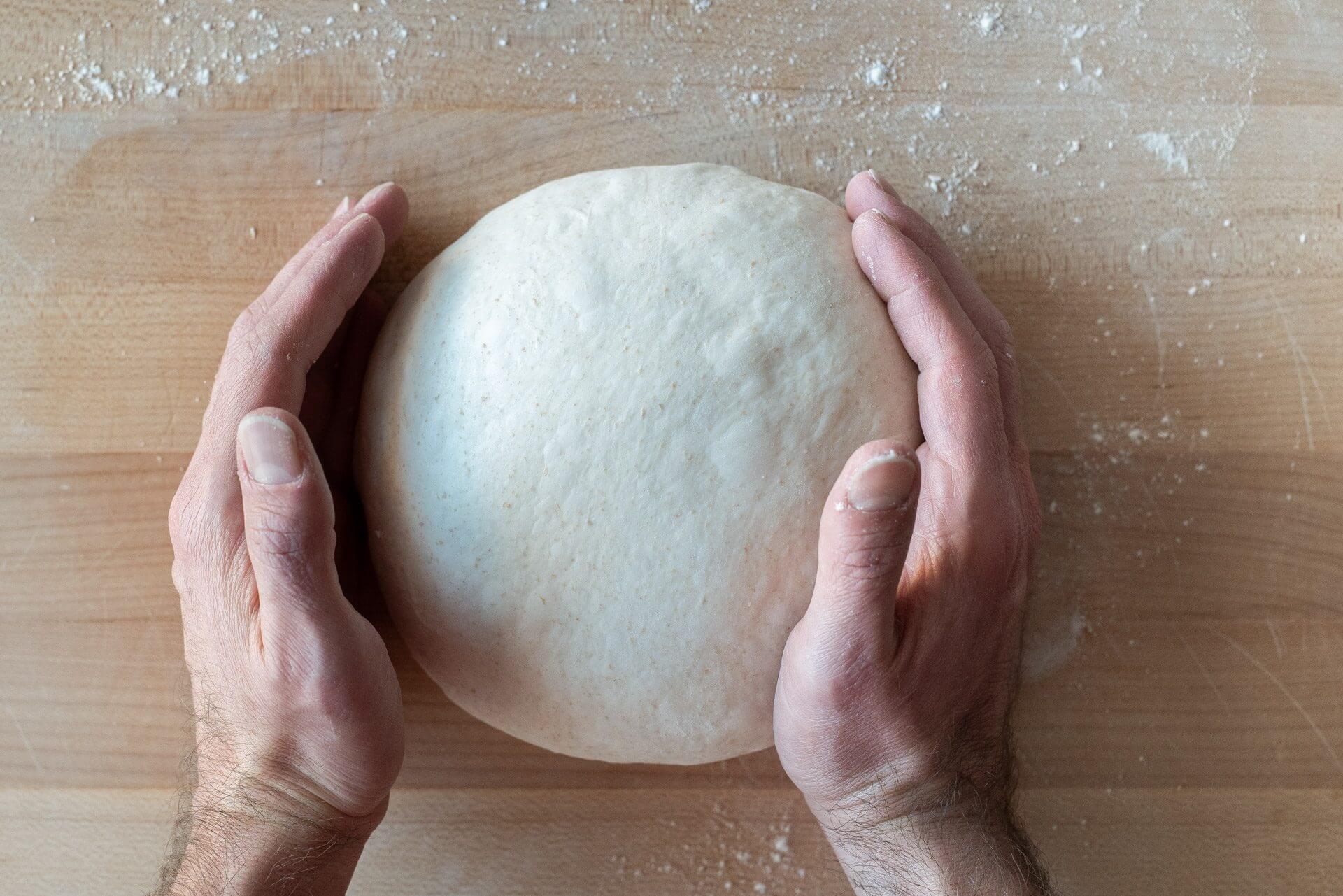 I recommend using this method in my Beginner's Sourdough, but I also use it when shaping a miche, a porridge loaf, and even dough with heavy mix-ins like potatoes. It works especially well for loaves with lots of whole grains and presents a nice canvas for getting fancy with decorative scoring. It also results in the perfect centerpiece on a family dinner table.
Round Proofing Baskets
I like to use round proofing baskets, either cane or wicker. These 10″ baskets can hold anywhere from 700g to 1,100g. If you're baking in a closed pot, as described on my post Baking Bread in a Dutch Oven, I'd recommend a dough weight of 700-900g.
Shaping Process
Starting with a rested round, flip the round over onto your work surface and spread out gently.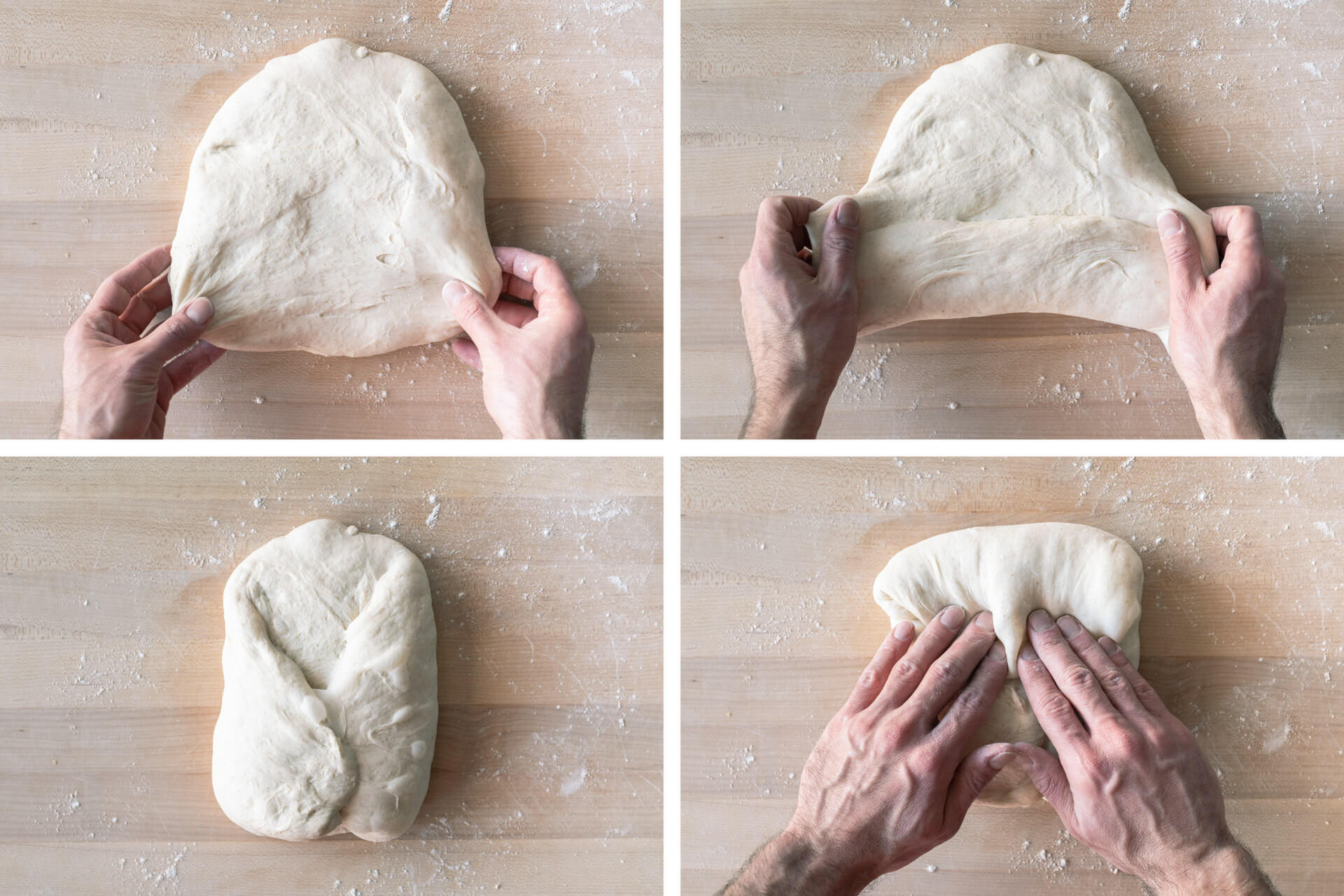 Pull the two sides at the bottom away from each other making two "wings" (top-right, above)
Fold the right side over to the middle and the left to the middle over the right (bottom-left, above)
Using both hands, pull the top of the "envelope" up and away from your body just a bit, then fold it over and down to the middle, sealing against the dough (bottom right, above)
Using both hands, grab the bottom and pull up and over to the top (top-left, bottom)
With both hands tuck and drag the dough down towards your body to create tension on the outside of the dough. After each drag spin the dough on the work surface and continue dragging until the dough is uniform in shape and the outside of the loaf is smooth with no tears or bulges (top-right and bottom-left, below).
Using your bench knife, flip the dough and place in the proofing basket with the seam facing up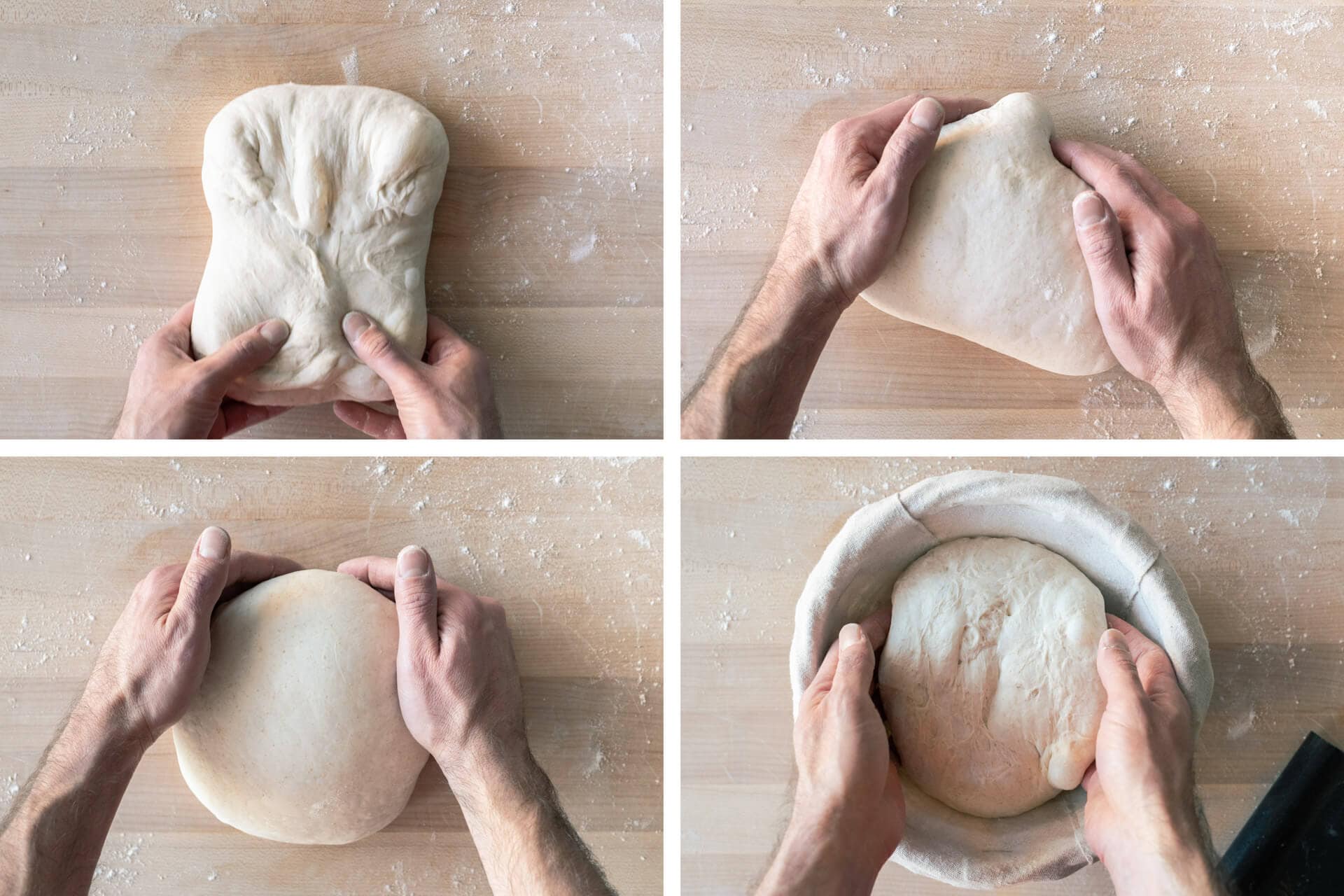 Pinching a Weak Dough
If you find your dough is excessively slack and weak after shaping you can add a little structure to the dough by pinching the top. After you transfer your dough to the proofing basket, let it rest a few minutes while you cleanup.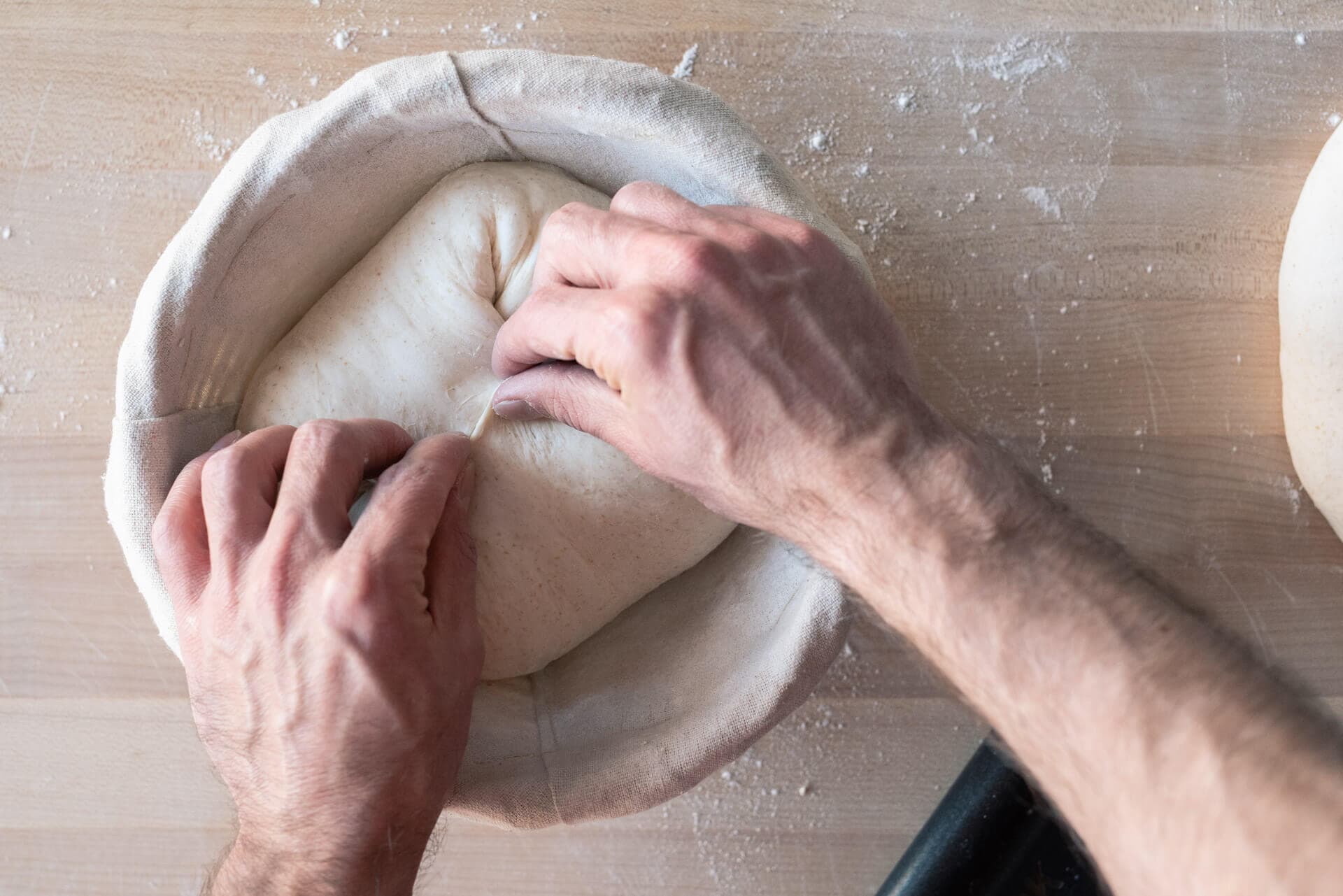 Then, using wet or floured hands. grab the very outside edge of the dough and fold it up over to the middle. Do this at four sides, where each "flap" is opposite another one, to create a little package.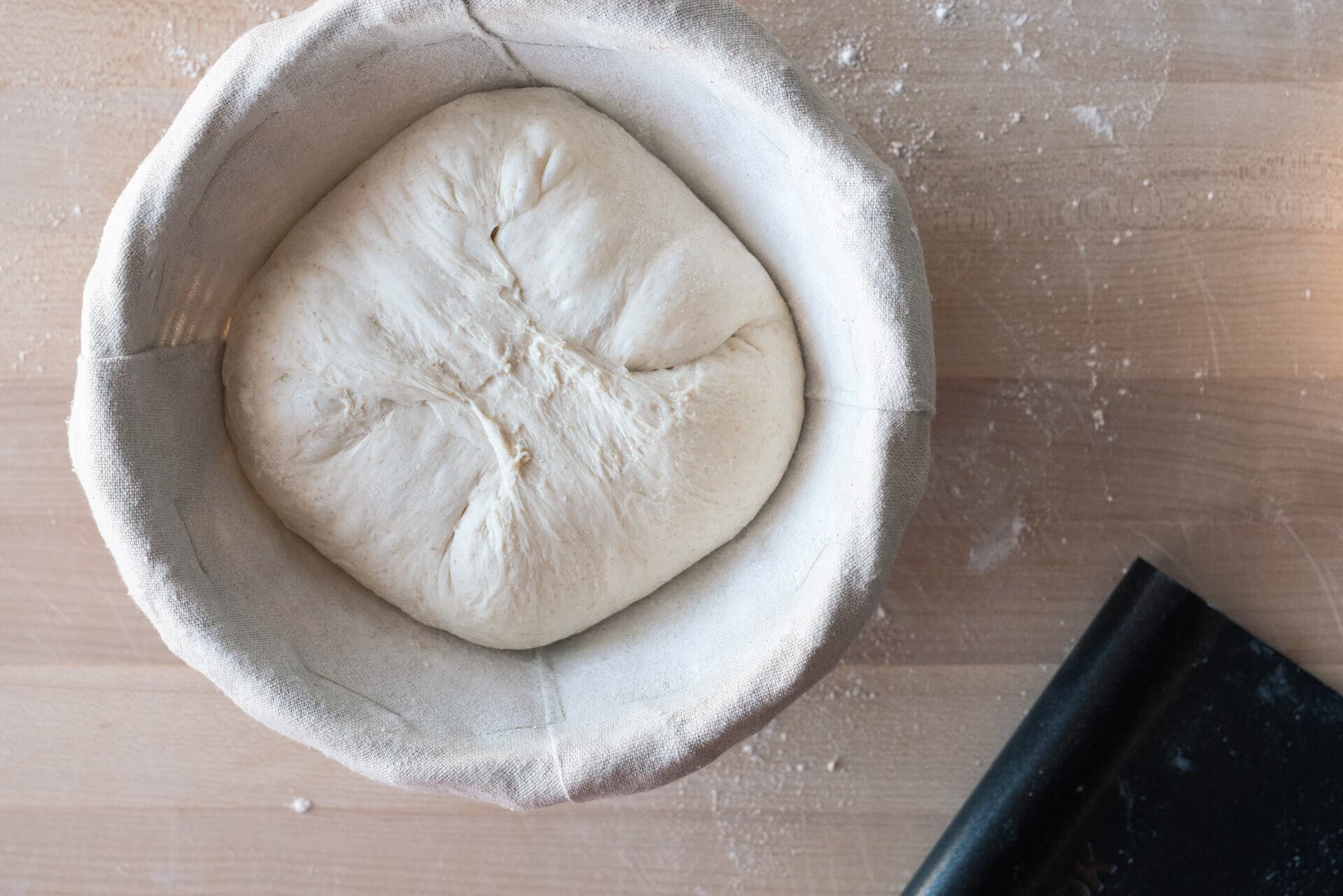 After the four folds you'll end up with an even tighter boule. This last minute pinching will create quite a bit of tension in the dough, adding strength to a boule that might otherwise spread significantly in the oven.
Shaping a Boule: Video
---
What's Next?
The perfect recipe to try this shaping method on is my Beginner's Sourdough Bread recipe. That dough is relatively low hydration and just wonderful to work with; it springs up with a beautiful, craggy crust when shaped as a boule.
Happy baking!