I ordered white Sonora wheat berries on a whim. I was already ordering some flour from Hayden Flour Mills in Arizona, and I decided to add a bag to my order. I'm so glad I did. This white Sonora sourdough recipe comprises a good chunk of whole-grain wheat flour and yet doesn't taste anything like it.
White Sonora is soft white wheat that is not typically used for hearth loaves but used more frequently as a basis for food like tortillas. However, some bakers, namely Josey Baker, make some excellent bread from this wheat in California. Early in my trials with this flour, I made some unexpectedly fantastic loaves, and these early bakes tipped me off to what would ultimately be my focus for this bread: the crust.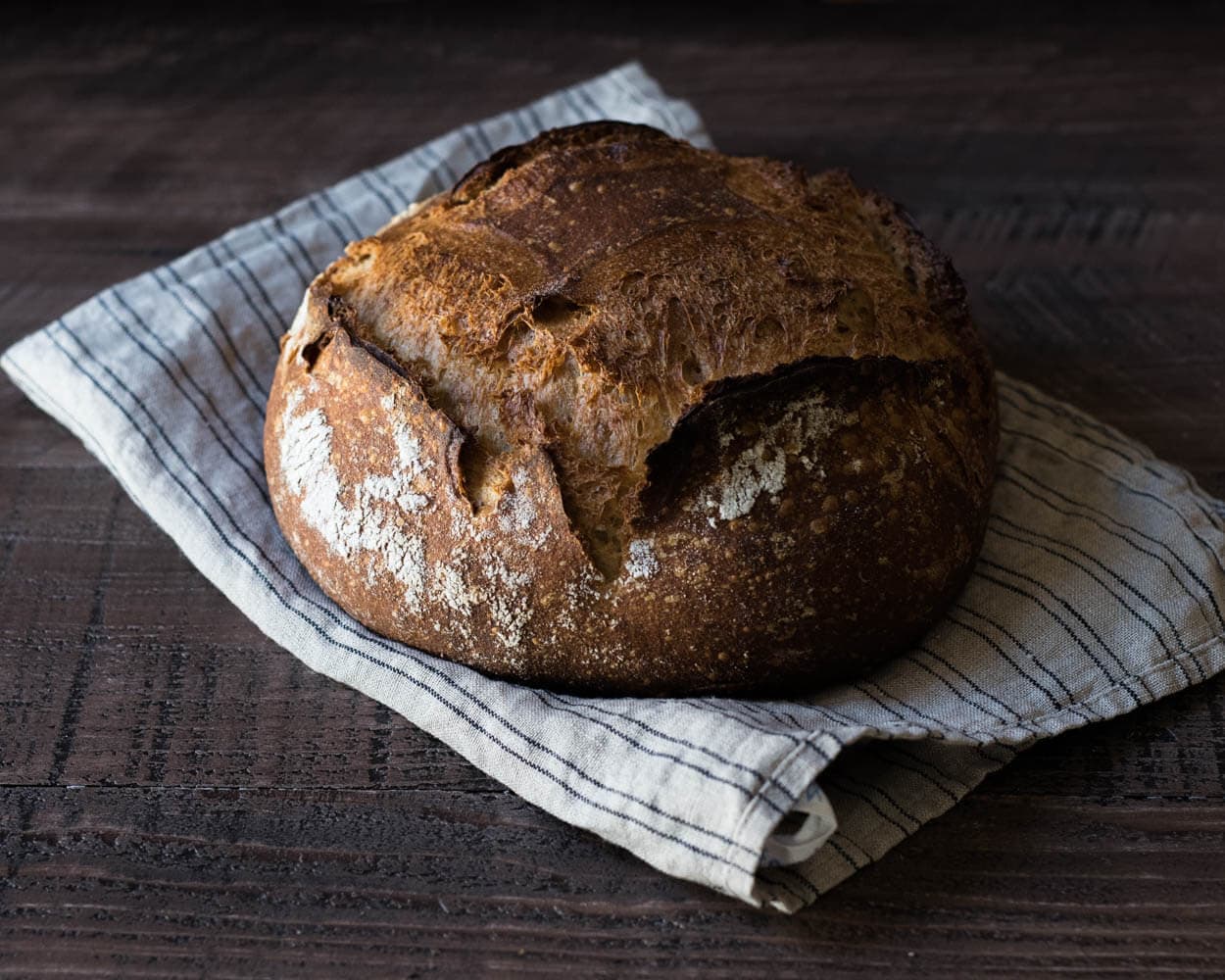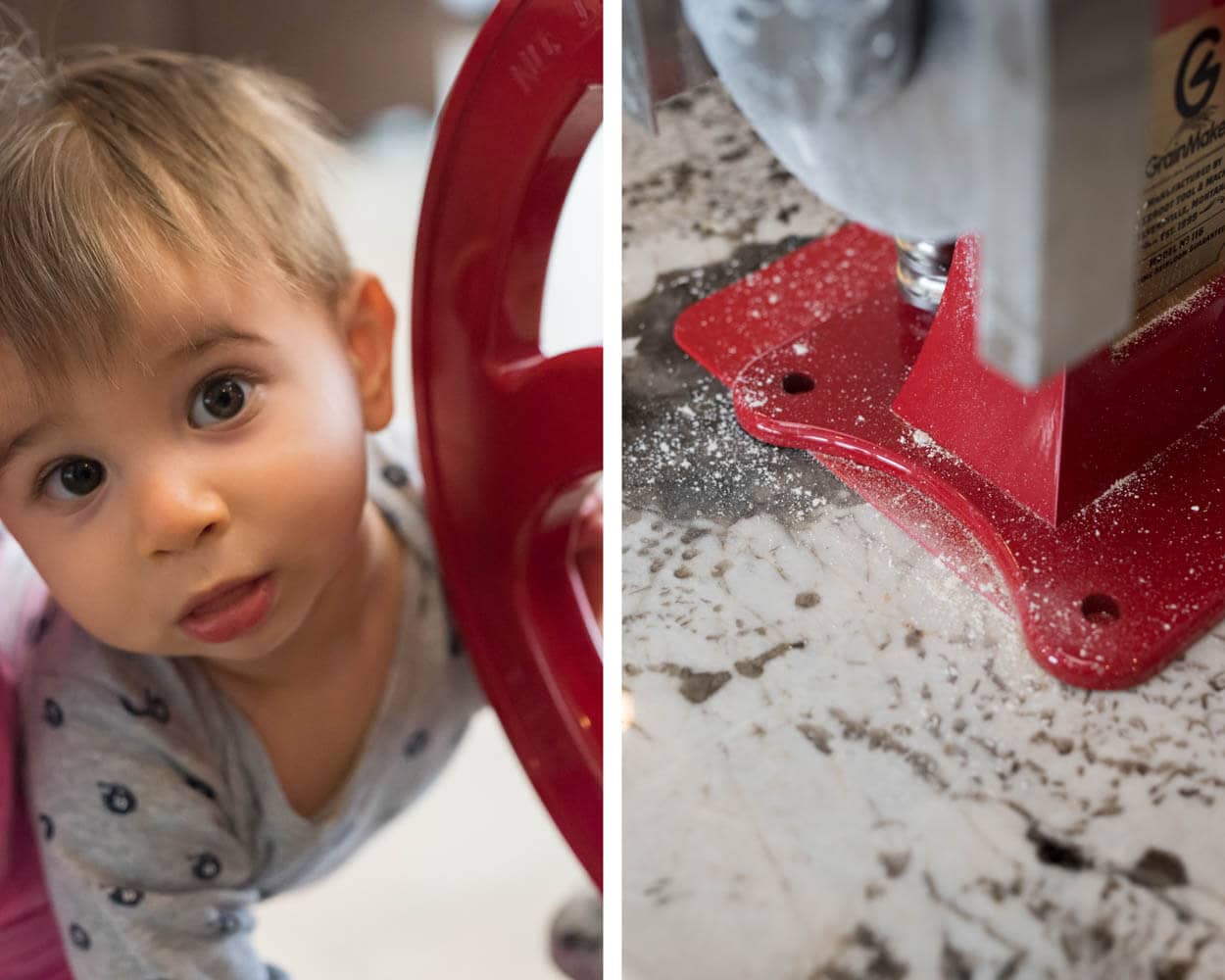 There's something special about the way this flour bakes. The smell of the finished dark crust, which is amplified when toasted, is reminiscent of a freshly baked pizza pulled just from the oven. You know, one of those magnificent Neapolitan pizzas cooked in less than 2 minutes that's still bubbling and slightly scarred from the searing oven. It has a creamy and sweet smell to it, and even though the resulting loaves look rustic and crunchy, it is surprisingly soft and supple. In my previous post on my favorite sourdough recipe, I mentioned how I love the crust above almost everything else, and this flour makes that statement true many times over.
Besides fantastic bread, I've used this freshly milled flour in several things around my kitchen, most notably, pancakes (and I'd venture to say they'd be amazing in pumpkin pancakes). Talk about a light and fluffy pancake! This flour made the pancakes sweeter than traditional wheat (if you make these, I'd suggest holding back any added sugar) and incredibly light and airy (I make them by folding in whisked egg whites). I could see using this flour in other foods, like scones, flaky Southern-style biscuits, and cookies. I plan to tackle a few of these self-suggestions starting this weekend… But first, let's talk about milling these beautiful little berries. I just had to share this photo. The big, shiny, red GrainMaker is an instant hit with the little one. They warn you about this in the manual (the mill is a heavy beast, so you want to keep an eye on it; the handle is very tempting for a kid to swing on). My son, Luca, gets a huge grin on his face when he sees me pull out the mill. To him, it must be the most tempting item ever placed on the counter. I always let him try and turn the crank a few times, a sort of Sword in the Stone test, but much to his sadness, his strength is still a few years out.
Flour Selection
White Sonora is an old wheat variety; it's one of the oldest surviving wheat varieties in North America. It is remarkably drought-resistant and grows well in the USA's Southwest region, where freezing temperatures are less common. It was once used heavily on the West coast before hybridized wheat varieties were developed and all but pushed it out. It seems like this grain is making somewhat of a comeback, and thankfully you can now find it at several places online1.
If you're interested in trying to source some Sonora for yourself, see my Resources section at the end of this post for a few places that carry it—raw berries and fresh milled. I'm confident you will not regret ordering a sack or two, even if you don't use it in bread (but I hope you do).
I know not everyone has access to this flour or raw berries, but you can, for the most part, equate this wheat with all-purpose flour — that is, flour with lower protein levels. The same process and formula below will work well with many all-purpose flour varieties out there. I have been working on a method that will produce a loaf that is open and light yet still contains a hefty percentage of the soft Sonora wheat. I ended up with a combination of Central Milling Organic High Mountain Hi-Gluten flour, Giusto's Artisan Bread Flour, and of course, freshly milled Hayden Flour Mills white Sonora wheat. The thought here is to add a bit more strength to the weaker white Sonora with stronger flour, and you could do the same with something like King Arthur Bread Flour or another flour with higher protein levels (somewhere near 13%).
White Sonora Wheat & Milling
White Sonora berries are round and have a pale, creamy color. When milled, the flour turns a lovely yellowish hue reminiscent of very light zabaione. Beautifully elegant, fluffy, and light in of color and smell similar to fresh cream — intoxicating. With my GrainMaker, I'm able to mill the grain to an almost powdery texture, so light in fact that the grain floats up a bit and sticks to the burrs and dust guard. This creates a small mess, but the results are worth it: tiny bran/germ particles and the flour cakes in your hand when squeezed: a good sign that healthy oils from the grain are still present in the flour.
White Sonora Sourdough Recipe
Vitals
| | |
| --- | --- |
| Total Dough Weight | 1,800 grams |
| Pre-fermented Flour | 6.00% |
| Hydration | 85.00% |
| Yield | 2 x 900g loaves |
If you want to halve this recipe just take all ingredients (including the amount of levain used in the final mix) and divide by 2.
Levain Build
| Weight | Ingredient | Baker's Percentage |
| --- | --- | --- |
| 35g | Ripe liquid starter (100% hydration) | 50% |
| 35g | Giusto's Stoneground Whole Wheat | 50% |
| 35g | Giusto's Artisan Bread Flour | 50% |
| 70g | Water | 100% |
Dough Formula
Note that the baker's percentages listed below are with respect to the final dough ingredients and do not take into account the levain.
The target final dough temperature (FDT) is 78°F (25°C).
| Weight | Ingredient | Baker's Percentage |
| --- | --- | --- |
| 353g | Fresh milled White Sonora | 39.42% |
| 306g | Giusto's Artisan Bread Flour | 34.13% |
| 237g | Central Milling Hi Mountain Hi-Gluten Flour | 26.46% |
| 9g | Diastatic Malt (optional) | 1.06% |
| 753g | Water | 84.13% |
| 18g | Fine sea salt | 2.01% |
| 130g | Mature, liquid levain | 14.55% |
I added a small amount of diastatic malt to this formula to help color the crust even more and get that nice caramelization during the bake. The malt is entirely optional, and you'll still get bread that is just as fantastic without it. I like to use this diastatic malt, made in the USA, but any will work just fine.

Method
1. Levain – 9:00 a.m.
Build the liquid levain in the morning and store somewhere warm around 78°F (25°C) ambient. Alternatively, you can build your levain in the evening the night before and leave out at cooler, room temperatures (around 72°F/22°C) and it should be ready in 10-12 hours.
2. Autolyse – 10:30 a.m.
Mix flour and water (reserve 50g water for the mix, later) very well in a bowl and cover. Ensure all dry flour is hydrated. Store near levain (we want the temperature of the dough to remain warm).
3. Mix, Step 1 – 2:30 p.m.
For the first step scoop out the required amount of levain on top of your autolysed dough and using about 30g of the reserved water hand mix the levain into the dough, so it's incorporated.
Dump the dough out onto a dry, flourless counter and slap and fold for approximately 3 minutes. A rapid slap/fold session here at the beginning helps get the dough off to a strengthened start. As the flour is a bit weaker, I find it helps to develop the dough at the beginning, and then proceed through bulk per usual with stretch/folds.
If you prefer not to slap/fold on the counter, you can build strength in another way, such as stretch and folds in the mixing bowl. Perhaps somewhere close to 30-40 rotations. You want the dough to start to hold its shape and lose just a tad of that shaggy look.
Let the dough rest 30 minutes before proceeding to Mix Step 2 (where we add salt).
4. Mix, Step 2 – 3:00 p.m.
30 minutes later spread the salt on top of the dough and use the remaining water to help dissolve. Mix thoroughly with your hand to get the salt incorporated, but no need to mix too intensively as we've already strengthened the dough enough at Step 1.
Transfer dough to a tub or thick-walled bowl for bulk fermentation.
5. Bulk Fermentation – 3:00 p.m.
At 78°F (25°C) ambient temperature, bulk fermentation should go for about 4 hours. Perform six sets of stretch and folds during the bulk. The first three are at 15-minute intervals, and the last three are at 30-minute intervals. After the last set of stretch and folds let the dough rest, covered for the remainder of bulk fermentation.
6. Divide & Preshape – 7:05 p.m.
Divide the dough into two halves. Lightly shape each mass into a round, and let rest for 25 minutes uncovered.
7. Shape – 7:35 p.m.
Lightly flour the top of your dough rounds and flour the work surface. Use a little extra flour on the work surface and ensure your hands are nice and floured, shaping this white Sonora can be tricky as it wants to fall apart quickly and stick to just about everything.
Shape as a batard or boule and place seam side up in a proofing basket or banneton.
For instruction on how to shape this dough as an oblong loaf, see my post on how to shape a batard (with video!).
8. Rest & Proof – 7:45 p.m.
Cover your banneton with plastic and immediately retard in the refrigerator at 38°F (3°C) for 12-13 hours.
9. Bake – Next Morning: Preheat oven at 6:00 a.m., Bake at 7:30 a.m.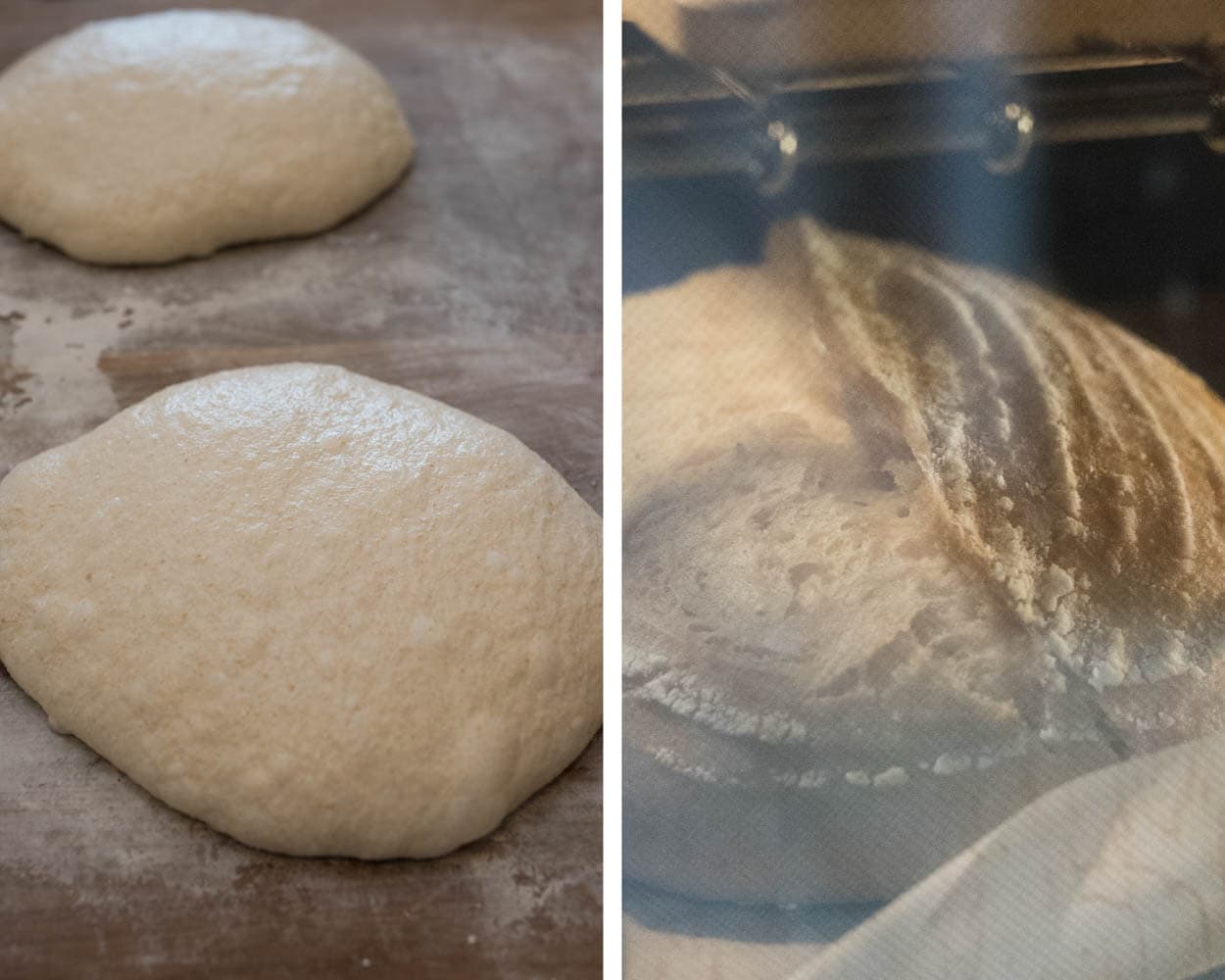 Preheat y our oven to 450°F (230°C). Bake for 20 minutes and then vent your oven (remove steaming pans or lid to Dutch oven). Then, bake for an additional 30 minutes until done. These loaves took extra time in my oven (about 10 minutes), keep an eye on them at the end, and go until they have a beautiful and dark crust. I steamed my oven in my usual way, described here in my post on how to steam your home oven for baking.
Conclusion
From my very first trials baking this white Sonora sourdough my focus for this has been all about the crust. That first taste gets you hooked so bad you can't see anything else besides that next bite of crust, chomping down until you realize you've eaten half the loaf. It's a dangerous thing, this golden bread.
It's scary to think that this wheat variety was almost lost to us, and is just now starting to come back and become available. What was once a prominently used grain in North America, almost wholly abandoned for one reason or another — I'm glad the hard work of these local farmers helps to keep this beautiful grain available. It also makes me wonder, what other varieties have we lost to time?
Crust
My foreshadowing at the beginning of this post is reiterated here: the crust is something very, very special with this bread. It bakes to a shiny, golden hue that crackles and crunches as you bite. In the batard above I slashed a bit differently to get that "double ear" you see there (there's an edge on both the left and right side). To get this effect, you slash straight down the center with the blade at a 90º angle with the dough (perpendicular). I did this in some of my later bakes with this bread because I wanted even more of a dramatic opening in the middle. That open area is a little softer than the surrounding crust and is flaky & thin — it almost resembles pastry. If I could magically make the entire loaf open up this way I surely would.
Crumb
A cream-colored crumb cannot be a bad thing, and in this case, it surely is not. Very tender, light and no sour notes or bitterness.
I had to shape this bread rather gently to preserve the open structure of the crumb. The soft white wheat almost tears if you tug on it too intensely, your hands need to be gentle yet confident. I believe I could open things up even more through fewer shaping movements and more practice. Of course, we are always walking that fine line between sufficient tension and gentle handling.
Taste
Beautiful gelatinization and translucent webbing throughout. This bread with a good chunk of whole wheat flour in it yet tastes nothing even remotely close to whole wheat. It's sweet and creamy, absolutely no bitterness present, and holds up surprisingly well to robustly flavored accompaniment like sharp cheddar or gorgonzola. However, I have found a particular fondness for toasted, slightly warm slices topped with thinly shaved manchego. Heaven.
Buon appetito and may the crust be with you! (…hey, I just watched Star Wars, a second time)
White Sonora Resources
This is where I purchased my 10-pound sack of White Sonora berries for milling. A great resource for not only white Sonora but other grains, especially if you live in Arizona!
At the time of this writing fresh milled white Sonora flour is available here (no wheat berries, their offering is already milled). Grist & Toll has a fantastic reputation for high-quality grains.
A family-owned farm based in California with a wide variety of hard-to-find grains and flour.
Delitaliana
I have not purchased from this supplier, but they indicate their white Sonora is grown organically in California, available through their Amazon store.