This charming1 and wholesome pan bread is as nutritious as it gets. And while I do have a particular fondness for pan loaves, especially when they use freshly milled flour, this honey whole wheat and barley pan loaf takes it to the next level with freshly milled flour, a little sweetening, a bit of (healthy) fat, and a porridge mix-in.
Yes, it's chock-full of ingredients. Picking up the final, baked loaf is akin to picking up a concrete brick. I mean, with the barley porridge alone, we're inching our way toward the title of construction worker rather than baker. But! Much like a piece of jewelry has some value associated with its heft, so does this nourishing bread. And believe me, while the overall loaf feels heavy in hand, each slice eats light and airy.
Barley was a staple in ancient Rome, and for a good reason. It contains many essential nutrients: it's high in protein, fiber, B vitamins, and other nutrients necessary to a healthy diet. I've been eating barley for a long while and usually make a batch each weekend to last me through the week for salads and grain bowls. Not only is it healthy, but it's mighty tasty. This beautiful grain sounds like the perfect addition to bread dough, and it turns out I was right.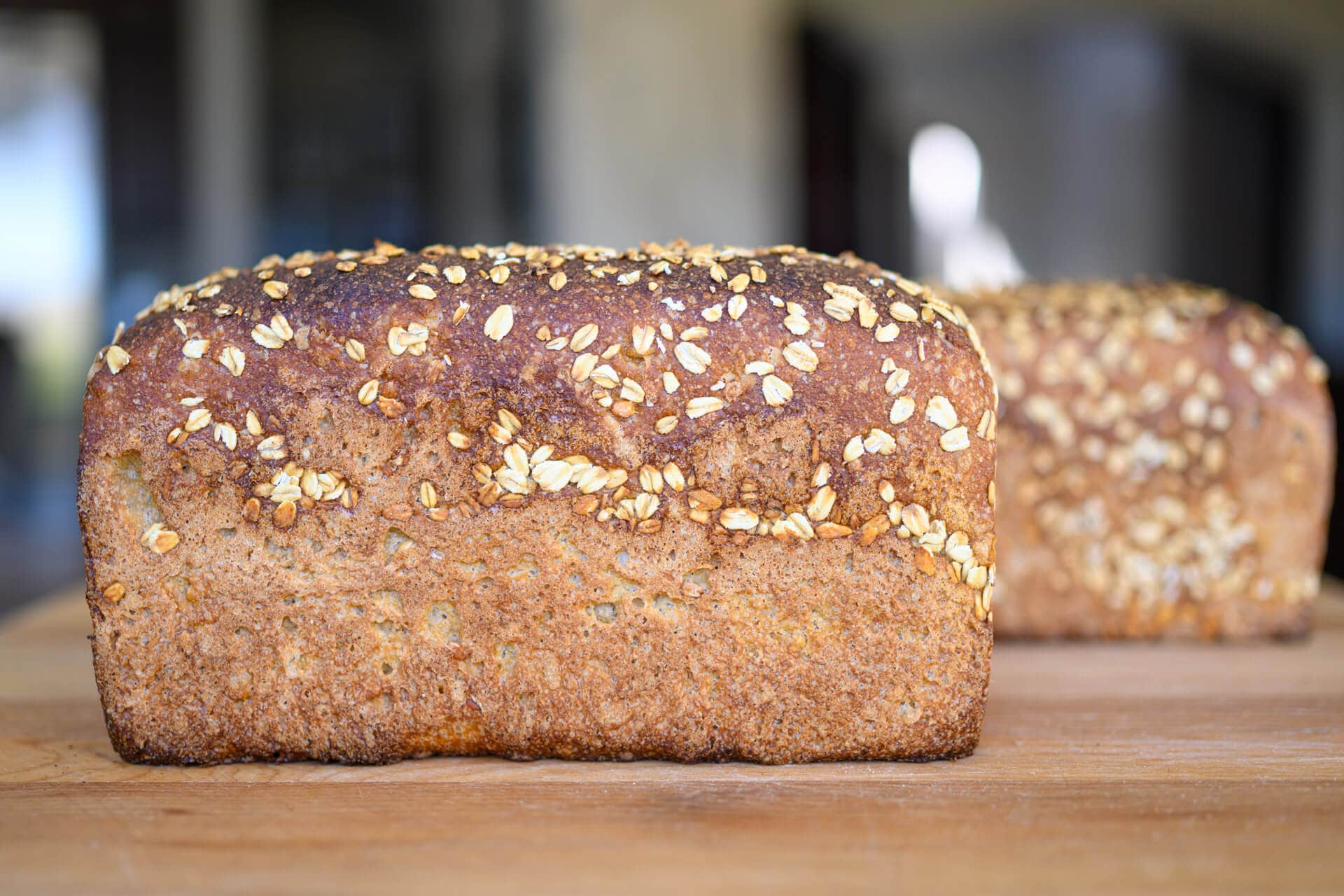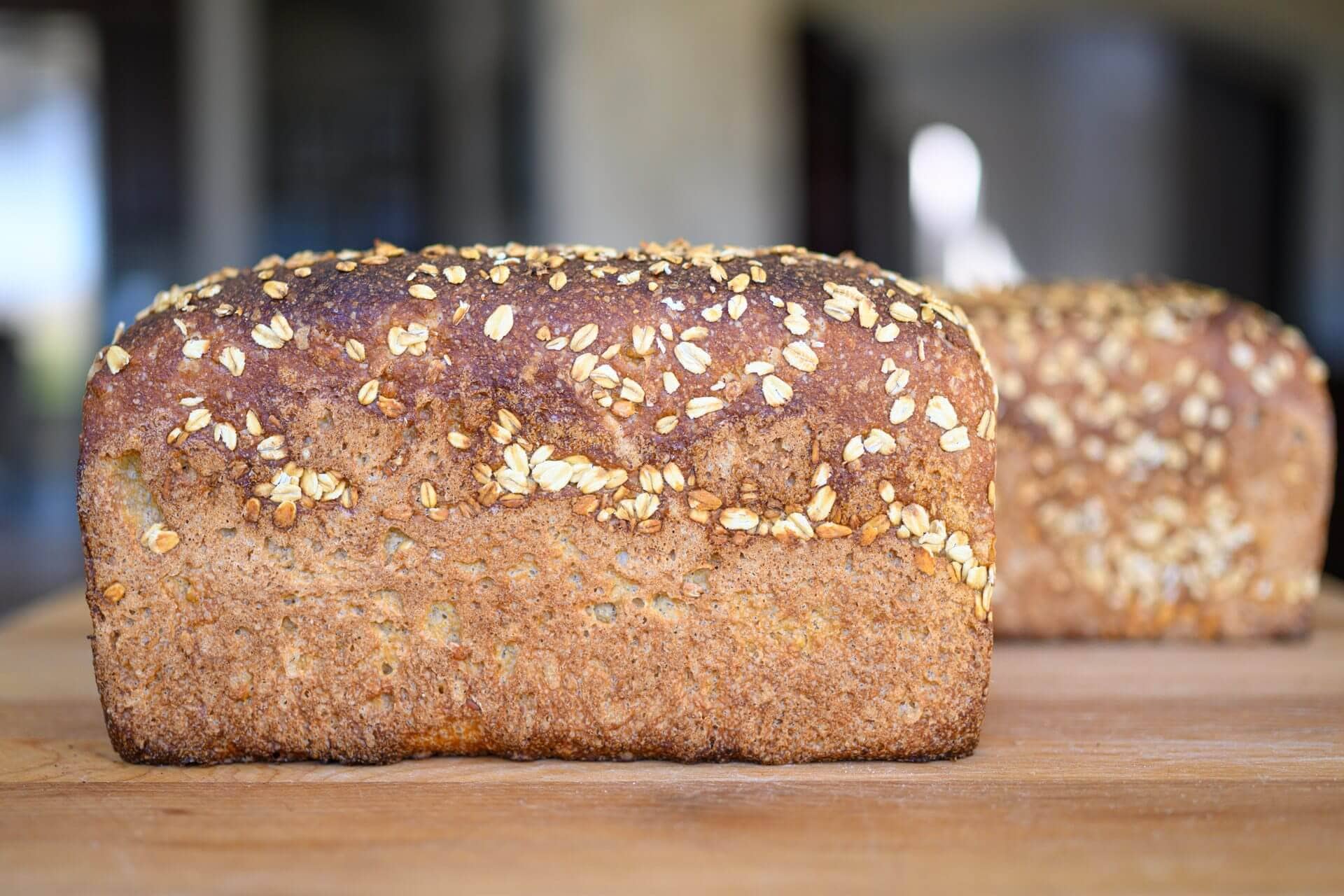 This is a same-day recipe (well, except for the overnight levain build). I do recommend sticking to that schedule: I found an overnight, cold proof adds in more sourness than I desired. Let's talk about flour.
Flour Selection
I choose freshly milled hard white wheat as the majority grain in this recipe because I find it's mild flavor (compared to red wheat) just works so well in pan bread. I milled the white wheat first thing in the morning with my Mockmill 100 grain mill and left it out to cool before using it in my mix.
If you don't want to mill your fresh flour, King Arthur Flour White Whole Wheat would be a great stand-in.
Honey Whole Wheat and Barley Pan Loaf Recipe
Update: Originally, I had this recipe listed to have 700g in a 9″ x 5″ pan. After some feedback, I've increased that dough weight to 1000g per pan with a total dough weight of 2000g. This results in two much taller and better-proportioned loaves.
Whole Hulled Barley
For the barley porridge source, whole hulled barley, not pearled barley. Hulled barley has the non-edible fibrous hull (a shell of sorts) removed but still has the bran and germ, meaning it has all the nutrition and flavor intact. By contrast, Pearled barley has been steamed to remove most of the bran.
If you have flaked or rolled barley, you can also use this for the porridge, similar to how rolled oats are incorporated into an oat porridge sourdough bread. Adjust the cooking time of the porridge as needed; the flakes will likely cook much faster.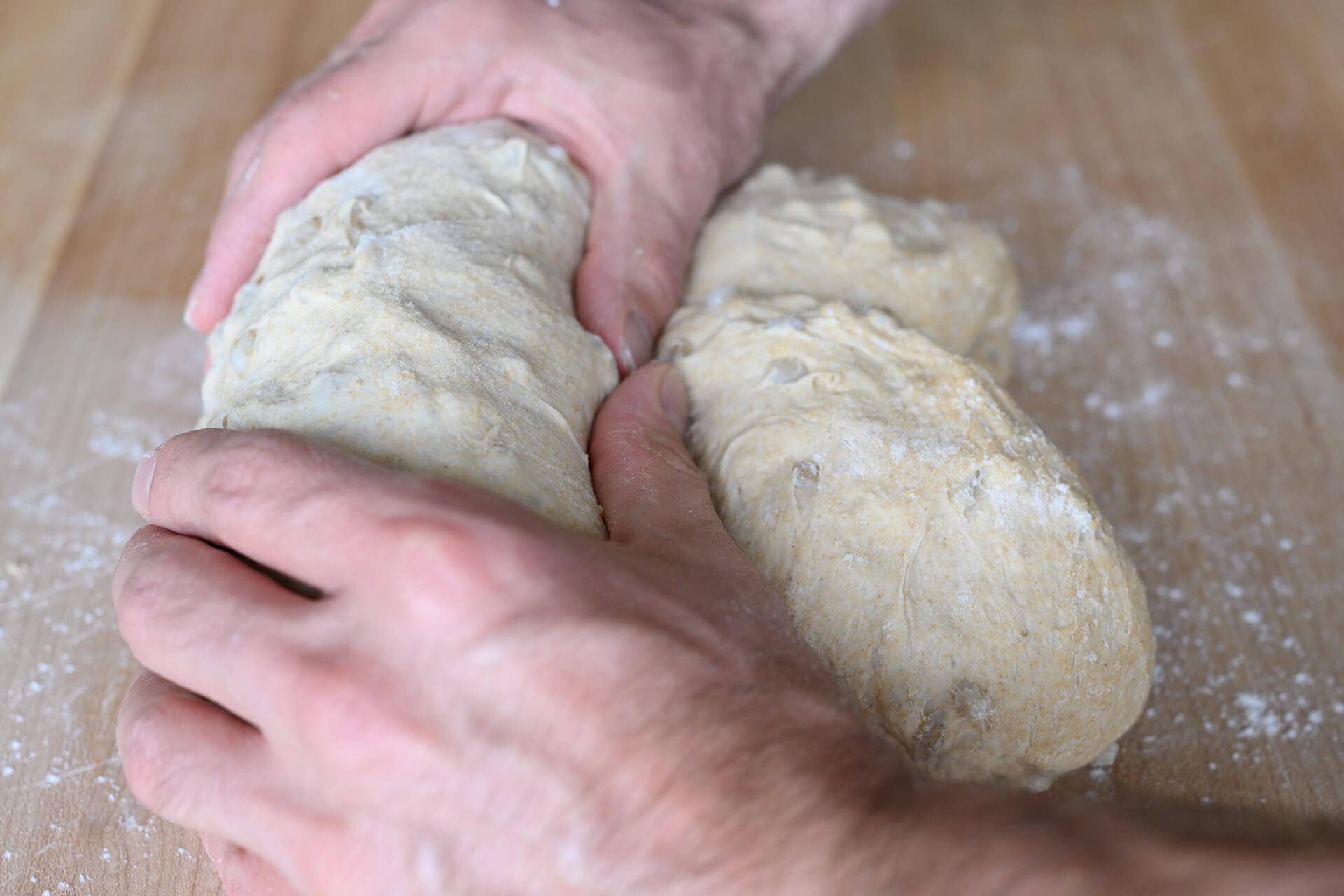 Vitals
The pans I'm using, which were custom-made, are 8.85″ x 4.7″ x 4.7″ deep (235mm x 120mm x 120mm deep) and can easily take 1400g of dough. If you're using a traditional 9″ x 5″ pan, you can halve the total dough weight for this recipe and place 1000g in a pan and bake two loaves.
For several more examples of dough weights and pan sizes that accommodate them, check out my guide to shaping a pan loaf.
I like to double this recipe and make two loaves at once. This way, I can freeze an entire loaf2 and take it out a few weeks later once stock runs low.
| | |
| --- | --- |
| Total Dough Weight | 2,000 grams |
| Pre-fermented Flour | 3.75% |
| Hydration | 94.00% |
| Yield | 2 x 1000g pan loaves |
Total Formula
| Weight | Ingredient | Baker's Percentage |
| --- | --- | --- |
| 684g | Freshly milled hard white wheat (Central Milling hard white spring wheat berries, ~15% protein) | 75.00% |
| 228g | Hard red wheat (Central Milling Organic Whole Wheat Hi-Pro Fine or King Arthur Whole Wheat Flour) | 25.00% |
| 110g | Whole, hulled barley | 12.00% |
| 55g | Honey | 6.00% |
| 46g | Extra virgin olive oil | 5.00% |
| 858g | Water | 94.00% |
| 18g | Salt | 2.00% |
| 2g | Sourdough starter (100% hydration)3 | 0.19% |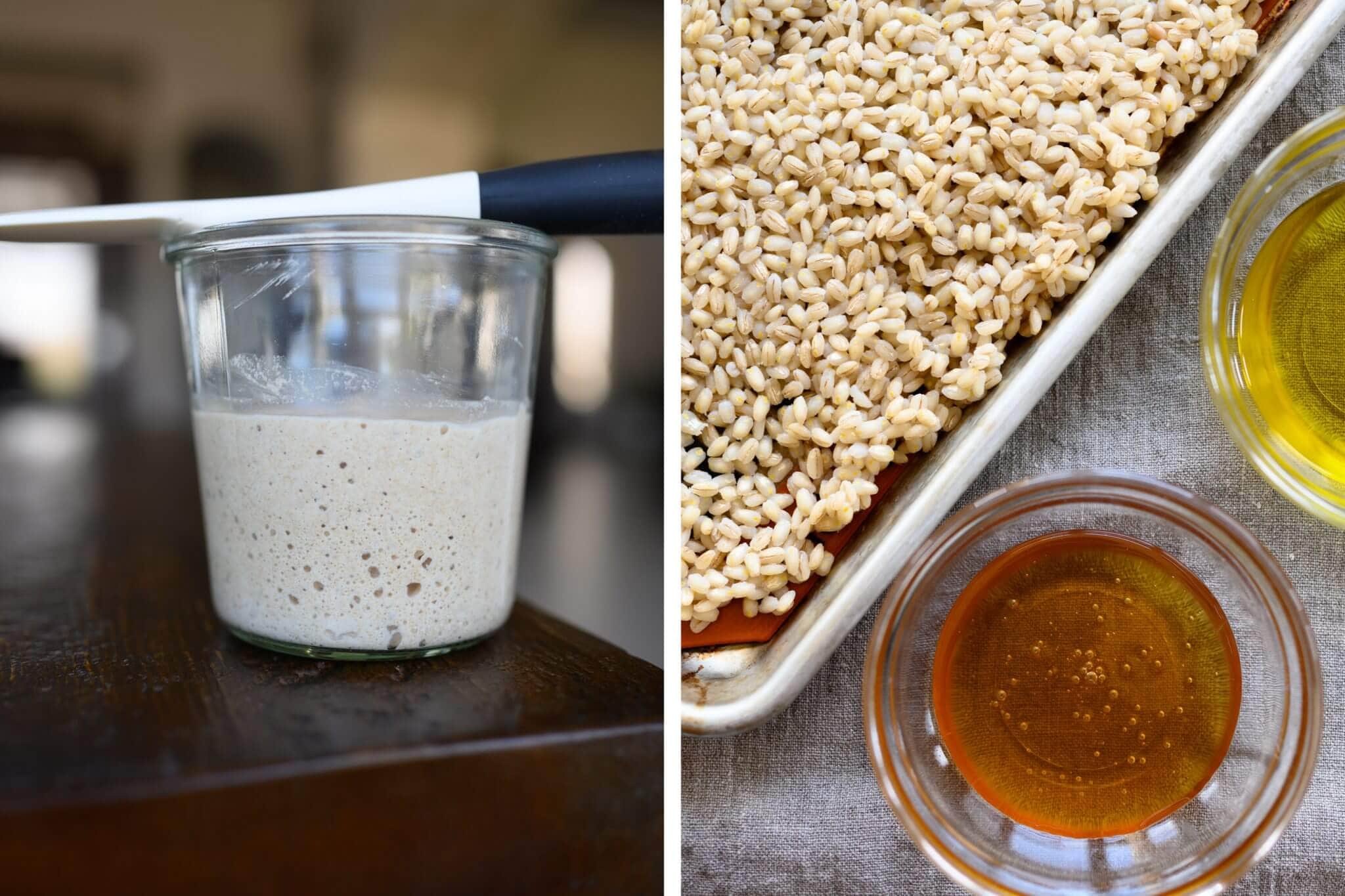 Levain
In testing this bread, I've made several levain builds and have found a mild, overnight levain to yield the best results. This levain, at room temp, will ripen in 10-12 hours—be sure to use your levain when it's still on the mild side. It shouldn't smell super sour or have fallen significantly in the jar. If it is on the acidic/mature side, your end loaves might have a more sour flavor (which is still ok, just not my preference for this bread).
| Weight | Ingredient | Baker's Percentage |
| --- | --- | --- |
| 2g | Ripe sourdough starter (100% hydration) | 5.00% |
| 34g | Hard red wheat (Central Milling Organic Whole Wheat Hi-Pro Fine or King Arthur Whole Wheat Flour) | 100% |
| 34g | Water | 100% |
Dough Mix
Target final dough temperature (FDT) is 78°F (25°C).
For an in-depth discussion on temperature when baking, have a look at my post on the importance of dough temperature.
| Weight | Ingredient |
| --- | --- |
| 684g | Freshly milled hard white wheat (Central Milling hard white spring wheat berries, ~15% protein) |
| 194g | Hard red wheat (Central Milling Organic Whole Wheat Hi-Pro Fine or King Arthur Whole Wheat Flour) |
| 312g | Barley porridge (cooked and cooled) |
| 55g | Honey |
| 46g | Extra virgin olive oil |
| 621g | Water |
| 18g | Salt |
| 70g | Mild liquid levain (see Levain Build section, above) |
Method
1. Liquid Levain – Night before at 9:00 p.m.
The night before you plan to mix your dough, prepare your levain. Using your mature sourdough starter, mix all the ingredients listed in the Levain Build section above into a new, clean jar. Cover and let ferment overnight for about 12 hours, or until ready.
2. Mill Grain and Cook Barley Porridge – Morning of the bake, 7:00 a.m.
The next morning, mill your hard white wheat. I used my Mockmill 100 grain mill to mill the hard white wheat berries and set it down to the finest grind level possible. Let the flour sit exposed to air to cool for a few hours before using it.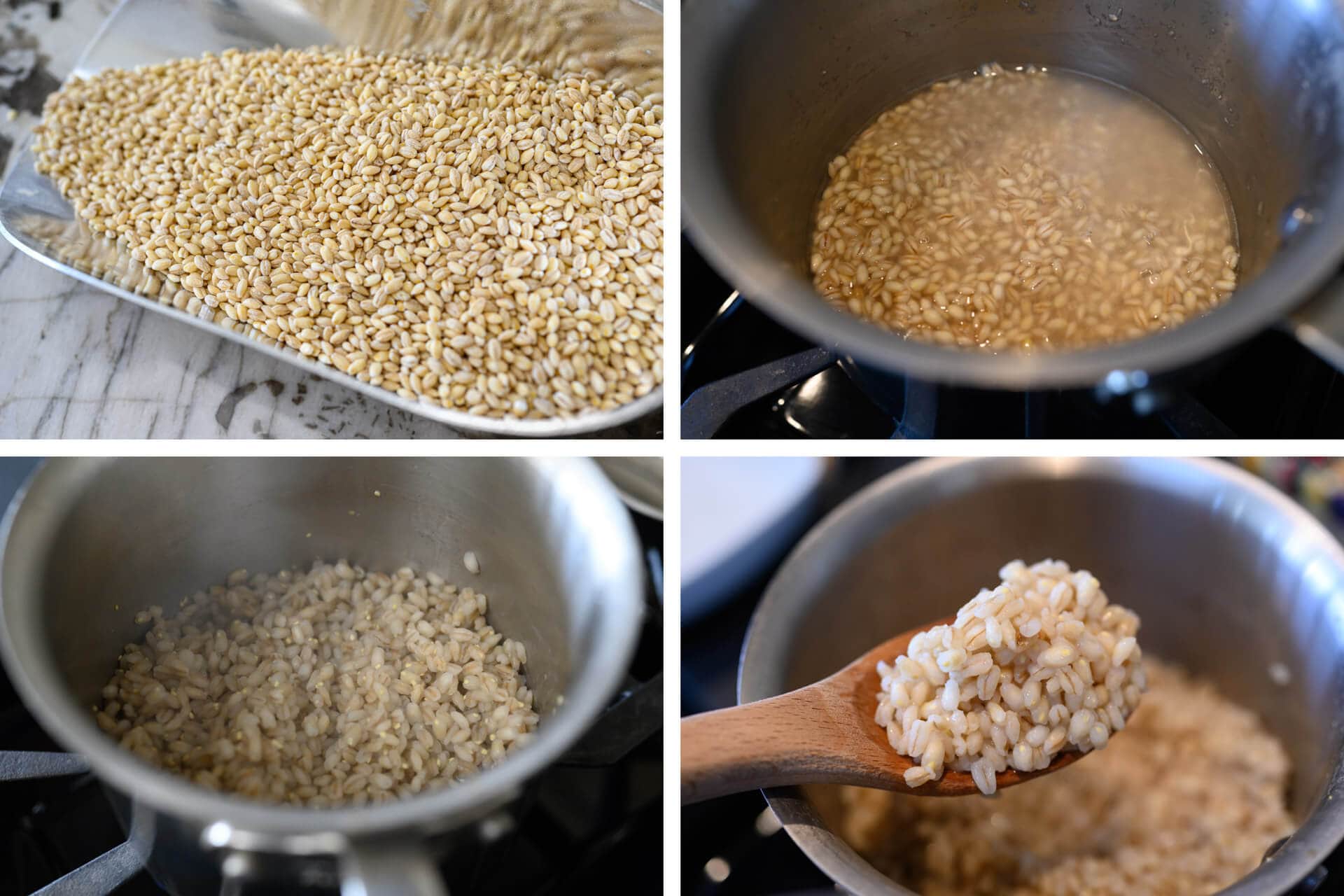 In a medium saucepan with lid, add the uncooked hulled barley and 203g of water. Cover the pot and bring to a boil. Once boiling, turn the heat down to low and continue to cook, stirring occasionally, for 20-30 minutes until very tender. Watch the barley in the last third of cooking as you might need to add a small dash of water to prevent burning. I ended up adding a small amount of water to the pot near the very end.
Once cooked, spread the barley out in a thin layer on a baking tray to cool.
2. Autolyse – 8:45 a.m.
Add the called for flour, all but 50g of the water, and your mild liquid levain to a mixing bowl. Using your hands, mix to incorporate the ingredients until there are no dry bits of flour remaining. Cover, and keep somewhere at warm room temperature until it's time to mix.
Why are we adding our levain to an autolyse? The reason we do this is that this dough is rather stiff due to the high percentage of whole-grain flour. There's a small, but significant, amount of water from the overall formula in the levain, we need this water to help mix sufficiently.
3. Mix – 9:00 a.m.
Add the salt and remaining water to the mixing bowl holding the autolysed dough. Using your hands, mix everything until it comes together into a shaggy mass. Then, dump the bowl out to the counter and slap and fold (see my guide to the slap and fold technique here) the dough for about 5 minutes to develop strength. Alternatively, you can keep the dough in the bowl and do a series of stretch and folds with one hand as you rotate the bowl — 50 or so will suffice.
At the end of this initial strengthening, the dough should have smoothed out and will loosely hold its shape on the counter (or in the bowl). Add the honey and olive oil and gently massage to incorporate. Perform a series of folds in the bowl to ensure the liquids are incorporated and the dough smooths out.
Finally, add the cooked and cooled barley porridge to the dough. Spread it on top of the dough and using wet hands massage it into the dough. It's ok if it's not completely dispersed, we'll continue to do so during bulk fermentation.
4. Bulk Fermentation – 9:15 a.m. to 12:45 p.m.
Give the dough two sets of stretch and folds, 30 minutes apart, where the first set starts after the first 30 minutes of bulk fermentation. This dough was incredibly stiff for me, even with the large percentage of water, but if your dough feels excessively slack after the second set of stretch and folds, give it additional sets as needed.
Let the dough rest after the last set of stretch and folds for the duration of bulk fermentation.
5. Divide & Preshape – 12:45 p.m.
Dump the contents of your bulk fermentation container to an unfloured work surface. Lightly dust the top of the dough with flour and, using a bench knife, divide the mass in half. Gently form each piece into a round on the counter using your bench knife and a flour-dusted hand. See my guide to preshaping sourdough bread dough for a video and more tips on preshaping.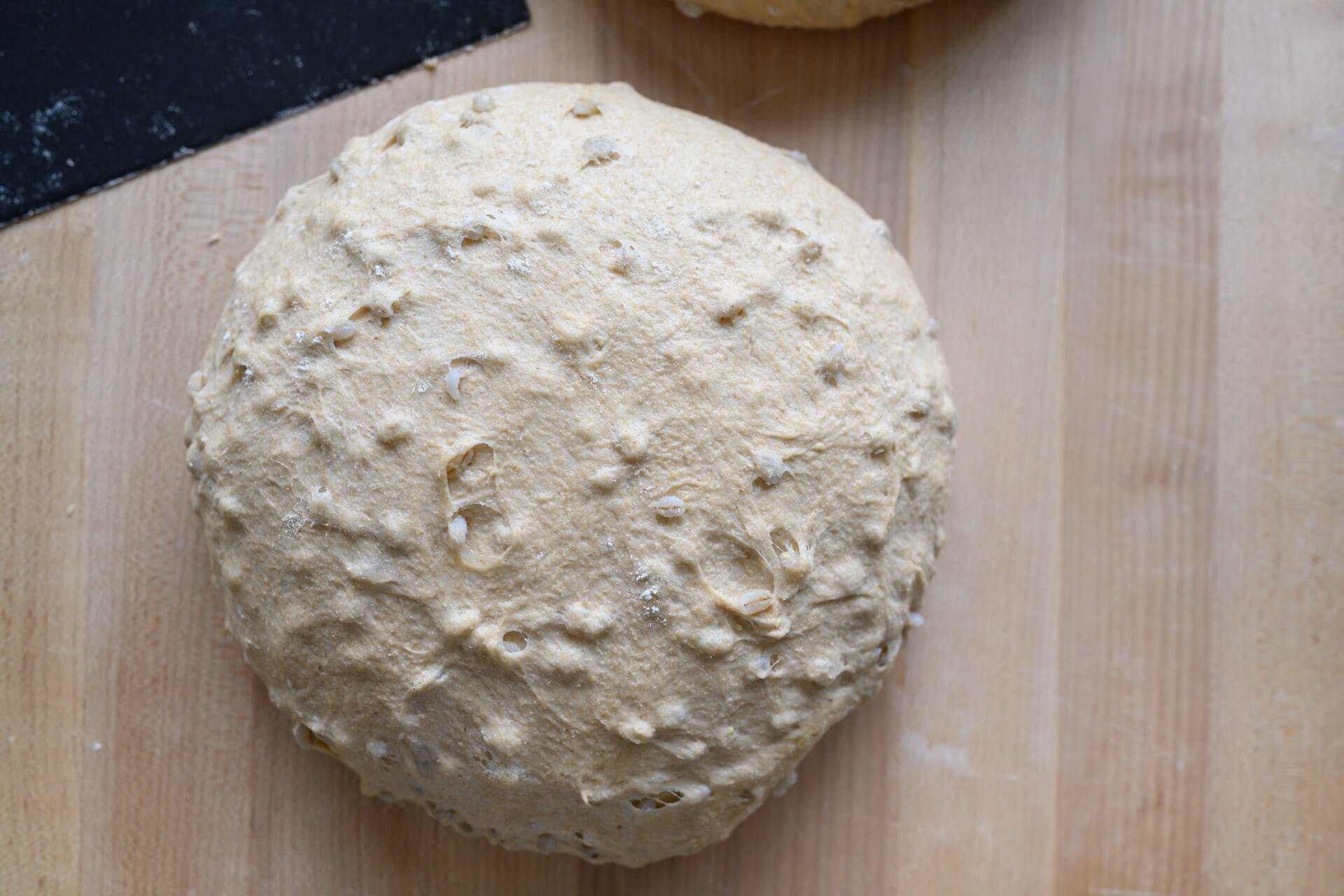 Let the dough rest uncovered for 30 minutes until it relaxes outward.
6. Shape – 1:15 p.m.
If you want to top these loaves with oats (or another seed/grain), spread a towel out on your work surface and spread a thin layer of oats on top. Lately, I've been using quick-cooking oats to top my pan loaves, and I've come to appreciate their texture. They're thinner and almost chopped up, meaning they cook entirely through and soften in the oven.
Grease your baking pan thoroughly using oil or butter and set near your towel with oats.
I shaped this dough in my typical way for a pan loaf: I fold the sides in and roll down from top to bottom (see video below). Keep in mind, in the video I'm shaping this as one single 1400g mass to fit into my large dough pan.
For more tips and information on shaping pan loaves (including methods for topping dough and various pan sizes and dough weights), head over to my shaping a pan loaf guide page.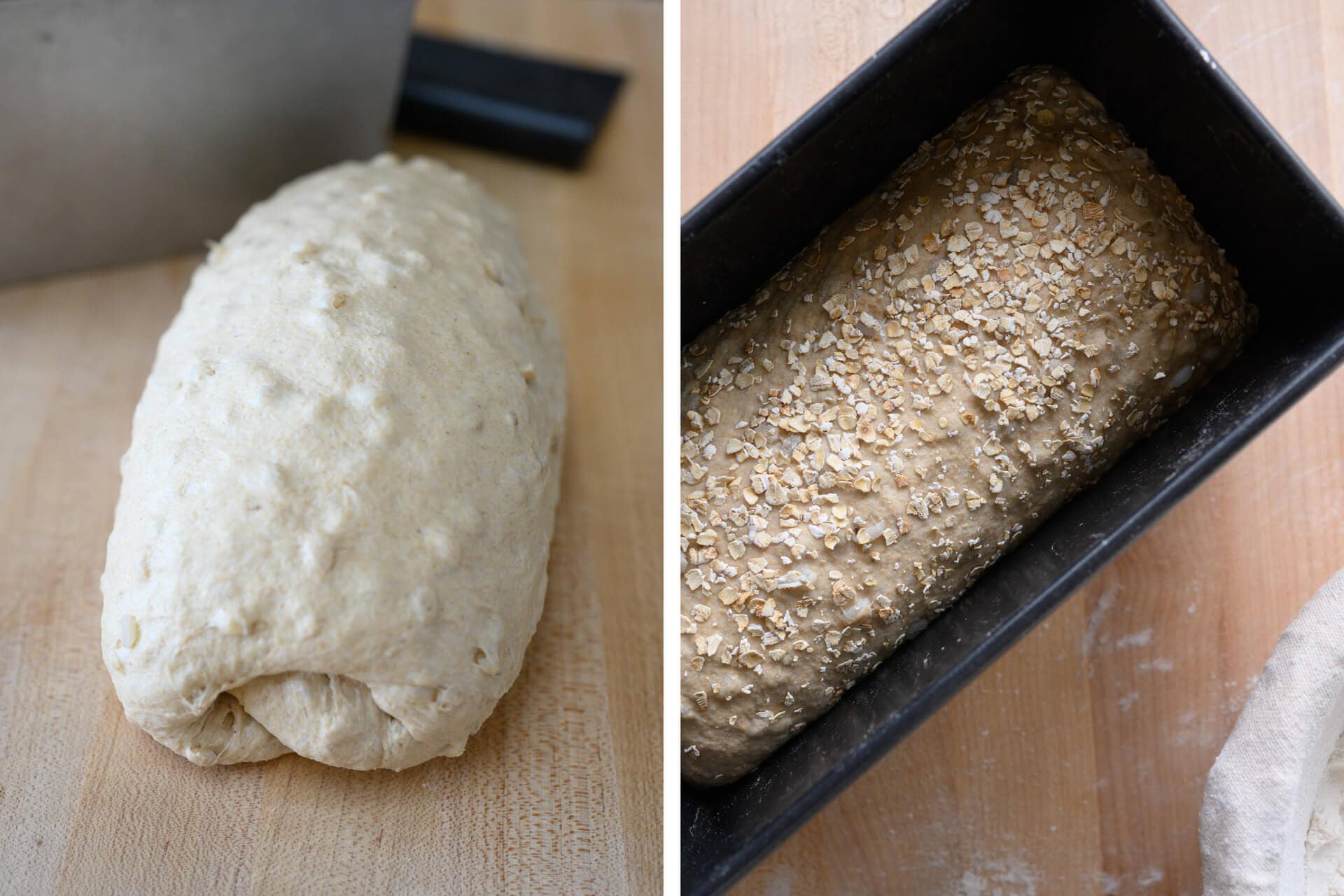 After you shape each piece, gently roll it on a towel with oats spread in a thin layer. I use two hands to rock the dough back and forth with the smooth side down (seam up) so the oats attach to the dough. Then, place the dough seam-side-down in your baking pan.
7. Proof – 1:30 p.m. to 3:30 p.m. (or until ready)
Cover both containers with reusable plastic bags and place somewhere warm for their final proof. For me, at my kitchen temperature of 76°F (24°C), it took 2 hours for this dough to fully proof.
Give the dough a poke periodically with a wet finger. This dough should pass the "poke test" when it's ready to bake: a firm poke should show an impression in the dough that springs back very slowly, perhaps not quite filling the indentation.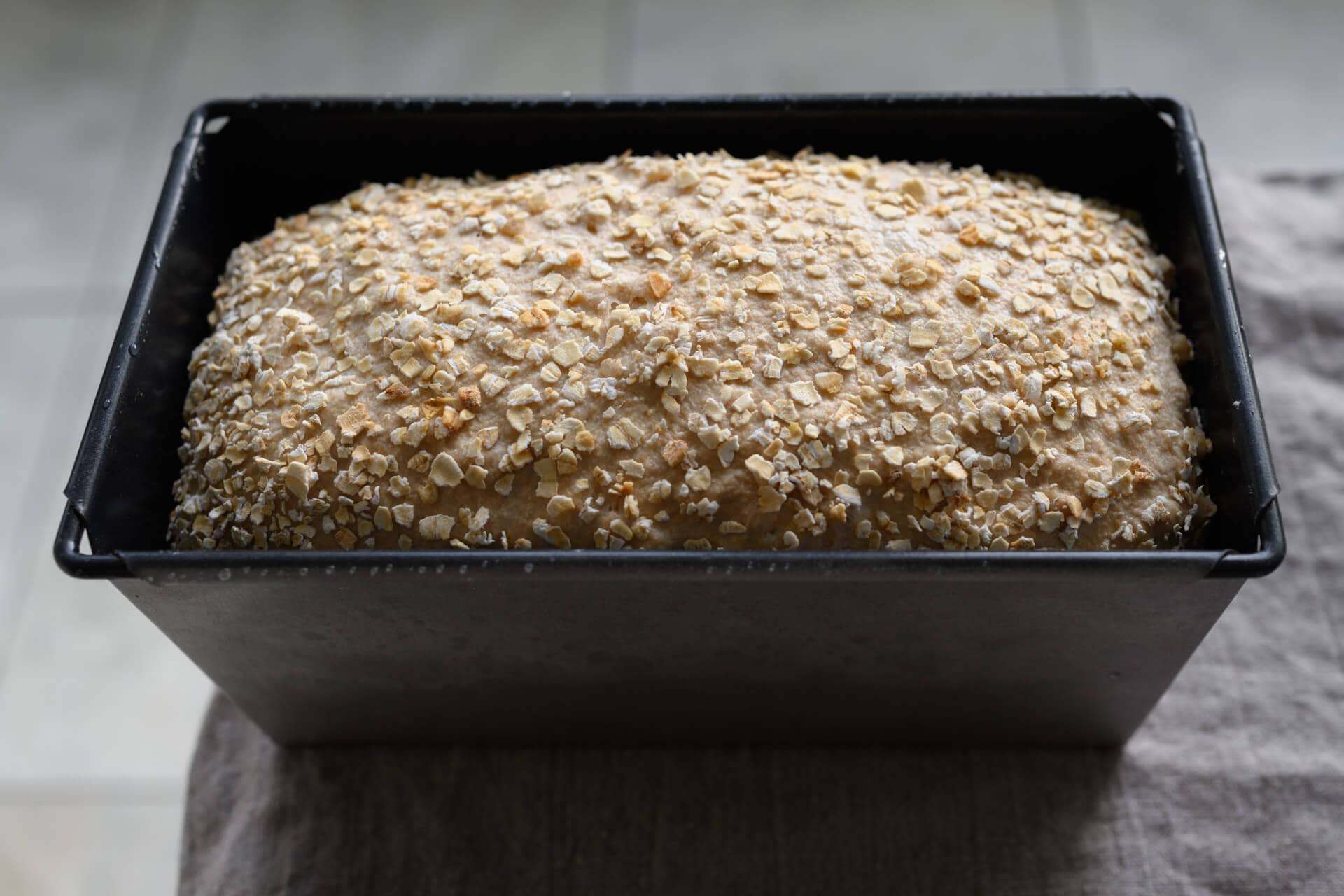 Be sure to preheat your oven before your dough is fully proofed.
8. Bake – 3:30 p.m. (pre-heat oven at 3:00 p.m.)
Preheat your empty oven (there's no need for a baking stone for this bread) to 425°F (218°C) for 30 minutes.
Be sure to bake these loaves thoroughly. The downside to having lots of water and a wet porridge in the dough is that baking time will increase, this can lead to a slightly thicker crust. Regardless, ensure the interior temperature reaches at least 205°F (96°C).
Uncover each pan and place both into the oven. I used my typical oven steaming method for these loaves, but I did not use the pan with lava rocks. I boiled water and poured it over rolled up towels in a pan that was placed at the bottom of my oven. Additionally, I sprayed the top of the dough with a handheld mister a few times after loading into the oven.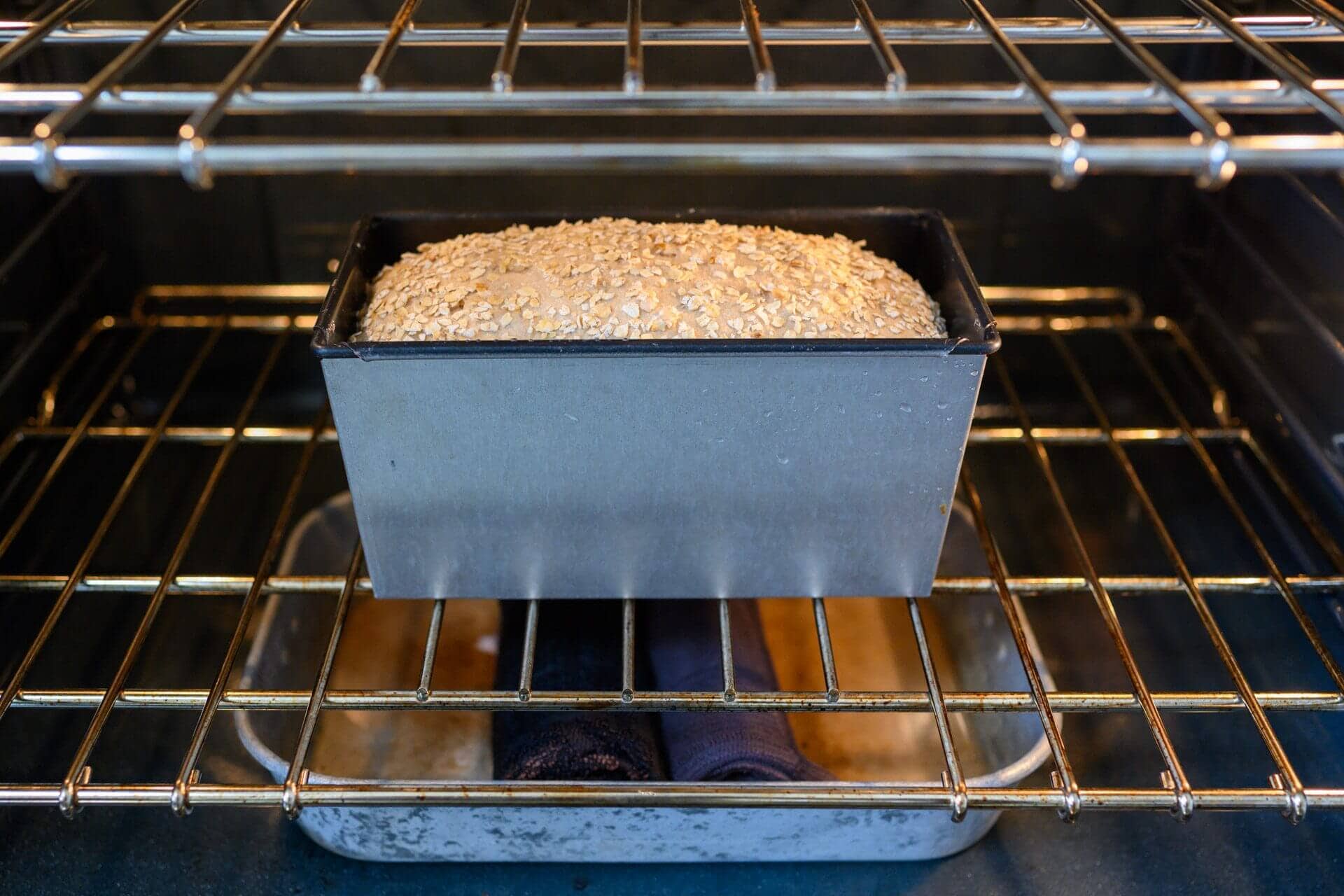 After adding the pans with dough and steaming pan, drop the oven temp to 400°F (204°C) and bake for 20 minutes with steam. After 20 minutes, remove the steaming pan and bake for an additional 15-20 minutes at 375°F (190°C). When the dough looks well colored on top and the interior temp registers around 205°F (96°C), remove the loaf from its pan and finish baking in the oven directly on the oven rack for 2-4 minutes for more color. Don't bake too long outside of the pan, the crust will quickly thicken.
Remove the loaves from the oven and let cool on wire racks for at least 3-4 hours. These need ample time to fully set, if cut too soon the interior will turn quite gummy.
Conclusion
As I said in the beginning, I'm a huge fan of pan loaves and this is just another one to add to the list. The subtle sweetness from the honey brings a touch of levity to this 100% whole wheat bread in the best way possible. Additionally, the olive oil softens the texture, lasting days after baking. Finally, the barley porridge brings that custardy, moist interior for fantastic mouthfeel.
Crust
My goal is almost always to have a thin, crunchy crust — and this is especially true with a pan bread. While this bread doesn't have an overly thick crust, it's not staggeringly thin either. At 100% whole grain this is to be expected. Additionally, the bake time required to thoroughly bake out this loaf means, in the end, the crust will have a bit of a chew.
However, this bread has a wonderfully balanced texture between its super-tender interior and substantial crust. The crust gives the bread needed structure as each slice stands tall instead of flopping over. I like that and I think you will too.
Crumb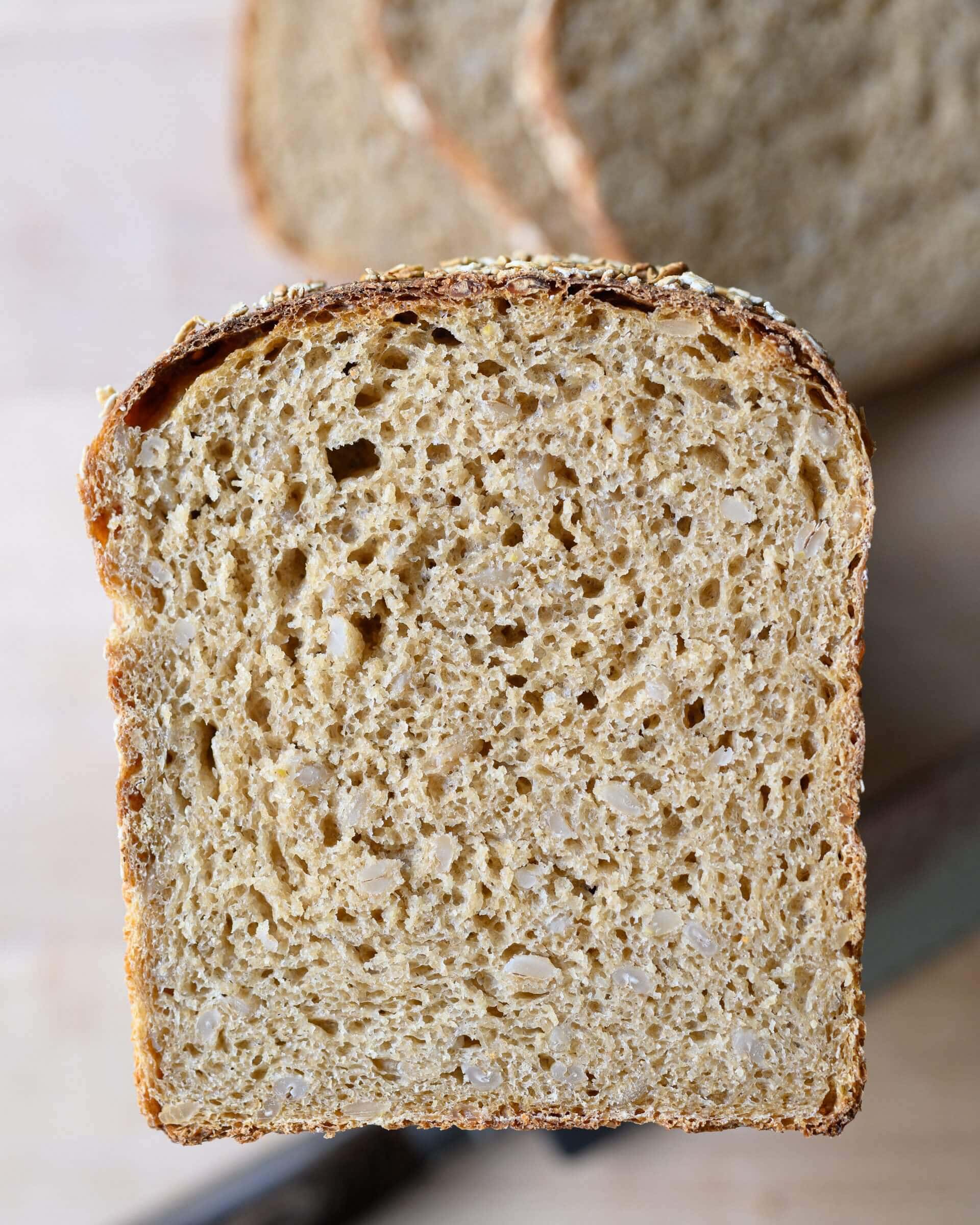 Moist and tender, the interior is a bread-eater's dream. There's a lightness to this loaf that sort of defies logic: so much water, so many ingredients, such a weighty porridge… And yet, the airy result is seen clearly in the picture above. A bread that is beautifully light and soft, just right.
Taste
This honey whole wheat and barley pan loaf is straight-up delicious. I've been gushing about it this whole post, but after many trials and experiments, I'm supremely happy with the texture and flavor.
As I've said a few times, I highly recommend baking this bread in a single day without an overnight, cold retard to reduce any sourness that might build up through a lengthy fermentation. In some, if not most, recipes I find an overnight proof to add much-needed flavor, but for this bread, it's not my preference.
Toast this bread heavily—lather on some butter. Eat with a smile. Repeat. Buon appetito!
If you're looking for more nutritious and wholesome pan loaves, look at my honey whole wheat pan loaf that uses the yudane technique for a super soft interior, or my high-fiber seeded pan loaf!
If you use this recipe, tag @maurizio on Instagram so I can take a look!
---
Quite amusingly, my grammar checker said the word "charming" and "bread" don't work well together, and a different adjective should be chosen. I disagree.↩

Wrap the baked and cooled loaf tightly in plastic wrap several times, then place it into a freezer bag and then the freezer. To thaw, remove from the freezer into the fridge until defrosted.↩

Yes, this small amount is correct. We're building an overnight levain that requires very little sourdough starter to create.↩