With the Big Move finally coming to a close I can now return to baking full-on. There are still things to do, for sure, but at least now I have some time during the day to fold the dough, feed my sourdough starter, and bake in earnest. During the downtime between moves, I had the opportunity to bake for the family, but it wasn't in my kitchen, with my tools and my timing. It's a challenge to be heaved into unfamiliar territory and expect processes to run as they have before. Regardless, I adapted, and several bread bakes turned out great. It feels good to have a kitchen I know I can settle into for a while, and with a double oven. Finally, it is time to bake this seeded whole wheat sourdough bread.
This seeded whole wheat sourdough recipe, while relatively straightforward, builds on my 95% whole wheat sourdough recipe with a few changes and with, of course, the integration of two different types of seeds. I've been eating raw flaxseeds for a good while now and have used them in everything from banana bread, my morning oats, protein, and fruit shakes and even sprinkled in my yogurt from time to time. They have a specific desirable nutty taste to them and, as research suggests, are quite good for you. Sesame seeds, well, they taste good in and on bread, no doubt about that. I'd say even more so with this whole wheat bread, a combination I had yet to try until now.
Look at this spoiled dog, I mean really. I just had to share this, the light is sublime, and my two ladies lined up for just a perfect shot.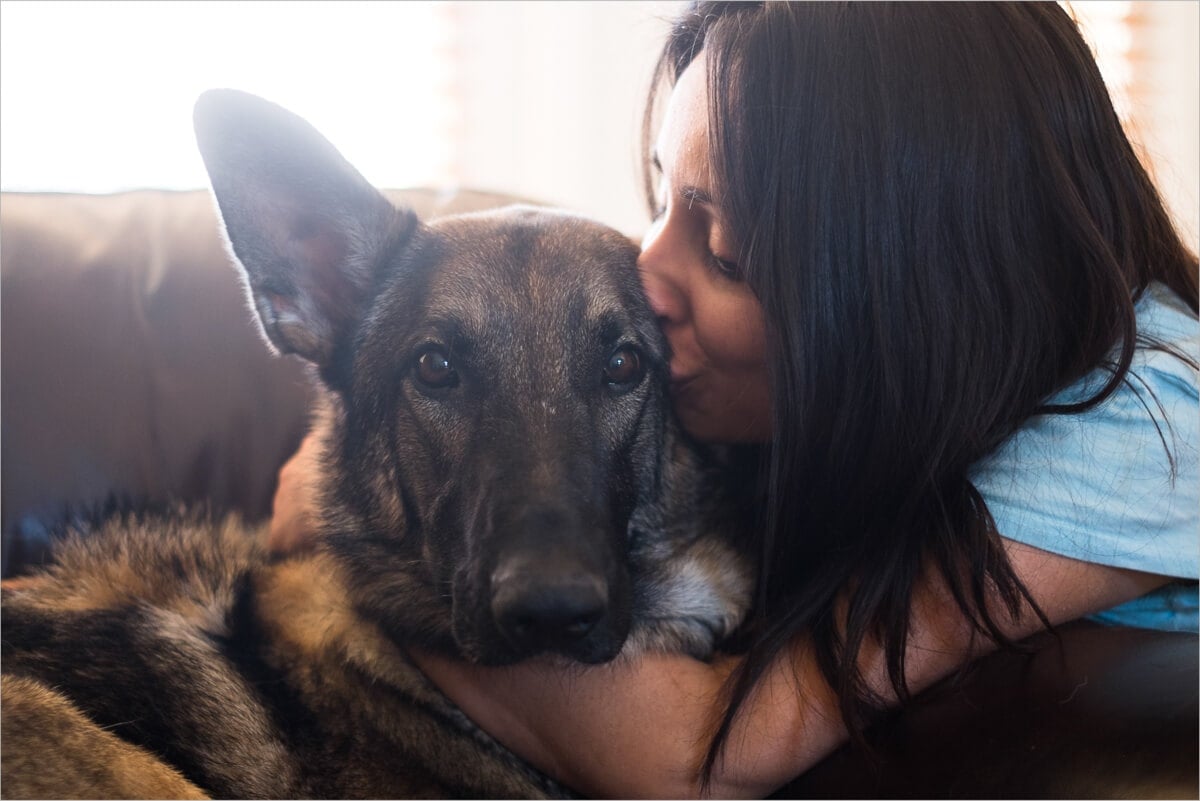 Prepare the young levain – 7:00 a.m.
I've come to utilize a young levain almost exclusively these days. Preparation is much more comfortable, the taste is very mild due to low acid content, and it leavens my dough just as strong as an overnight build.
Chad Robertson talks about this young levain in more detail in his book Tartine No. 3, and that was my impetus for experimenting with just how quickly I can use a levain build after mixing. Of course, this will invariably depend on your ambient temperature, flour type, and the vigor of your starter, but for me, it's been pretty consistent this summer at around 5 hours ferment time. The weather has been incredibly hot here recently, and this levain build was ready in just over 4 hours. A little shorter than usual.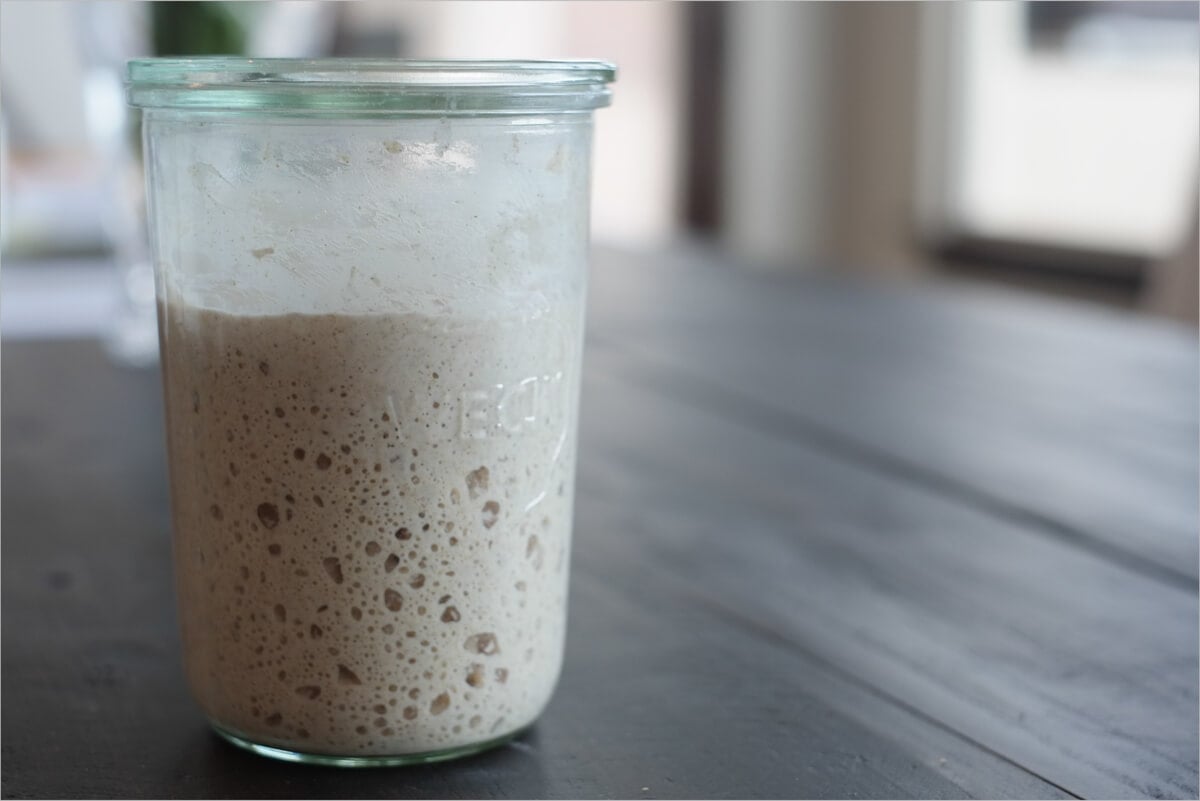 Prepare the following right after you get up in the morning:
Keep it in a warm area in your kitchen for about 5 hours. Check on your levain from time to time, you want bubbles around the sides, some visible on the top, and if you peel back a little bit a slight smell of ripe fruit.
Run your morning errands, get a cappuccino, walk the dog, hit the gym, as you do. Come back in 4-6 hours, and we'll get the seeds toasted.
Toast Seeds – 11:00 a.m.
You'll want to place the following seed mixture into a baking pan and bake in the oven for around 15 minutes, tossing every 5 minutes or so. Be careful not to burn your sesame seeds! I might have gone 2-3 minutes too long on mine, and they take on a robust taste when overcooked.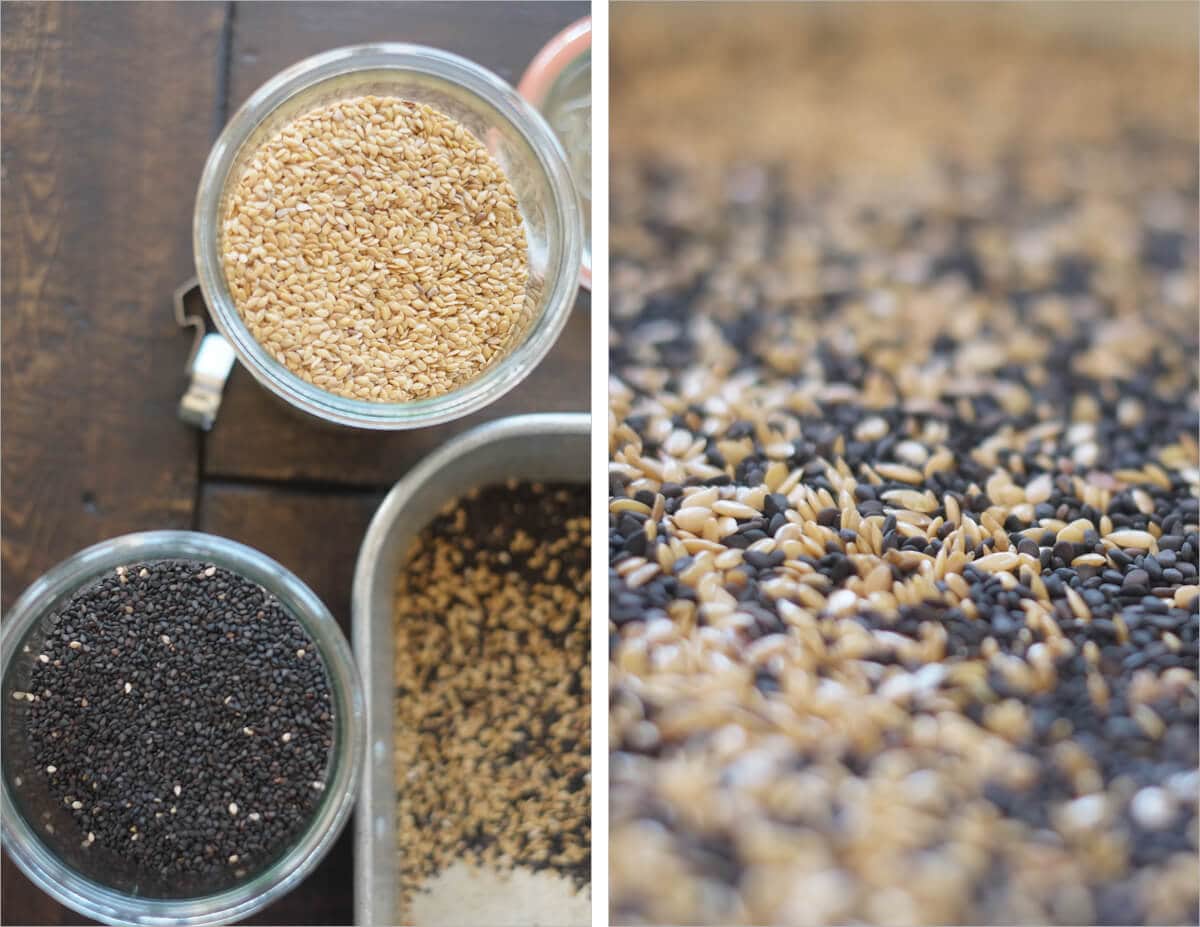 I gathered a total of 1/2 cup of seeds, about 50% sesame seeds, and 50% flaxseeds. You could go up or down on this depending on your taste, but I think this turned out just right for this bread. You'll want to keep a little extra sesame on the side (do not toast) for coating the outside of your loaves if desired.
Once cooked remove from the oven, pour the seeds into a cup or bowl and let cool. Set aside for later.
Autolyse & Mix – 7:15 a.m.
Just like my previous entry detailing a 95% whole wheat sourdough, we will autolyse for the entire duration your levain is fermenting. This autolyse is without any levain added (obviously, your levain isn't even ready yet!). This makes things pretty easy: your levain will be ready, and your dough will have undergone a long autolyse, increasing extensibility to allow for a nice rise with a normally stiff whole wheat dough.
Dough Mix:
Gather the following for your dough:
| Weight | Ingredient | Baker's Percentage |
| --- | --- | --- |
| 500g | Type 85 flour (high extraction flour, Giusto's high extraction whole wheat) | 50% |
| 150g | Whole wheat flour (Giusto's whole wheat flour) | 15% |
| 250g | White whole wheat flour (King Arthur organic white whole wheat flour) | 25% |
| 100g | King Arthur bread flour | 10% |
| 850g | Water | 85% |
| 25g | Fine sea salt | 2.5% |
| 175g | Ripe levain | 17.5% |
Perform the following:
In a thick bowl add 500g high extraction whole wheat flour, 150g whole wheat, 250g white whole wheat, and white bread flour
Add 725g of your water (the rest, 125g, is reserved until later when we add in the levain after the autolyse)
Mix by hand until all the dry ingredients are incorporated
Cover with wrap and keep covered near your levain for 4-6 hours
After your 4-6 hour autolyse – 11:15 a.m.
In a separate bowl, mix thoroughly together with your remaining 125g water and 175g levain that is now ready. Place your 25g salt on top of the original dough mixture and slowly pour on this levain/water mix. Cut the salt through your dough with your hand and mix everything until it comes back together and becomes sticky.
Bulk Fermentation – 11:30 a.m.
Transfer your dough to a clear container to be used during bulk fermentation and let rest for the first 30 minutes. I've started to occasionally use Cambro containers to perform my bulk (per suggestions in Ken Forkish's book Flour Water Salt Yeast this is an incredible book if you do not already own it). While my wife and I try to use as little plastic in our lives as possible, these have helped me judge when my bulk fermentation is nearing completion. The containers have markings on the side that easily help spot a 20-30% increase in volume.
12:00 p.m. – Turn Set 1
12:30 p.m. – Turn Set 2
After the turn at the second 30 minutes, add in your toasted seed mixture and fold to incorporate thoroughly.
1:00 p.m. – Turn Set 3
1:30 p.m. – Turn Set 4 (missed this)
2:00 p.m. – Turn Set 5
2:30 p.m. – Turn Set 6
2:30 p.m. – 6:30 p.m. – Rest on counter untouched
Because our house has contractors coming day-to-day to finish up small things, I missed my 1:30 p.m. set of turns. No worries, things happen and our environment changes, we have to adapt to our busy schedules and work in the dough where we can.
Stay observant with your dough, keep an eye on how it develops and mentally take note of its subtle changes over time. You will start to build an intuitive sense for when your dough starts to strengthen at each set of turns so that even if you miss a set, you move on and keep going until it looks strong enough.
Pre-shape – 6:35 p.m.
Take the dough out of the container onto your work surface and sprinkle some flour on top before dividing. Divide into two halves and lightly spin the dough in little circles across your work surface with your bench knife in one hand and your other empty hand. Let this pre-shape rest, covered with a damp towel or inverted bowls, for 20 minutes.
My dough here was quite stiff, like whole wheat usually is by this point. This stiffness makes shaping very easy, but you want to avoid shaping too tight for the pre-shape. Just a few scoots to get a nice taut outer surface and that's all. Look at that, isn't it beautiful? There's something so peaceful about shaped dough resting on a wood counter.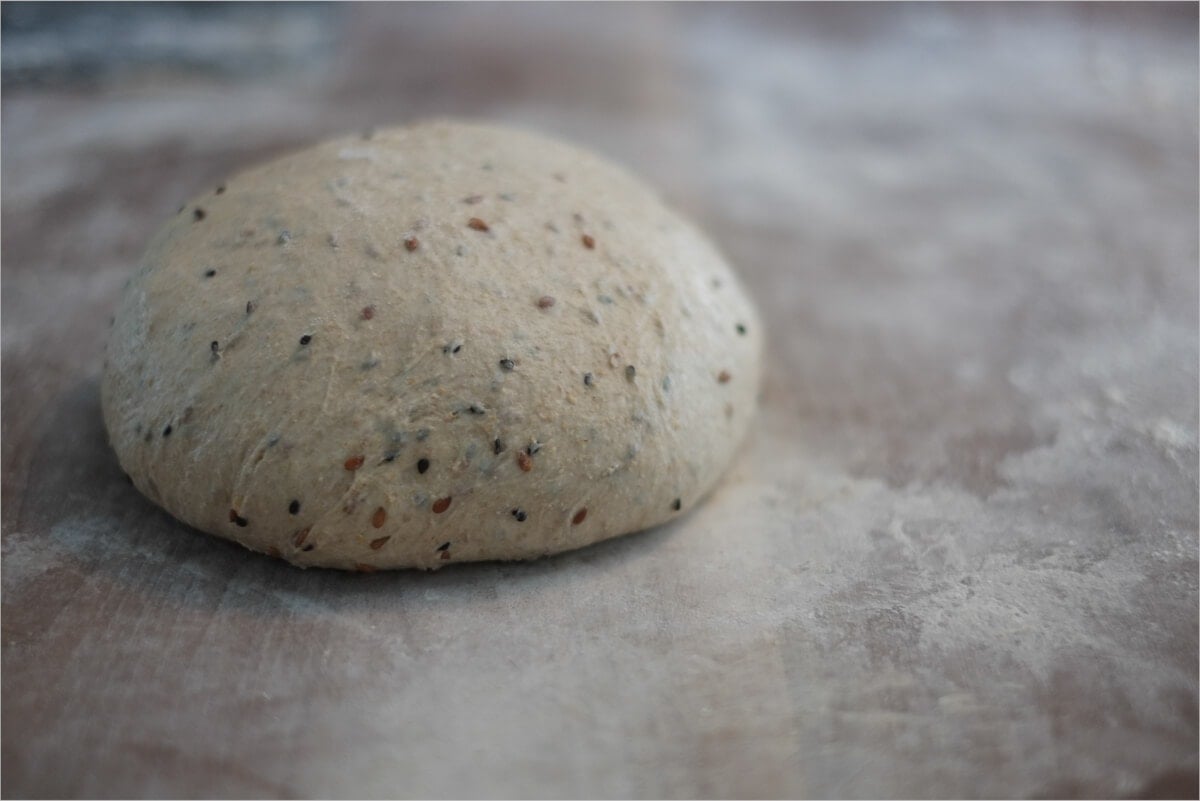 Lightly dust your proofing bowls/baskets with white or brown rice flour in preparation for the next step.
Shape + Proof – 6:55pm
Take a clean kitchen towel and lay it on the counter. Spread flat some of the raw sesame seeds on the towel in a circle about the size of your desired finished boules. After shaping, you'll quickly plop the shaped boule on top of these seeds to coat the surface before placing into your proofing baskets. I decided not to top these with flax seeds, but you could certainly do so.
First, flour the top of each boule, and, working with one at a time, invert it and start your shaping. Gently pull the bottom toward you and fold up about midway, take the right side and stretch outward and then up and over about midway, repeat with the left and top sides. When the top is folded down and across, gently pull the boule towards you with two hands, so it slightly pulls on the counter. This pulling creates a tight outer skin, adding structure to the result.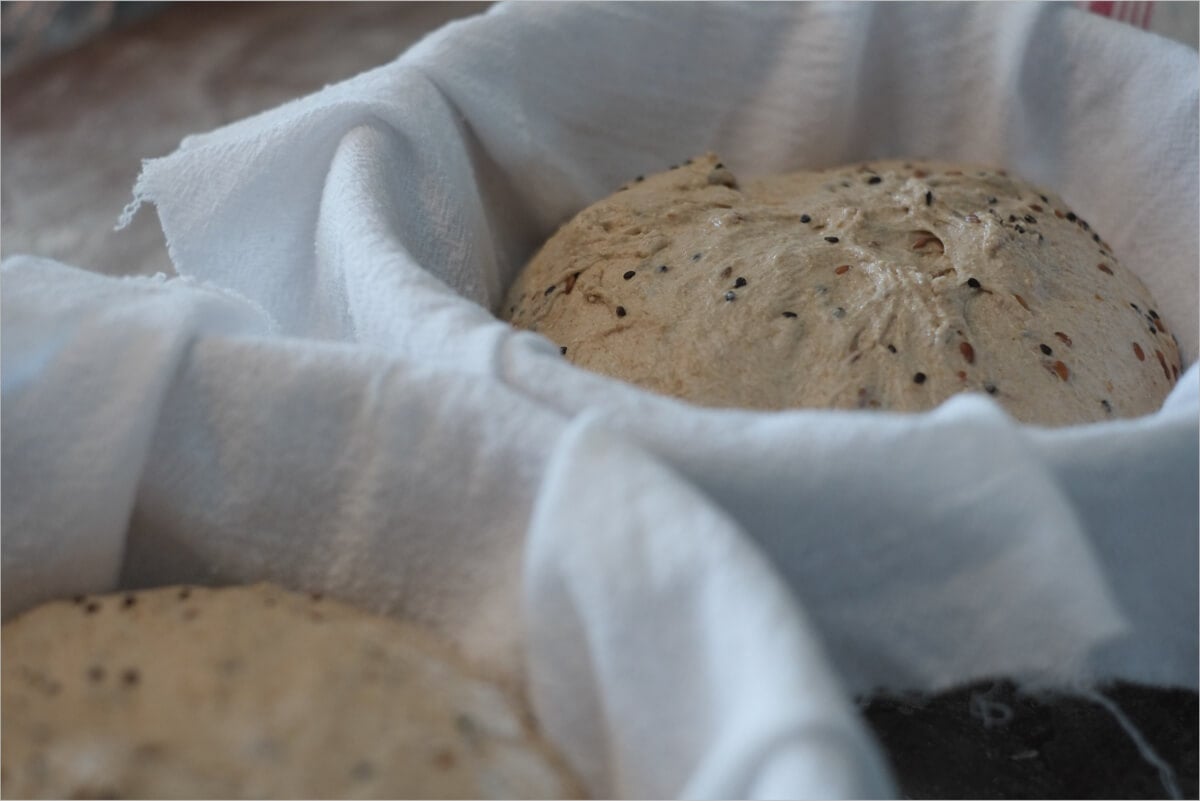 After each round has been shaped, gently pick it up and roll the smooth side down on top of the towel with resting seeds. Rotate the dough around so the seeds stick to the entire bottom surface and sides. Transfer your topped rounds, seam-size-up, to their proofing baskets.
Finally, place your baskets in plastic bags and into the fridge to proof overnight, we will bake these in the morning.
Score + Bake – 7:00 a.m.
In the morning, preheat your oven to 450°F (232°C). I usually leave the shallow side facing up on the left, and the deeper side on the right facing down. This way when it's time to load the bread I can quickly grab the shallow side, slide in the dough, and then place back on the stone and cover with the deep side of the Dutch oven. See my post on baking with a Dutch oven for more instruction.
After one hour, take one of your baskets out of the fridge and cut a piece of parchment paper to place on top. Take your peel and then put it on top of those two and quickly invert it, so the dough is now resting on the parchment paper and the peel.
Score the top of the loaf with your desired pattern. One of these boules I did just my normal crescent slash and the other, without sesame seeds, I did an "X" with smaller slashes between each line in the "X."
Take out the shallow side of your Dutch oven and drag in your boule. Quickly place the pan back in the oven, cover with the deep side, and bake for 20 minutes. After 20 minutes, open the oven and take off the deep lid of the Dutch oven (set it next to the other half inside the oven, which will help regulate oven temperature for the rest of the bake). Then, bake for an additional 35 minutes or so, until the bread is to your desired doneness.
Conclusion
Whole wheat bread ranks high on my list of favorite bread to eat, and the added seeds gave this bake an added twist of flavor. Flax seeds add quite a bit of nutrition to this already wholesome bread while the touch of sesame seeds adds some depth and complexity. This bread is a delicious "everyday" bread with a modification to keep things interesting. If you make whole wheat sourdough often try out this combination of seeds I promise you won't be disappointed.
If you've baked my 95% Whole Wheat bread recipe with no problems this will be an easy bread for you: minimal changes with just a few things tweaked to accommodate the added seeds.
Crust
Crispy, thin, with excellent color and ears. Sometimes it can be hard to get that oven spring we all look for, but this recipe shows the way. The loaf with sesame seeds coating the outside had an extra level of crunch to it and looked spectacular to boot.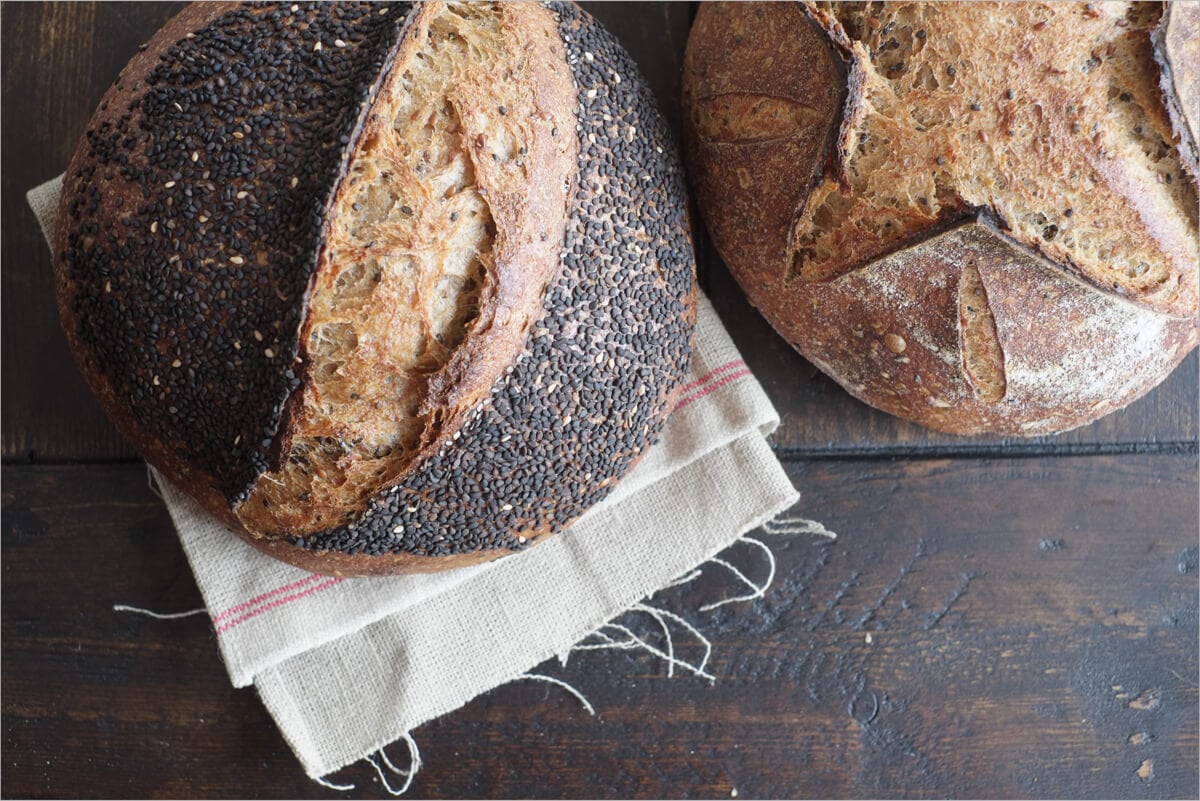 Crumb
Light, airy, and very tender. It's quite open. This bread makes for awesome sandwich bread, the tight crumb holds in all of your ingredients with nothing escaping.
Taste
The mix of whole wheat flours in this bread is very, very tasty. I have been using a few sacks of Giusto's whole wheat here and there, and I like the quality and taste of their flour. I believe if you're in California you can find this around town but I ordered a case of it online. I'll be placing an order for some of their white flour sometime soon to experiment.
The flax seeds do add a slight nuttiness to the bread, which is subtle but enough to remind you there's something else going on. As I mentioned earlier, I might have toasted the sesame seeds just a tad too long, and they do take on a strong flavor. Make sure you do not use toasted seeds to coat the outside of your bread before baking!
If you're looking for whole wheat sourdough, check out my latest 100% whole wheat recipe that has us making a completely whole grain bread — nutritious, super healthy, and easy enough.
---
What's Next?
For another take on seeded sourdough that's been recently updated, have a look at my new Seeded Sourdough post that uses less whole wheat flour like the recipe here. The new recipe produces an incredibly light and airy seeded loaf with the added flavor of fennel and semolina.
Or, for another recipe using semolina, have a look at my Sicilian sourdough that's made from 100% durum wheat (semolina) and topped with white sesame seeds. It's incredible.
Buon appetito!