Wrinkled fingers and toes, sand in every nook and cranny, lunch sacks with empty oil-stained white baker's paper, and serpentine hair that could pass as a sun-bleached mop head—all signs of a successful outing to the beach. Our daily trips to the cool, blue waters of the Adriatic were welcome escapes from the city heat during family visits to Southern Italy. Our little beach— perhaps with a bit of fantasy I like to think it was just ours—was a short drive away in a small stick-shift car packed to the brim with people. Family car after family car, we'd speedily caravan through the small towns toward our respite. The few, yet crucial, stops along the way had a single purpose: to fill our sacks with baked goods meant to sustain our time away. My favorite among these, by a long measure, was a simple focaccia.
With hardly a second thought, we'd buy several full sheet trays of the golden bread. The baker would cut the thick slabs into manageable pieces and wrap the entire thing in the white paper, sealed shut with a shiny sticker— conceivably an attempt to elevate the humble, yet utterly otherworldly, snack.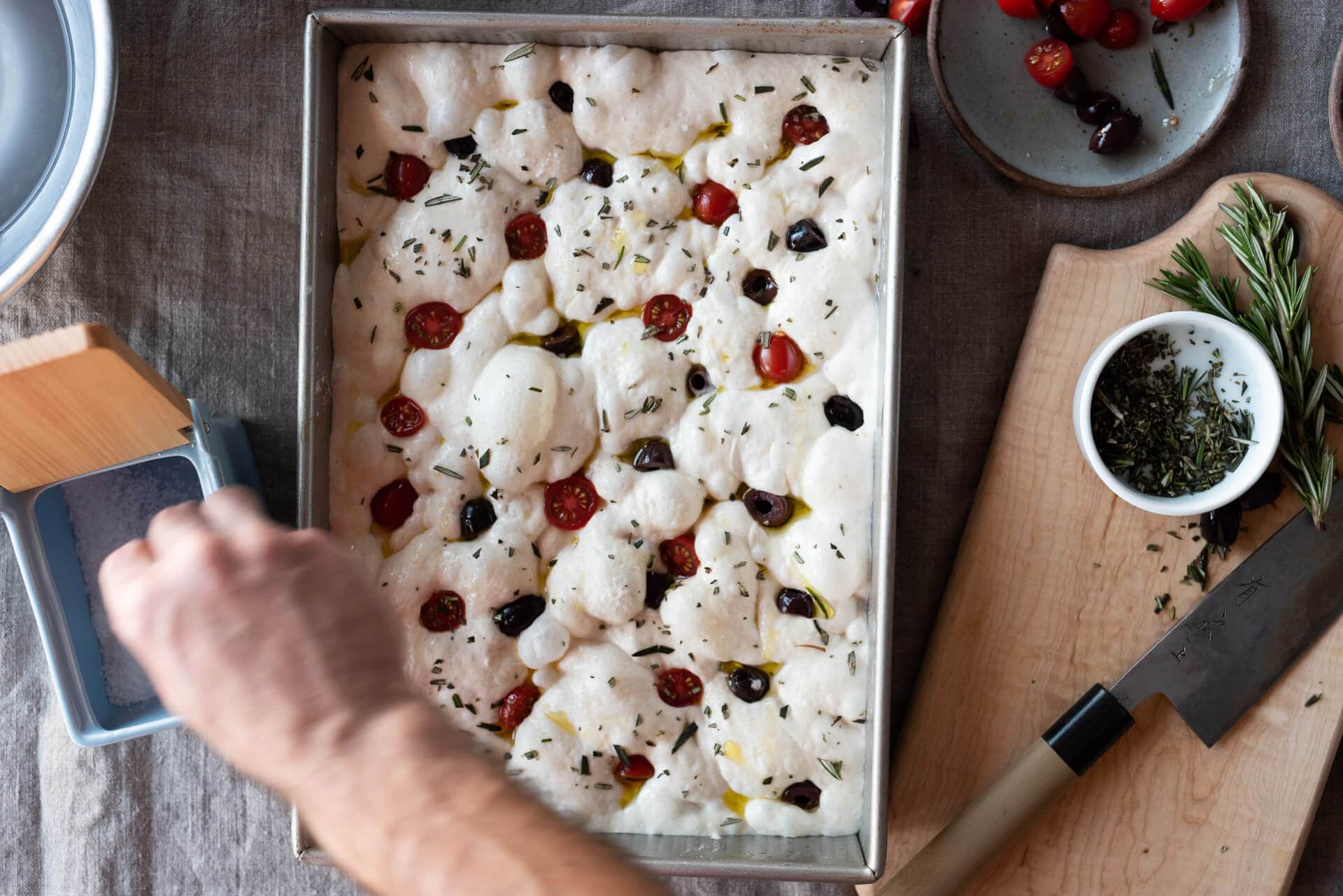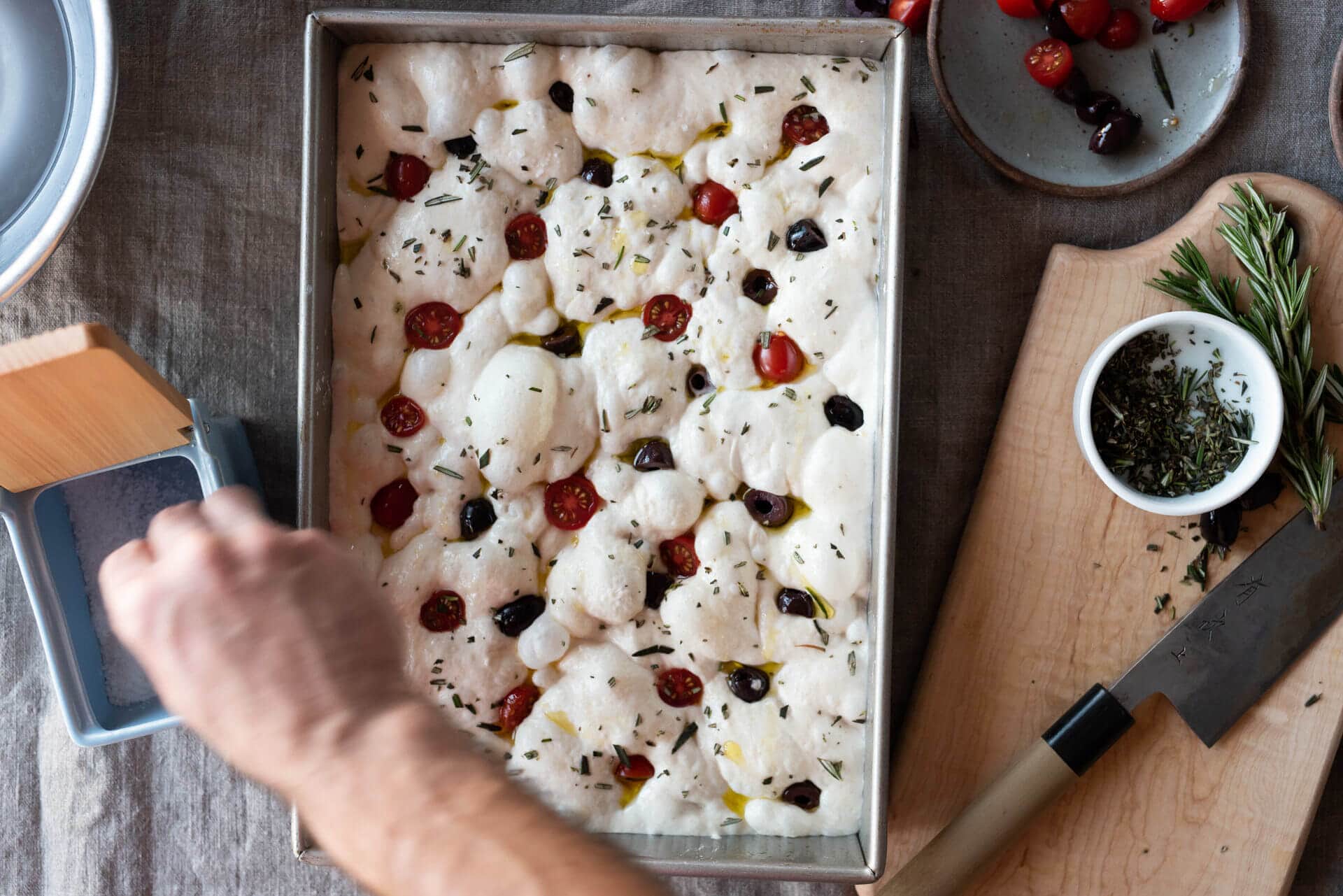 You see, focaccia is a rustic and simple affair: it's a slab of naturally leavened dough topped with simple ingredients, any vegetable in season, olive oil, and salt. Some are soft, some are crispy (my preference), sometimes thick and sometimes thin. There are as many variations across Italy as there are dialects. The beauty of this bread is that you can make it with little effort. First, mix the dough in the morning, then let it rise during the day, and finally bake it just before dinner. If you have a ripe sourdough starter, salt, and olive oil you're hours away from golden focaccia—and all the wonderful olfactory impressiveness therein—baking in your home oven.
Because focaccia has so few components, the ingredients you use should be of the utmost quality. Use vegetables in season and the highest quality olive oil you can find. In this post, I worked with Jovial's Olio Nuovo, a fresh-pressed olive oil from the Valpantena area of Northern Italy. It's rather difficult to source exclusively fresh-pressed olive oil. Usually, this oil is blended with aged oil, balancing the flavor profile to make it consistent with other offerings throughout the year. This fresh oil has a delicate flavor but a balanced, upfront fruitiness as well. If you've never had the chance to try an oil like this you'll be pleasantly surprised.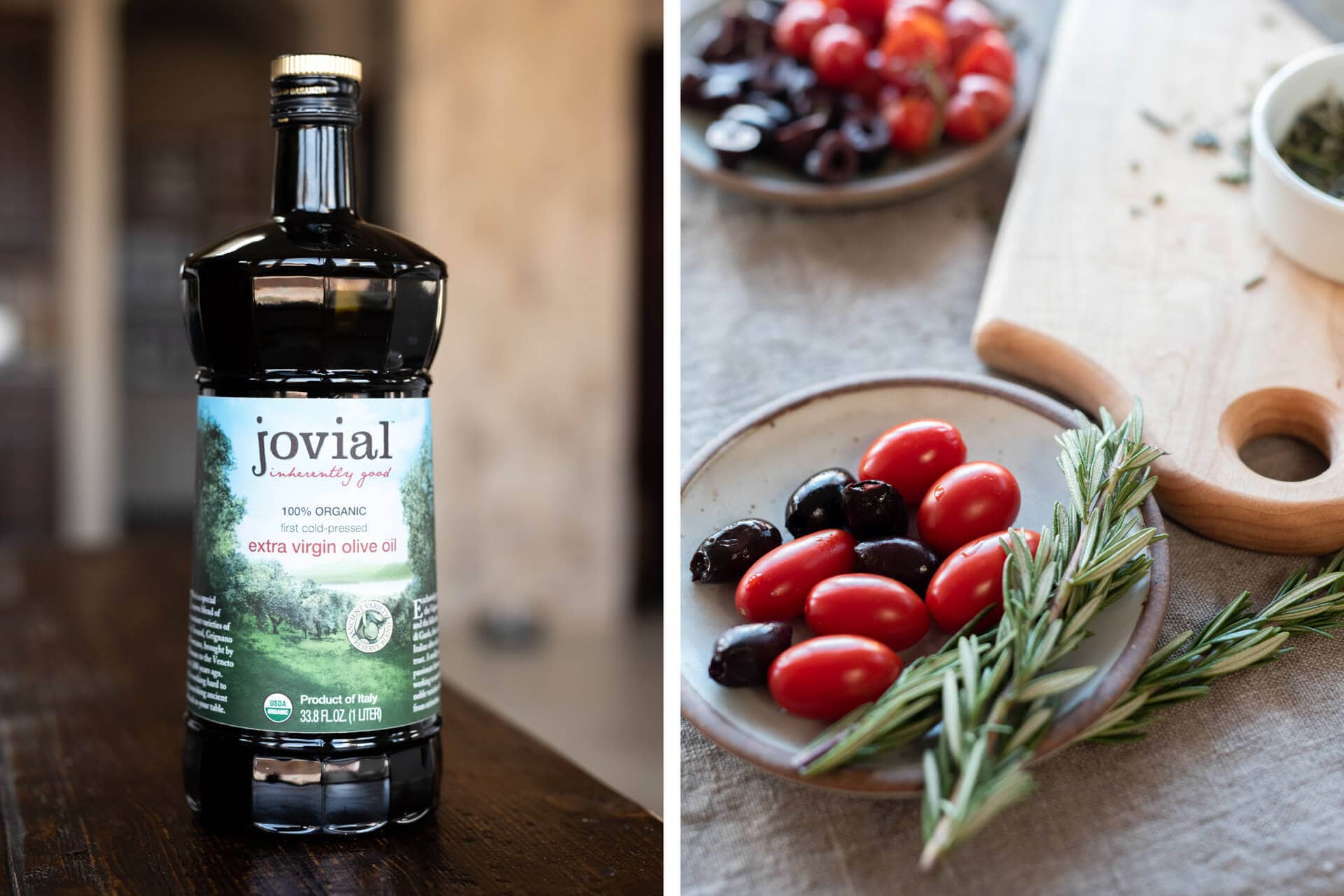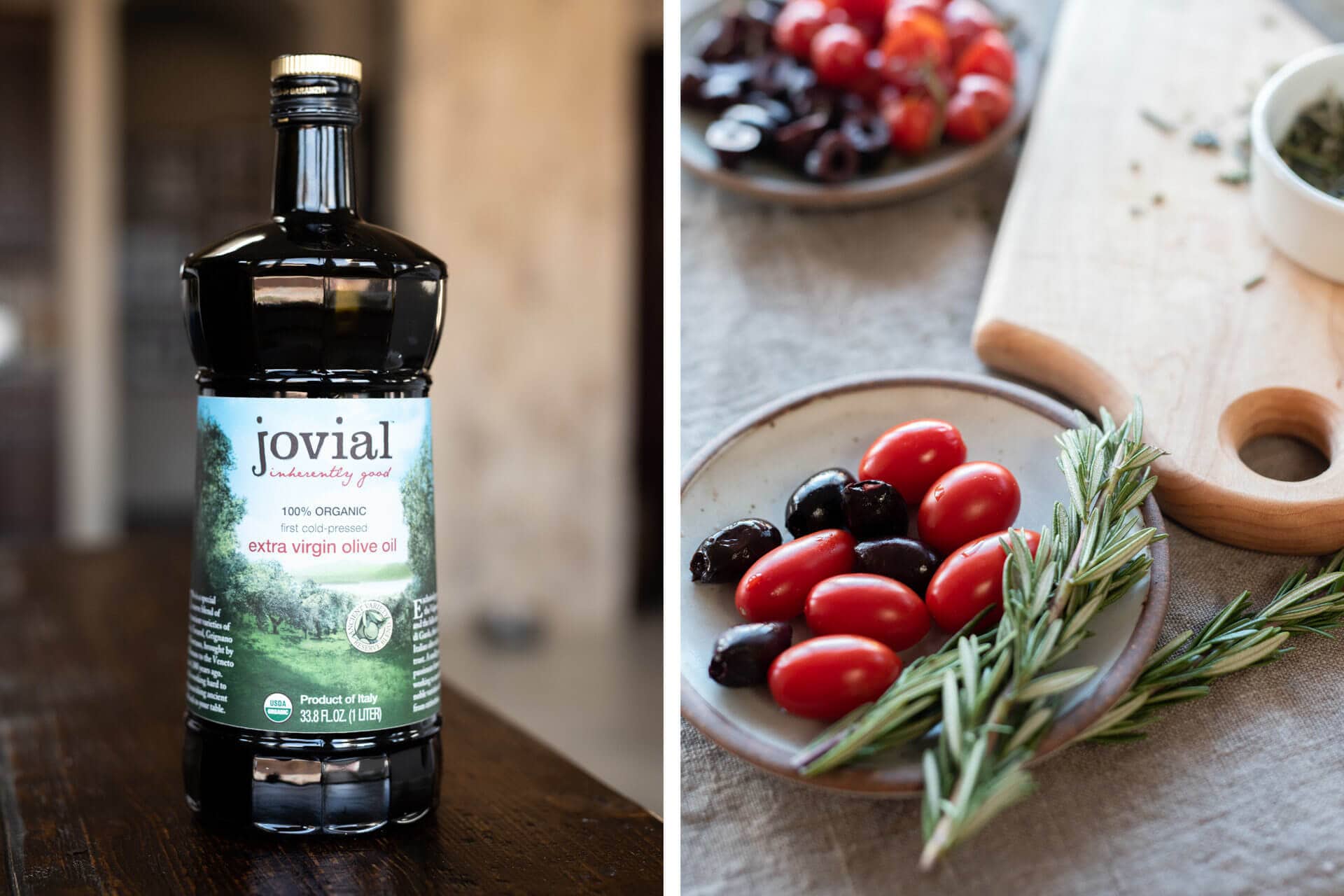 Flour Selection
With this naturally leavened focaccia, I wanted little sourness in the result. While I typically include whole grains in most of my recipes, I wanted the flavor of this classic bread to be mild, to allow the taste of the olive oil and toppings to come forward. Removing all the whole grain flour from initial trials hit the spot.
For this formula, I blended 30% high protein flour (about 13% protein) with 70% all-purpose flour (11-12% protein). The high protein flour helps give this highly-hydrated dough strength and structure—and 30% is just enough.
Focaccia Toppings
Focaccia can be topped with just about anything you can imagine. My favorite is rosemary, chopped cherry tomatoes, pitted kalamata olives, coarse sea salt, and good quality olive oil. Traditionally, Ligurian focaccia (and as shown in the recent Salt Fat Acid Heat episode on Netflix) is topped with a salty brine. Instead, I love dusting the top with coarse sea salt: the chunky crystals bring unexpected pops of flavor.
Here are a few more ideas:
Tomatoes, capers, oregano, garlic, olive oil
Thinly sliced Yukon gold potatoes1 with coarse sea salt, fresh thyme, and olive oil
Sliced and olive oil-marinated red onions, brined olives, and fresh chopped tomatoes
Grated hard cheeses of all kinds (parmesan, pecorino, etc.), rosemary, olive oil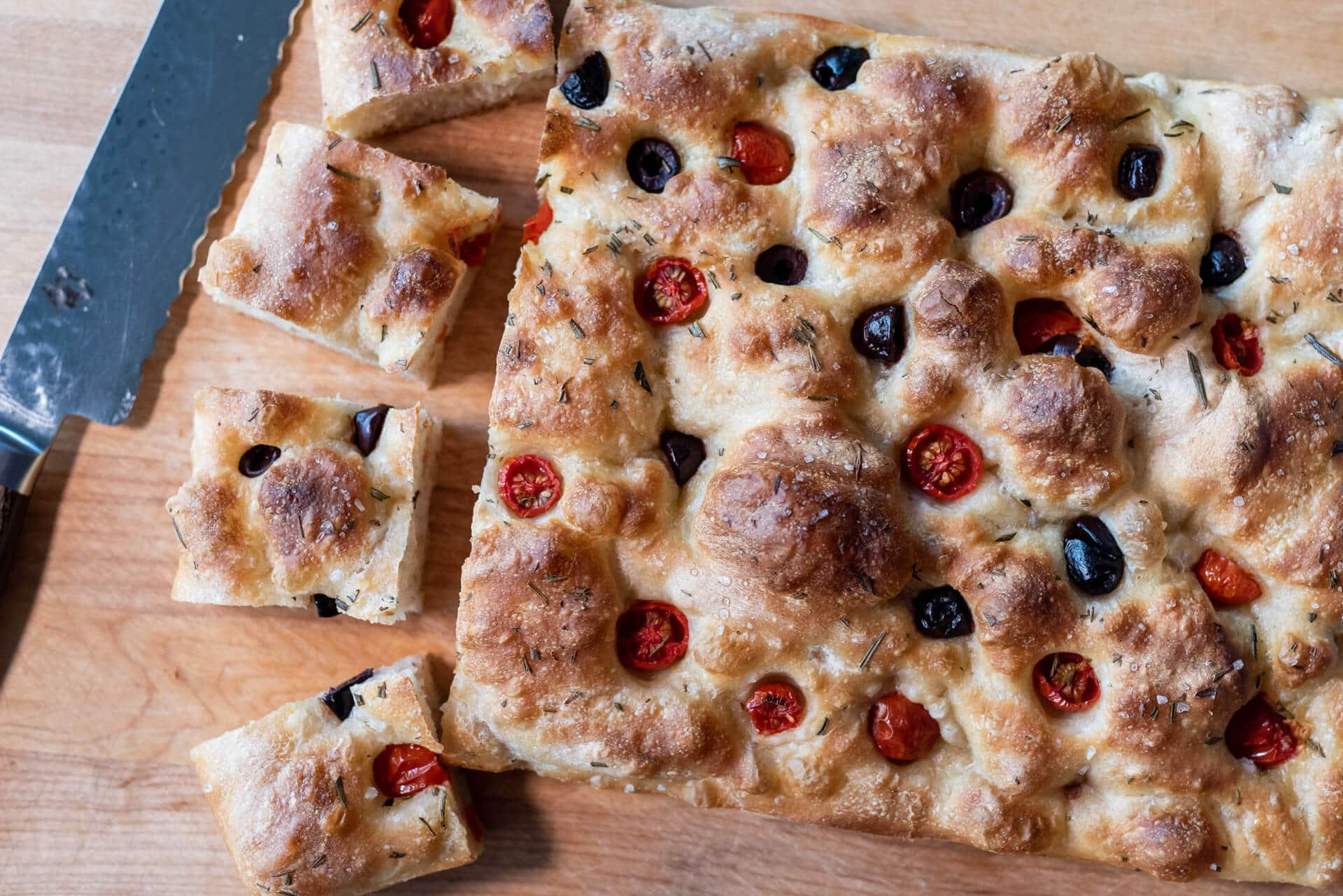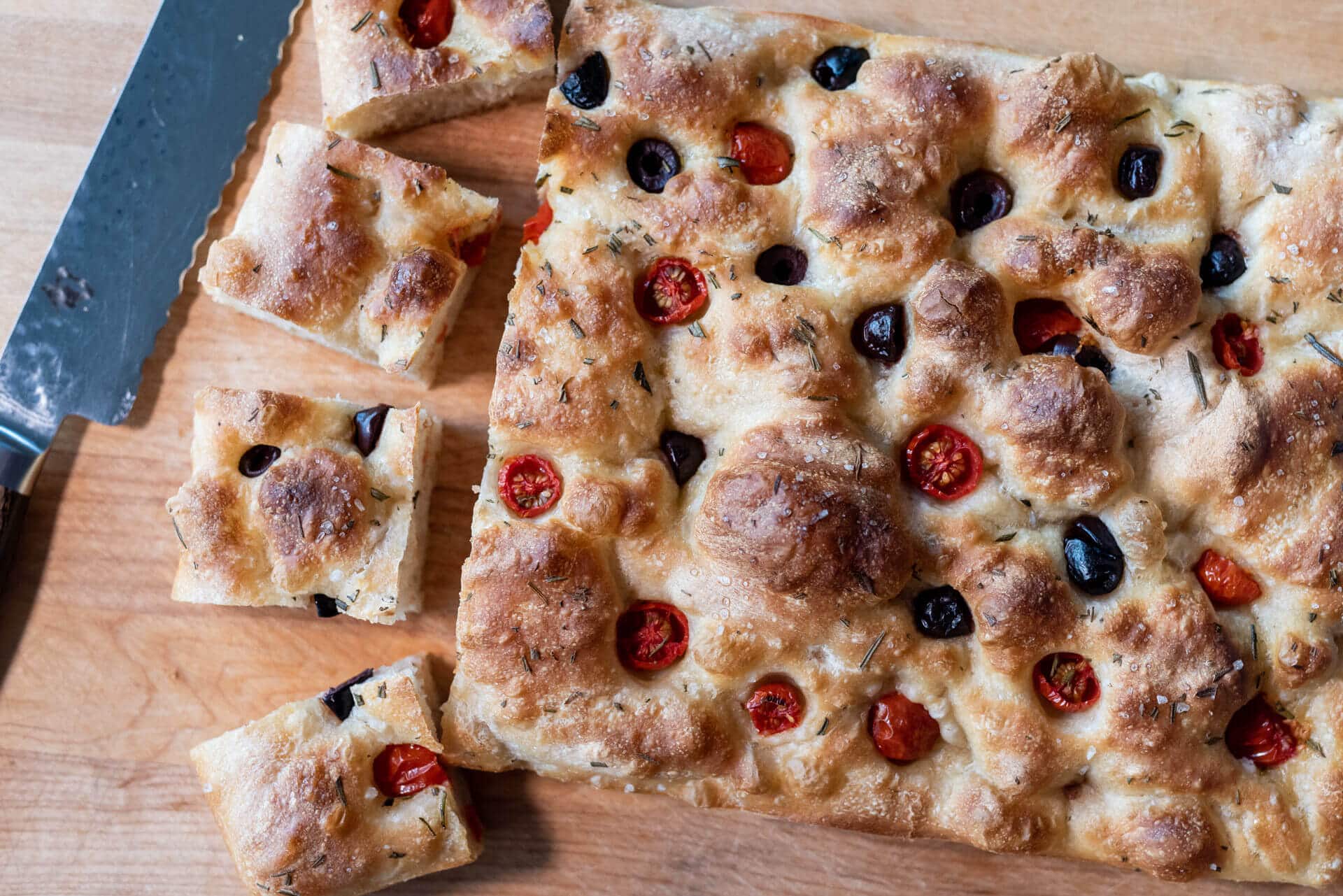 A Simple Focaccia Recipe
Special Equipment
For this sourdough focaccia, you will need a round or rectangular pan for baking. I like to use a deep pan (as opposed to a baking sheet) so the focaccia doesn't dry out too fast in the oven. My preferred pans:
Both pans have a nonstick interior, and they conduct heat exceptionally well, imparting a beautiful crust on the naturally leavened focaccia.
Vitals
UPDATE: After much feedback, and more testing on my end, I've decreased the hydration from 78% down to 76%. This should bring more strength to the dough and give a little more rise. As always, adjust as necessary when mixing (either increasing or decreasing hydration as necessary).
Total Formula
This table shows the entire quantity and baker's percentages for each ingredient. If you'd like to make two focaccia, just double everything in the table below.
There's no specific levain build for this focaccia, just use some of your sourdough starter when it's ripe (when you'd normally give it a refreshment). See my post on the differences between a levain and sourdough starter for more information on the two preferments.
Target final dough temperature (FDT) is 76°F (24°C).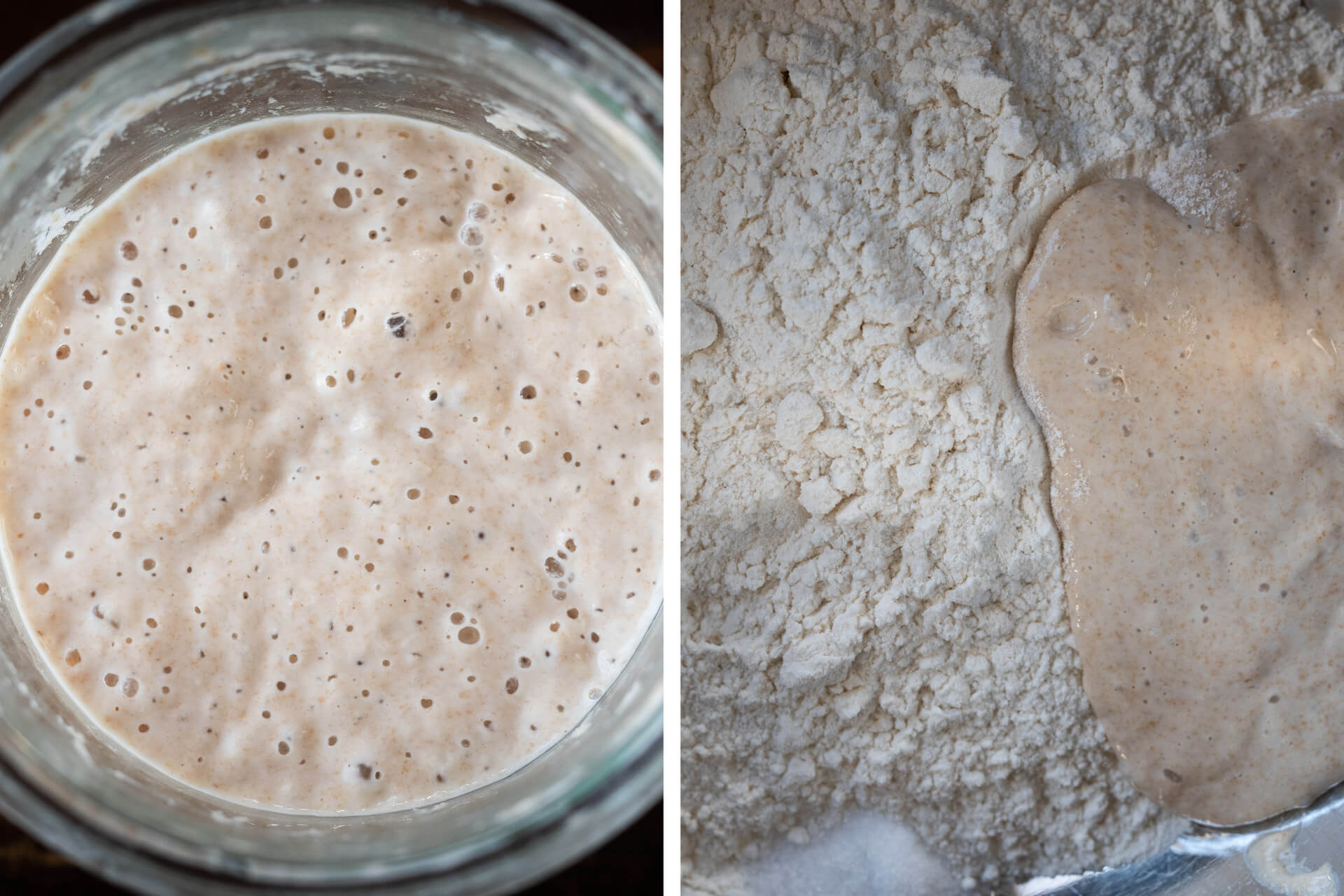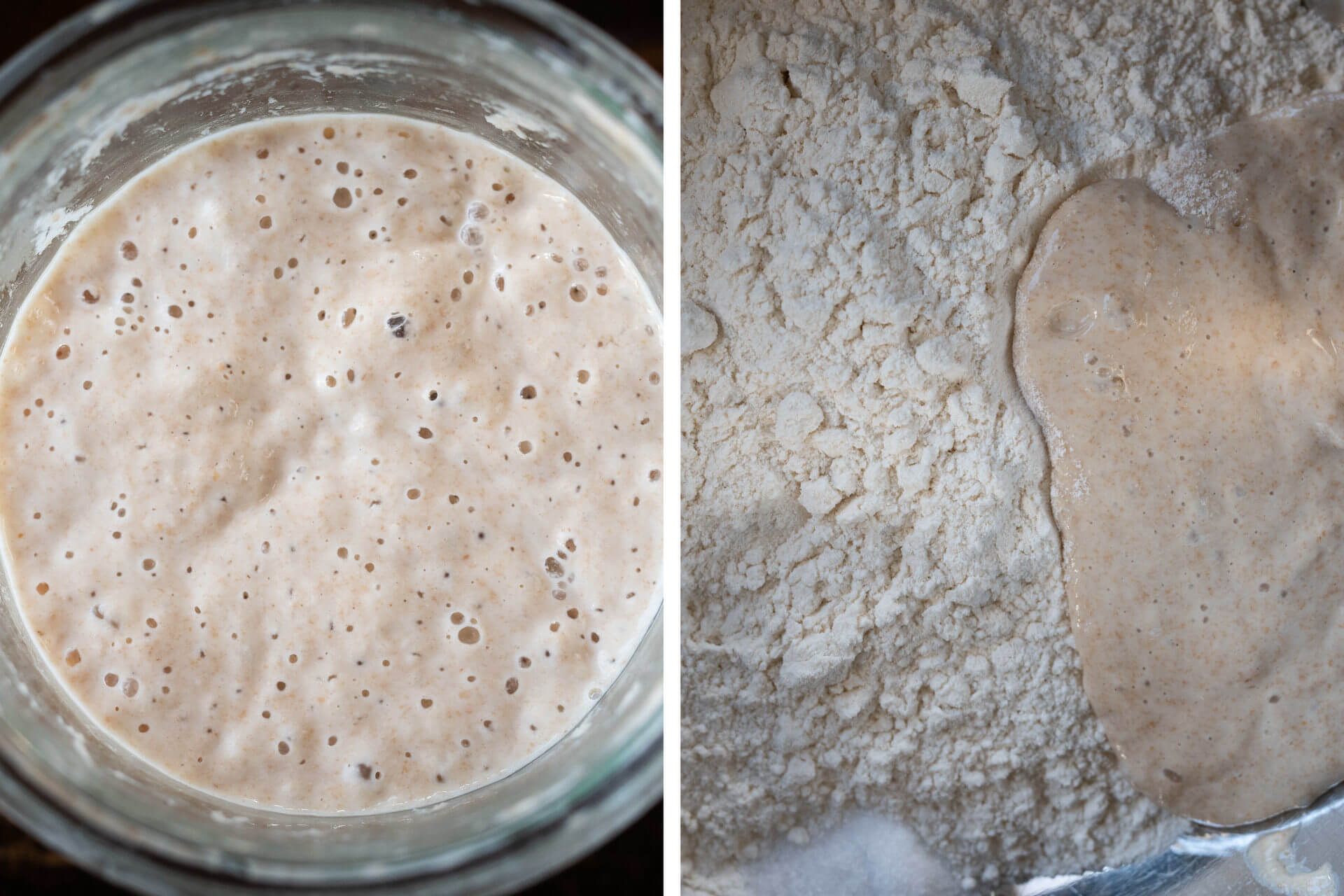 Method
Mix – 9:00 a.m.
This dough can be mixed by hand or in a mechanical mixer, such as a KitchenAid. The steps below will outline how to perform mixing by hand but if you're using a mixer, follow the same process with time adjustments (your dough will strengthen faster in a mixer).
Add mature sourdough starter, flour, water (reserve 50g for mixing, later), and salt to a mixing bowl. Do not add the olive oil at this time. Mix by hand until the dough forms a cohesive mass, then continue kneading the dough until it becomes smooth and elastic. I prefer dumping the dough out to the counter to slap/fold (French fold) the dough for about 5 minutes, but use whatever kneading method you prefer.
After the dough is moderately strengthened, slowly add the remaining 50g of water if it looks like your dough can handle it — the dough should not feel "soupy" or completely fall apart. It will, however, be very loose and wet. If you find the dough starts to fall apart, even after continued mixing, omit the remaining water. Continue mixing until the dough forms a cohesive mass.
Next, add the extra virgin olive oil to the dough in the mixing bowl. Mix the dough and oil together until the oil is fully absorbed and the dough comes back together, 3-5 minutes.
As you can see below on the left, immediately after mixing the dough is still very wet and chunky. However, it's not falling apart or soupy. Resist the temptation to add more flour at this point, as you can see below in the image at the right, by the middle of bulk fermentation it'll strengthen after several sets of stretch and folds.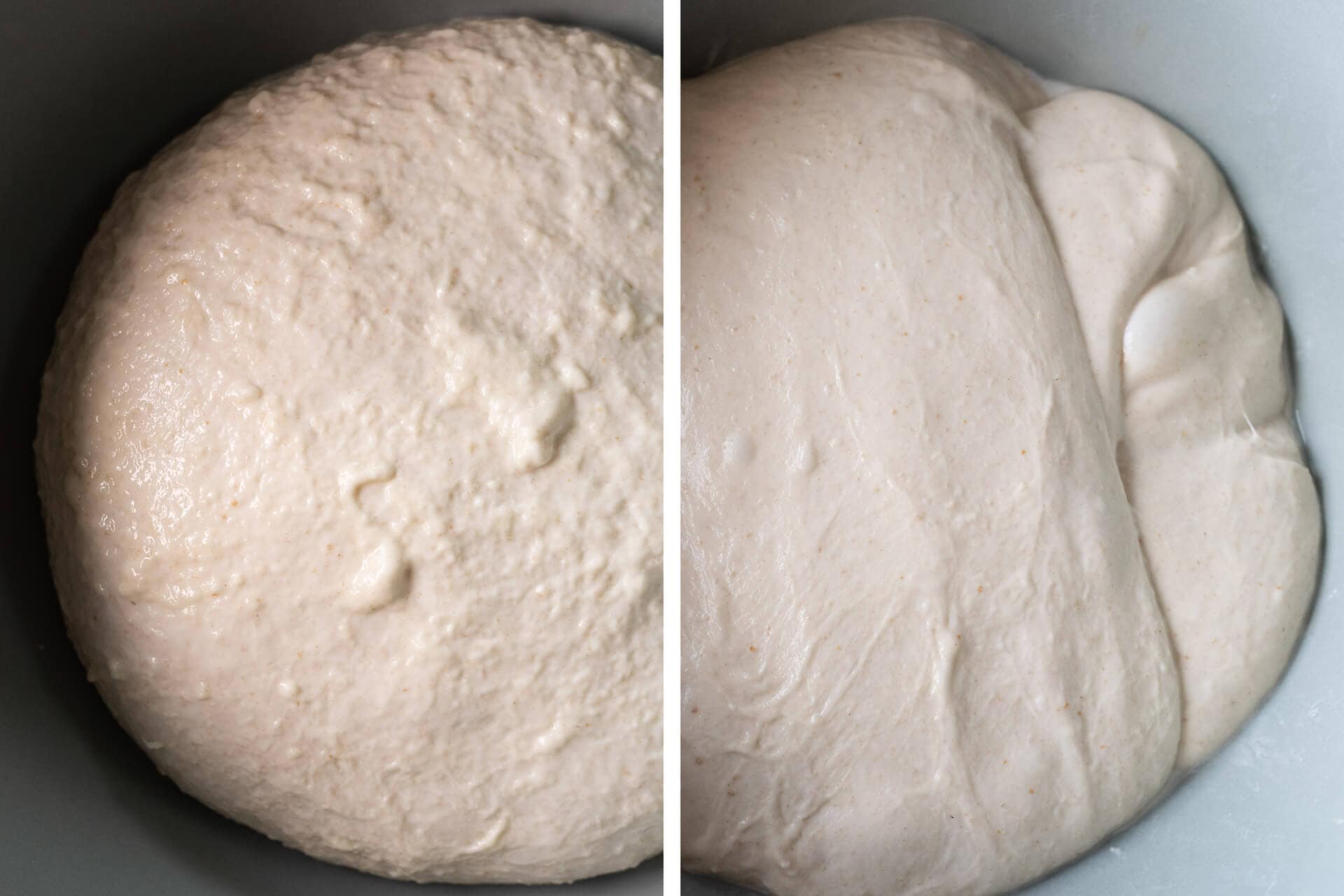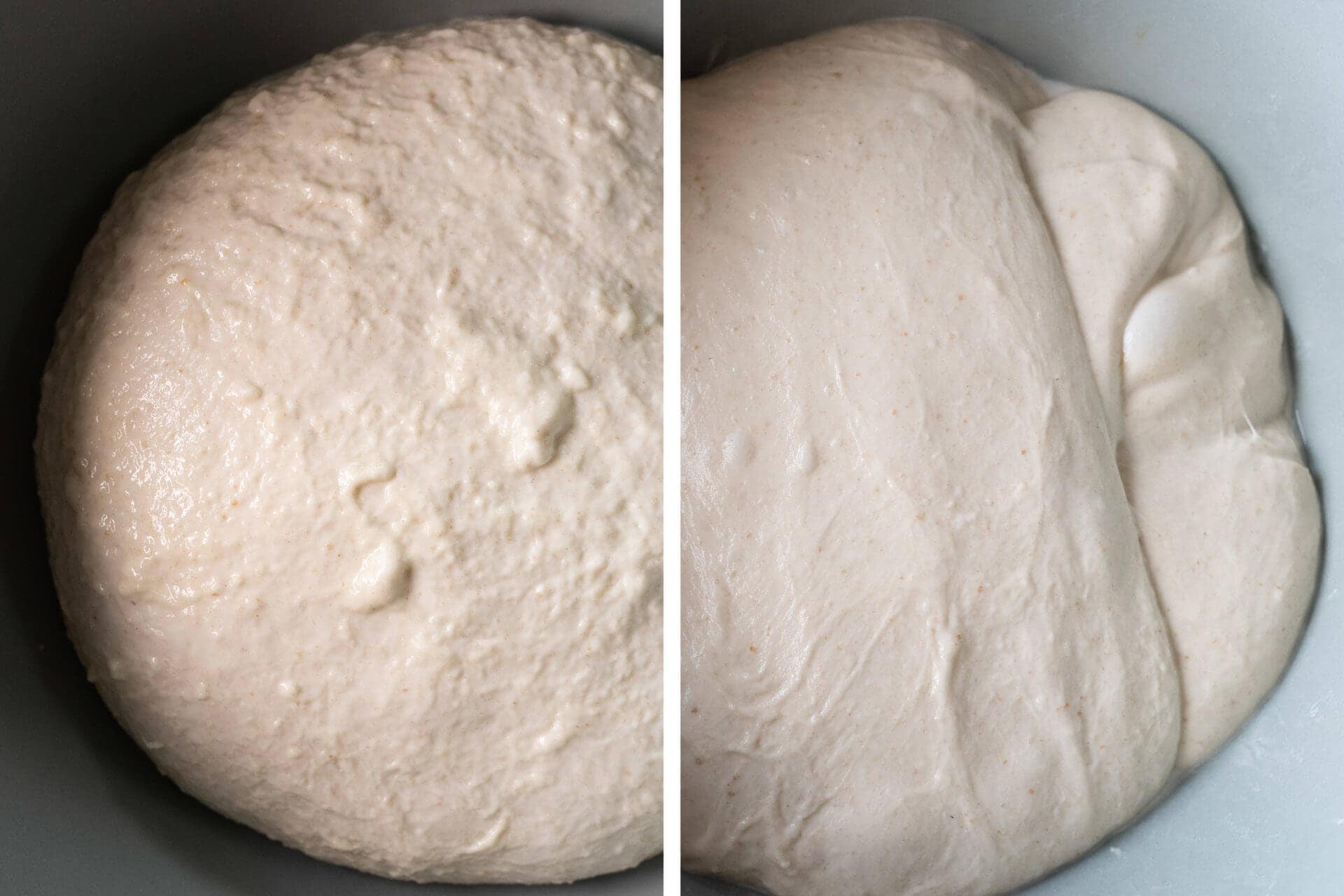 Transfer the dough to a covered container for bulk fermentation.
Bulk Fermentation – 9:15 a.m. to 1:15 p.m.
Give the dough 4 sets of stretch and folds2, starting 30 minutes after mixing, and a set every 30 minutes thereafter.
The dough will rise for the first 2 hours in a large bulk container (to make vigorous folds easier) and then after that the remaining time, untouched, in the final baking pan. After the first 2 hours, and the 4 sets of stretch and folds, transfer the dough to an olive-oiled, deep rectangular pan. If you don't have a pan with a silicone liner, make sure to heavily oil the interior of the pan so the focaccia doesn't stick during baking.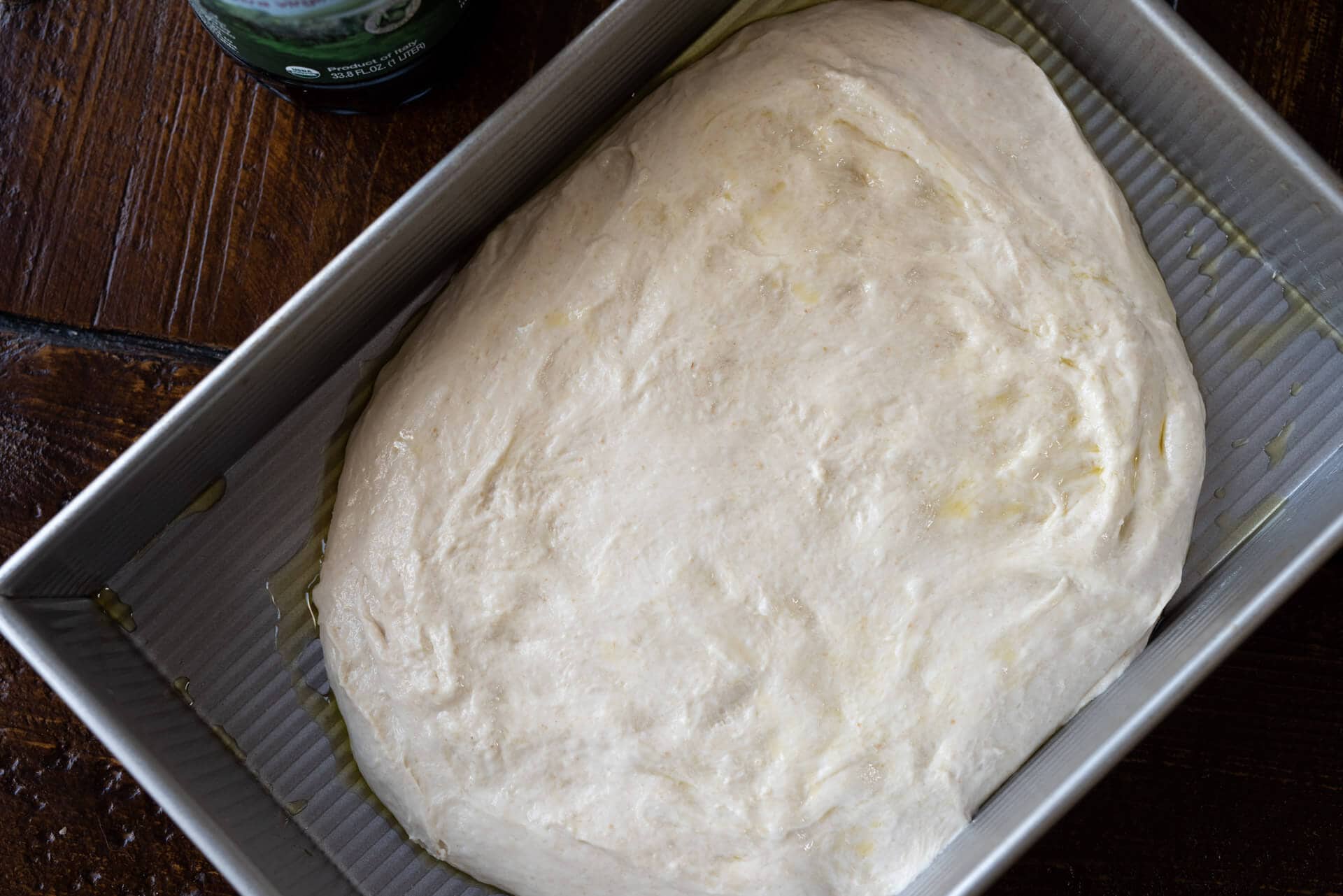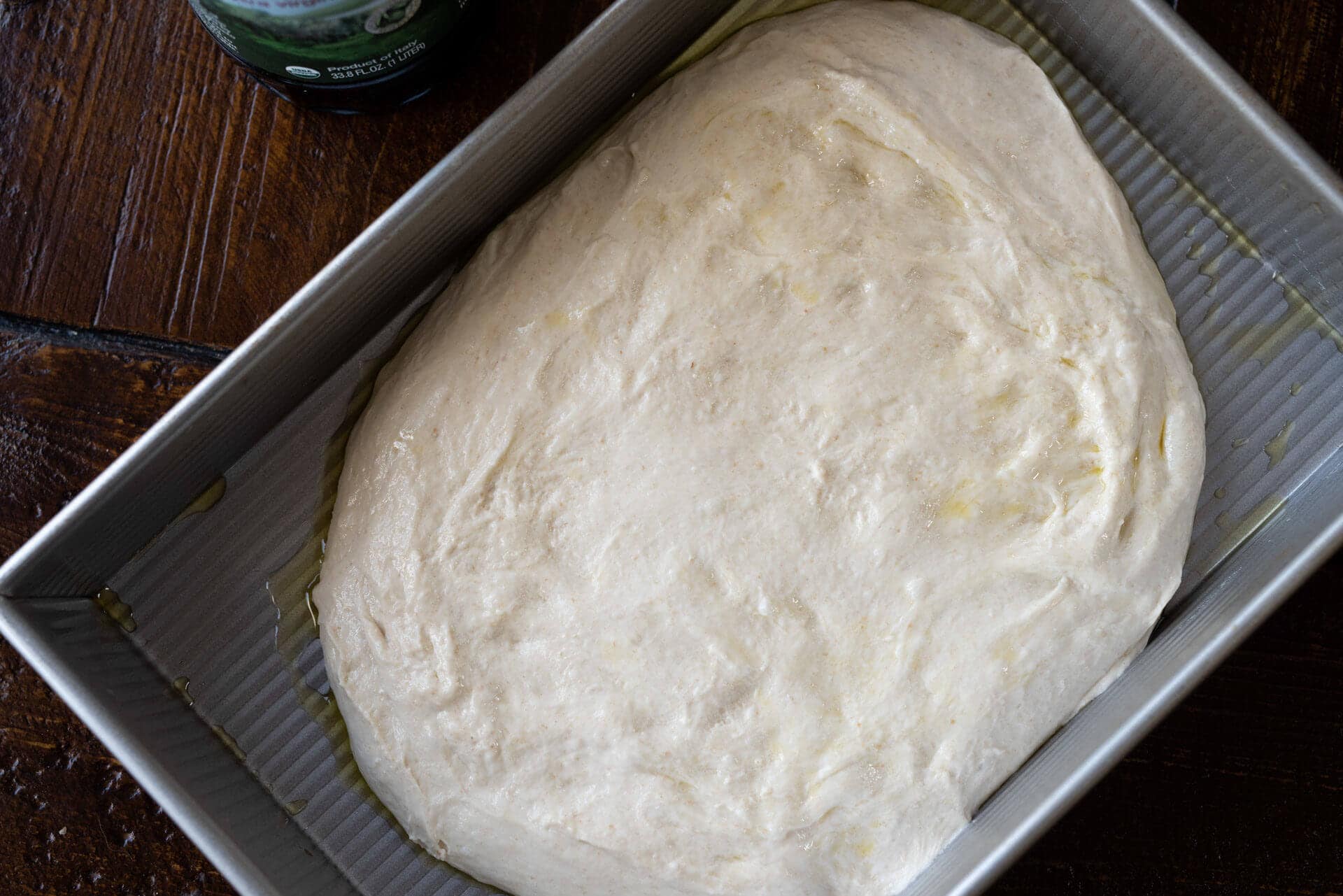 Every 30 minutes for the remaining 2 hours of bulk fermentation gently stretch the dough, with wet hands, toward the corners of the rectangular container. The dough will resist stretching and spring back (especially with the oil underneath), but don't force it — each time you stretch it'll relax a bit more and eventually fill the container.
Proof – 1:15 p.m. to 3:15 p.m.
At 76-78°F (24-25°C) let the dough proof, untouched but covered, for 2 hours. This time period is flexible and dependent on the temperature: if it's cooler, let it proof longer, and conversely, if it's warm you might be able to bake sooner. By the end of bulk, the dough should be very gassy and it should have risen in the rectangular container (see images below). If you poke it with wet fingers it'll feel extremely soft — like poking a marshmallow.
OVERNIGHT OPTION: Instead of proofing the dough at room temperature for 2 hours, cover the rectangular pan with an airtight cover and transfer to the fridge. The next day, take out the dough and let it come to room temperature and finish proofing.
The rectangular pan I use fits perfectly inside my B&T Dough Proofer. I keep it inside the proofer, covered with reusable plastic, and set to 78°F (25°C) until ready to bake.
About 30 minutes before you anticipate the dough being ready, preheat the oven to 450°F (232°C) with a rack placed in the bottom third (a baking stone is not necessary).
Top & Bake – 3:15 p.m.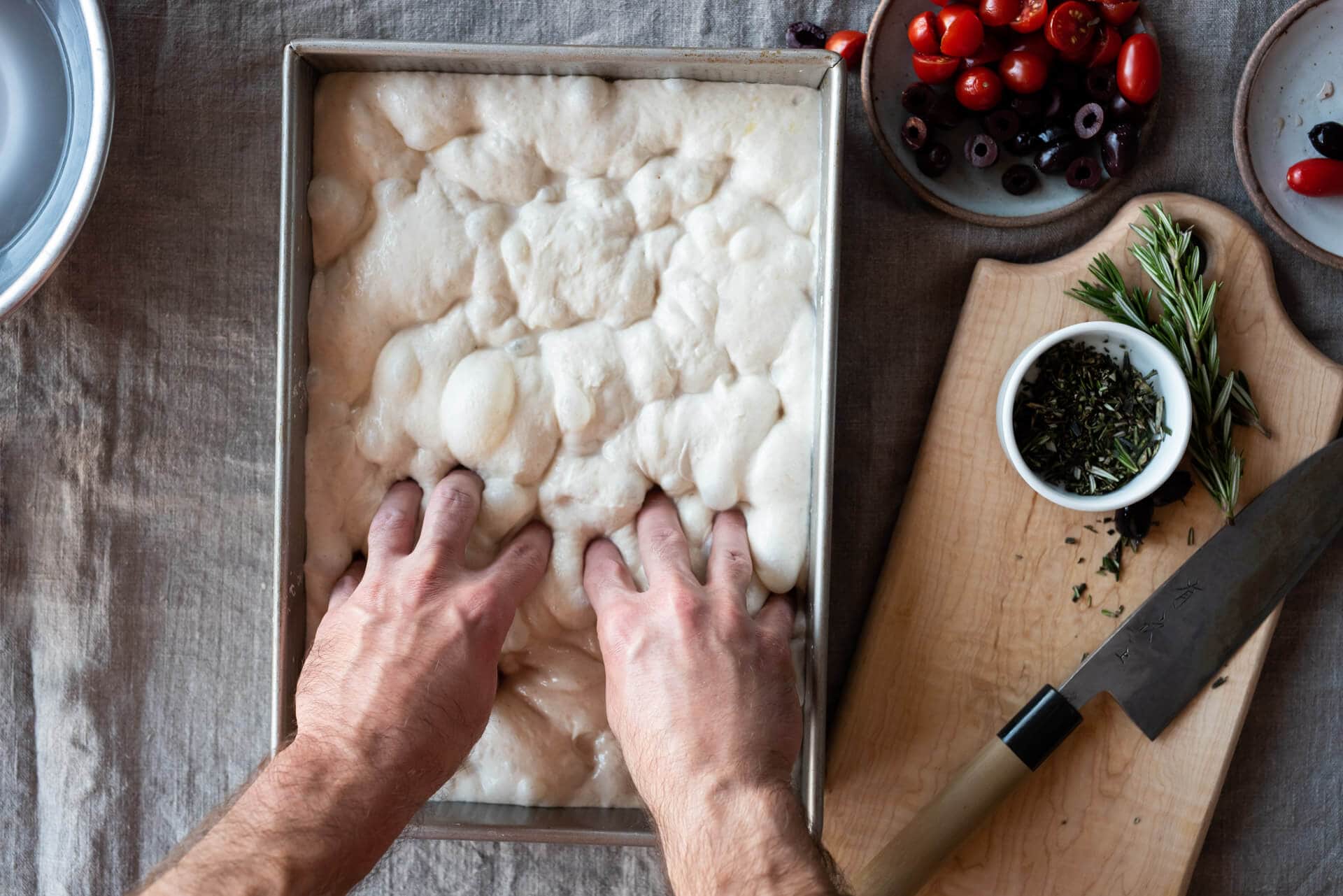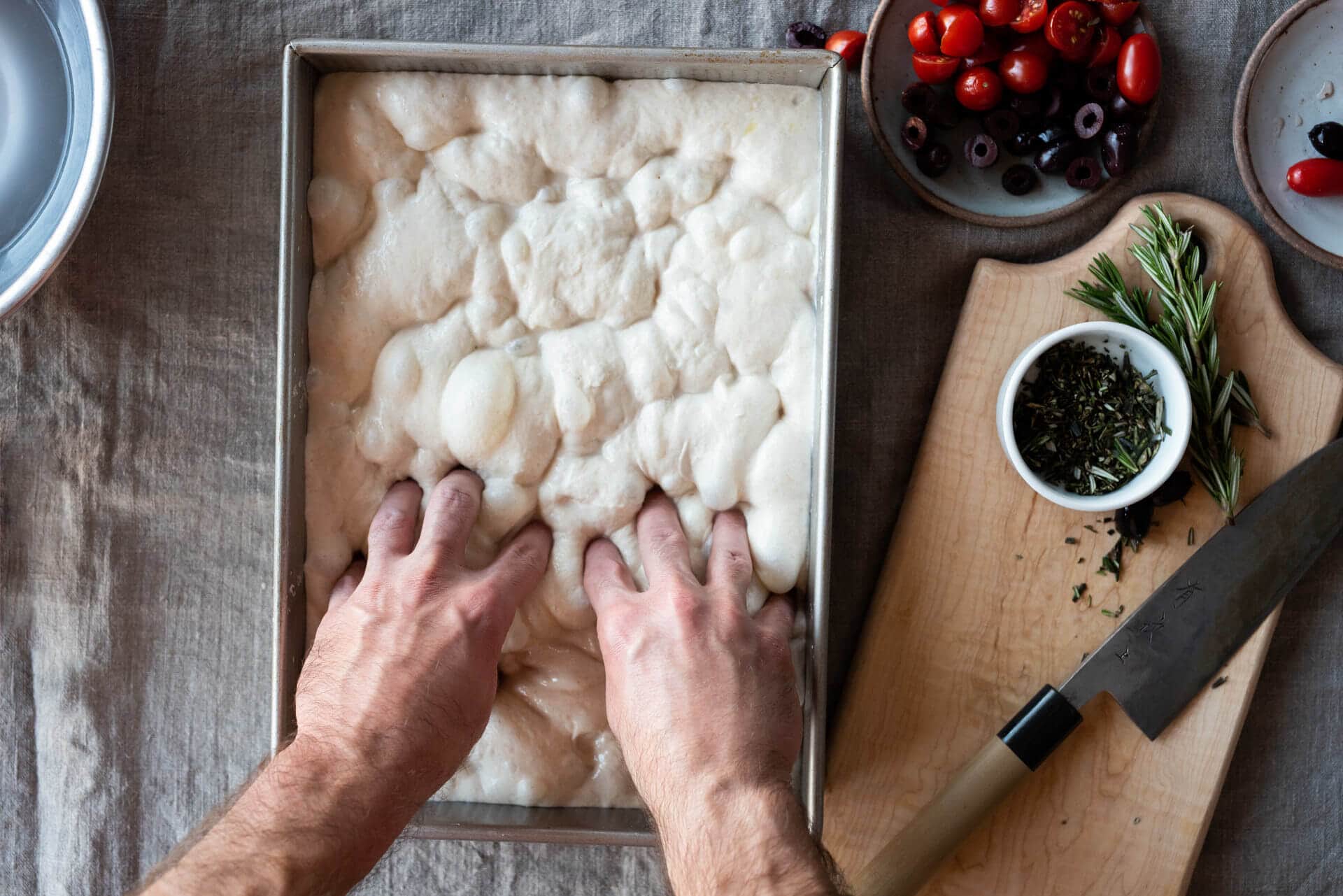 First, dimple the unadorned dough with wet fingers. Make sure the dimples are evenly spaced and go all the way down to the bottom of the pan. Then, drizzle on 1-2 tablespoons of your extra virgin olive oil and sprinkle with herbs and coarse sea salt. If using other toppings, add them now as well — I like to press them into the dough gently.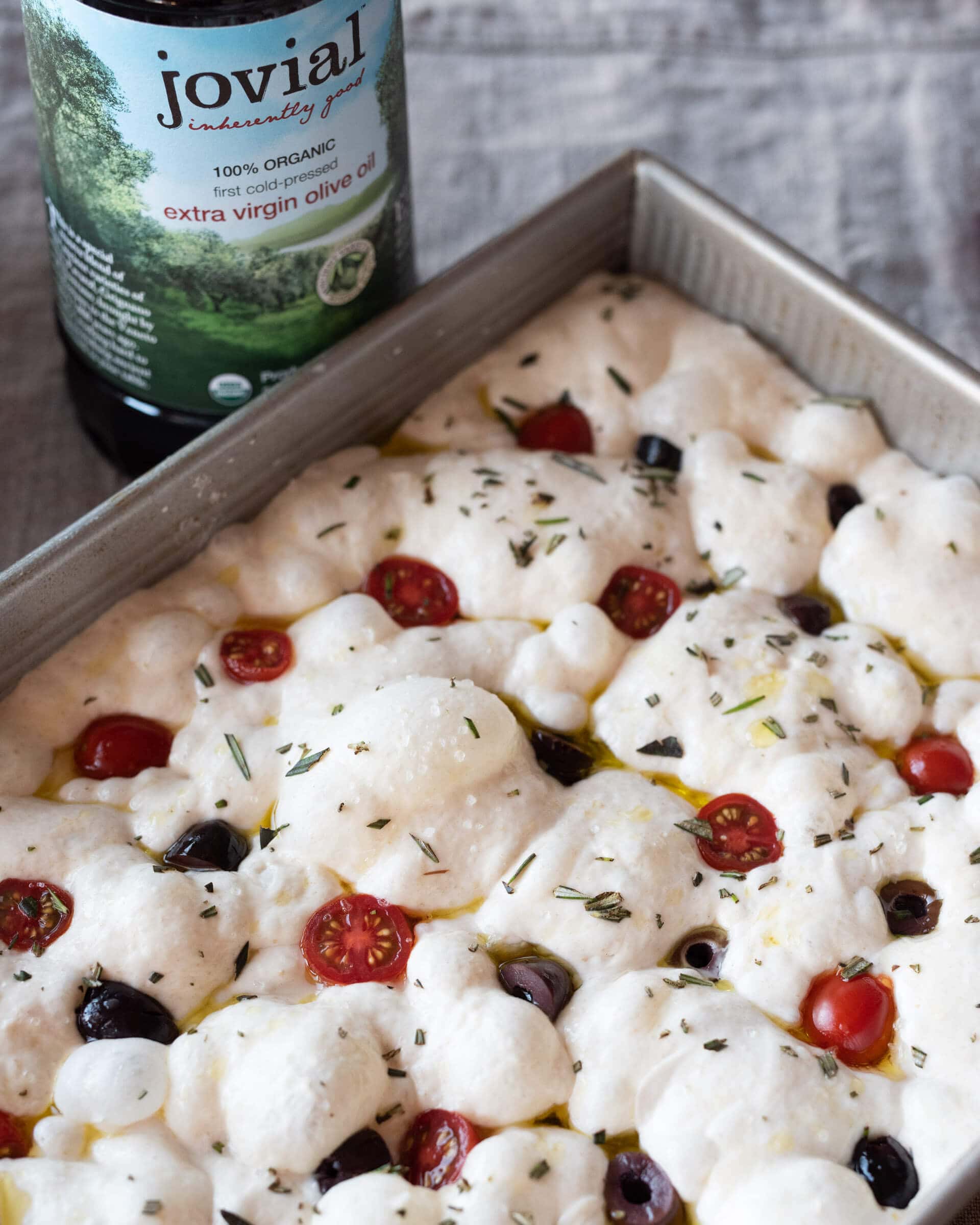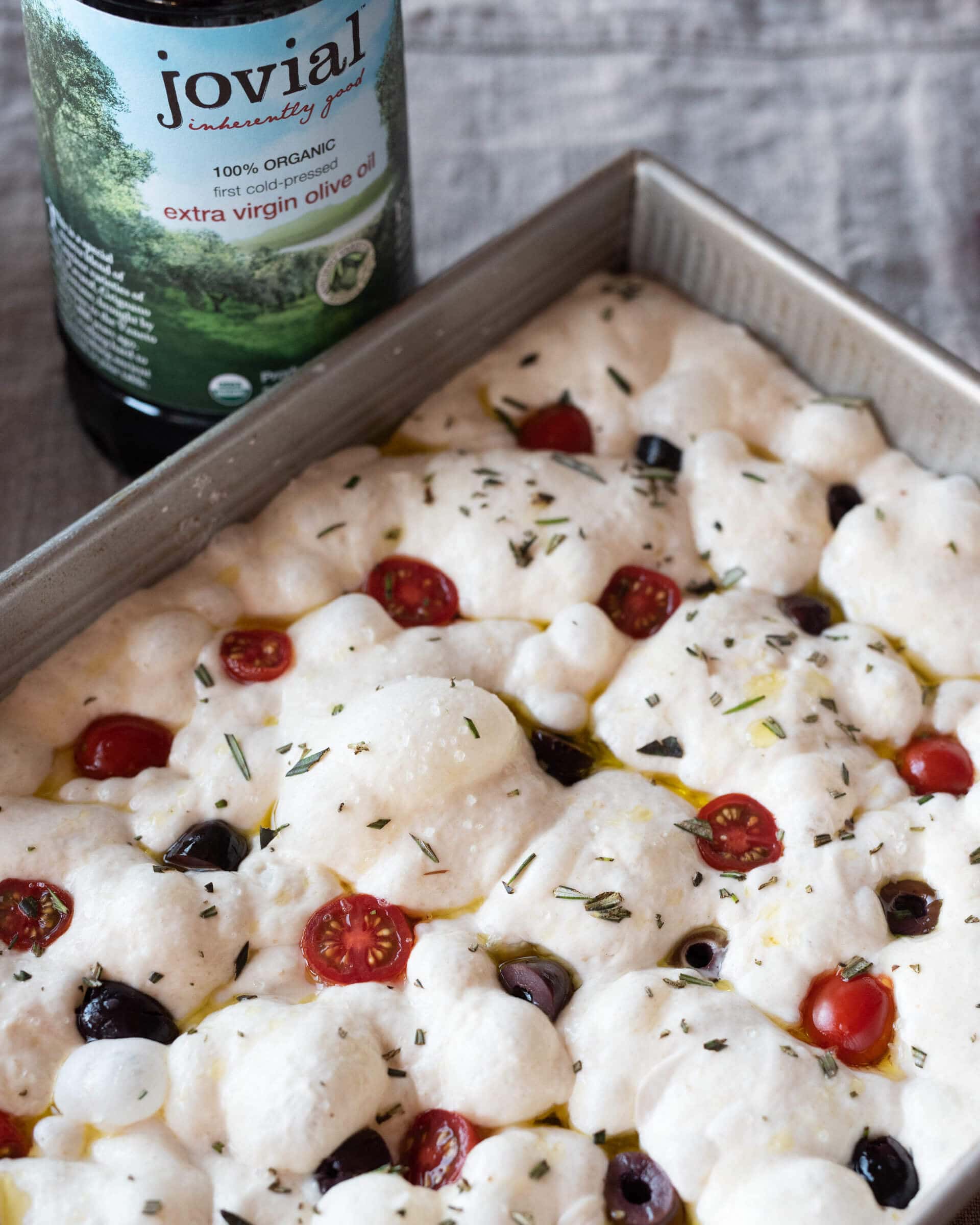 Bake the focaccia in the oven at 450°F (232°C) until deeply colored on top, about 30 minutes. Rotate the pan front-to-back halfway through this time. Keep an eye on it during the last 5 minutes and pull it out if it's coloring too quickly, or leave it in longer if you'd like it a little darker.
Let the focaccia cool a few minutes in the pan, then transfer to a cooling rack. It's fantastic warm from the oven, and best on the day of baking, but it'll keep well for a couple days loosely wrapped in foil (reheat under the broiler before serving).
Conclusion
When topping the well-risen dough, and smelling the fruity olive oil, and chopped rosemary, my excitement started to grow. This excitement intensified as the pan was placed in the oven and began to fill the house with the most intoxicating aroma. The melange of baking dough, toasted herbs, olive oil, and briny olives had me checking the oven frequently — as if checking on it would expedite things. Sit tight, wait for it to finish, I told myself as I gently slapped my hand from opening the door yet again.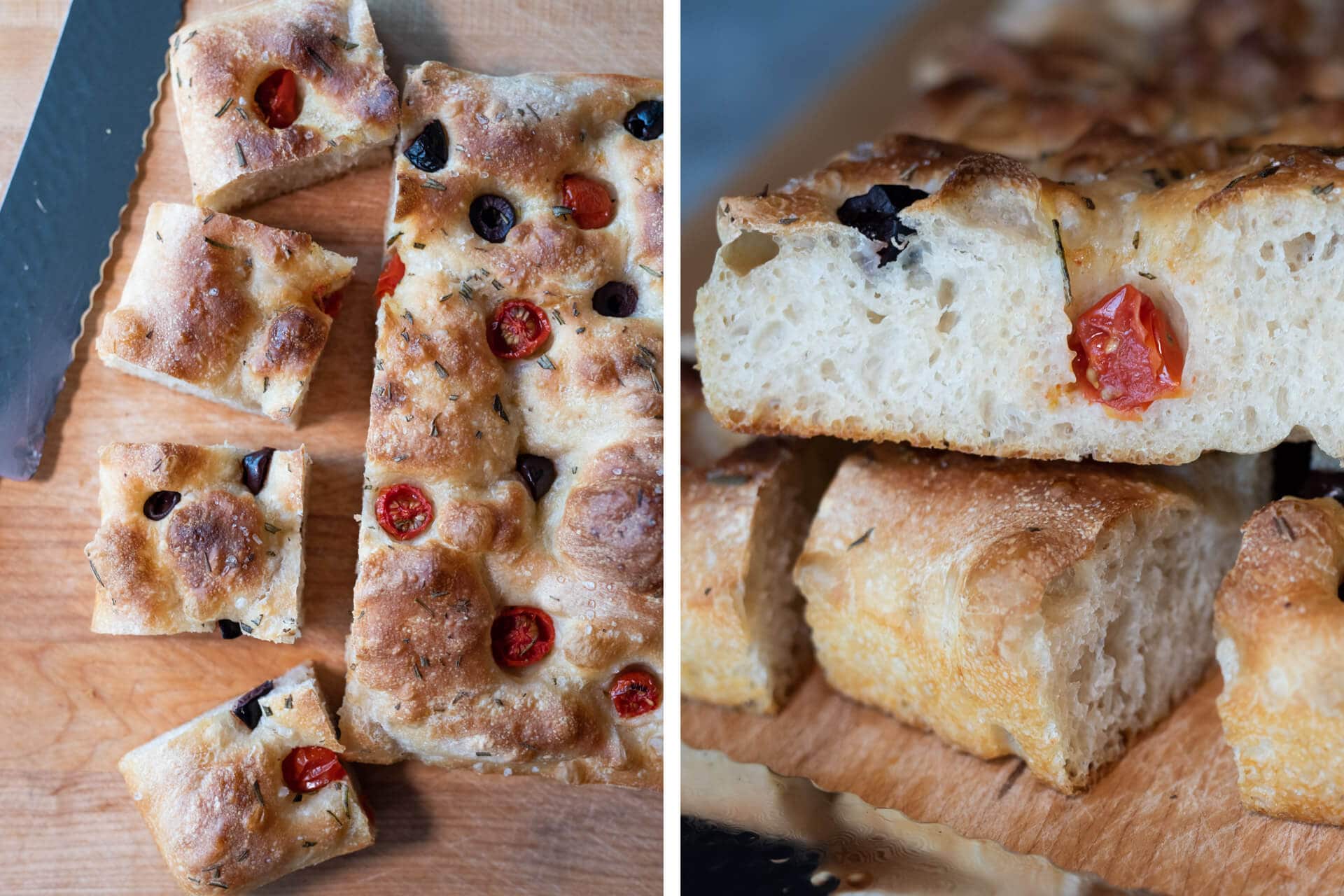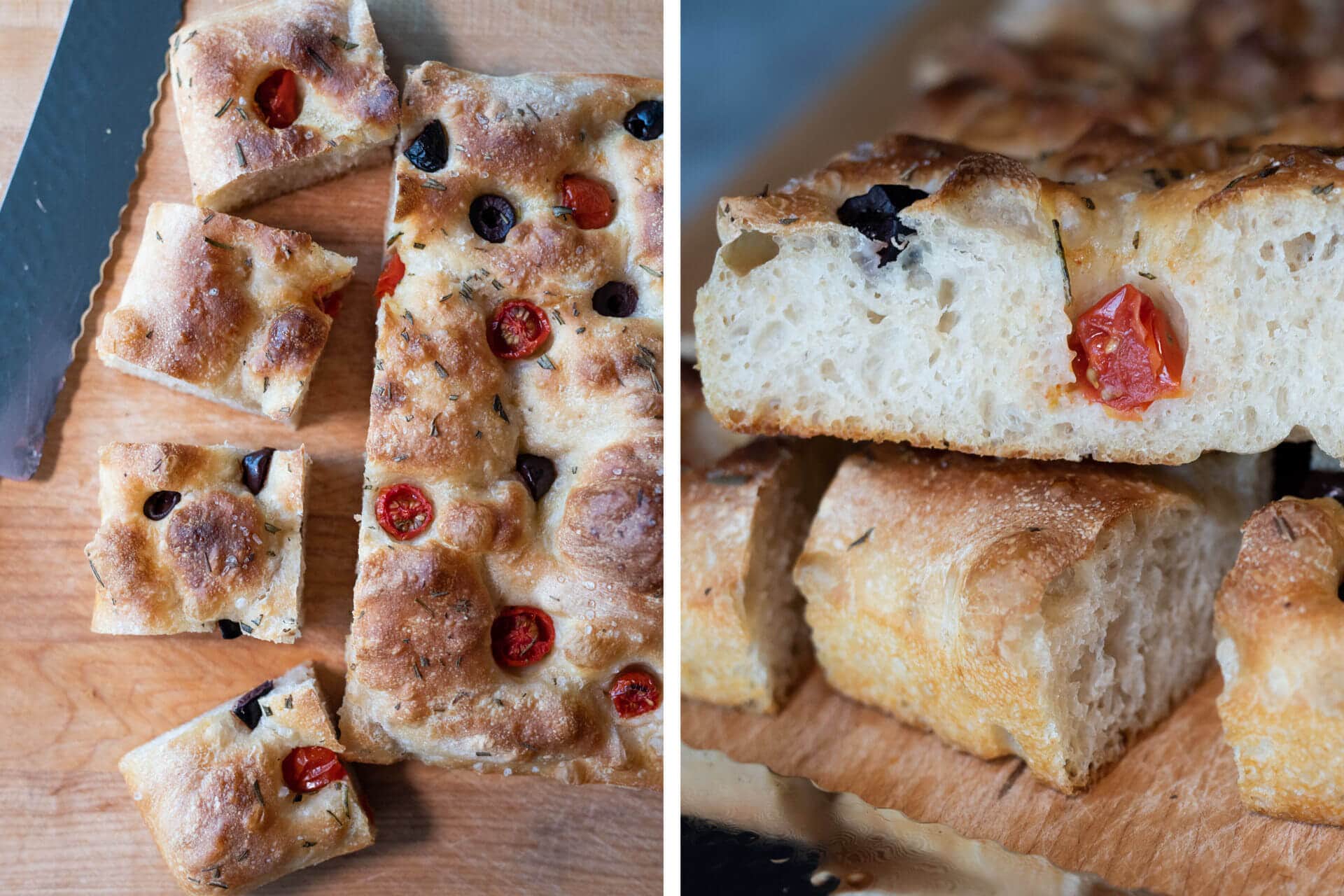 Thanks to the copious addition of high-quality olive oil, both in the mix and sandwiching it above and below, the dough bakes to a crisp and turns a beautiful golden brown. Biting through a slice first provides a faint resistance, then, gives way to a soft and ultra-tender interior. A perfect mix of flavors, textures, and an experience best savored, as if you're at the beach without an agenda.
This simple and rustic focaccia, made with a naturally leavened dough and topped with just the right balance of ingredients, brings me right back to the blue waters of the Adriatic, the sun in my eyes, and thick crunchy slices of bread eaten with haste. The only things absent are the beautiful white paper and all those little bits of sand that seem to work their way into just about everything — yea, I can do without that.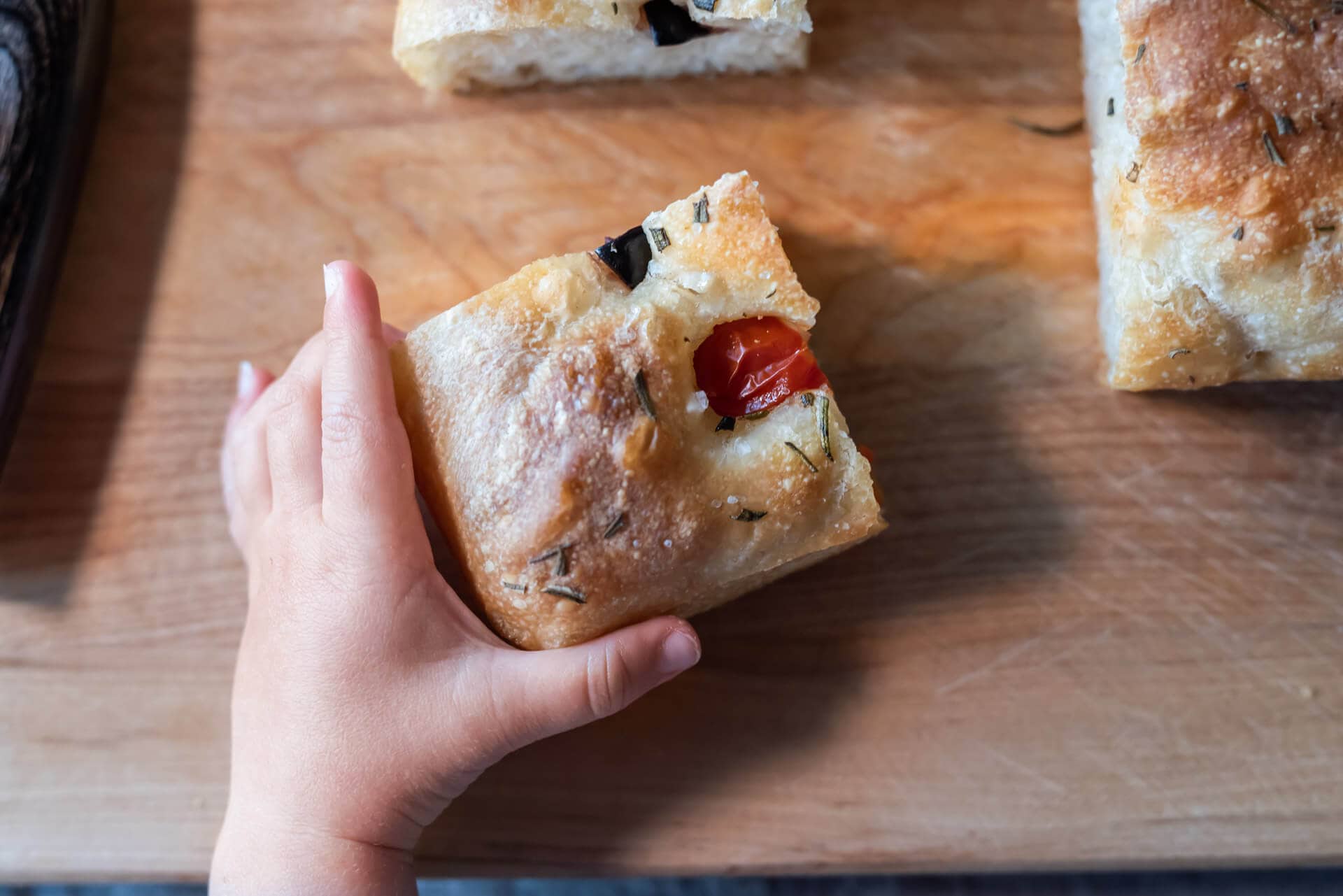 Thanks so much to Jovial for supplying me with their wonderful olive oil and for sponsoring this focaccia recipe! As usual, the content and opinions here are my own.
If you use this recipe, tag @maurizio on Instagram and use the hashtag #theperfectloaf so I can take a look!