Sourdough cinnamon rolls: the new every-weekend tradition? I initially began work on this recipe with the intention that these would be a wonderful Christmas morning indulgence, the birth of a new holiday baking custom. But after making them several times for testing, I'm convinced they should perilously be a weekend indulgence. Why limit ourselves and declare these only for special events and holidays? Seriously, let's make them every weekend.
Cinnamon rolls fit so perfectly with the cold weather. They're like that warm blanket you left on the radiator, that puffy wool sweater you wear around the house, or that cup of hot chocolate that breaks through the cold. Layers of tender dough segregated by ribbons of gooey cinnamon-sugar and topped with a creamy, white sugar glaze—it's enough to make you completely forget it's cold outside, or perhaps stop caring about winter altogether.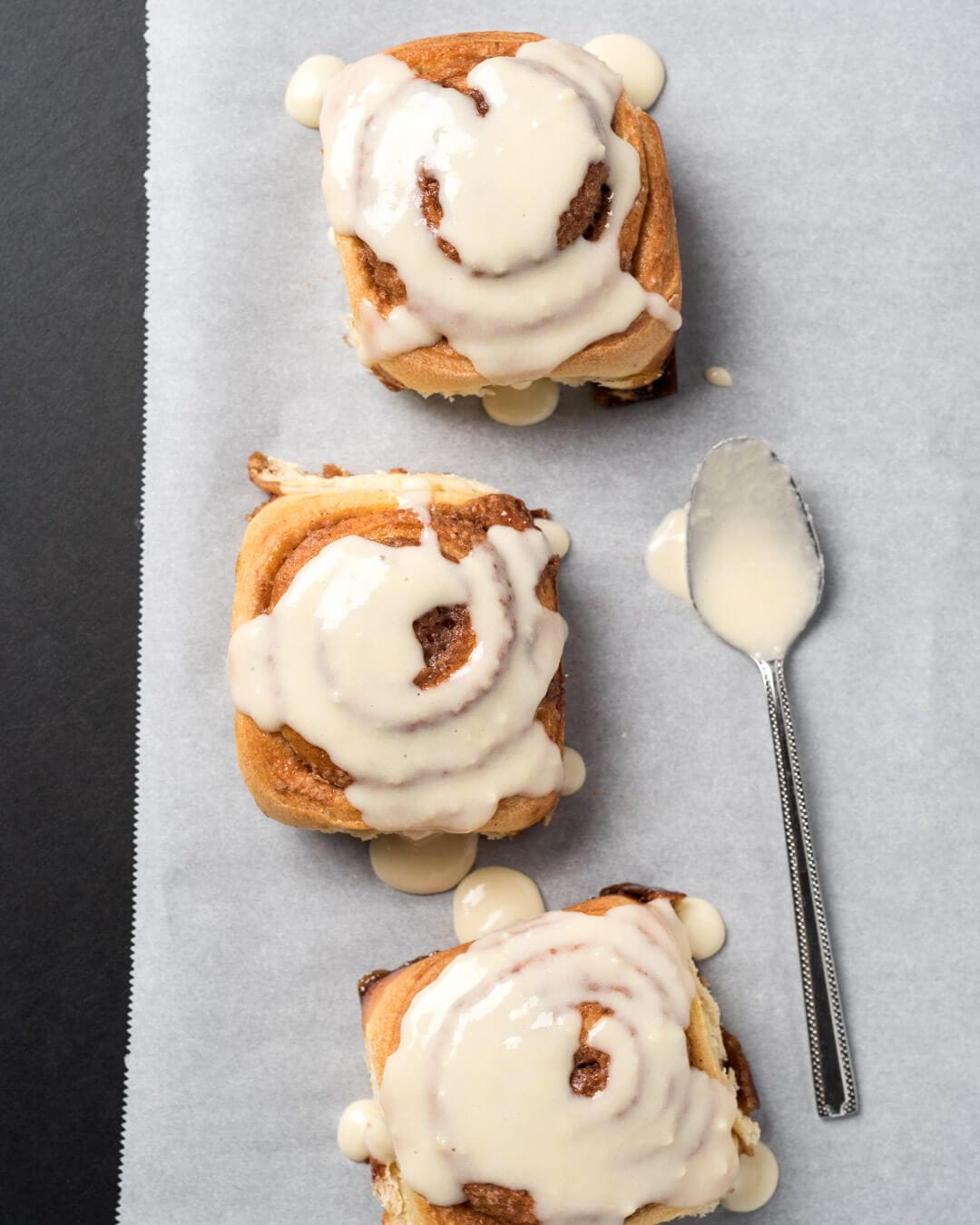 Brioche dough is the base for these rolls, which is dough enriched by butter and eggs. When added to a dough these ingredients make for an incredibly tender and mouth-melting crumb that's a deep yellow color. When pulled these rolls shred apart almost like cotton candy, the only resistance provided by the melted brown sugar cinnamon near the bottom—they're like a warm, gooey cloud of pure enjoyment. When presented with the opportunity, there's nary a chance anyone will decline one of these on a plate.
These sourdough cinnamon rolls require a little extra effort, but once you get the hang of the process, it's pretty straightforward—and of course, totally worth it. The dough is also very versatile: you can adjust the mixing and baking schedule, so they're finished in a single day or spread out over three. The dough can be retarded in the refrigerator after bulk fermentation, after shaping and cutting, or both. My preference is a two-day process where I place the dough in the fridge after bulk fermentation. The next day I wake and get to work on the rolls, and I bake them fresh for breakfast (or brunch if late to rise).
Brown Sugar Cinnamon Spread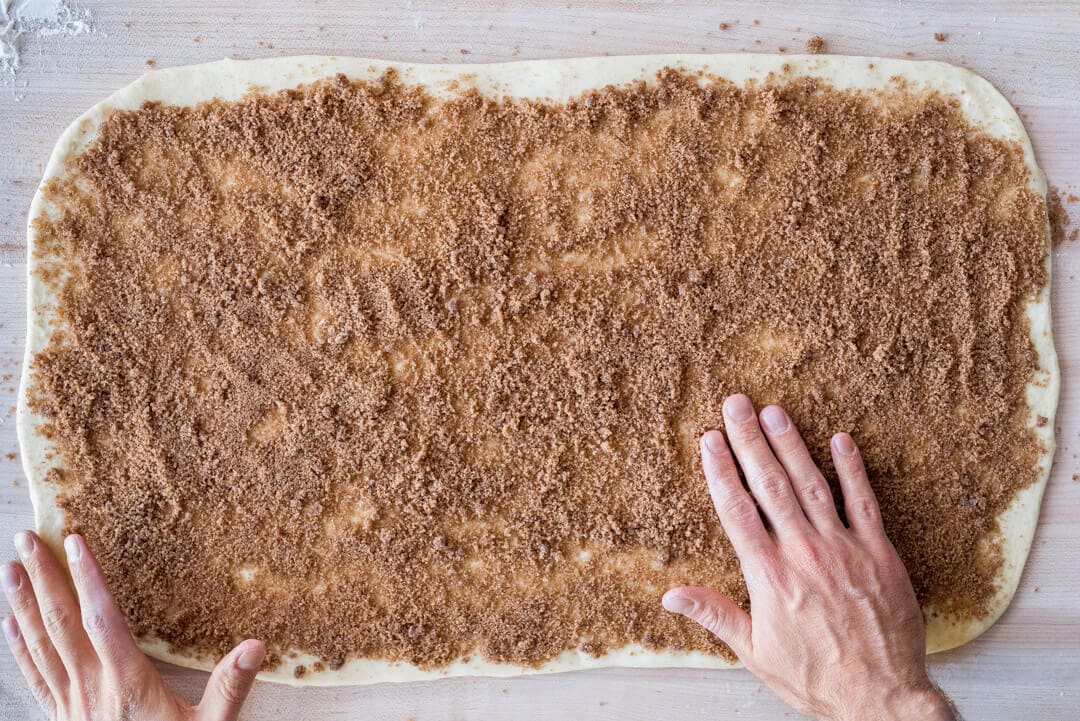 This spread has just the right level of delicate sweetness and comforting bite from the cinnamon. The mixture is more crunchy and thick than it is spreadable, which is my preference. When baked, swaths of the spread caramelize and other smaller areas stay crunchy, providing a subtle contrast of textures.
215g light brown sugar
40g all-purpose flour
2 tablespoons unsalted butter, melted
2 teaspoons cinnamon
1/4 teaspoon salt
Mix or whisk everything together in a bowl so there are few clumps remaining. Keep covered until used (brown sugar dries out very fast).
Cream Cheese Glaze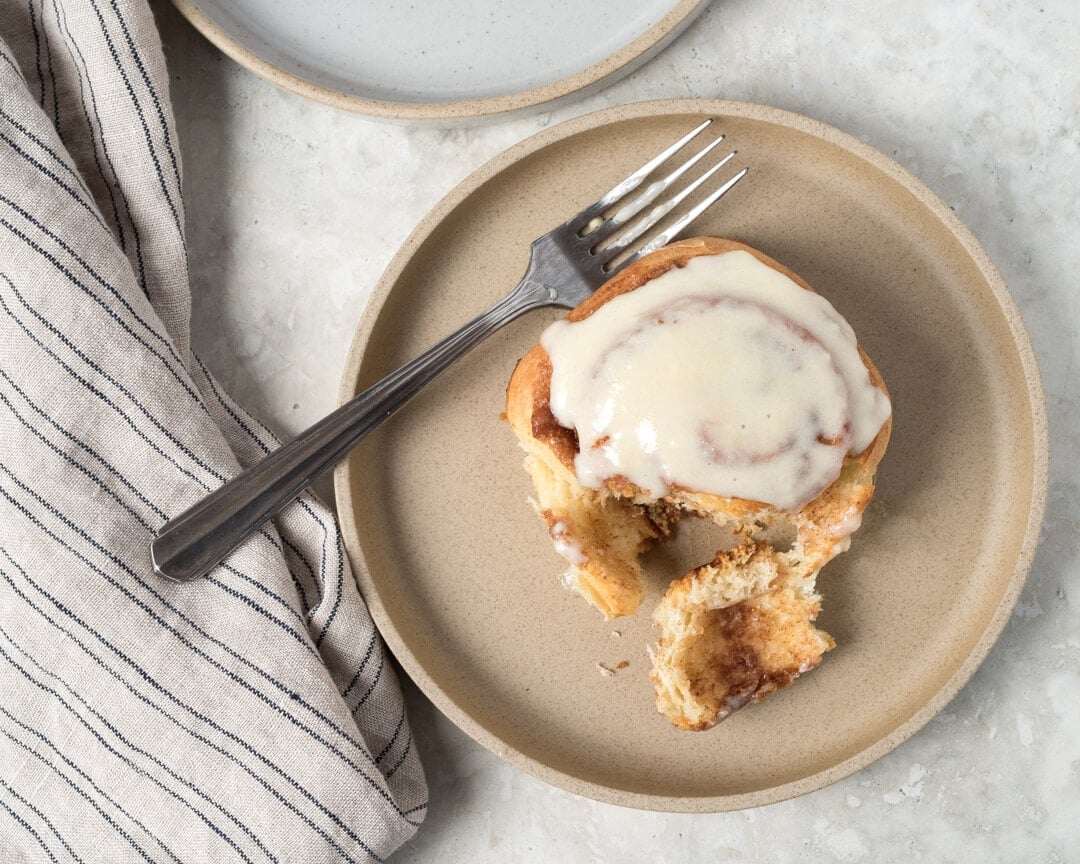 The cream cheese added not only makes this glaze extremely velvety but it also pairs wonderfully with vanilla. I've also tested various iterations of this, swapping out the cream cheese for maple syrup, adding orange blossom water, a dash or two of Angostura bitters… The options are endless.
114g cream cheese softened to room temp (4 oz, half a standard block)
62g (1 cup) powdered sugar
37g (3 tablespoons) whole milk
1 teaspoon vanilla extract
Add everything to a mixer fitted with the whisk attachment and whisk until creamy and soft. It's best, and easiest, to use a mixer or handheld beater for this, but if you want a workout a handheld whisk will work. The mixer will ensure there are no stray clumps of cream cheese lingering about.
Sourdough Cinnamon Rolls Recipe
It's best to make this brioche dough in a stand mixer (like the one I have) due to the soft nature of the dough and relatively long mix time required. Most of the strength in this dough will be developed upfront at mix time with just a few more stretch and folds during the bulk to finish it off.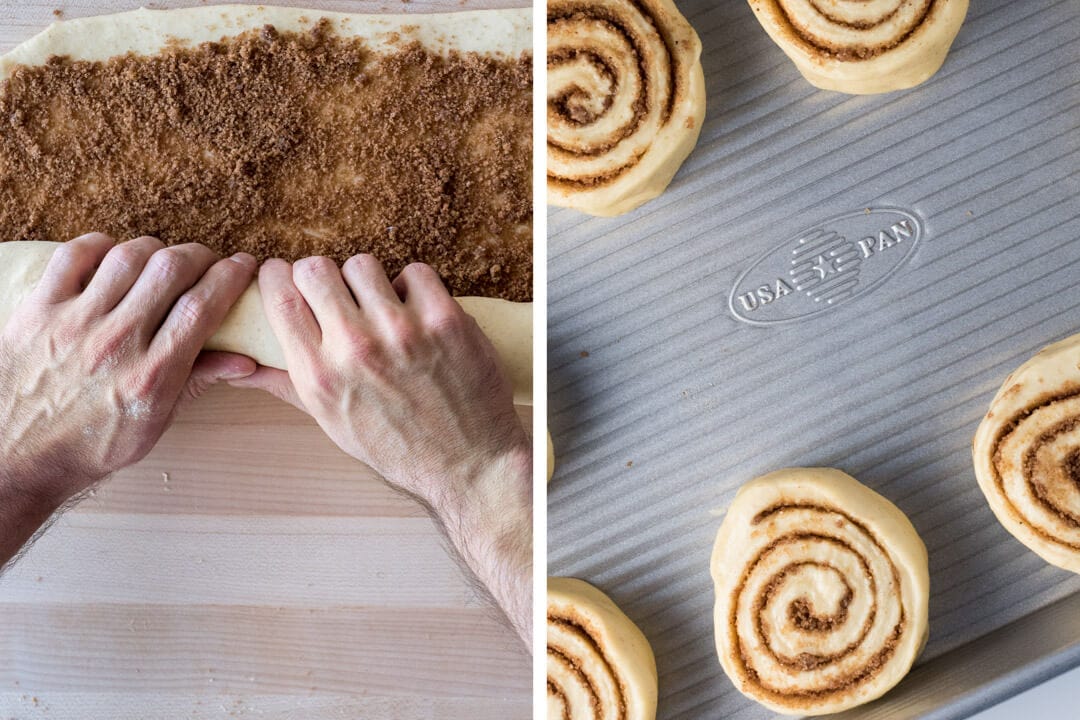 This recipe yields 12 cinnamon rolls but you can halve all the ingredients to make half a dozen (in this case, you'll want to use a smaller pan). I'm using a USA Pan 9" x 13" rectangular pan to hold these 12 buns and because the pan is coated in silicone there's no need for any parchment paper (it's magic, really). If you don't have this pan I'd recommend using parchment under the buns for easy removal.
You will need a rolling pin for this recipe (in a pinch you could use an empty wine bottle). I am very partial to my rolling pin: it's a non-tapered solid block of maple wood that's functional, used in countless tasks around my kitchen, and just a beautiful tool (and made in the U.S.A.).
Sourdough Starter Notes
I know when some read this recipe title and see the word "sourdough" thoughts of sharp, sour cinnamon rolls might enter the mind, but this is definitely not the case. I maintain my sourdough starter with frequent refreshments to ensure acidity is kept low. Additionally, when I call for a mature starter in the ingredient list, "mature" means when my starter is just about to its peak height and has not yet fallen. If the starter is used at a state that is overly ripe (perhaps it's fallen and has been that way for an hour or more) then the resulting rolls might be a touch sourer.
If you're interested in how I maintain my sourdough starter head over to my Sourdough Starter Maintenance Routine post for in-depth details.
Dough Formula
The target final dough temperature (FDT) for this dough is 70-73°F (21-22°C).
| | |
| --- | --- |
| Total Dough Weight | 1,250 grams |
| Pre-fermented Flour | 42.00% |
| Yield | One dozen rolls |
| Weight | Ingredient | Baker's Percentage |
| --- | --- | --- |
| 477g | All-purpose or bread flour (King Arthur All-Purpose Flour) | 100.00% |
| 133g | Whole milk, cold from the fridge | 28.00% |
| 191g | Unsalted butter (Kerrygold) | 40.00% |
| 191g | Whole eggs (about 4 large) | 40.00% |
| 48g | Fine white sugar (caster sugar) | 10.00% |
| 11g | Salt | 2.3% |
| 200g | Ripe, 100% hydration liquid sourdough starter | 42.00% |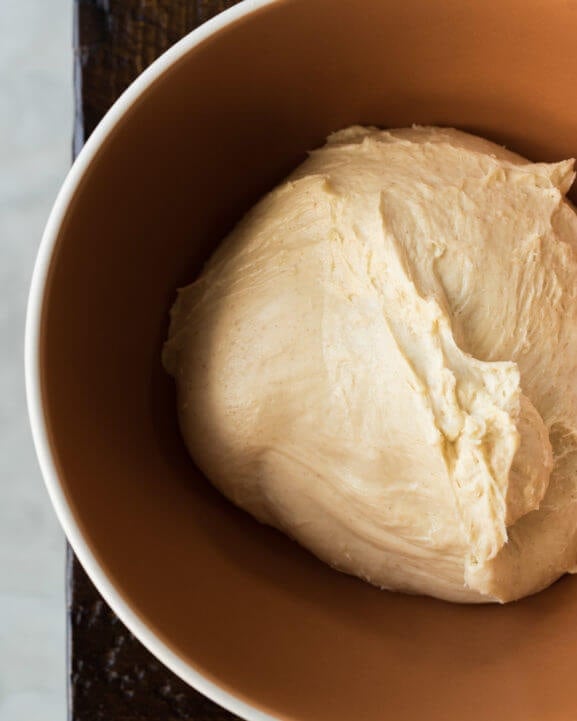 Method
1. Mix – 9:00 a.m.
First, take out the butter and cut into 1/4" to 1/2" squares, let sit in a bowl to warm to room temperature while gathering and mixing other ingredients.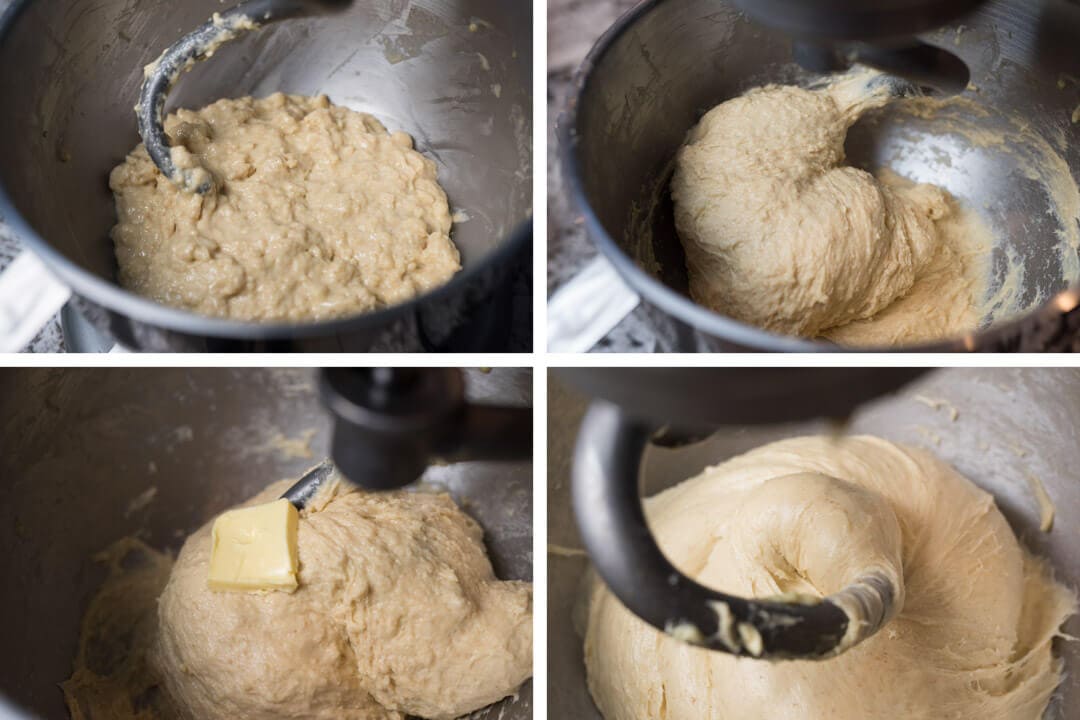 Mixing will take place in three stages (clockwise starting in upper-left in the image below, the last image is the final dough). The first stage will be the initial incorporation of all the ingredients which is then allowed to rest for 10 minutes. The second stage will be strengthening the gluten in the dough before adding butter. The third, and final stage will be adding the room temperature butter blocks to the strengthened dough.
Initial Incorporation
In a medium bowl add the cold eggs, cold whole milk, sugar, and mature sourdough starter. Whisk together until incorporated.
Add the flour and salt to the bowl of a stand mixer fitted with the hook attachment. Set the mixer to low (level "1" on my machine, one notch above "STIR"), and slowly start to pour the liquid into the mixer bowl. Add a little at a time over the course of 3 minutes. Once finished the dough will look very wet and have clumps, let it rest for 10 minutes before further strengthening.
Strengthen Dough
After the 10 minute rest turn the mixer to medium speed (number "4" on my machine) and mix for about 5-6 minutes until the dough starts to come together and all clumps have disappeared. The dough should start to pull from the sides of the bowl but it will not completely remove from the bottom. If the dough just doesn't want to come together and it's overly wet add a little flour, a tablespoon at a time until it comes together.
Incorporate Butter
Butter temperature is important. It should be slightly cold to the touch but easily pliable. If the butter is too cold it won't incorporate easily into the dough, if it's too warm (almost melting) then it will make for a greasy dough. Don't fret if the temperature is off, pop the bowl with butter in the microwave for 10 seconds to warm slowly or place into the freezer for a minute or two to firm up. Adjust as necessary.
Add the butter to the dough one square at a time, waiting until the previous block is absorbed before adding the next. It incorporates easiest if placed right where the hook meets the dough. Continue until all the butter is added and there are no butter patches visible, this could take 8-10 minutes at low/medium mix speed.
2. Bulk Fermentation – 9:30 a.m. to 11:30 a.m.
Transfer the mixed dough to a bulk container and let ferment for 2 hours at 75ºF. Just like when baking sourdough bread, do 3 to 4 sets of stretch and folds1 during bulk spaced out by 30 minutes. If the dough is very strong after the third set, skip the last set but let the dough rest for a full 2 hours.
3. Chill Dough – 11:30 a.m. to 2:00 p.m.
Place the covered bulk container into the fridge for at least 2 hours (I like 3-4 hours).
Overnight option: The timing at this point is very flexible. Once the dough is covered and in the fridge, it can rest there overnight and the rest of the process can be done in the morning for fresh rolls early or for brunch.
The dough does need to be completely cold and firm to the touch before rolling out, do not shortcut this step.
4. Shape Rolls – 2:00 p.m.
Before rolling out the dough make the Brown Sugar Cinnamon mixture (see recipe, above).
Flour your work surface. Then, remove the chilled dough from the fridge and turn it out to the floured surface. Flour the top of the dough and the rolling pin and begin rolling the dough. Roll it out to an 11" x 21" rectangle that is oriented so one of the long sides is near your body and the squat ends are to the sides. Use a bench knife and a dusting of flour anywhere the dough sticks to the surface. Try to keep your warm hands off the dough as much as possible to avoid heating it up. Sprinkle the dry Brown Sugar Cinnamon mixture evenly over the dough but leave a small margin at the very top bare. When the dough is rolled up that small margin will help seal the roll.
Starting at the long end nearest you, fold up a small portion of the dough all the way across, then roll one revolution at a time starting at the left side of the dough moving to the right. During the first few rolls, it's important to roll things up sufficiently tight to make cutting and transferring easier later.
Continue rolling from left to right, one revolution at a time, until the dough is completely rolled up into a "log." Layout a ruler and using a sharp knife or bench scraper cut the dough every 1 3/4" inches. You can go smaller if you want squatter rolls or up to 2" for taller rolls (if you cut smaller you'll have more rolls and taller you'll have less).
Transfer the cut discs to a baking pan with some space around each one.
A few tips to help with this step:
Place the rolling pin in the freezer while the dough is chilling to help keep it cold
If the dough warms up excessively while rolling out, transfer to a baking sheet and place in the fridge for 15 minutes to cool
If the dough is very pliable and warm after it's completely rolled up, place the entire rolled "log" into the fridge on a baking sheet before cutting
7. Proof – 2:30 p.m.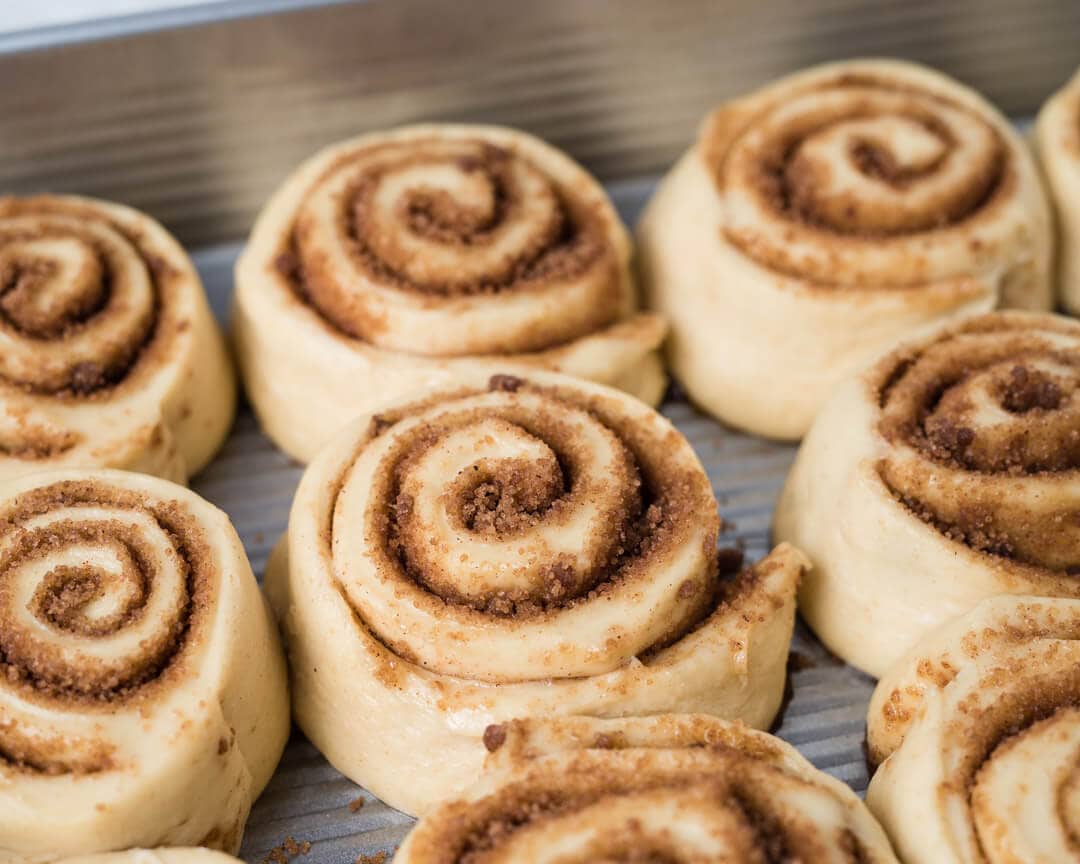 Place the baking pan with cut dough somewhere warm, around 77°F (25°C), to let proof for 2 hours. During proof, the rolls will relax out and start to puff up, eventually, they may touch each other but it depends on how much space you have between rolls.
Don't be alarmed if you see any sugary liquid leaking out of the rolls, it's totally normal. Additionally, if any of the layers develop gaps between them it only means when they rise in the oven they'll be a little more interesting with pieces jutting up and out—beautiful.
8. Bake – Preheat oven at 4:00 p.m., Bake at 4:40 p.m.
Preheat oven to 400°F (200°C) during the last 30 minutes of proof. Place the baking pan in the oven and bake for 20-25 minutes until the rolls are well colored.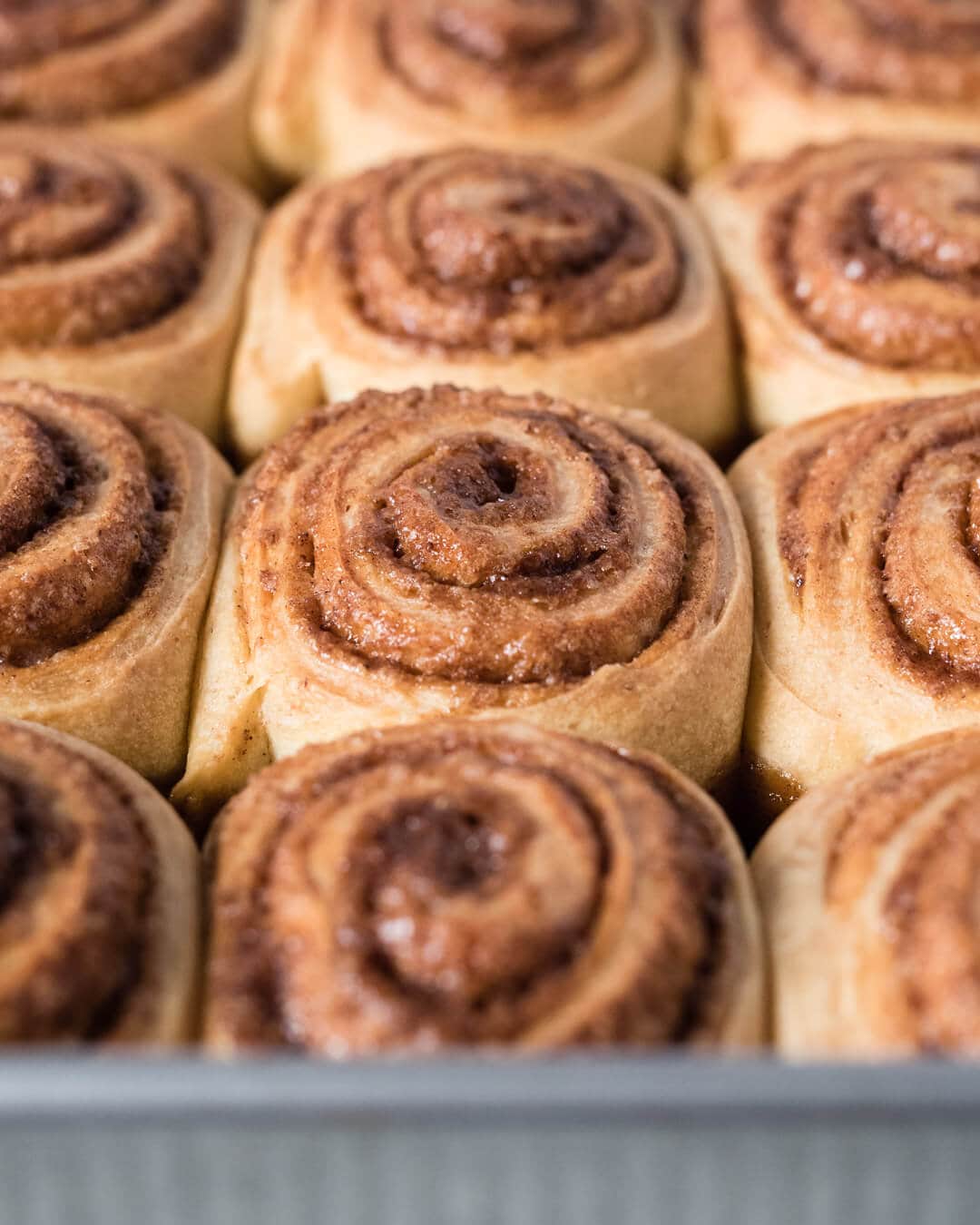 Spread the glaze over the rolls once cooled.
Conclusion
Whatever the distraction, whatever the work being done—even if a bath is drawn—the aroma in the kitchen when these are baked is sure to draw out any and all. It reminds me of those old cartoons where they put out a piece of cheese and you see everyone floating toward it in a trance—just like that.
These sourdough cinnamon rolls are addicting. The brioche interior is extremely tender and silky, interrupted only by warm, gooey brown sugar cinnamon. As I alluded to earlier, the cream cheese glaze is tremendous but the possibilities there are endless, each change bringing on a whole new dimension to these rolls.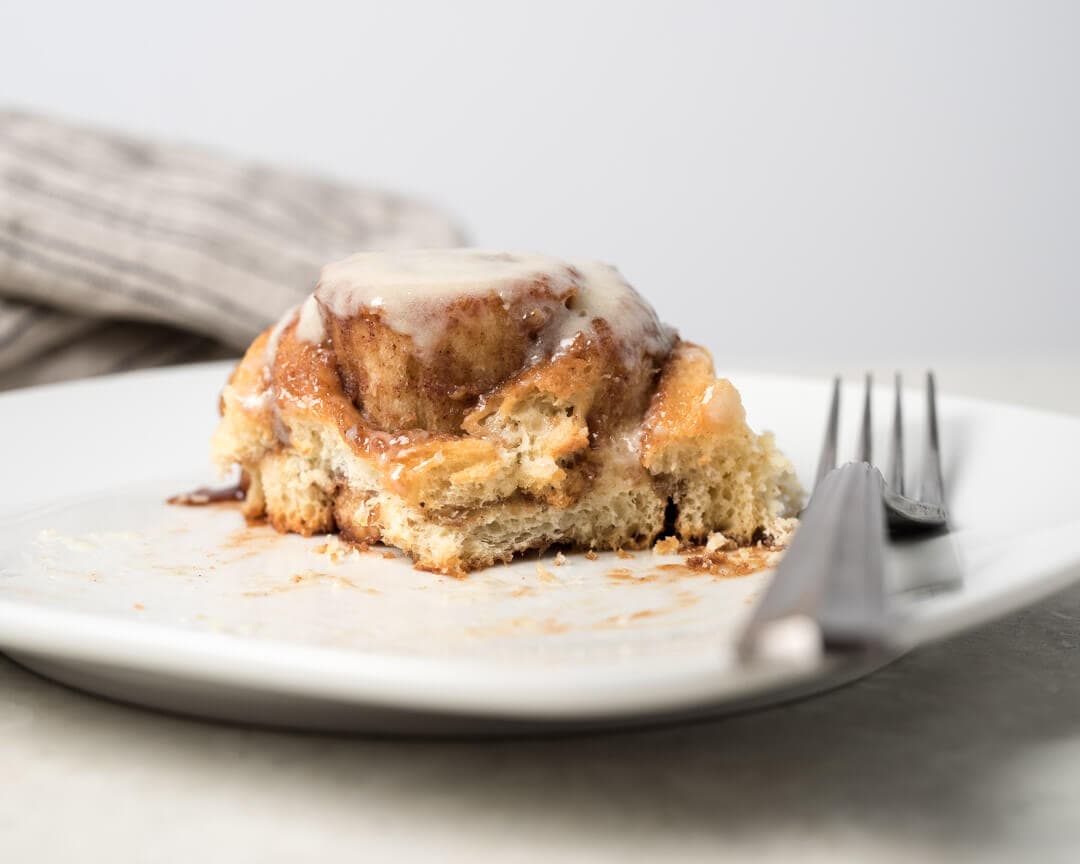 These rolls stay great for a few days in the fridge and I always reheat them (without glaze) in the oven or microwave to warm back up before eating. They fill the kitchen with that intoxicating aroma once again and always seem to come out as if they were freshly baked.
---
Well, I know I'll be making these sourdough cinnamon rolls for Christmas morning! But now that the word is out and everyone knows what I'm baking every other weekend after that I might be expecting a few more surprise visits from friends and family. I'm completely fine with it, though, because I'm happy to share with any and all who stop by—it may just mean I sneak off with one or two before they do. Buon appetito!
Now that you have experience working with this enriched dough, the next step is my naturally leavened bomboloni (doughnut) recipe! They're based on a similar dough with just a few changes — they're absolutely incredible.
If you use this recipe, tag @maurizio on Instagram and use the hashtag #theperfectloaf so I can take a look!
Thanks so much to USA Pan for sponsoring this sourdough post! As always, all opinions and thoughts here are my own.
---
Grab one side of the dough stretch up and fold over to the other. Do one fold at each side, North, South, East, and West.↩