When it comes to waffles, crispness and fluffiness reign supreme. A waffle without these characteristics is not worthy of its name. Most waffle recipes are simply a textural affair that aim to hit that ideal crunch while relying on sweet maple syrup, fruit, and whipped cream for punches of flavor. But my best sourdough waffles open up a new world of taste. They absolutely nail the texture requirements and they have a richness of flavor not found in other recipes. That's because you taste the grains used in the batter, as well as a touch of sourness from added sourdough starter discard–and you can even amp up the flavor more with a longer fermentation time.
Most waffle recipes call for adding buttermilk or yogurt to the batter, and there's a reason why. That hint of sourness elevates the simple waffle by lending a bit of savoriness and making you want more. This sourdough waffle recipe uses fermentation and its acidic byproducts to the same effect (and a little buttermilk, too).
You can take one of two paths with this waffle recipe: a simple morning-of approach with less fermentation or a longer overnight-fermented dough that brings even more tanginess and depth of flavor.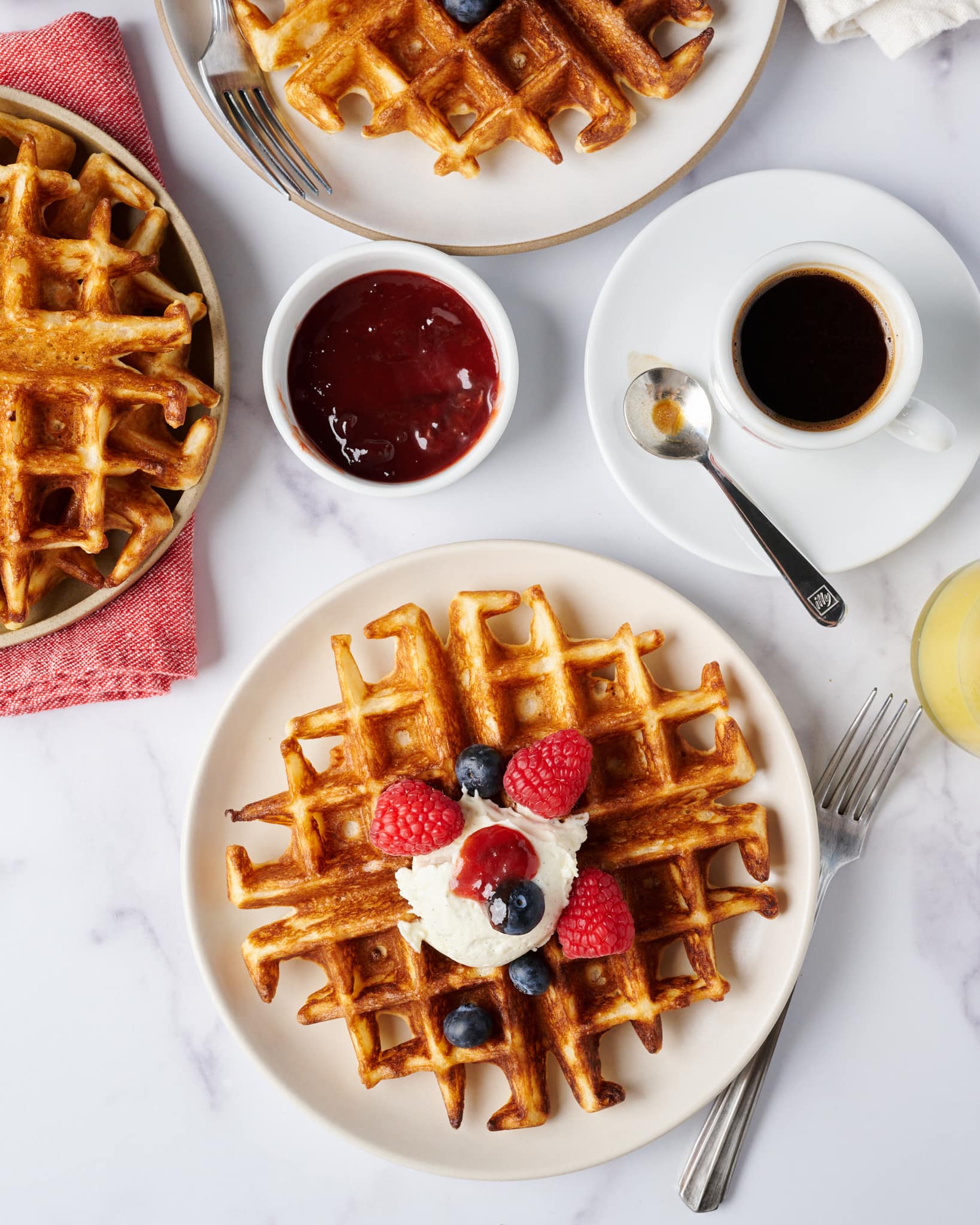 Which one do I like more? The overnight method. But if I'm honest, more often than not, we sleep in on the weekends without giving that extra thought to breakfast plans, so we mix them up and cook them as soon as waffles come to mind. And either way, my best sourdough waffles recipe has you covered—there's a reason why they've been in my top 3 sourdough starter discard recipes for so many years!
Use Ripe Sourdough Starter or Starter Discard
These sourdough waffles can be made using sourdough starter discard you have saved in a jar in the fridge or ripe sourdough starter from a starter you fed the night before.
Tools for the Best Sourdough Waffles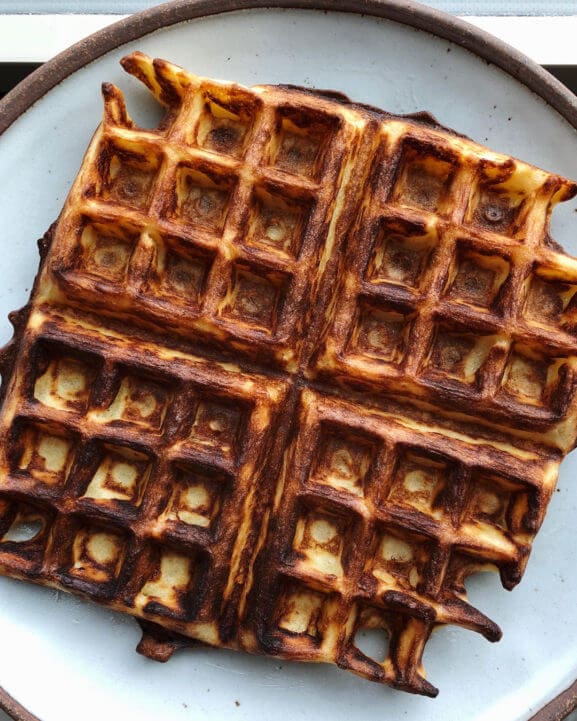 These sourdough waffles can be made in any waffle iron, but I'm partial to the two I have. It's nice to have two irons (though I admit it's a bit extravagant) since we can alternate between them depending on the type of waffle we'd like to make—and, more importantly, how much patience we have that day.
My Favorite Waffle Irons
Waffles with the Best Texture and Color
For the best color and texture (see right), nothing I've used comes close to the NordicWare cast aluminum Belgium waffle iron. This thing is amazing. It takes some practice to become adept at using it, but once you do, the crispiest and most beautifully colored sourdough waffles are always within reach. The one drawback to it, though, is it's slower to make a large batch of waffles because you have to do each one individually.
Fast and Convenient Waffles
Some mornings, it's all about speed and efficiency. When the kids are hungry and there's no patience to be had, I reach for my Breville Smart 4-Slice Waffle Maker.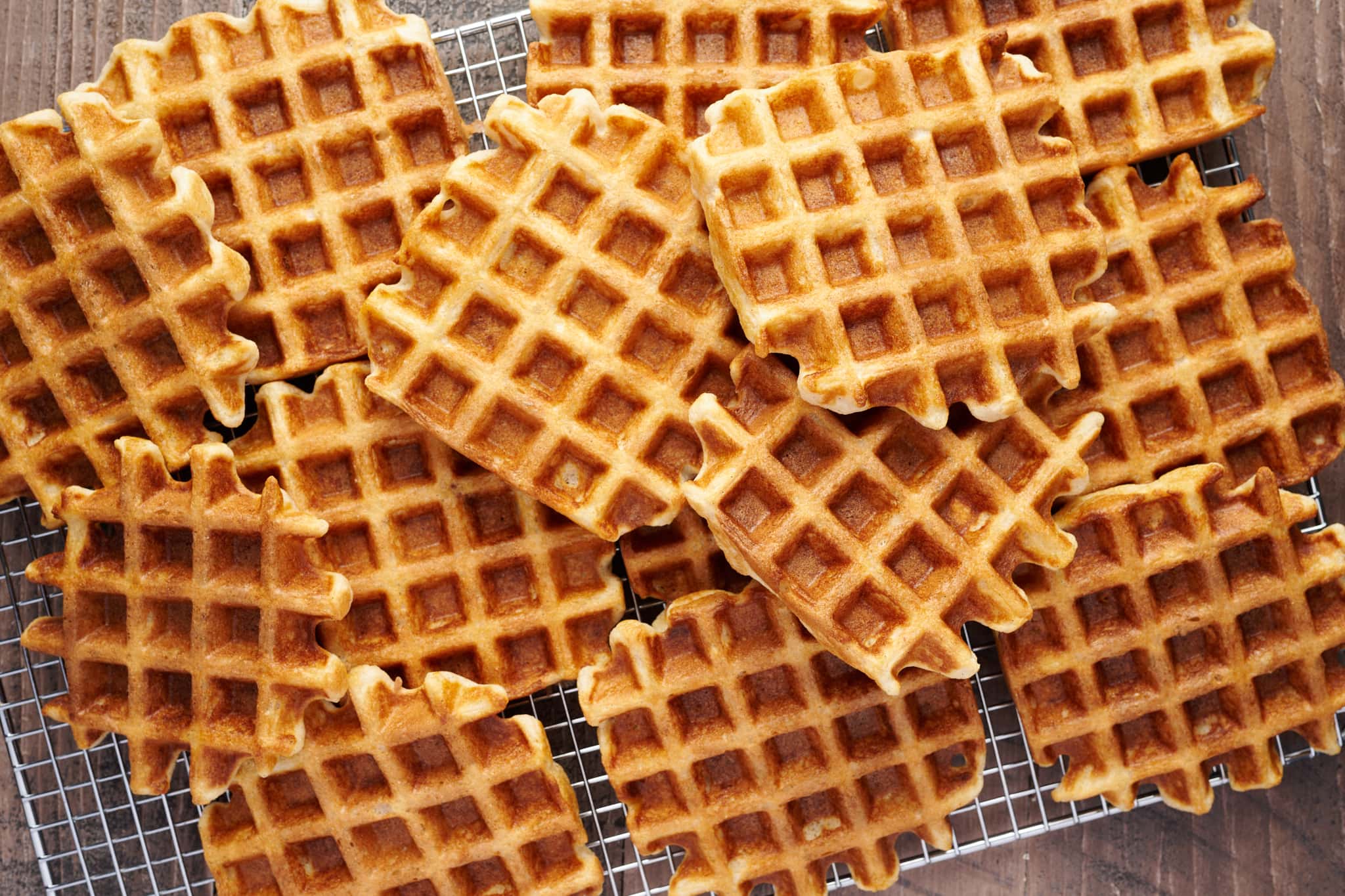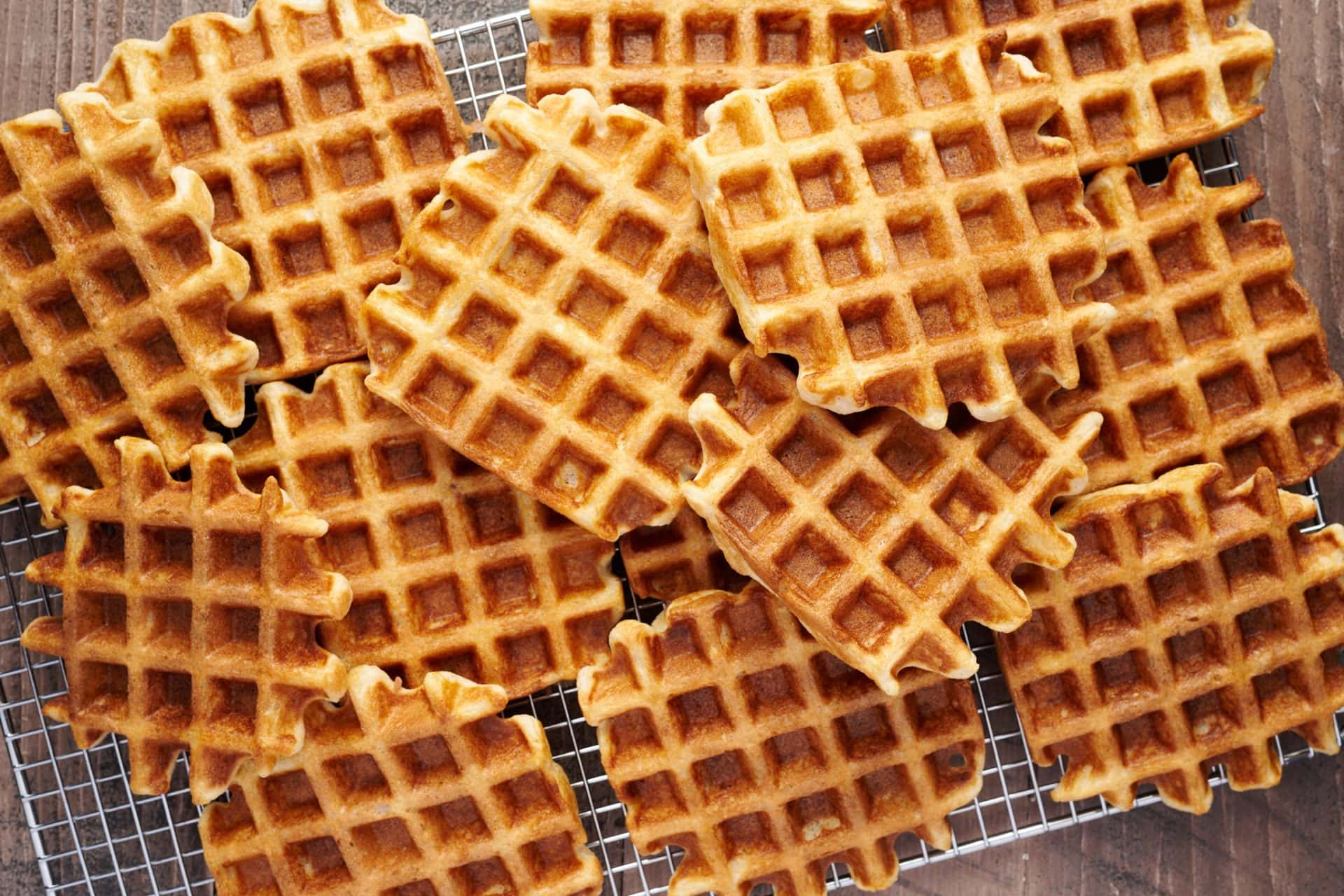 The Breville waffle maker makes four deep and large waffles at a time and is as easy to use as turning the knob to "on," pouring the batter in, and waiting for the machine to beep. It's hard to argue with the convenience of waffles at the press of a button!
The Best Flour For Sourdough Waffles
Waffles are fun because you can get creative with the flour used for the batter to elicit more flavor, nutrition, and a different texture (even more crispness!). Below are some of my favorite flours and grains for making my best sourdough waffles—and as always, you can always simply use 100% all-purpose or bread flour, too.
| Flour/Grain | Percentage of Total Flour | Reason |
| --- | --- | --- |
| Cairnspring type 85 | 50 to 100% | I almost always pick type 85 flour. It adds a wonderful whole-grain flavor but still makes for a light and airy waffle. |
| Whole wheat flour | 20 to 100% | For a super hearty and healthier waffle, add whole wheat. |
| Fine cornmeal | 20% | Add cornmeal for a distinctive corn flavor and golden hue. To get even more creative, use blue cornmeal. |
| White rice flour | 50% | Rice flour lends incredible lightness to waffles. |
| Buckwheat flour | 5 to 10% | Buckwheat adds a dark hue to the waffles and a deep, earthy flavor. |
| Durum flour | 20 to 30% | For golden, ultra-crispy waffles, use finely milled durum flour. |
Tips For Making Great Sourdough Waffles
A Hot Waffle Iron
I think we all know this, but it bears repeating: the hotter the waffle iron (within reason), the better. But more than that, the effectiveness of heat transfer is also important (that's why the cast aluminum NordicWare waffle iron is so, so good). Aluminum and cast iron are both fantastic choices. If you're using a cast iron waffle iron, be sure both sides are fully preheated before pouring batter into it (wait until it is just about smoking).
Don't Overmix the Waffle Batter
Overmixing the batter can make the final waffles tough. Mix the batter until it just comes together with some scattered lumps remaining.
Give the Waffle Batter a Rest
After mixing the batter, let it rest for 10 to 15 minutes to relax the gluten and help the flour(s) absorb the liquid more fully. This will result in fluffier waffles that are more tender.
Can You Freeze Sourdough Waffles?
Yes! Make a double batch of these sourdough waffles, and then freeze any leftovers for fresh waffles throughout the week. After cooking the waffles, let them cool completely on a wire rack. Then, stack them in a plastic freezer bag and freeze them for up to 6 months. To eat, take one or two out and toast them directly in the toaster (if your toaster, like my Breville Smart Toaster, has a "frozen" setting, now's the time!).
If you have kids, this is a serious time saver, and if you don't, it's a real treat having a freezer full of waffles.
Print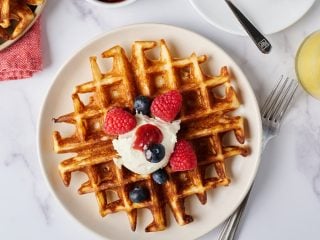 My Best Sourdough Waffles
Author:

Maurizio Leo

Prep Time:

20 minutes

Cook Time:

20 minutes

Total Time:

40 minutes

Yield:

12 waffles

Category:

Breakfast, Brunch

Cuisine:

American
---
Description
Easy, crispy, and fluffy golden waffles with a touch of tang from the added sourdough starter.
---
250g

(

2 cups

) all-purpose flour

14g

(

2 teaspoons

) sugar (optional)

5g

(

1 teaspoon

) fine sea salt

3g

(

1/2 teaspoon

) baking soda

460g

(

2 cups

) low-fat buttermilk

86g

(

6 tablespoons

) unsalted butter, melted and cooled

100g

(

1/2 cup

, stirred down) ripe sourdough starter

108g

(about

2

medium) eggs
Maple syrup, for serving
Chopped fresh strawberries and/or fresh blueberries, for serving (optional)
---
Instructions
Same-Day Method
Preheat your waffle iron or waffle maker. If using a cast iron or aluminum waffle maker, be sure to lightly grease it with oil to ensure the waffles do not stick.

In a large bowl, whisk together the flour, sugar, salt, and baking soda.

In a medium bowl, whisk together the buttermilk, melted butter, and sourdough starter, and eggs. Pour the buttermilk mixture into the bowl with the flour mixture. Whisk until only a few small lumps remain. The batter should pour from a spoon but not be runny or soupy. If the batter is too thick, thin it with a little water, one tablespoon at a time.

Cook the batter in your hot waffle iron until done to your liking. Serve hot with maple syrup and chopped fresh strawberries or blueberries.
Overnight Method
The night before, in a large bowl, combine the buttermilk and melted butter. Add the sourdough starter and whisk thoroughly. Sprinkle the sugar over the top, add the flour, and whisk to incorporate. If the batter is very thick, add a little more buttermilk to loosen it. Cover and let sit at room temperature overnight (if your kitchen is warmer than 72°F/22°C, place the covered bowl in the refrigerator overnight).

In the morning, preheat your waffle iron or waffle maker. If using a cast iron or aluminum waffle maker, be sure to lightly grease it with oil to ensure the waffles do not stick. 

Take the bowl of batter out of the refrigerator. The batter will have risen in the bowl and show signs of fermentation (bubbles and a sour aroma). Sprinkle the salt and baking soda on top of the batter. 

In a small bowl, lightly beat the eggs, and then pour them into the fermented batter. Gently stir until incorporated.

Cook the batter in your hot waffle iron until done to your liking. Serve hot with maple syrup and chopped fresh strawberries or blueberries.
---
Notes
If you don't have buttermilk, use whole milk instead. Or, my preference, use half whole milk and half yogurt.

For blueberry waffles, add ⅔ cup of fresh blueberries to the batter.

To make this recipe vegan, substitute the buttermilk for any full-fat nut or oat milk, a vegan butter (such as Earth Balance) for the butter, and "flax eggs" for the eggs.

For a savory version of these waffles, omit the sugar and mix in any savory ingredients (scallions, bacon bits, etc.).
Keywords: Syrup, fruit, waffles, flour
---
My Best Sourdough Waffles FAQs
Can a nut or oat milk be substituted for the dairy milk?
Yes. Use full-fat nut milk, such as almond milk, or oat milk for all or part of the buttermilk.
Does this sourdough waffle recipe work with a stiff sourdough starter?
Yes. Add up to 50 grams more buttermilk to compensate for the reduced water in your starter. As always with waffle and pancake batter, adjust with more or less water as necessary.
Can I use a sourdough starter or starter discard straight from the refrigerator?
Yes, if you keep your sourdough starter or a jar of collected discard in the refrigerator, that can be used as the starter in this recipe.
How can I reduce the sugar in these sourdough waffles?
You can safely omit the sugar entirely—they'll still be delicious. If you still want them sweet, add mashed banana or applesauce instead of the sugar.
---
What's Next?
Not in the mood for crispy waffles this morning? Try my sourdough starter discard pancakes for a fluffier side of breakfast.
Or, check out my full collection of sourdough starter discard recipes and never waste sourdough starter again.