This bread baker's 2020 gift guide is a round-up of some of my favorite tools for the beginning and experienced bread baker alike. I've received many emails asking what would make a great gift for a bread baker, and I figured I might as well compile all my recommendations in one place. And so this post is just that: a list of the best gifts for a bread baker at any level.
As a sourdough bread baker, I'd be absolutely thrilled to receive any of the following things this holiday season, and I hope the baker in your life (or you!) will as well.
---
A great bread knife
This bread knife is probably the thing I recommend first to most bakers. It seems strange I'd recommend something not related to the preparation of bread, but I've seen so many bakers bake exquisite bread only to try and cut their beautiful loaf with a dull knife. Invest in a good blade!
First choice:
Shun Premier 9″ Handmade Bread Knife
My absolute favorite knife. I've had the same Shun Premier knife for 5 years, and it's still incredibly sharp. Shun also offers free lifetime sharpening with their knives.
Second choice:
Kai Wasabi 9″ Bread Knife
I've had a Kai bread knife for years and it's also a really wonderful blade. I have it listed on my baking tools as my top pick because it's simply the best knife I've used under $100. Mine is still just as sharp as the day I bought it.
---
The best bench scraper
Campbell makes the best bench scrapers, hands down. They're incredibly well thought out and have a nonstick coating, which keeps the dough from sticking excessively. I have a whole line of these bench scrapers, and they've been through some real baking abuse here and still look brand new. He has several different sizes, and I have one of each: the larger 8″ blade is great for 900g dough pieces and up, and the smaller 6″ blade is great for buns, rolls, and other small dough weights.
Get it here:
Campbell's Dough Knife
---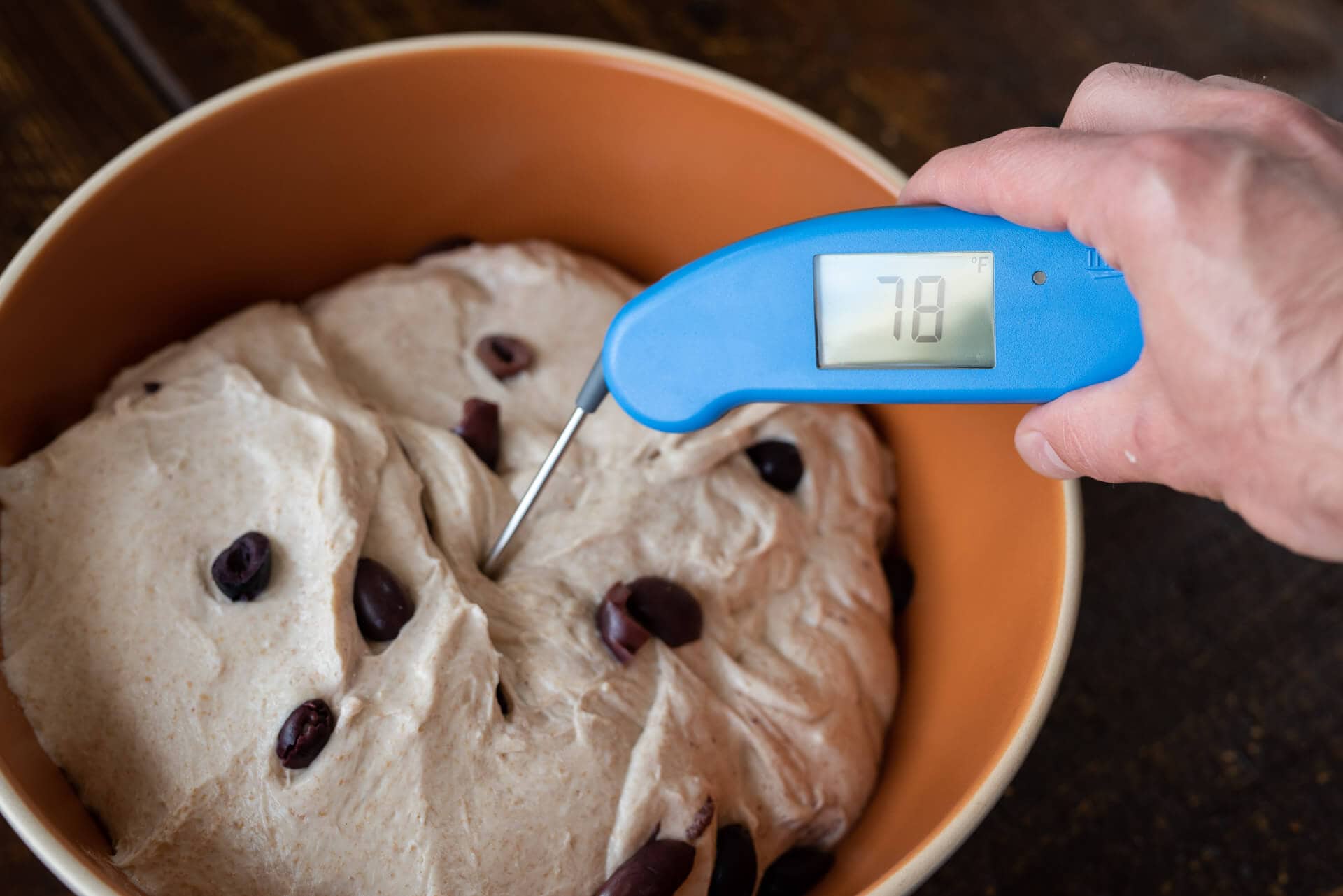 The best thermometer
Ahh, my Thermapen, the tool I always seem to have in my back pocket. With how much I talk about the importance of temperature in bread baking, it's no wonder this is on the list. It's simply the best thermometer I've used and is indispensable in my kitchen.
Get it here:
Thermapen Mk4
---
The best toaster
I've talked at length on my guide to storing bread about how much I love the Breville Smart Toaster; I'd be remiss if I didn't include it here. I bought mine in 2013, and after 7 years, it's still making countless slices of toast each day. Seriously, the amount of bread that has churned through this thing has to be staggering.
I love this toaster because it has a Frozen function (which perfectly reheats frozen slices of bread), a Bagel function, and the ever-useful lift-and-peek feature to see if the bread is done or needs more time. The slots are also extra-long, which is great for baking slices from large loaves (like pretty much every loaf at this site!). Life would be quite different without this staple.
Get it here:
Breville 4-Slice Long Slot Toaster
---
A fantastic bread pan
The Challenger Bread Pan is a super high quality cast iron pan designed specifically for baking bread. It has wonderfully large handles, seals up tight to trap the steam generated when baking, and has other thoughtful details centered around using it as a bread pan. The large size means you can easily bake an oblong loaf (batard) as well as a boule.
Get it here:
Challenger Bread Pan
---
A heavy-duty stand mixer
A big gift, but one that'll last for many, many years. I recently upgraded my KitchenAid stand mixer (after using the same one for almost 10 years) to the new 8 qt Commercial Line. The new commercial line is incredibly well built and can stand up to countless batches of pain de mie, sourdough pizza, and even bomboloni.
Get it here:
KitchenAid 8-Quart Commercial Countertop Mixer
---
A great bread baking book
This bread baker's 2020 gift guide wouldn't be complete without perhaps my most-used baking book, BREAD by Jeffrey Hamelman. This is a book that is welcome on any baker's bookshelf. It's a tome of knowledge that will have you baking everything from simple loaves to grissini to the well-known Vermont Sourdough. It's a slightly more advanced baking book, in a way, so if your baker is new to the craft, see my second recommendation below.
Get it here:
BREAD by Jeffrey Hamelman
If your baker is on the beginner side, check out Bread Baking for Beginners by my friend Bonnie. She's a super inspirational baker, her book is approachable, and has some really great recipes.
Get it here:
Bread Baking for Beginners
---
A big and loud timer
As a baker, I feel like my time in the kitchen revolves around one or two timers, one of which is always counting down and one is usually beeping to remind me of something. This big and loud timer is my favorite. It has thoughtful design elements geared toward using it in the kitchen: magnets on the back, a fold out stand, simple ergonomics, and well, it's insanely loud (if you want it to be). I always have one of these with my dough in bulk counting down to the next set of stretch and folds.
Get it here:
Extra Big & Loud Timer
---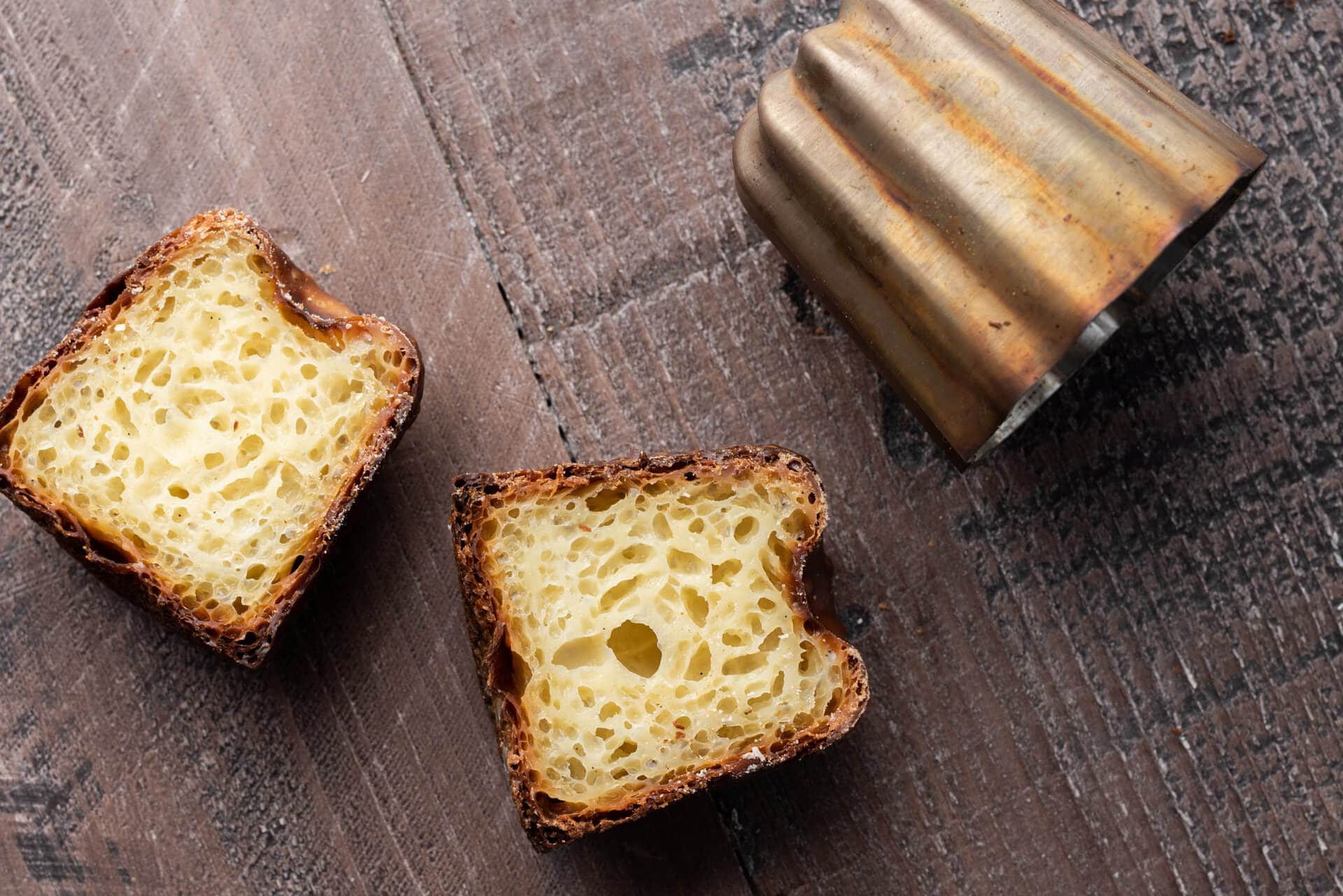 The non-bread gift for bread bakers
If your baker has all the tools listed here in this bread baker's 2020 gift guide, and they're as passionate about baking—and all of its rigors—as I am, you might consider a set of canelé molds. This French pastry had me entranced the first time I read about them, and I worked tirelessly on my canelé recipe for the better part of a year. It's a pastry that's truly otherworldly, but it does take practice to master. The downside to this gift is the copper molds are expensive (and you should get 4-6 or so, but they'll last forever), but the upside is it means your baker will make them for you.
After you gift them, point them over to my guide to making Canelé to get them started. Once you taste one of these, you'll quietly think back to this post and say, "thanks, Maurizio."
Get them here:
Set of Six Copper Canelé Molds
---
If you've made it all the way to the end of my bread baker's 2020 gift guide and still haven't found what you're looking for, check out my full list of the best bread baking tools for more inspiration.
Check out my 2021 bread baker's gift guide for more ideas!
Did I miss something in this bread baker's 2020 gift guide? If you're looking for something more specific and didn't list it here, let me know below!