As you may have caught on my Instagram feed last week, I was totally shocked and honored to find out The Perfect Loaf won both Editors' Choice and Readers' Choice for The Food Obsessive award in the 2016 Saveur Blog Awards! Also, I met some incredibly talented and passionate people at the event in New York City — so passionate I could have probably talked with them for weeks upon weeks about food, cooking, and baking. A huge thanks go out to everyone who nominated, voted, and supported this site (and me)—I really can't convey enough thanks. And congratulations to all the other nominees and winners! Ok, on to this apricot lavender and walnut sourdough.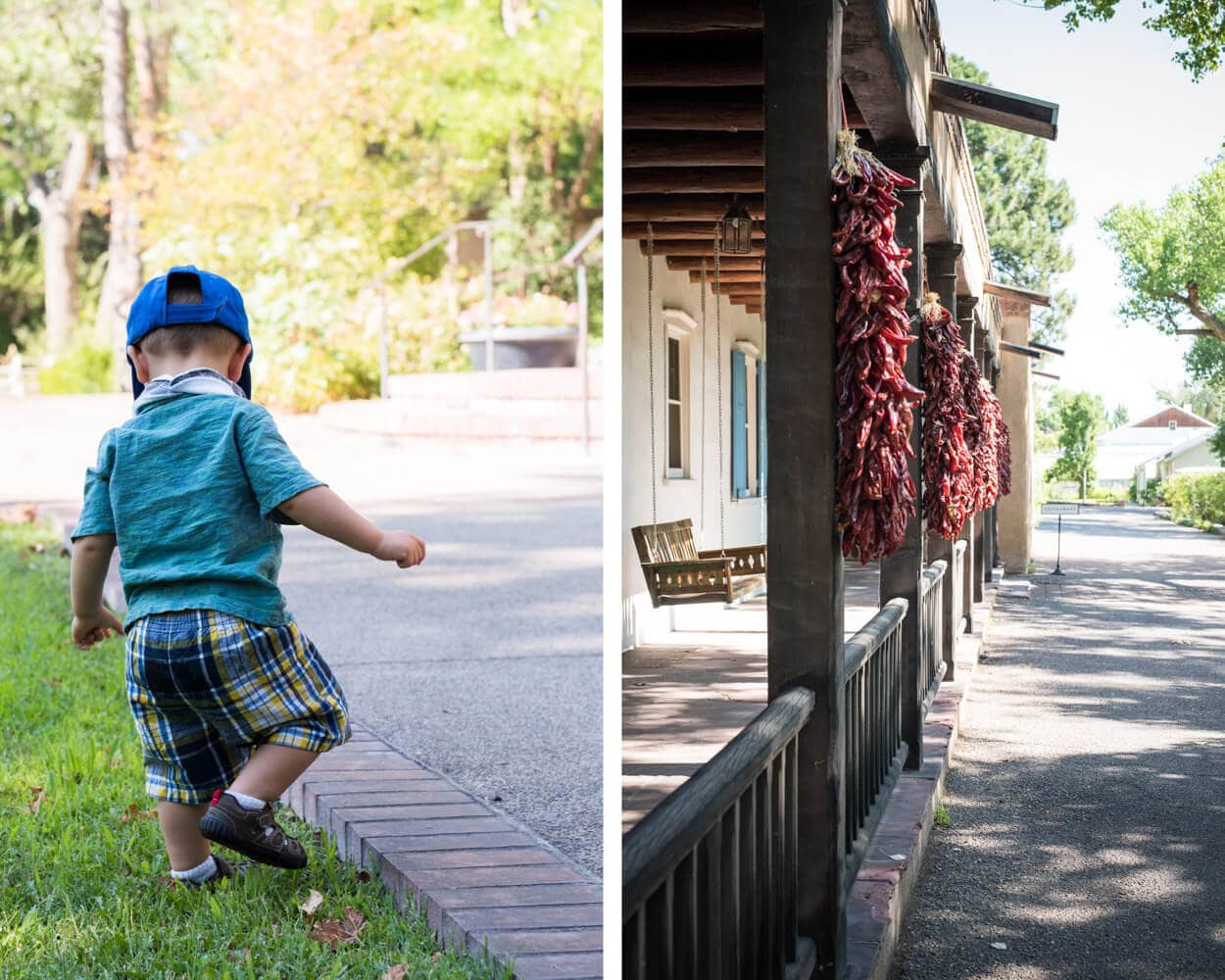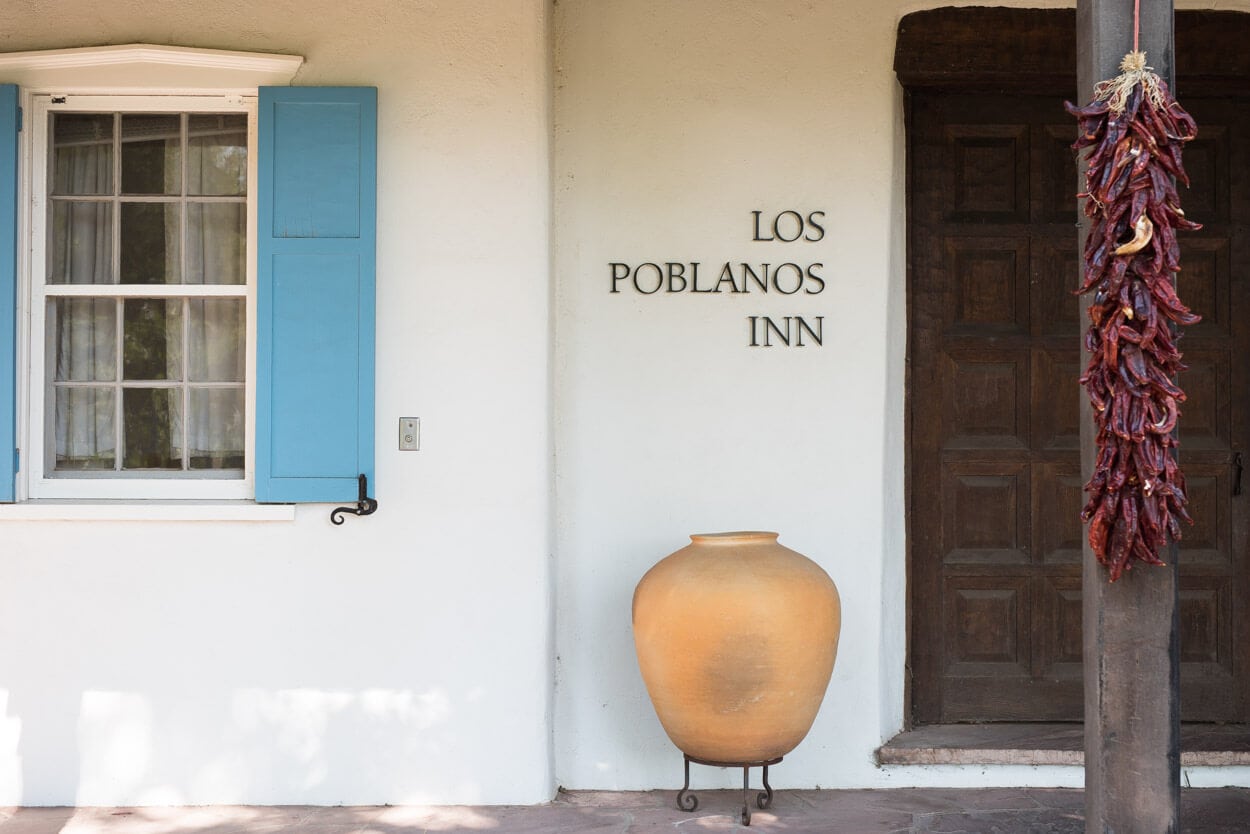 I recently had an opportunity to attend a lavender event at Los Poblanos Historic Inn & Organic Farm, a local farm here in Albuquerque, New Mexico. They offered a small glimpse of their lavender fields, organic farming practices, and an introduction to their growing lavender distillation process. The lavender grown on the farm is not a culinary lavender, it's only used for cosmetics (essential oils, lotion, etc.). Still, it was incredibly interesting to see how they follow sustainable growth practices throughout the farm and produce so much local lavender each year.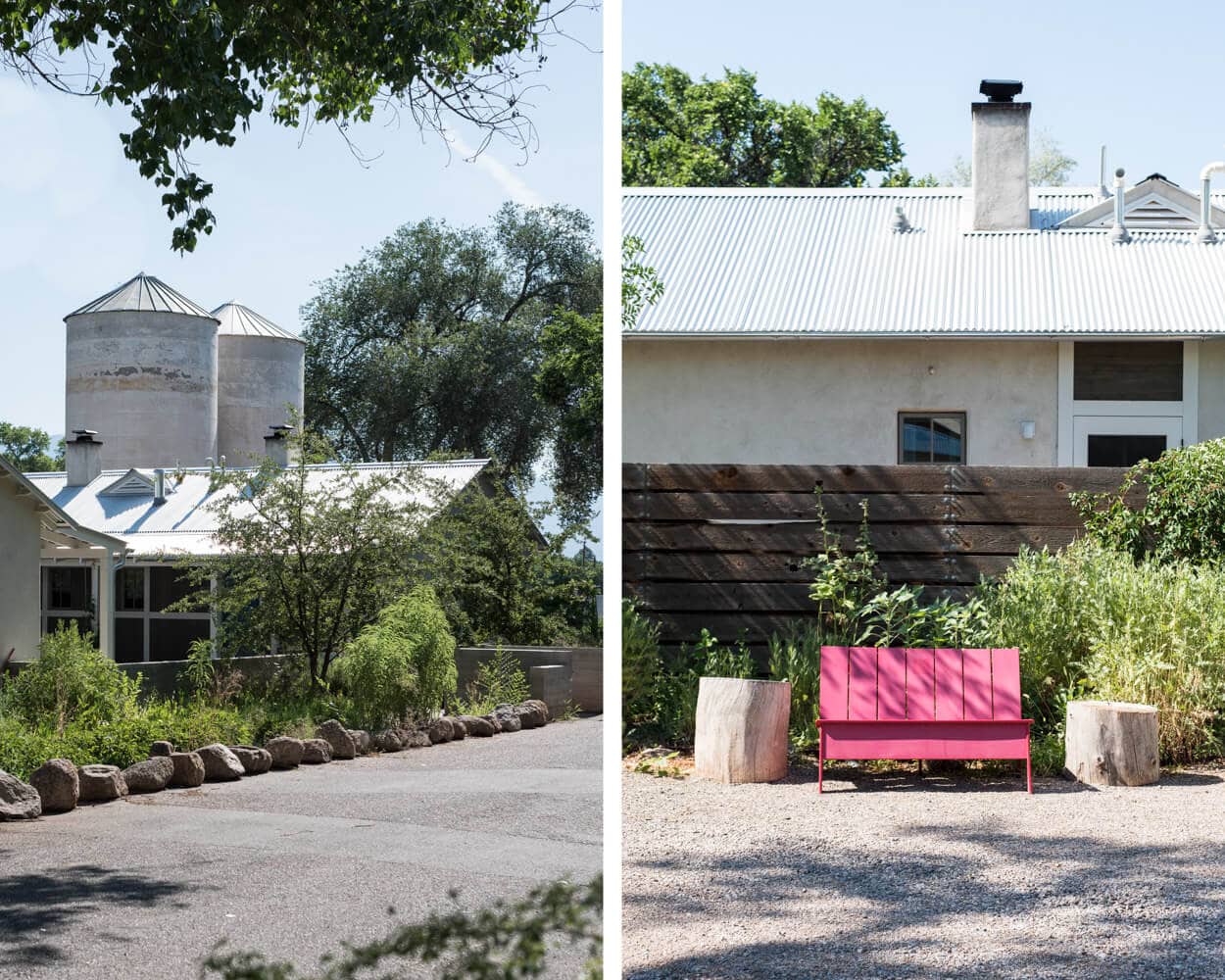 The particular variety of lavender grown on the farm was selected for a specific reason: it takes extremely well to the local warm, dry climate. When walking up and down the numerous rows of large lavender bushes, you spot bees busily going about their business, rich bark-laden soil, and every once in awhile, a faint smell of lavender on the breeze. Lavender margaritas are a common thing here, and if you've had one, you know why, but I couldn't help myself from dreaming up pastry and bread ideas that would complement the purple little buds. After the tour, a quick visit to their Farm Shop provided just the fuel I needed: sachets of culinary lavender buds grown here in New Mexico ready to use in my kitchen baking adventures.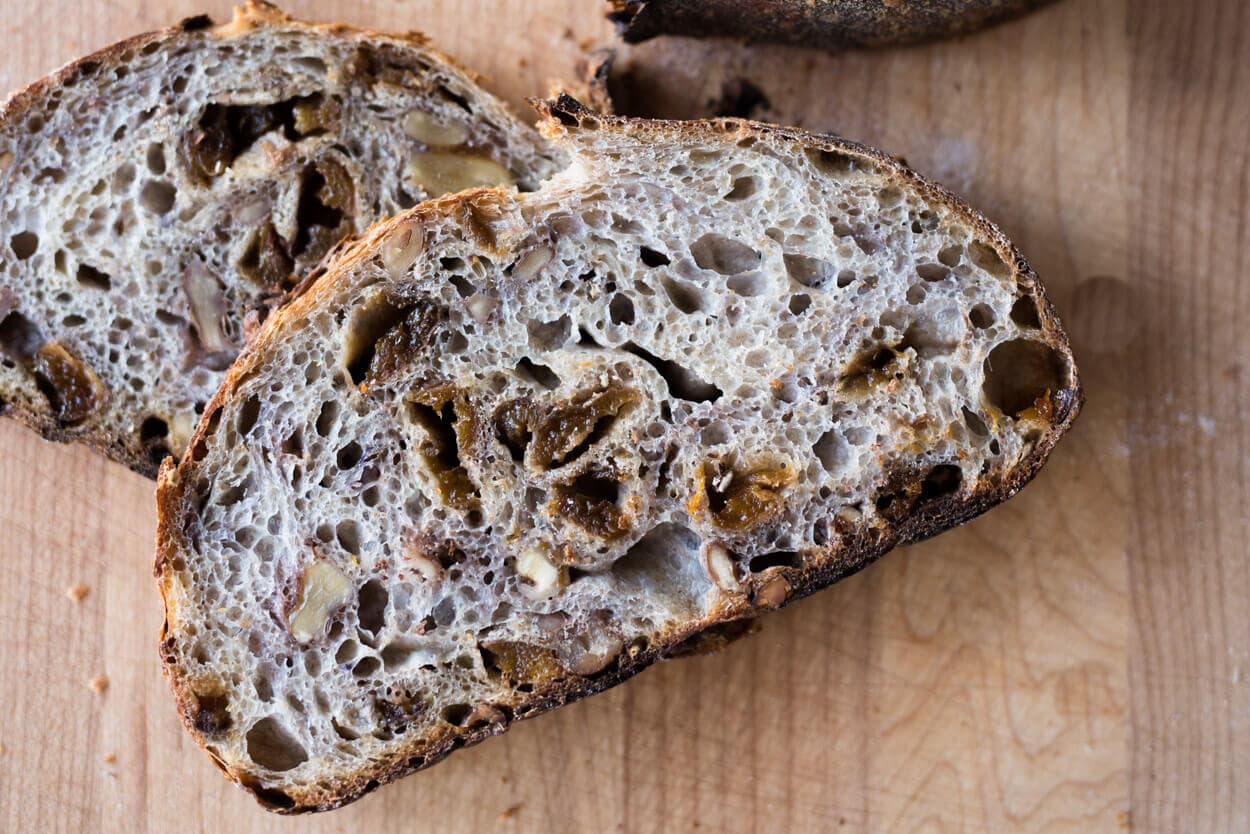 Back at home with this new and inspiring ingredient, I started searching through my (many) cookbooks for that inspirational spark. My recent experiments with lavender in peach, blueberry, and lavender sourdough galette taught me that whatever other flavor profiles used had to be assertive enough to stand up to the lavender. Thankfully I stumbled across an apricot, walnut, and lavender cake in Ottolenghi's Plenty More (a must-have cookbook if you don't already own it), and just like that, I had my inspiration. He relays that this flavor combination is very French, although I can't say I've had it during my travels through France, I'll take his word for it. Next time I'm out that way, I'll be on the hunt. Honestly, I think simply pairing the dried apricot and walnut together would be fantastic in its own right if you did not have lavender or are not partial to its flavor. Walnuts are some of my favorite nuts to use in sourdough, and their flavor is balanced out so nicely with the slightly tart and hearty dried apricots.
A Few Important Notes on Culinary Lavender
First, make sure to buy culinary lavender. Lavender is grown for various purposes, and some types are grown specifically for use in cooking and baking. This is what we want. Use the lavender sparingly the first try at this recipe; it can quickly go from just right to "oooh, this tastes like soap bread!" If you are not sure about how powerful your lavender is, side with caution and perhaps halve the quantity I call for in the formula below.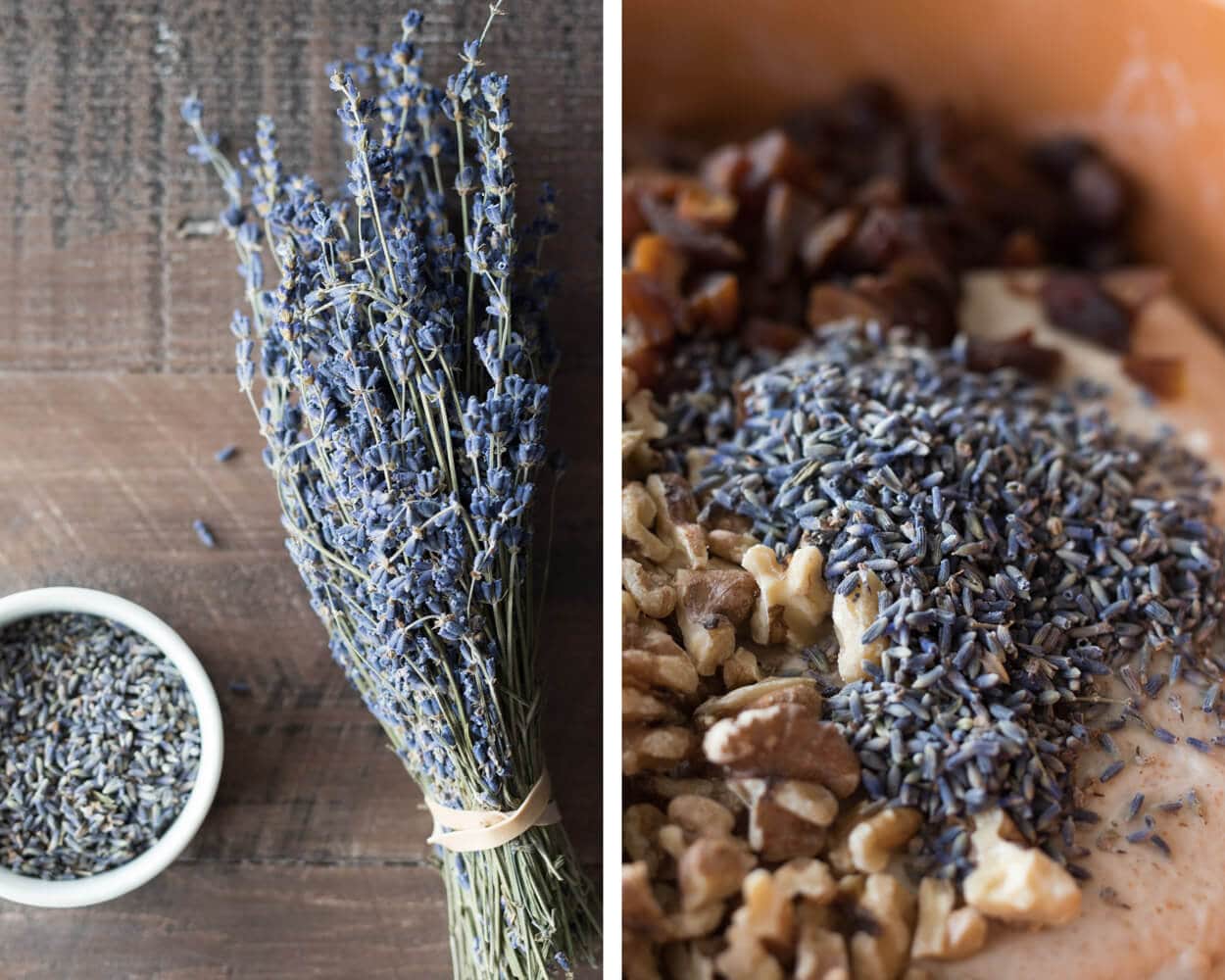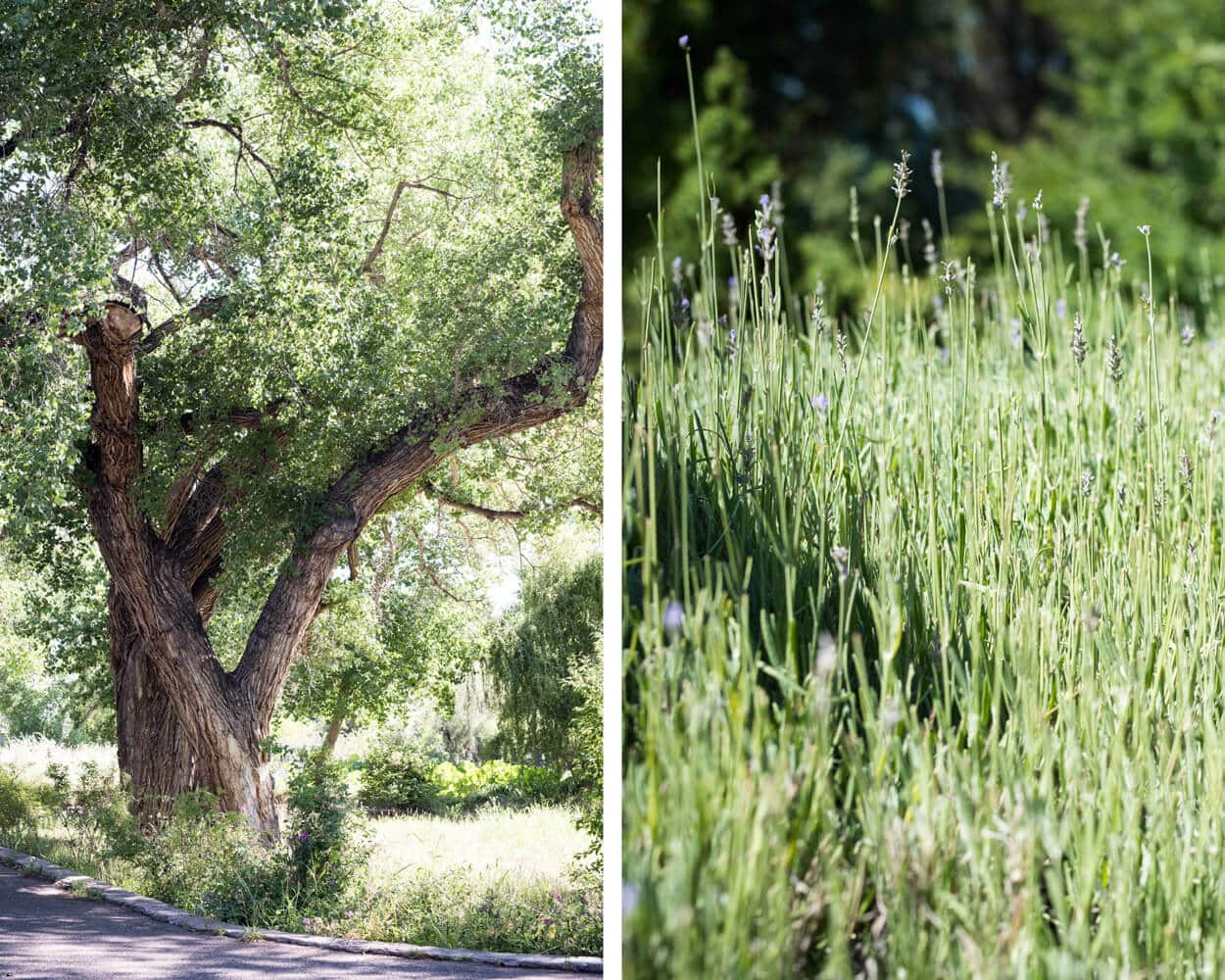 I chose to include the lavender buds whole (as you see in my photos), but you could also grind them down if you want to avoid the mouthfeel of the whole pieces, although I didn't notice them at all, and neither did any of my "test subjects." Another option is to use culinary lavender oil instead of the dried variety. If you choose this route, you will have to modify the amount as the oil potency is surely drastically different from dried lavender buds.
Flour Selection
I tend to stick to predominantly white flour, with most fruit loaves around 11-13% protein. I used my standard Giusto's Artisan Bread Flour for this recipe, but using a stronger flour with higher protein might yield an even more voluminous, open crumb (something akin to King Arthur Bread Flour at 13-14% protein). This is not to say using a percentage of whole wheat wouldn't work very well because I think it would actually be really nice, but I was going for a more subtle wheat flavor, and I wanted the mix-ins to shine through much as possible.
Apricot, Lavender and Walnut Sourdough Formula
Vitals
| | |
| --- | --- |
| Total Dough Weight | 1,900 grams |
| Pre-fermented Flour | 5.75% |
| Levain in Final Dough | — |
| Yield | Two loaves |
Levain Build
| Weight | Ingredient | Baker's Percentage |
| --- | --- | --- |
| 50g | Ripe liquid starter (100% hydration) | 100.0% |
| 50g | Central Milling Type 85 Flour | 100.0% |
| 50g | Water | 100.0% |
Dough Formula
The target final dough temperature (FDT) is 78°F (25°C).
Note that the baker's percentages listed below are with respect to the final dough ingredients and do not take into account the levain.
| Weight | Ingredient | Baker's Percentage |
| --- | --- | --- |
| 609g | Giusto's Artisan Bread Flour | 74.3% |
| 124g | Central Milling Type 85 Flour | 15.1% |
| 87g | Giusto's Stoneground Whole Wheat Flour | 10.6% |
| 707g | Water | 86.2% |
| 17g | Fine sea salt | 2.1% |
| 70g | Dried Apricots (I did not soak them) | 8.0% |
| 157g | Shelled Walnuts | 18.0% |
| 4g | Culinary Lavender Buds | 0.5% |
| 125g | Ripe, liquid levain | 15.3% |

Method
1. Levain – 10:30 a.m.
Build the liquid levain (everything listed in the Levain Build section above) in the afternoon and store somewhere around 78°F (25°C) ambient.
See my post on the differences between a sourdough starter and a levain for an in-depth discussion.
2. Toast Walnuts & Chop Apricots – Anytime between 10:30 a.m. and 3:00 p.m.
Spread the shelled walnuts on a baking sheet and toast in the oven at 400°F (200°C) for about 10 minutes. Each oven is different so keep an eye on them, remove them when they start to become fragrant and slightly brown. Let the walnuts cool on the baking sheet and then chop as course as desired. Reserve them until bulk fermentation.
Coarsely chop the dried apricots. I did not soak my apricots because they were incredibly moist and tender. If you have overly dry apricots you might want to consider soaking them but I'd recommend draining them after they are rehydrated — no additional hydration is desired.
2. Autolyse – 4:00 p.m.
Mix flour and water (reserve 100g water for the mix, later) in a bowl until all dry bits are hydrated. Cover the bowl and store somewhere warm (around 78°F/25°C) for 1 hour.
See my guide to the autolyse technique for why it helps with this bread recipe.
3. Mix – 5:00 p.m.
Add the levain (from step #1) and about half of the reserved water to the dough in the mixing bowl and mix by hand to first incorporate and then to build strength in the dough.
To build strength I chose to do slap and fold for about 5 minutes, just until the dough started to show signs of a smooth surface and it was catching some air. If you aren't comfortable with slap/fold method or don't like it, you can do stretch and folds in the bowl until your dough tightens up and is slightly hard to stretch out and fold over. Medium development.
Let the dough rest for 20 minutes, covered, in the mixing bowl.
When finished resting, sprinkle the salt on top of the dough and use the remaining water to help dissolve. Pinch through a few times and fold the dough over itself to help incorporate. I continued to fold the dough over here until it came back together and started to get a little sticky. Transfer dough to a tub or thick-walled bowl for bulk fermentation.
4. Bulk Fermentation – 5:20 p.m. to 9:20 p.m.
At about 78°F (25°C) ambient temperature bulk fermentation should go for about 4 hours.
Perform 4 sets of stretch and folds during the bulk, spaced out by 30 minutes.
After the second set of stretch and folds mix in the dried apricots, lavender, and walnuts. Place all the ingredients on top of the dough and using a splash of water on your hands gently mix and fold the dough over and over until everything is incorporated.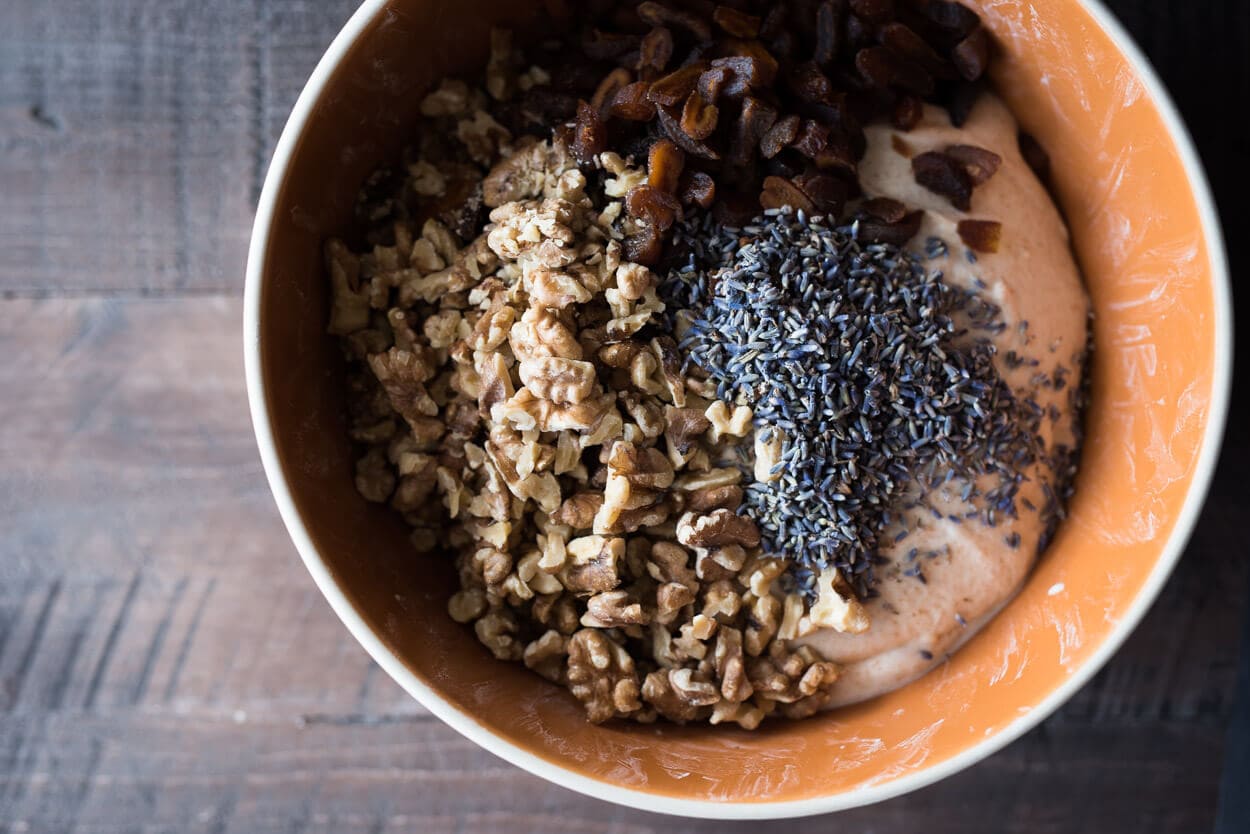 After the fourth set of stretch and folds let the dough rest for the remainder of bulk. You want to look for a significant rise in the dough, plenty of bubbles on top and just below the surface, and most importantly: the edge where the dough meets the bowl is domed, convex. This is a good sign your dough is strong enough and ready to be divided.
5. Divide & Pre-shape – 9:20 p.m.
Dump out the dough from your bulk container onto an un-floured work surface. Pre-shape the dough into two round boules and let rest 20 minutes uncovered. Don't worry if you lose a walnut or apricot here and there, just push it back into the dough somewhere, preferably on the bottom.
6. Shape – 9:40 p.m.
This dough will work equally well shaped as a boule (round shape) or a batard (oval shape).
To gently shape as a batard, first moderately flour the top of the dough and flour the work surface. Flip one resting round over so the floured side is down on the work surface. Fold the top of the dough up and over to the middle and repeat for the bottom (you'll now have a long slender rectangle in front of you). Pick up the rectangle and rotate it 90º so it's now lengthwise facing you. Grab the dough at the very top and fold over a little way, press to seal with the main mass of the dough. Now grab this rolled over the top and gently continue to roll it down towards the bottom, tucking in the dough as you go (imagine rolling down a beach towel). At the end of this, you'll have a tube that has essentially been rolled downward. Once shaped, transfer each to their floured shaping basket with the seam side facing up.
For more instruction on how to shape this dough as an oblong loaf, see my post on how to shape a batard (with video!).
7. Rest & Proof – 9:45 p.m.
Cover your baskets with plastic and then place them in the refrigerator at 38°F (3°C) for about 10-12 hours.
8. Bake – Next Morning: Preheat oven at 7:45 a.m., Bake at 8:45 a.m.
Preheat your oven to 450°F (230°C).
Take out both of the baskets from the fridge and cut a piece of parchment paper to fit over the top, quickly invert each basket onto each piece of parchment. Using a bread lame (or sharp razor blade fastened to a stick) score the top of each loaf at a shallow angle to the dough and just deep enough to cut below the top skin of the dough.
It can be challenging to score this dough! Because there are so many walnuts and apricots I found my blade snagging here and there, producing a jagged score instead of a clean, slightly curved slash. I actually like the rustic, rugged look.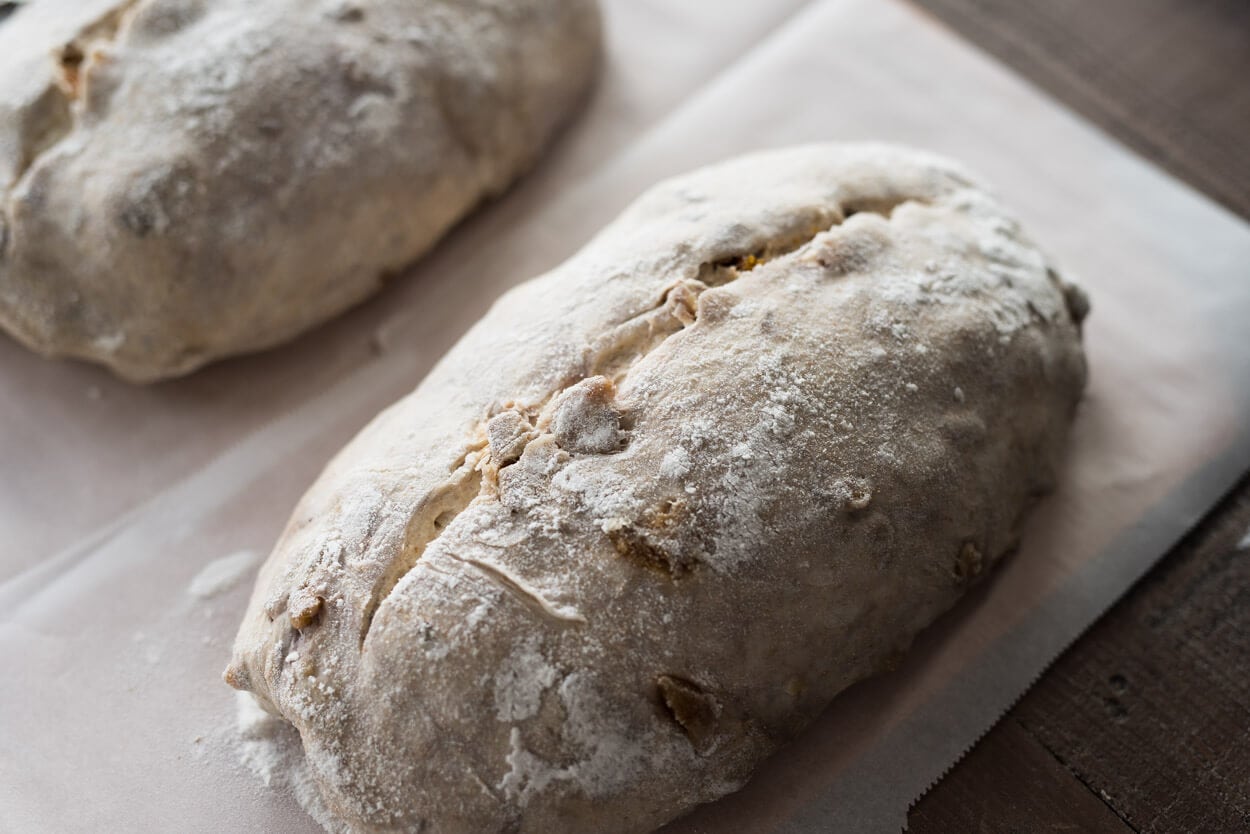 Bake for 20 minutes, then remove the steaming pans from inside the oven (or remove the lid of your Dutch oven). Then, bake for an additional 25-30 minutes until the internal temperature is between 206-210°F (96-98°C). Remove from the oven and let the loaves cool on a wire rack for at least 1-2 hours (see why!).
I steamed my oven in my usual way, described here in my post on how to steam your home oven for baking.
Conclusion
The smell. Oh, the wonderful aroma in the kitchen as this bread bakes. You don't realize it at first, but then all of a sudden—somewhere mid-bake—you're hit upside the head with smells that compel you to open the oven, risking burns and lost heat just to see what's going on in there. When this bread is finished baking and resting on the rack, it becomes a true test of resolve.
I'm a fan of using lavender in cooking, and in this case especially so. I think it lends an unexpected floral note that works so well in this sourdough with the other assertive apricot and walnut flavors. However, I know lavender is very polarizing so if it's not something you're fond of, ditch it altogether. In fact, walnut and apricot go so well together I could envision a bread with just these two ingredients and perhaps even other mix-ins. They provide that grounded, hearty base.
Crust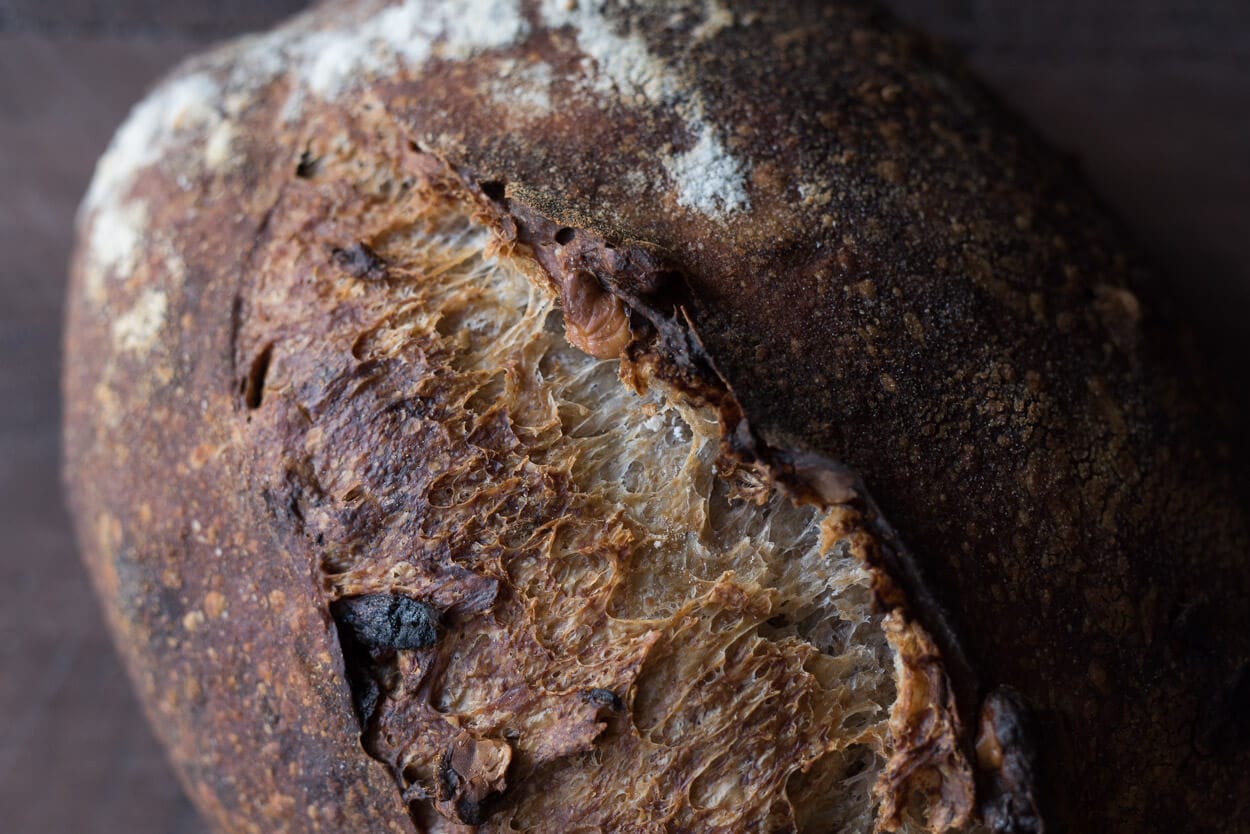 Because it's challenging to cleanly score this bread you end up with this gnarly, ragged score on top that's peppered with walnuts and apricots all going this way & that, trying to escape the interior. It's a very beautiful thing, this crust, and one that you should let express itself in whatever way it sees fit. If you have a guest over whom by chance gets a slightly charred walnut or apricot and complains, very politely take their slice and eat it for them.
Crumb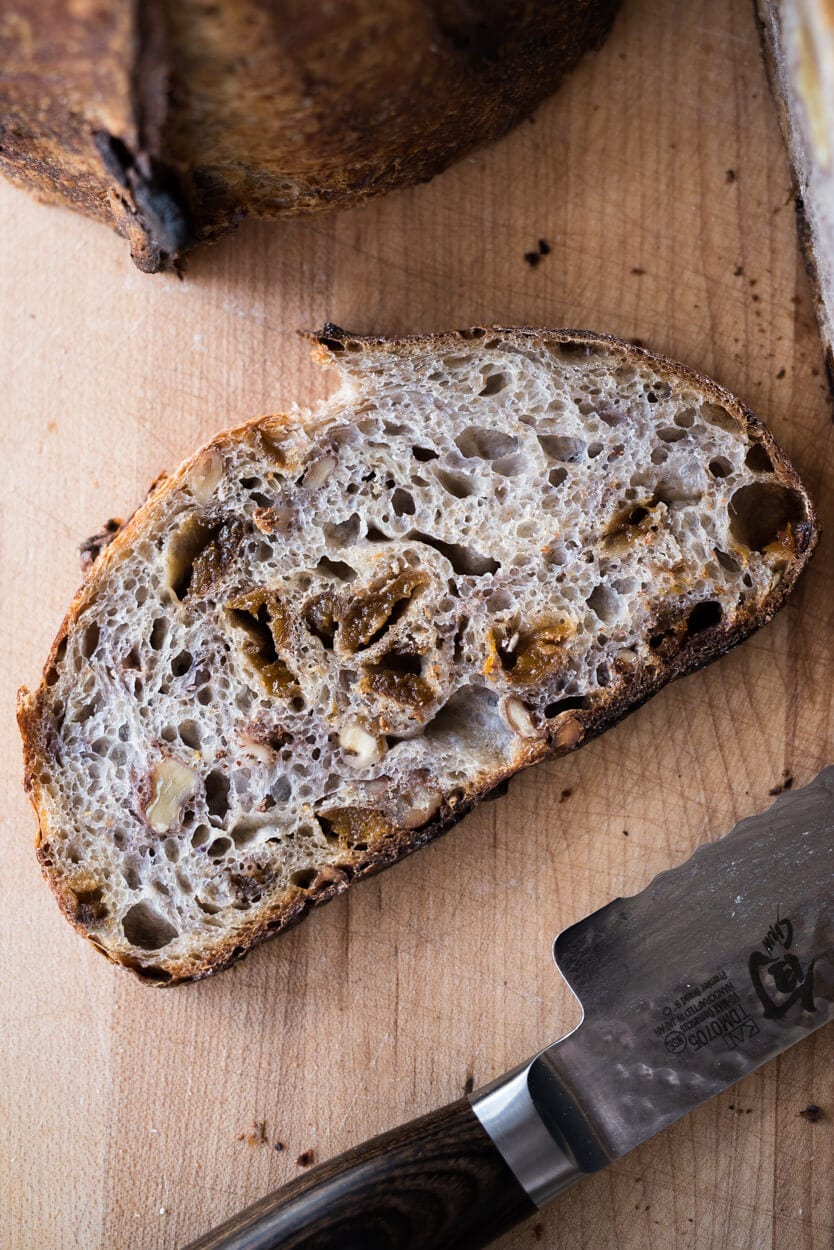 Swirls of stained purple from the tannins in the walnuts and an arthritic dark spot here and there from the dried apricots, the crumb on this bread is like an unreleased Van Gogh. Plenty open and light for my liking, despite the high percentage of fruit and nuts. Because of this high percentage I noticed this bread, when kept in a paper bag or bread box, retained its moisture for an entire week, easy. See my post on how to store bread for more.
Taste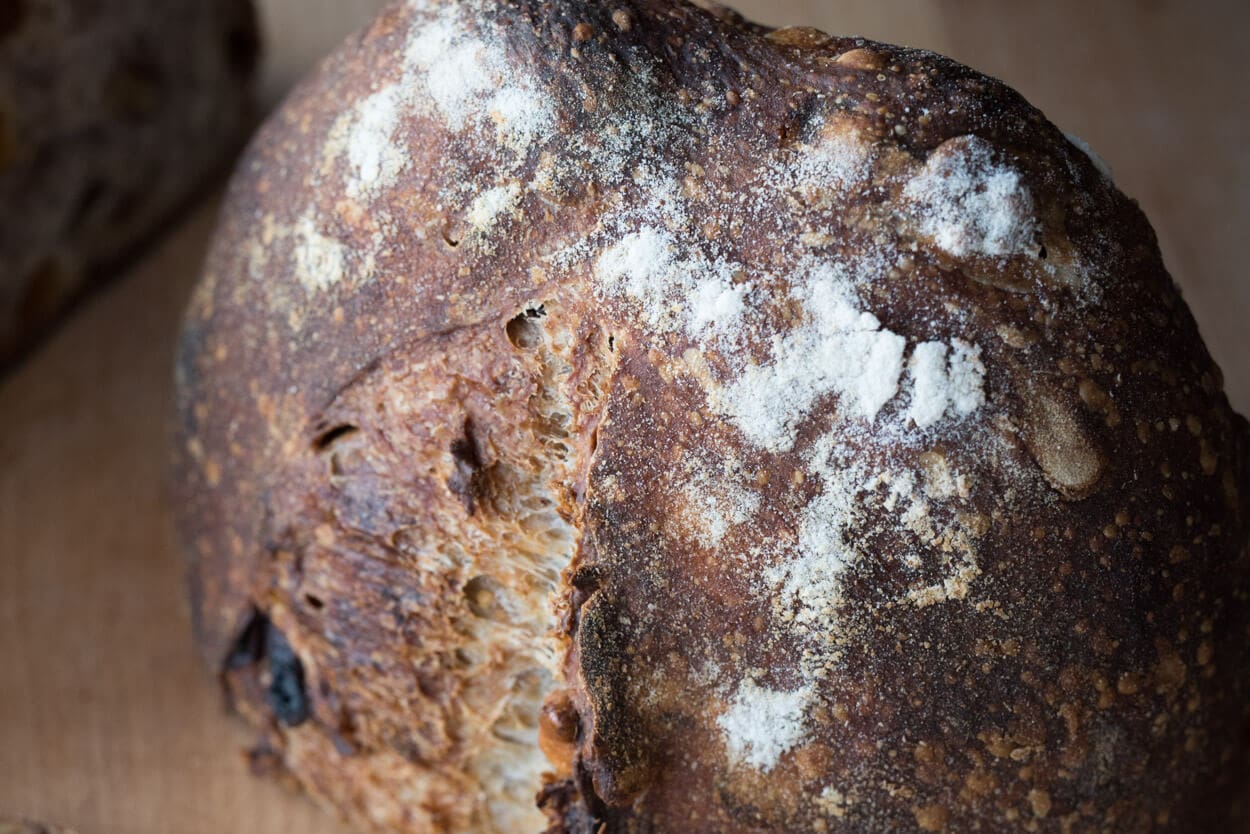 Lavender can be strong and overpowering when used at high quantity, but for the dried lavender buds I had the quantity called for here was just right. It worked extremely well with the musky dried apricot and deep, rich flavor of the toasted walnuts. This bread is incredibly delectable with a generous smearing of goat cheese or even just with a light coating of good quality cultured butter. There's a lot going on in each slice and it's a bread that wants to, and should, take center stage.
---
This is a very full, heavy bread. Full of nuts, fruit, and flavor. If you're more fond of a lighter sourdough reduce the percentage of all the mix-ins to suit—something like 8% walnut and 5% apricot would yield a substantially lighter bread with plenty of flavors still intact.
A slight nudge from the lavender, an assertive, deep flavor from the walnuts, and a musky tang from the apricots: what a combination. I think the French may be onto something.
For another take on bread with apricots, check out my apricot and thyme sourdough bread with 50% whole wheat.
Buon appetito!
If you use this recipe, tag @maurizio on Instagram so I can take a look!