Lately, I've been creatively working my sourdough starter into baked goods around my kitchen. It started with my desire to reduce the "waste" of feeding my starter one to two times per day (see here for another way to reduce the flour used for maintaining your starter). Eventually, I began to fully realize the significant amount of flavor in that fermented flour mixture. You can find my recipes for sourdough pancakes, banana bread, and waffles, but this is my first mention of a dessert with sourdough in the crust, and it's fantastic. This whole-grain sourdough starter pie and galette crust is everything you want in a crust: buttery, tender, flaky, and packed with flavor.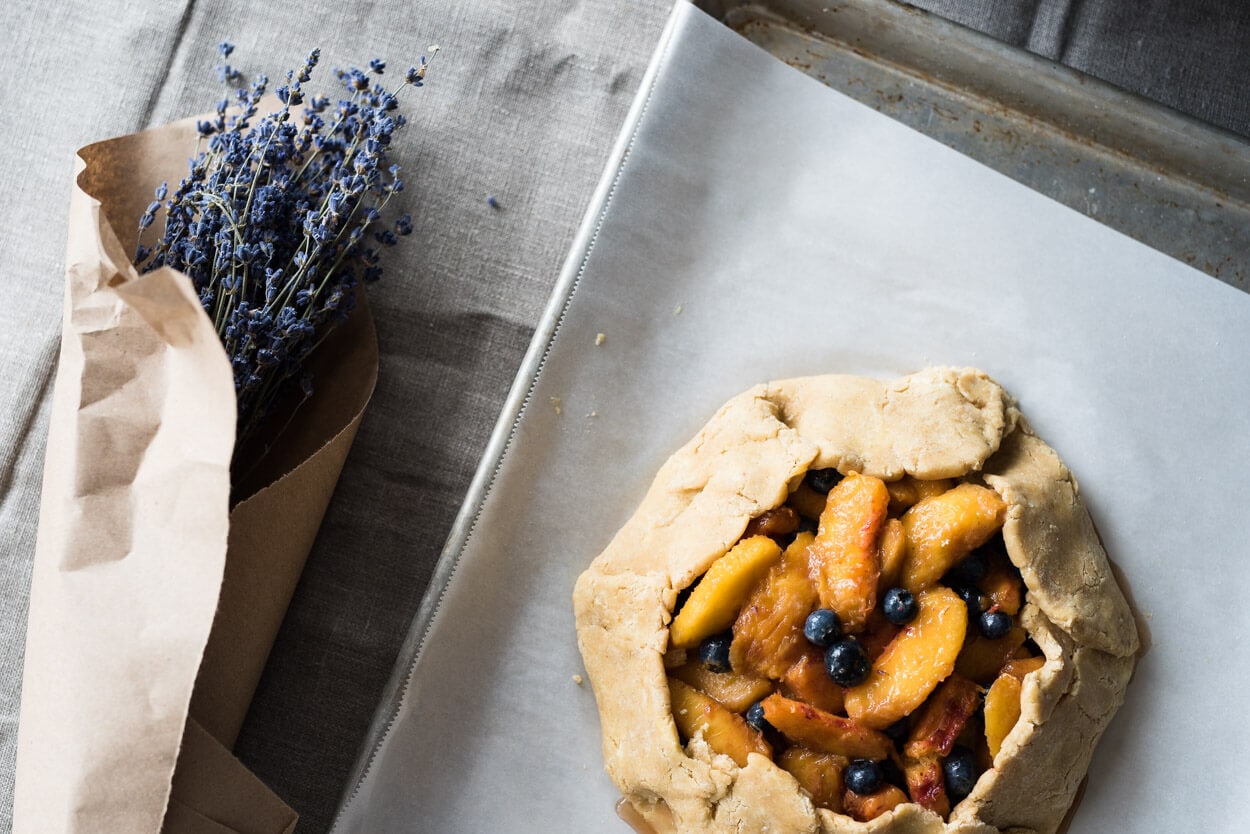 All the stars aligned for this galette, let me tell you. I recently went on a tour of a local lavender farm (photos here in my Apricot, Lavender, and Walnut Sourdough recipe) and brought home some of their culinary lavender to use in a few bread recipes I've been playing with (more to come) and not a week later was I given a sack full of fresh peaches from my family's tree back home. I waited for these peaches to reach optimal ripeness. Then patience suddenly turned impatience as I woke up one morning to find myself on autopilot—my grain mill was on the counter and the sound of the burrs churning away sung in the background. As I was milling, I reinforced myself: peaches and lavender sound good together, right? It's like some instinctual drive to put these two in the same dish, or perhaps a recipe I stumbled on long ago buried deep in my subconscious; either way, this pairing bubbled to the surface just as these fresh, local ingredients serendipitously arrived in my kitchen.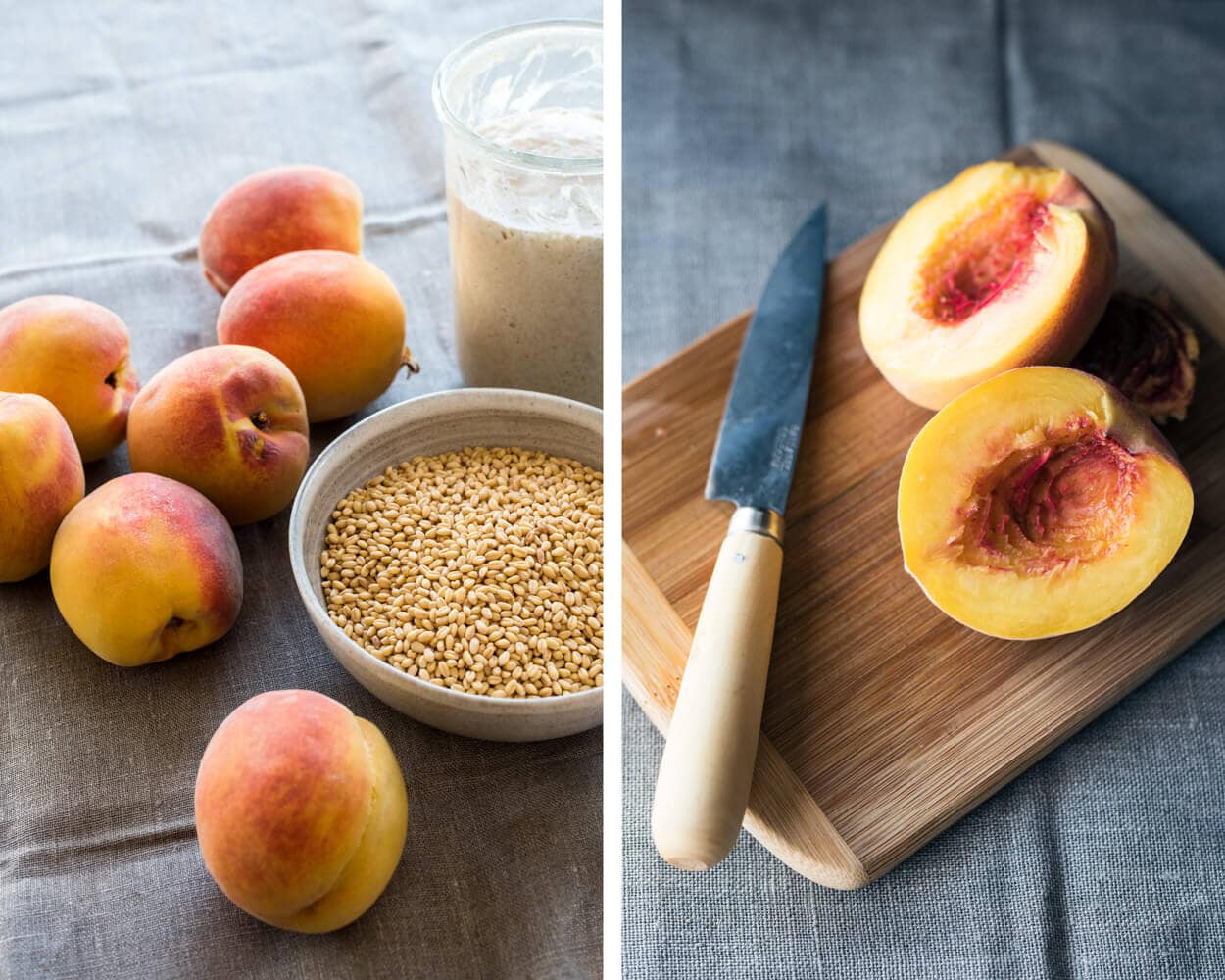 After I toured the farm, I brought home only fresh lavender, but if you have culinary lavender oil, two or three small drops should suffice for this recipe (you might have to experiment with this — be careful not to add too much lavender as it can come across as "soapy" in the end product). I used my mortar & pestle to pulverize the fresh lavender into a fine powder and then mixed it right into the filling with the rest of the ingredients. The smell is pretty intoxicating.
While this recipe calls for peaches and blueberries, you could use this crust and fill ingredients as a base for almost any fruit, adjust the sugar to suit—I like these galettes to be a little less on the artificially sweet side let the fruit shine through.
With my mill going at full speed, the smells of creamy, fresh milled flour and lavender in the air, and my mind on those ripe peaches, I could hardly wait to get baking.
Sourdough Starter Notes
I used my 100% hydration liquid sourdough starter when it's ripe and ready for refreshment for this recipe. If you're maintaining a lower hydration sourdough starter, keep 1/2 cup of icy water nearby. After you add your starter to the dough & butter mixture, add in more water, 1-2 tablespoons at a time, until the dough comes together.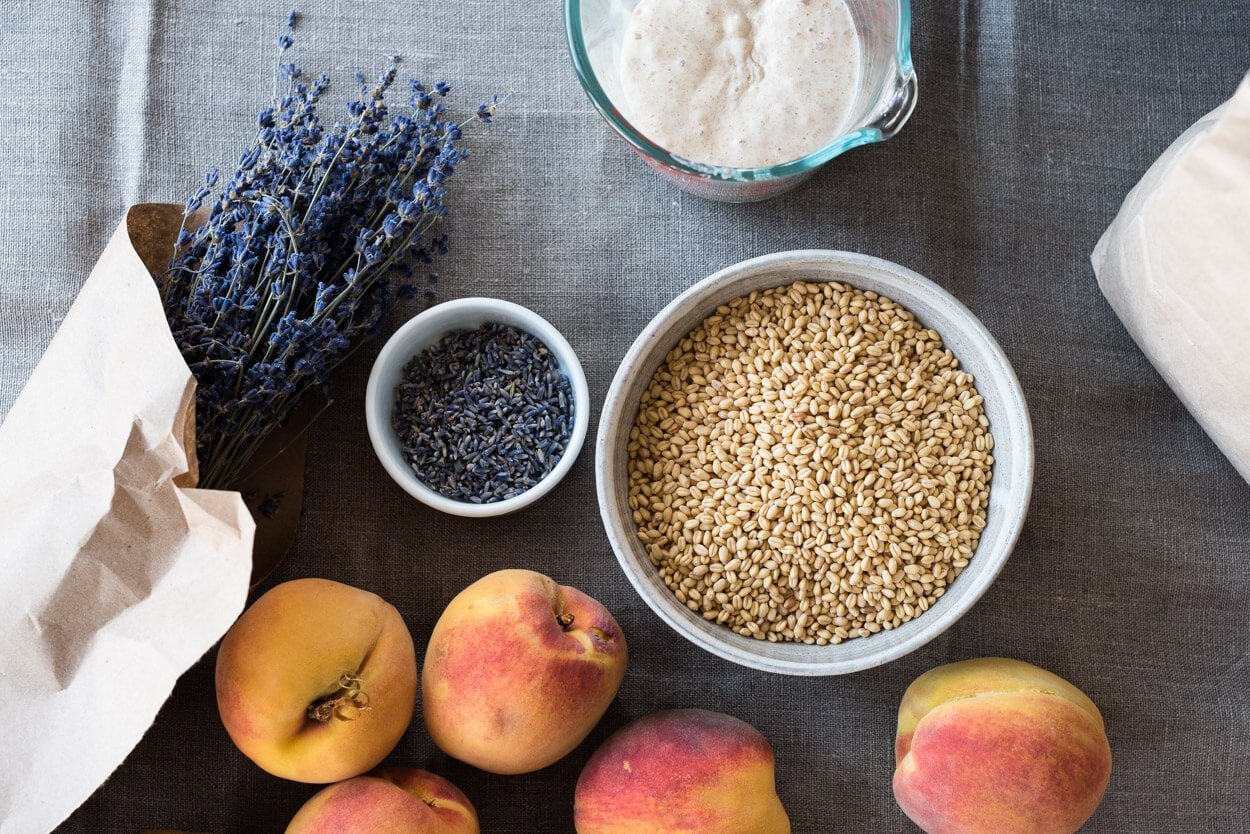 I firmly believe any starter variation will taste great in this recipe, whether it's a liquid starter or stiff starter and regardless of what flour is used for maintenance—white wheat, whole wheat, rye, spelt anything. Using a starter at its peak after undergoing heavy fermentation, any variation will contribute flavor complexity and tenderness to the crust. Note that the recipe calls for 1 cup of sourdough starter, so make sure you have enough the night before you feed to cover the requirement. When I'm doing my daily refreshments of 100g flour, 100g water, and 15g mature starter3 I end up with just enough discard to cover the needed starter.
Sourdough Pie Crust Notes
If you're an experienced pie baker, you know what level to blend the butter into the flour. If not, remember you want to avoid over blending—there should be some small and some large pieces of butter in the flour mixture. These irregularly shaped butter pieces help contribute to the flakiness desired in the pie crust. Don't fret about this too much, even if you over blend a bit, the crust will still turn out great; blend a little less next time. I like to shoot for the largest pieces, about the size of a nickel.
After adding the ripe starter and gently stirring, the mixture will form up differently from just water. It will be a little more clumped, crumbly even, but stir everything just until it comes together. Use your hands to test periodically if the mixture will clump easily. If so, then you're done adding the extra water.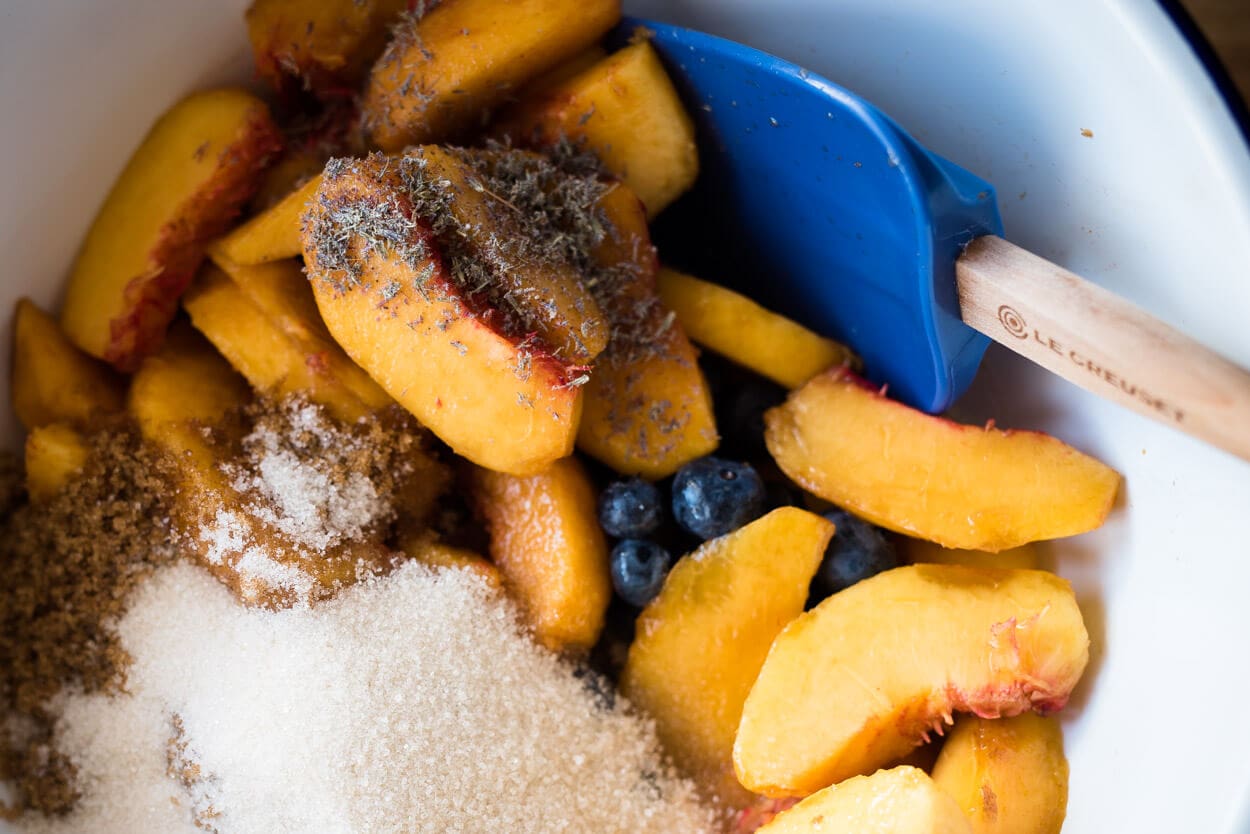 It's so incredibly hot here this time of the year I noticed the mixture started to feel a little greasy and warm to the touch when I was mixing everything. If this happens, toss the mixing bowl into the fridge and let it chill for 15 minutes. You don't want the butter to melt.
---
Print
Sourdough Starter Discard Pie and Galette Crust
Prep Time:

30 minutes

Cook Time:

0 minutes

Total Time:

30 minutes

Yield:

2 pie or galette crusts

Category:

Pie, Galette

Cuisine:

American
---
Description
This recipe, with ripe sourdough starter discard, yields a wonderfully tender and flaky crust. Even with the starter, there's minimal sour flavor in the end.
I used fresh milled, whole grain white Sonora flour from Hayden Flour Mills for this crust. It's a lower protein flour that has a wonderfully mellow flavor (as I've noted in my sourdough bread with white Sonora post) and works so well in this recipe. White whole wheat, or even all-purpose flour, would also work well.
---
295g

(

2.5 cups

) fresh milled white Sonora flour, all-purpose flour, or white whole wheat flour

2

sticks (227g) cold European style butter cut into half-inch pats

1 tablespoon

granulated sugar (optional)

1 teaspoon

salt

2 tablespoons

apple cider vinegar

1 cup

(

200g

) ripe liquid sourdough starter
A splash of cold water
---
Instructions
 Measure out 1 cup ripe sourdough starter and place it into the fridge to chill.
Add the flour, salt, and sugar to a large mixing bowl and stir to combine.
Add the sliced butter to the bowl and lightly toss with a spatula until you coat the butter with flour.
Using a pastry blender, cut the butter into the flour until there are only small bits of butter remaining.
Add the chilled 1 cup sourdough starter, cider vinegar, and a few splashes of cold water to the mixing bowl. Stir with a spatula or the pastry blender until well combined. Add more water here if necessary: you want the dough to come together when squeezed with your hands, but it should not be overly wet.
Dump the contents of the bowl onto your bench and gather it into a large disc.
If using the full recipe, divide the disc into two, form into two smaller discs, and wrap tightly in plastic wrap. Refrigerate the discs for at least 2 hours (preferably overnight) before using.
---
Notes
I usually freeze half of this dough for an impromptu fruit delivery so I can quickly whip up a pie or galette. To freeze, wrap tightly in plastic wrap then place a disc into a freezer bag and into the freezer. To defrost, take it out to the refrigerator overnight, then leave it out on the counter until pliable (don't let it get too warm!).
If you want to make a single crust, halve all the ingredients.
When cutting the butter into the flour, take care not to overwork it, there should be some larger pieces (nickel-sized) and some smaller pieces (dime-sized or smaller).
Keywords: sourdough, pie, galette, crust, sourdough starter, starter discard
---
Print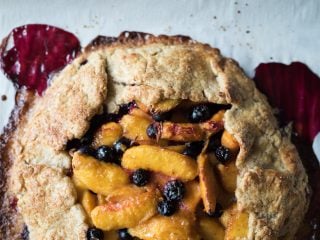 Whole Grain Peach, Blueberry and Lavender Sourdough Galette
Prep Time:

30 minutes

Cook Time:

40 minutes

Total Time:

1 hour 10 minutes

Yield:

1 galette

Category:

Pie

Cuisine:

American
---
Description
Using the sourdough starter discard pie/galette crust above, with fresh peaches, blueberries, and culinary lavender makes a truly decadent galette.
---
One half Sourdough Pie Crust (above)

1 cup

(about

150g

) blueberries

1/2 tsp

ground culinary lavender

5

medium peaches (about

560g

), peeled

1 tablespoon

lemon juice

3 tablespoons

arrowroot

1/4 cup

(

30g

) light brown sugar
Scant

1/2 cup

(

85g

) granulated sugar

1

egg, beaten (for egg wash)
Coarse sugar (like Demerara) for coating
---
Instructions
Preheat oven to 400°F (204°C) and line a baking sheet with parchment paper.
Lightly flour your bench and roll the dough out into a round shape with a 12" diameter. Try to keep the thickness as even as possible by rolling a little and then turning the disc—any areas that are significantly thinner may fall down when baking (not a huge deal).
Once rolled out, transfer to the prepared baking sheet with parchment paper and place it into the refrigerator to chill.
Combine the filling ingredients in a large mixing bowl and gently stir to combine.
Remove the chilled dough and scoop the filling into the center but maintain a 2" clean border of dough all around. Depending on the size of your peaches, and how far you've rolled out your dough, you might have some extra filling—don't overfill the dough or it might spill in the oven.
Working all the way around, fold the border up and over the fruit, pressing the dough together where it overlaps to create a seal.
Place the baking sheet with galette into the fridge for at least 15-30 minutes (important!) to firm up before baking.
Remove from refrigerator, brush the dough with the egg wash and sprinkle liberally all over with coarse sugar.
Bake for about 40 minutes until juices are bubbling and the crust is a nice dark brown. Let cool on a wire rack until safe to eat, but eat when still warm.
---
Notes
Adjust the amount of sugar called for to your liking, and more importantly, how sweet your fruit is! I reduced the called for sugar just a bit since my peaches were incredibly ripe and sweet.
---
Next time the stars want to align and throw me some fresh summer ingredients, I'll follow suit and let my instinct take the driver's seat—this galette is fantastic. If you try this recipe with any other flour types, I'd love to hear how they work out. I'm excited to continue experimenting with freshly milled flour and whole grains of all types for my dessert crusts. Well, that and, of course, my sourdough starter.
If you're like me and it's peak summer where you are, be sure to read through my guide to baking bread during the summer for practical advice on how to keep baking (and maintaining your starter) during the high-heat months of the year.
If you're looking for more sourdough pastry, be sure to read through my Sourdough Chocolate Knots for a delicious little treat.
Buon Appetito!