This sourdough pie crust offers a delightful twist on the traditional. The natural tang of the sourdough starter adds depth and complexity to its flavor, but it also contributes to its flakiness. This crust is the perfect base for sweet and savory pies, galettes, and crostatas. It's also the perfect place to use that sourdough starter discard you might be saving in the refrigerator.
I've been making a version of this pie crust for over five years here in my kitchen (and it's even in my sourdough cookbook). Often, I'll use this recipe to make two crusts, use one in a galette (they're so easy!), and then freeze the second crust for later. This way, I always have one in the freezer ready to use on a day's notice.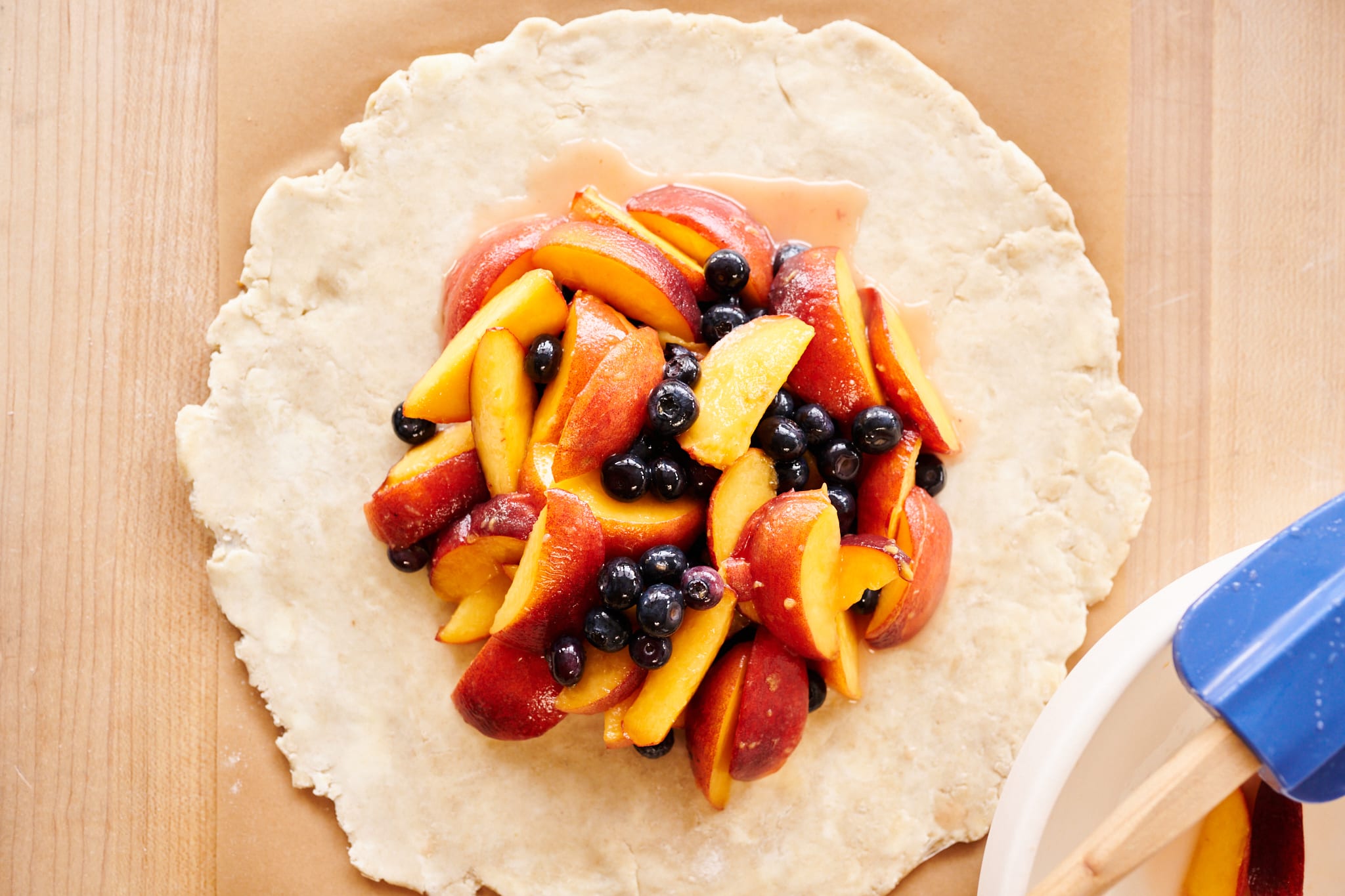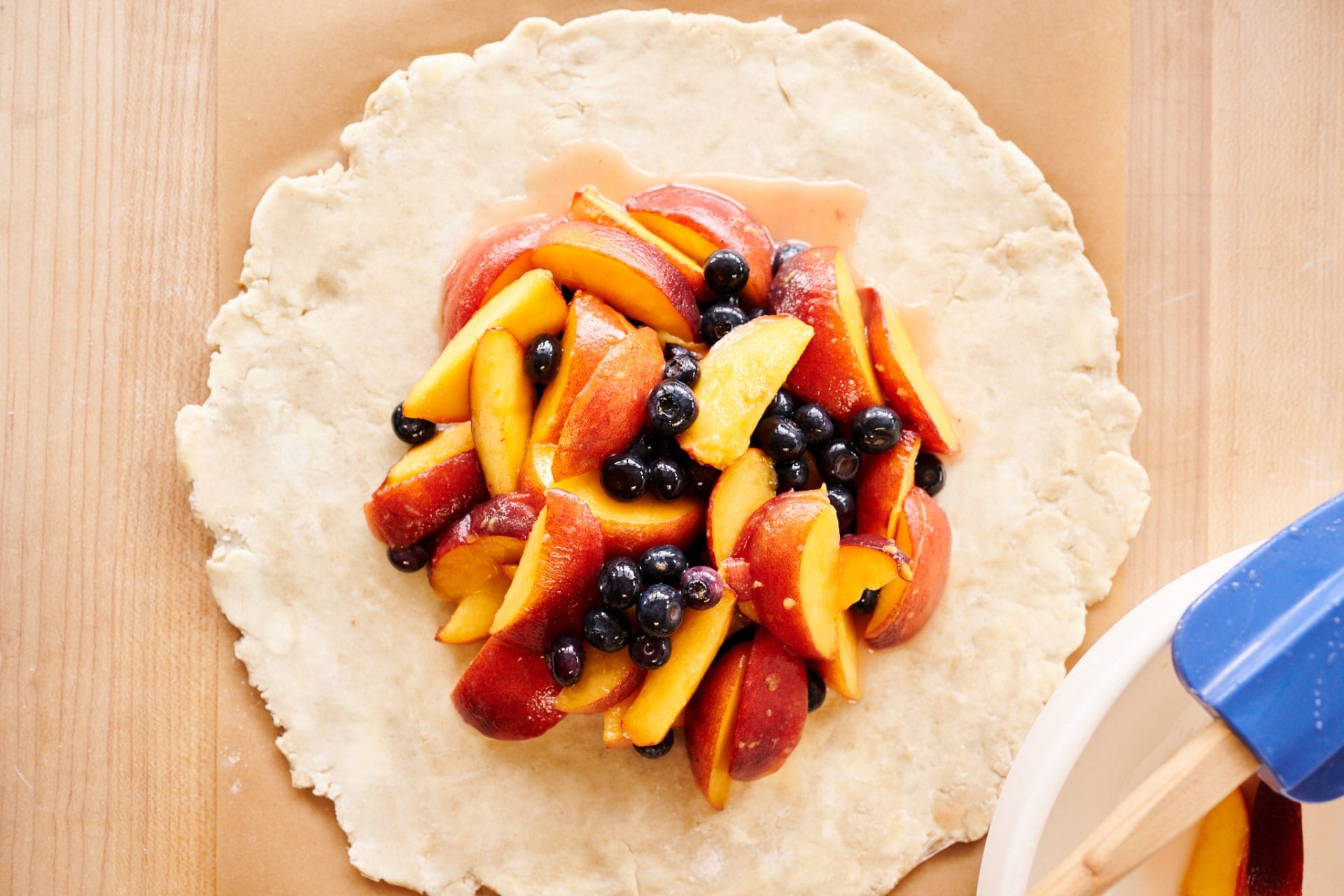 This recipe makes two pie crusts for a double-crust pie in a 9-inch pan. If you want to make a single pie crust (for a pie with no top, a galette, or a crostata), halve all the ingredients.
Made with simple ingredients like flour, butter, and your sourdough starter, this crust is flaky, tender, and full of character. Whether you're a seasoned baker or just diving into sourdough, this recipe promises a unique flavor experience for your pies.
Let's talk about what starter discard you should use for this sweet and buttery sourdough pie crust, then dig into some tips and tricks to making the perfect flaky, buttery pie at home.
Why Use Sourdough Starter Discard in a Pie Crust?
I use sourdough starter discard in my pie crust for three reasons:
It contributes a complex, very slightly tangy flavor.
It helps create a tender and flaky crust.
It's a great way to use sourdough starter discard that might otherwise go to waste.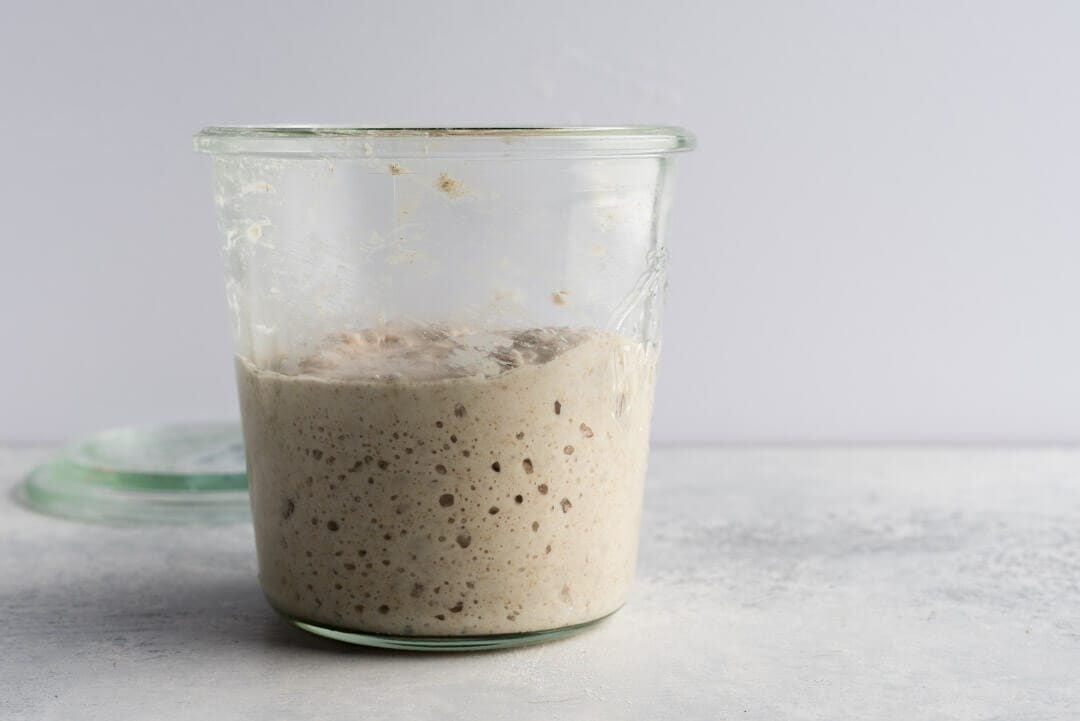 What Sourdough Starter Discard Should I Use?
When I say "starter discard," I'm referring to flour and water that's removed during feeding, or refreshing, your starter. You should use discard from your starter after it has fermented for hours, is bubbly and well-risen, has a loose consistency, and has a gentle sour aroma.
In other words, take some of your starter when you'd normally give it a feeding.
Since we're not using discarded sourdough starter to actively leaven this dough, but rather just for flavor and texture, cold discard from the refrigerator works. You can use any discard you save straight from the refrigerator (even if it's been in the refrigerator for up to 2 weeks).
Tips to Making the Perfect Sourdough Pie Crust
A pie crust can be intimidating, but doesn't have to be. Using my tips and tricks below, we'll ensure you have a flaky, tender crust with minimal effort.
Use Cold Ingredients
Cold ingredients will hold their shape better and contribute to a flakier crust. Ensure that your butter and water are very cold when making this crust. I like to put my mixing water in the freezer when I start to chill (but not freeze) it.
Handle the Pie Dough Minimally
Overworking the dough can lead to a tough crust. Mix and handle the dough as little as possible.
Avoid Adding Too Much Liquid
Water activates gluten formation, so only add as much water as needed for the dough to come together, hold its shape, and become pliable. Water also turns to steam when baking, which can cause the crust to puff up excessively. Finally, holding back water ensures you do not end up with a soggy crust.
Rest the Dough Before Rolling
Make this pie crust dough at least two hours, preferably overnight, before rolling it out. Letting the dough rest allows the gluten to relax, making it easier to roll out and results in a flakier crust.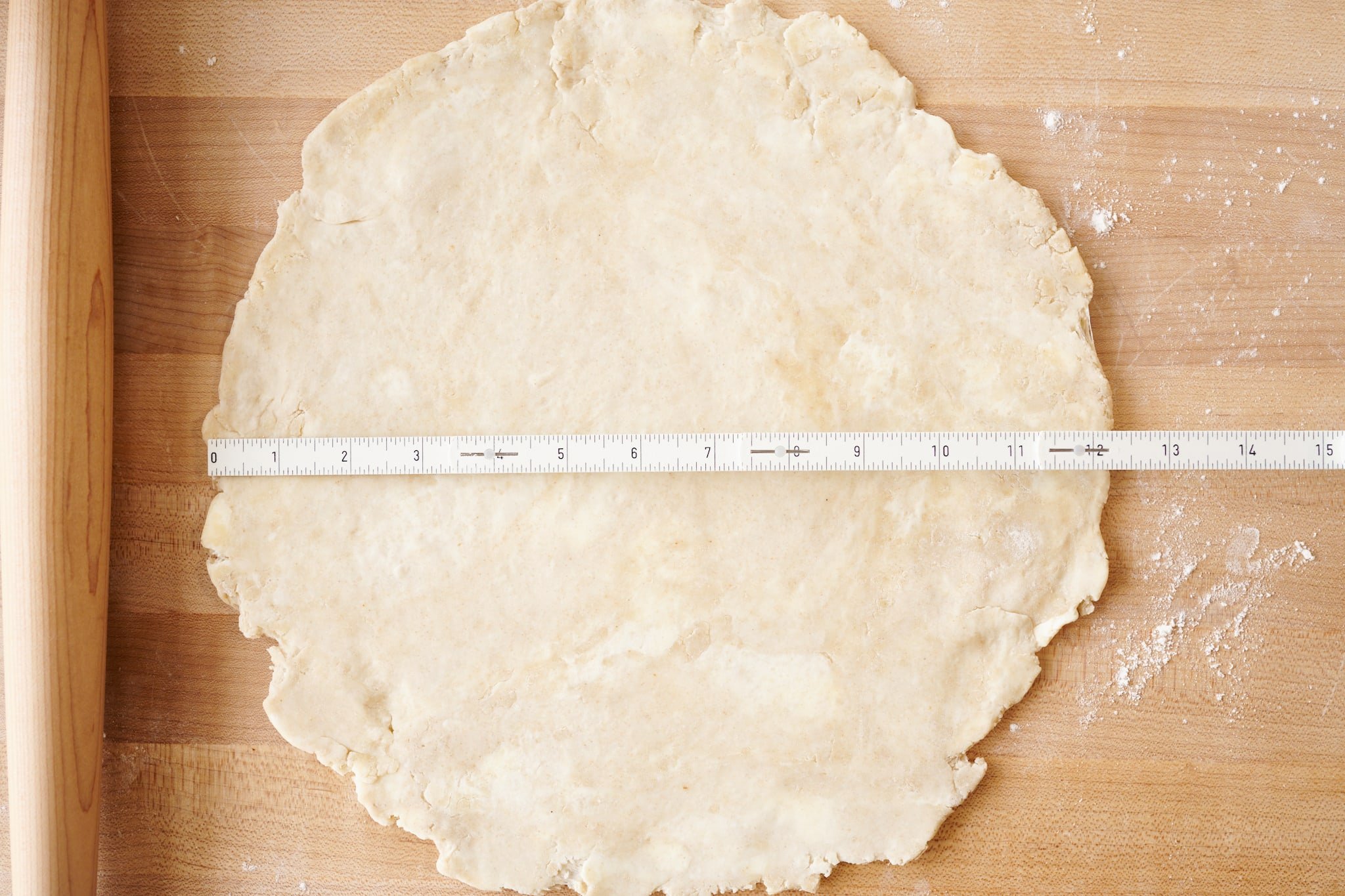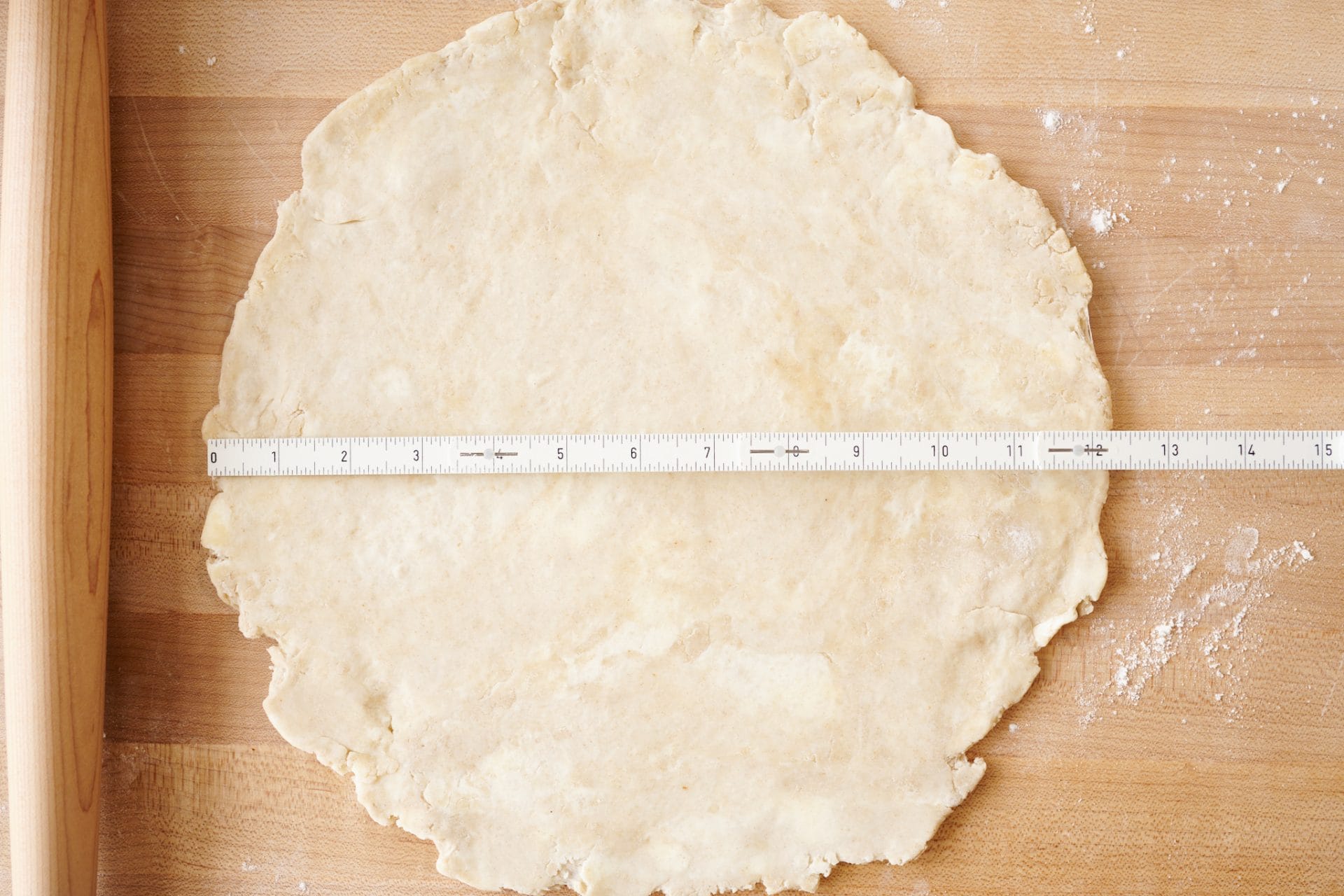 Roll to an Even Thickness
When rolling, aim for a crust thickness of about 1/8-inch. This ensures consistent baking and texture.
Chill Your Crust Before Baking
After you've rolled out and filled your pie, galette, or crostata, chill it in the refrigerator for at least 15 minutes before baking. This helps the fats solidify, leading to a flakier crust.
Avoid a Soggy Pie Crust by Blind Baking
If you are making a pie or galette with a very wet filling, pre-bake (blind bake) the crust to help seal and harden the crust before filling.
See below for times and temperatures when blind baking.
How to Store a Sourdough Pie Crust
To store the pie crust for up to a week, wrap the mixed and formed dough tightly with plastic wrap and place it in the refrigerator, where it will keep for up to a week.
The dough can also be stored in the freezer for up to 6 months. After wrapping tightly with plastic wrap, place the dough into a freezer bag, press out any air, and place it in the freezer. Thaw overnight in the refrigerator and use as directed in the recipe.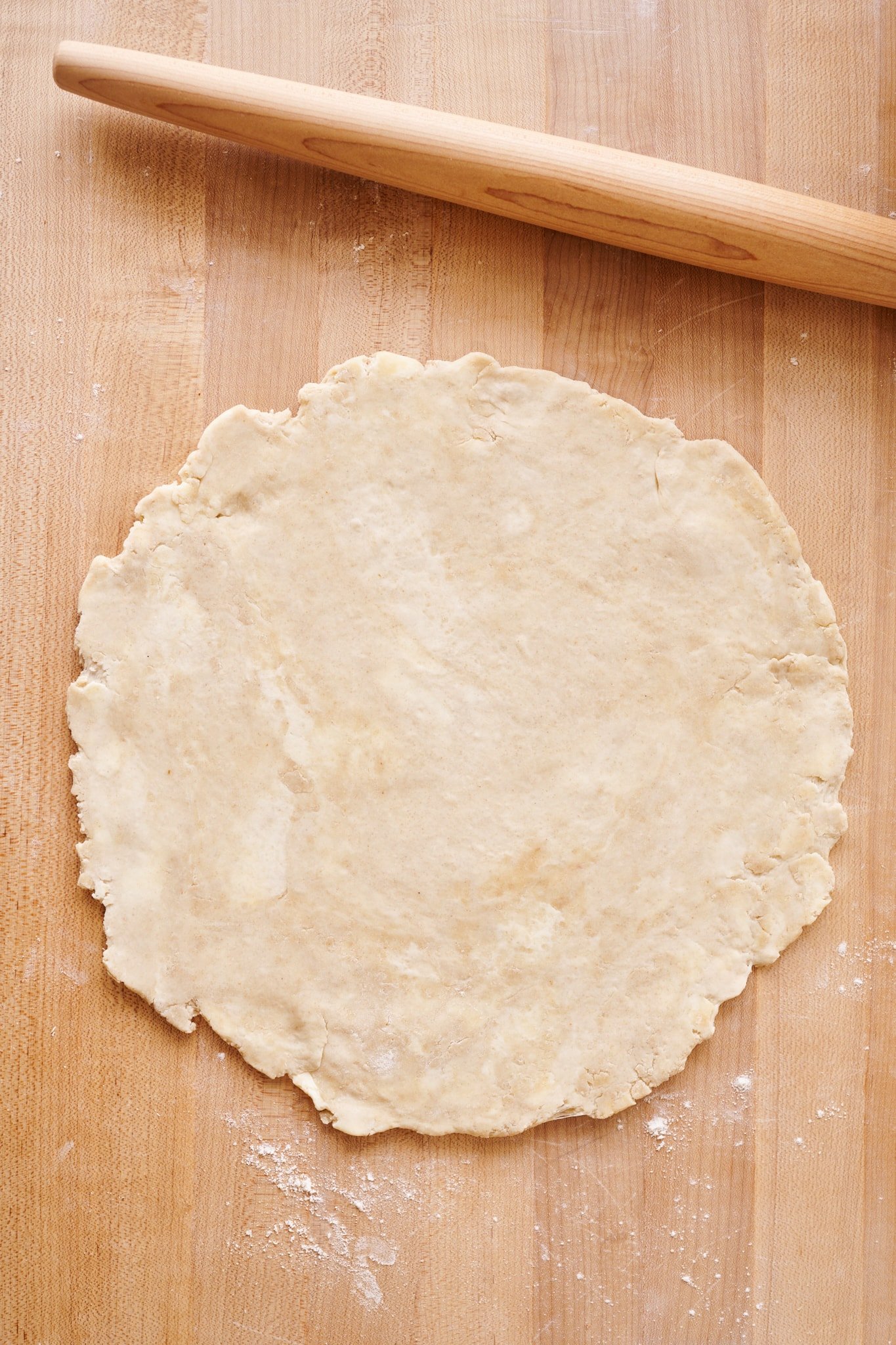 How To Roll Out Sourdough Pie Crust Dough
A pie crust can be used for the obvious pie, galette, and crostata (an Italian-style galette), of course, but it can also be used for hand pies, quiche, tarts, and empanadas.
I've used this sourdough pie crust to make a quiche filled with spinach, feta cheese, and roasted sweet potato—it was incredibly savory and delicious!
Let's look at the two most-used applications for this dough: pies and galettes.
Using the Pie Crust for a Pie
Remove one piece of dough from the refrigerator (leave the other inside to stay cool). Unwrap the dough and place it on a lightly floured work surface. Using a rolling pin, roll the dough out into a round about 12 inches in diameter. Transfer the rolled-out dough to a pie dish and press to fit.
If using the second piece of dough (for a double-crust pie), remove it from the refrigerator and repeat.
Using the Pie Crust for a Galette or Crostata
For a galette, you only need one of the prepared pie crusts from this recipe. The other can be stored in the refrigerator or freezer for later.
Remove one piece of dough from the refrigerator, unwrap it, and place it on a lightly floured work surface. Using a rolling pin, roll the dough out into a round about 12 inches in diameter. Transfer the rolled-out crust to a parchment paper-lined sheet pan. Scoop the filling into the center of the crust, leaving a 2-inch border all around. Then fold the border of the crust up over the filling in a series of pleats as you make your way around the crostata.
Refrigerate the galette for 30 minutes before baking.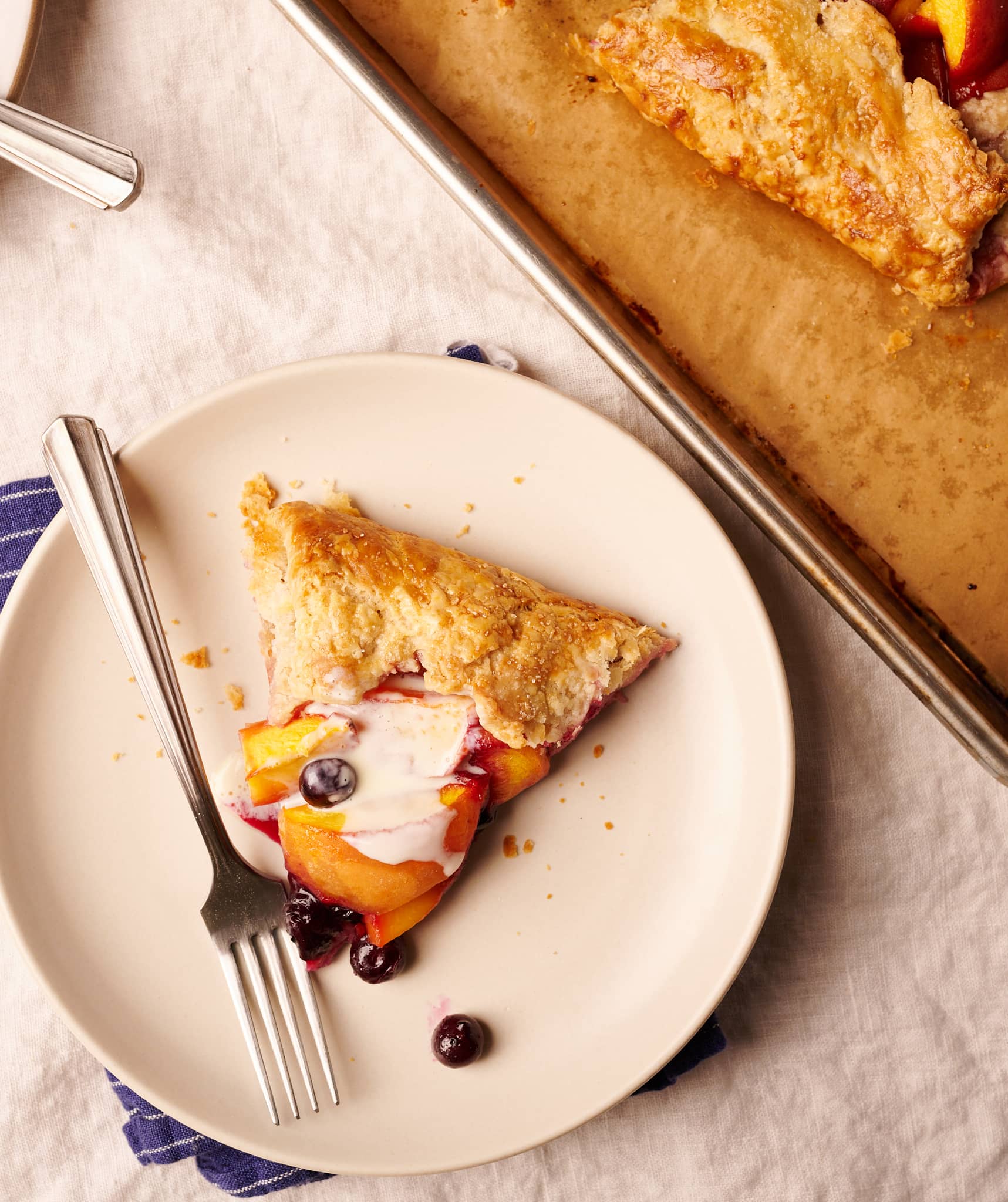 How to Bake Sourdough Pie Crust
There are three ways to use this recipe:
Single-crust Pie or galette: Bake at 400°F (200°C) for 30 to 40 minutes.
Double-crust pie: Depending on the pie, bake at 425°F () for 40 to 45 minutes.
Blind baked (for pies or galettes with extra juicy fillings, like blueberry pie): Bake at 400°F (200°C) for 15 to 20 minutes until the edges start to lightly golden.
---
Print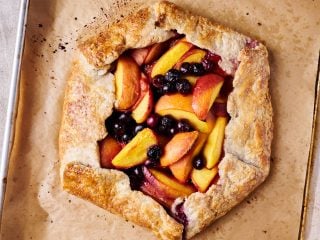 Flaky Sourdough Pie Crust (Sweet or Savory)
Author:

Maurizio Leo

Prep Time:

30 minutes

Cook Time:

40 minutes

Total Time:

1 hour 10 minutes

Yield:

2 pie crusts

Category:

Dessert, Breakfast, Lunch, Dinner, Brunch

Cuisine:

American
---
Description
This crust blends sourdough tang with classic ingredients, resulting in a flaky and flavorful base suitable for sweet and savory pies. It offers a unique twist on traditional pie crusts and is made with flour, butter, and sourdough discard.
The recipe makes two sourdough pie crusts suitable for the bottom pie crust and top (for something like apple pie). If you only need a bottom crust (or you're making a galette or crostata), halve all the ingredients.
---
350g

all-purpose flour

14g

granulated sugar

6g

fine sea salt

226g

unsalted butter, cold

230g

ripe sourdough starter discard, 100% hydration

74g

cold water
---
Instructions
In a large bowl, whisk together the flour, sugar, and salt. Cut the butter into small cubes. Add the butter and lightly toss to coat with flour. Using a pastry blender or the back of a fork, cut the butter into the flour until the butter is the size of small peas. Add the sourdough starter and water. Stir with a spatula until well combined. The dough should just come together, but add more water, one tablespoon at a time, as needed.


Cutting cold butter into flour with a pastry blender.

Scrape the dough onto a clean work surface and knead it until it comes together. Form the dough into a disc, then using a bench scraper, divide it directly in half. Form each half into a disc, tightly wrap each in plastic wrap, and refrigerate for 2 hours (or overnight).

To use the crust, remove one disc from the fridge, unwrap it, and place it on a lightly floured work surface. Using a rolling pin, roll the dough out into a round about 12 inches in diameter. Fit to the bottom of a pie dish and repeat for the second disc for the top of the pie crust.


Rolling sourdough pie crust out to 12 inches.
---
Notes
For a savory crust, omit the sugar in the recipe.
Halve all the ingredients to make a single pie (or galette) crust.
After rolling out and filling your crust, be sure to refrigerate your pie/galette/crostata for at least 15 minutes before baking for a flakier crust.
The pie crust can be wrapped in plastic, placed into a freezer bag and kept in the freezer for up to 6 months. To use, thaw in the refrigerator overnight, then roll out the next day as described above.
Keywords: Butter, pie, pastry, galette, tart, hot pocket, empanada, pastry dough
Sourdough Pie Crust FAQs
What does vinegar do in pie crust?
Vinegar is added to prevent oxidization of pie crust, reducing the amount it turns gray. I don't add vinegar to my pie crust because the gray color disappears when the pie crust is baked, anyway (an egg wash can help with this).
How do I prevent my pie crust from puffing up?
Blind bake (par-bake) the crust. Roll the pie crust out to fill the pie dish. Then, place a layer of tin foil inside the pie dish on top of the fitted crust, and fill the pie dish with pie weights or dried beans. It can also help to dock or poke with a fork at the bottom of the crust before lining it with tin foil to allow steam to escape while baking.
How to make apple pie without a soggy bottom crust?
Once the pie crust is ready, brush the bottom of the crust with a beaten egg white. This creates a barrier and helps prevent moisture from soaking into the crust. Blind baking the crust for a few minutes before adding the apple filling can also help create a crisp bottom crust.
How to make my pie crust crispy?
Use an egg wash. Brush the crust with a beaten egg. This can add a nice golden color and enhance the crispness.
What's Next?
Now that you've learned how to make sourdough pie crust, use it to make one of my all-time favorite desserts: Whole-grain peach and blueberry sourdough galette.
Have more sourdough starter lying around? Use it in one of my sourdough starter discard recipes.