It's back to school (for most, for some?), and whether your kiddos are physically attending school or staying home, having a plan for speedy and healthy lunches is imperative. And if you're like us here, easy lunches are the best lunches. Enter the mighty sandwich. Sandwiches slathered with crunchy peanut butter1 and homemade jelly, a mozzarella/tomato/basil layer cake, or a classic tuna salad sandwich are always on rotation here. But taking the humble sandwich to the next level requires the ideal bread, it helps the mundane transcend the common measure. And while this site has pan bread recipes abound (I guess I do love good pan bread), this new sourdough sandwich bread with pre-cooked flour is so delightful it's quickly floated to the top choice for, as my kids call it, "square bread."
That's not to say my classic pain de mie or whole-grain pan loaf isn't a treat, but this bread brings a certain softness to the crumb that's hard to achieve without high hydration or added enrichments. And yet, in pre-cooking a portion of the total flour used in this recipe, you'll do just that.
This pre-cooking technique is classic for enriched bread such as Japanese Hokkaido milk bread, and it's a handy technique for bringing a level of softness to a loaf without excessive fat or oil addition. A healthier version, if you will.
What is Pre-cooked flour?
Pre-cooking flour, also called tangzhong, water roux, or pre-gelatinized flour, is the act of cooking raw flour and a liquid to approximately 150°F (65°C). At this temperature, the starches in the flour will gelatinize similar to how the exterior of a bagel gelatinizes when you boil the dough. This process turns the mixture into a sticky starch paste that's then added to the dough during mixing. This upfront cooking is a small step at the beginning of this recipe, but one that results in a bread that's more tender and fluffy without the need for other enrichments such as butter, oil, or eggs.
A quick roundup of the benefits to incorporating pre-cooked flour (or tangzhong) in your bread dough:
Adds tenderness and an open interior without the use of eggs, butter, or sugar
The dough can have lower hydration but still achieve a soft texture
Prolongs the shelf life of the bread (and coupled with natural fermentation, which already preserves, this might be the best sandwich bread yet)
Let's look at how the mixture progresses, below.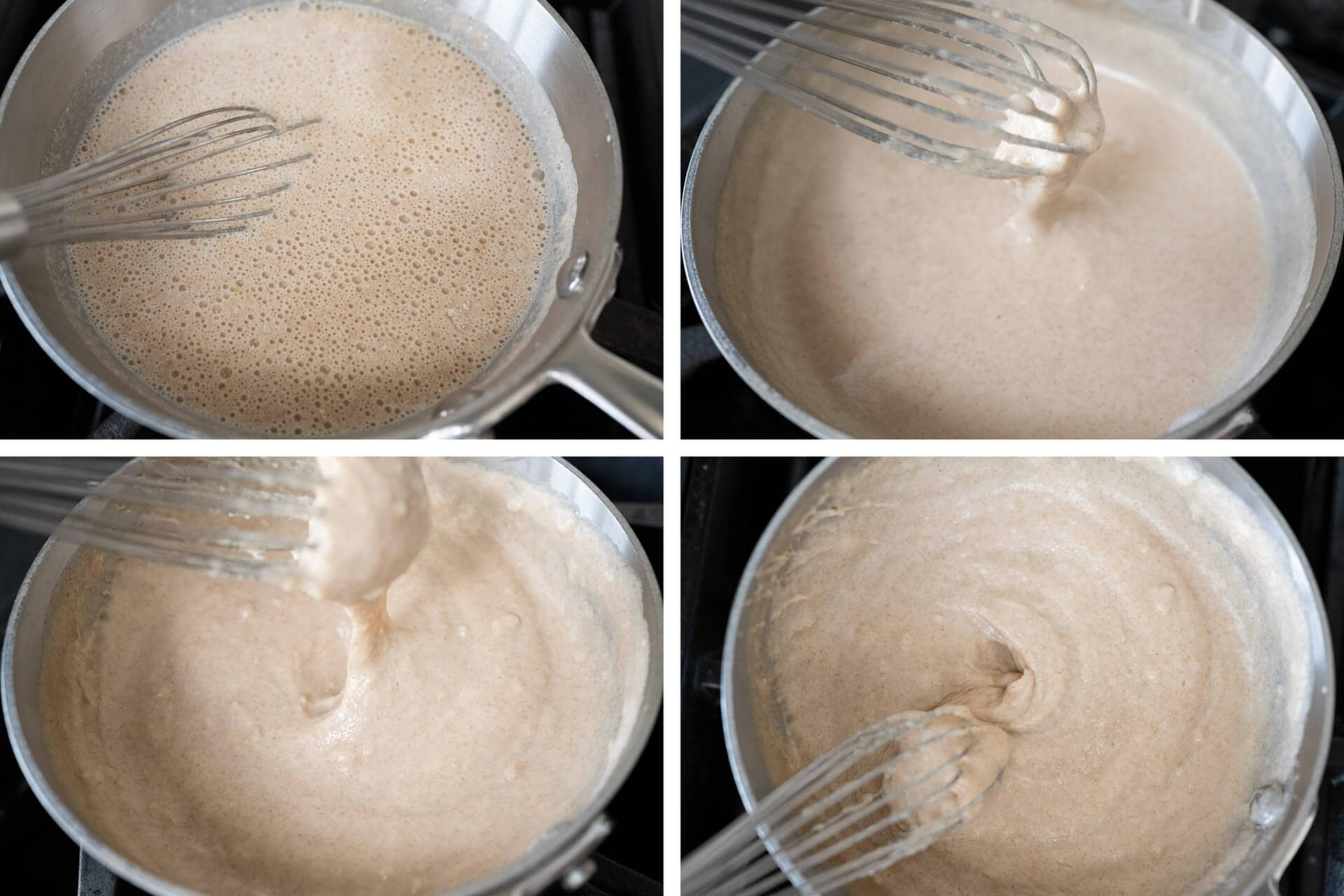 In the top left, the flour and milk are combined and whisked vigorously over medium-low heat. After a few minutes, the top-right shows the mixture starts to thicken. Continue to whisk, and don't worry if you find small clumps here and there. The bottom-right shows the mixture sufficiently thickened and ready to remove from the flame. It will feel similar to a cooked porridge and be hard to whisk any further. Then, let the mixture cool and add it as any other ingredient during mixing.
Flour Selection
Any medium-protein bread flour (around 11% protein) or all-purpose flour will work well in this recipe. I've made this with King Arthur Baking All-purpose with excellent results. And similarly, for the whole wheat portion, any whole wheat flour will work well.
Baking Schedule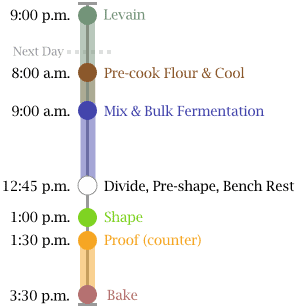 This pan bread is a direct bake, meaning it's baked the same day you mix (except for the levain, which is created the night before).
Overnight proof option: while I don't call for this dough to be retarded (cold proof overnight), this can be done if it's better for your schedule. Simply place it in the fridge after it's shaped and in the Pullman pan, then bake first thing in the morning.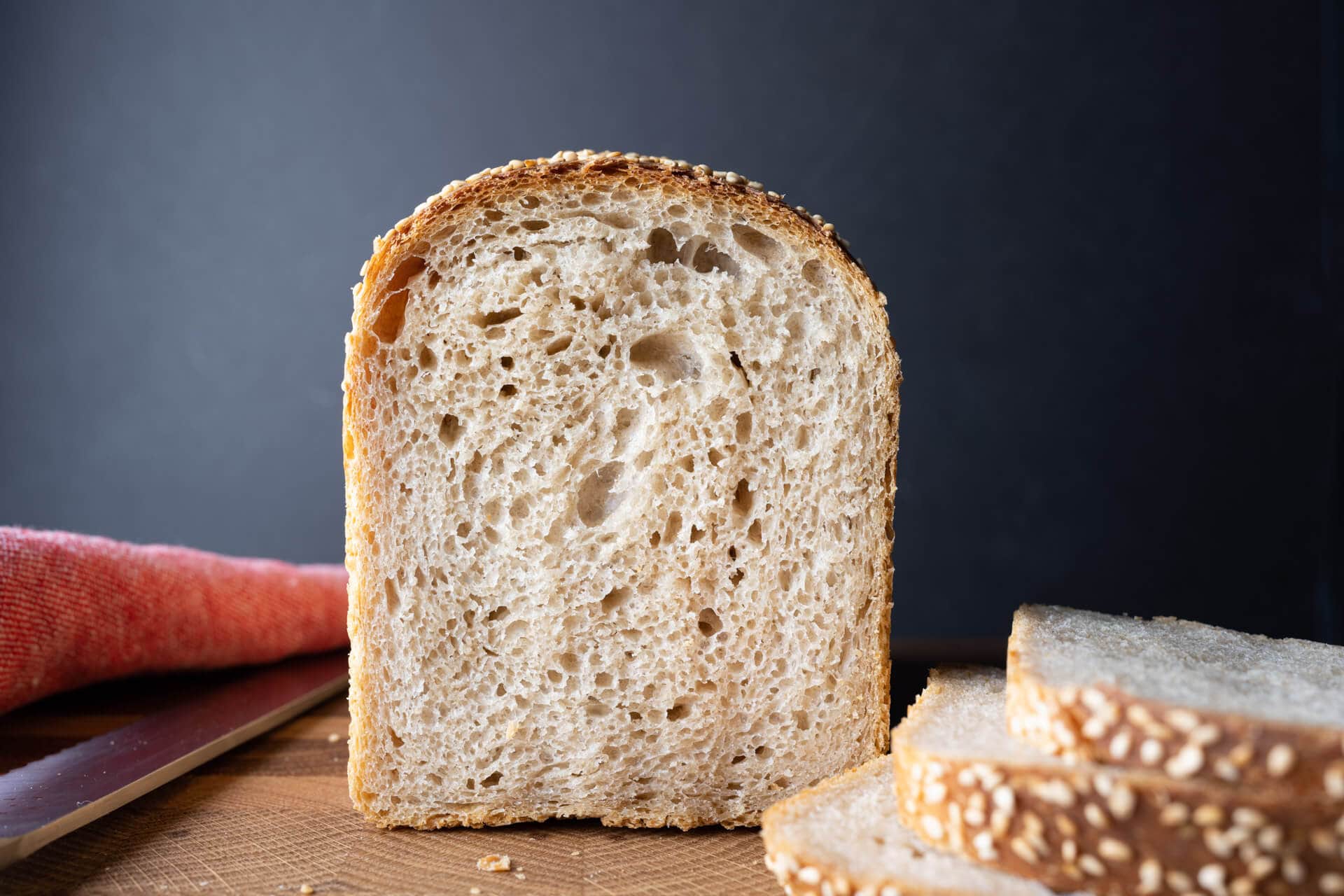 Sourdough Sandwich Bread With Pre-Cooked Flour Formula
For tips on how to calculate baker's percentages or how to modify this formula, see my post on baker's percentages (baker's math).
| | |
| --- | --- |
| Total Dough Weight | 1,800 grams |
| Pre-fermented Flour | 11.00% |
| Levain in final dough | 25.96% |
| Yield | 2 x 900g pan loaves |
I love using my 9x4x4″ USA Pan Pullman pan (without the lid) for sandwich bread. Not only does the nonstick liner mean the loaves always remove cleanly, its straight sides mean neat slices perfect for sandwiches or toast.
But if you're looking for how to make this recipe work in a different pan, see my post on shaping a sandwich loaf.
Total Formula
Desired dough temperature: 77°F (25°C). See my post on the importance of dough temperature for more information on dough temperatures.
The rows marked pre-cooked below are the two ingredients cooked (in a water roux, or tangzhong) ahead of time, but they are still counted toward the overall percentages for the formula. In other words, the 8% whole wheat flour is still counted toward the total flour in the formula and is not an "extra" addition.
| Weight | Ingredient | Baker's Percentage |
| --- | --- | --- |
| 74g | Pre-cooked: Whole wheat flour (Giusto's Whole Wheat Flour) | 8.00% |
| 296g | Pre-cooked: Whole milk | 32.00% |
| 693g | Medium-protein bread flour or All-purpose flour (~11% protein, Central Milling Artisan Baker's Craft or King Arthur Baking All-Purpose) | 75.00% |
| 157g | Whole wheat flour (Giusto's Whole Wheat) | 17.00% |
| 65g | Olive oil | 7.00% |
| 37g | Honey | 4.00% |
| 453g | Water | 53.00% |
| 17g | Salt | 1.80% |
| 10g | Sourdough starter | 1.10% |
Total Yield: 194.90%, 1,800g
Sourdough Sandwich Bread With Pre-Cooked Flour Method
1. Prepare Levain – Night before mixing, 9:00 p.m. (Day one)
Mix the following ingredients in a container and leave covered to ripen at about 78°F (25°C) for 12 hours overnight.
| Weight | Ingredient | Baker's Percentage |
| --- | --- | --- |
| 101g | Medium protein bread flour or all-purpose flour | 100.00% |
| 101g | Water | 100.00% |
| 10g | Ripe sourdough starter | 10.00% |
Total Yield: 210%, 212.0g.
2. Pre-cook Flour – 8:00 a.m. (Day two)
Be sure to do this ahead of time to give the pre-cooked flour time to cool before mixing.
Milk alternative: If you want to avoid using milk in this recipe, substitute out the dairy milk in the roux, below, for water (or something like oat milk).
| Weight | Ingredient |
| --- | --- |
| 74g | Whole wheat flour |
| 296g | Whole milk |
To a medium saucepan, add the flour and milk listed above. Turn the heat to medium-low and cook, whisking continuously, until the mixture thickens and becomes like a paste, about 5-8 minutes. In the beginning, whisk vigorously to break up any flour clumps, and be diligent about this near the end to avoid burning. The mixture won't seem to do anything until it reaches a critical heat point, be patient; it will thicken.
Once it transforms into a viscous paste (something like oatmeal porridge), remove the pan from the heat and spread the paste out on a small plate to expedite cooling. Set aside until called for when mixing.
3. Mix – 9:00 a.m.
I used my KitchenAid stand mixer to mix this dough, but it's possible to make this bread without a stand mixer by mixing everything together by hand in a mixing bowl. To do this, you'll need to mix for around 10-15 minutes, depending on your technique (slap and fold will work really well!).
| Weight | Ingredient |
| --- | --- |
| 370g | Pre-cooked flour (see Pre-cook Flour, above)2 |
| 591g | Medium protein bread flour |
| 157g | Whole wheat flour |
| 65g | Olive oil |
| 37g | Honey |
| 351g | Water |
| 17g | Salt |
| 213g | Levain (see Prepare Levain, above) |
Mixing water temperature note: I used cold water from the fridge to mix this dough, mostly because my pre-cooked flour was not fully cool by the time I needed to mix. Be sure to take the temperature of the pre-cooked flour and other ingredients into account to get close to the final dough temperature listed for this recipe.
To the bowl of a stand mixer fitted with the dough hook attachment, add the pre-cooked flour, flour, water, ripe levain, honey, olive oil, and salt. Mix on low speed for approximately 2 minutes until the ingredients come together, and no dry bits remain. Increase the mixer speed to medium (2 on a KitchenAid) and mix for 8-10 minutes until the dough starts to clump up around the dough hook. It won't completely remove from the bottom of the bowl, and it will still be shaggy. See the image of my dough right after transferring to its bulk fermentation container.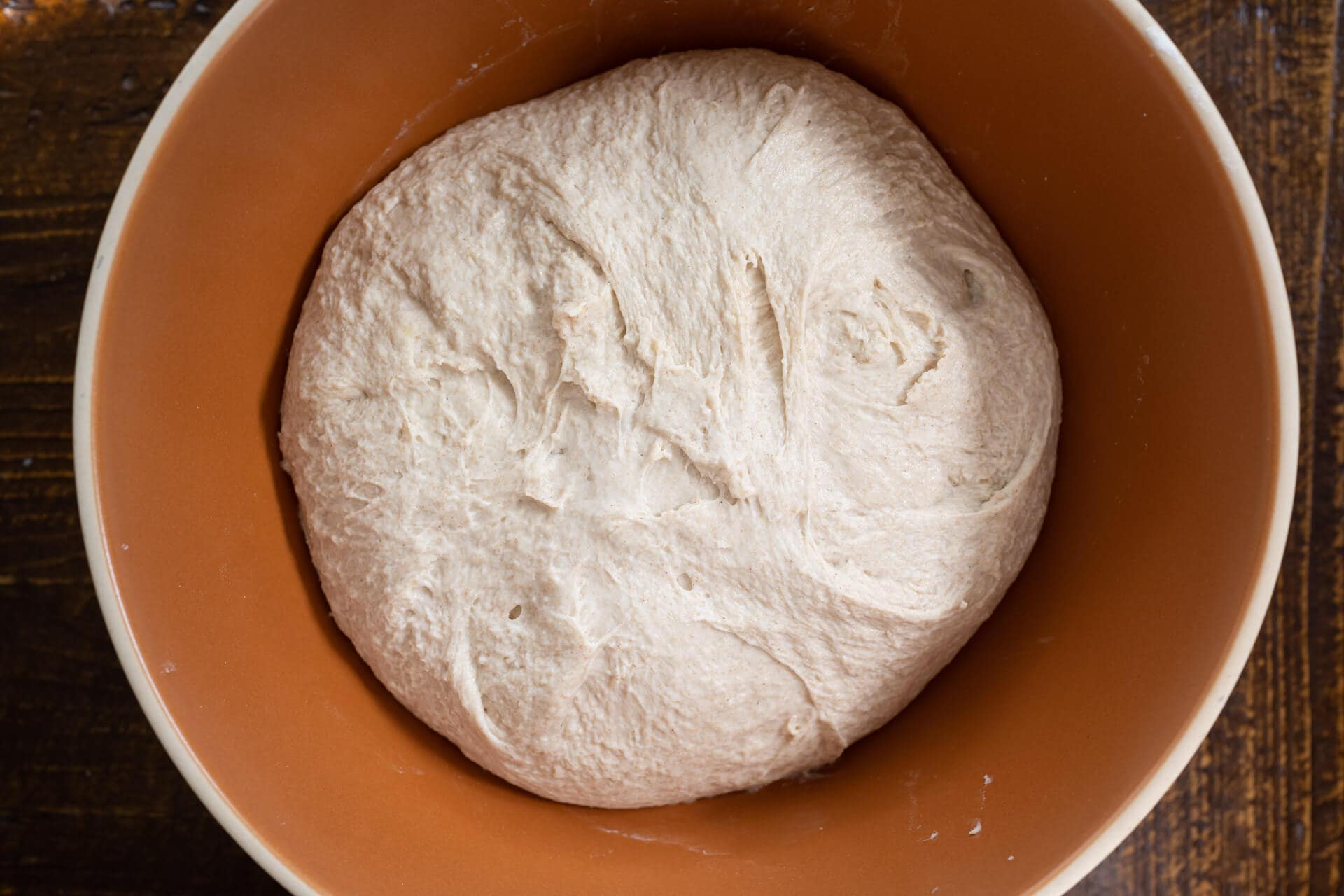 Transfer your dough to a bulk fermentation container and cover.
4. Bulk Fermentation – 9:15 a.m. to 12:45 p.m.
At room temperature, around 72-74°F (22-23°C), bulk should take about 3 1/2 hours. Give this dough three sets of stretch and folds during bulk fermentation (first rise) at 30-minute intervals, where the first set starts after 30 minutes from the start of bulk fermentation. For each set, wet your hands, grab one side and stretch it up and over the dough to the other side. Rotate the bowl 180° and perform another stretch and fold (this forms a long rectangle in the bowl). Then, rotate the bowl 90° and do another stretch and fold. Finally, turn the bowl 180° and do one last stretch and fold. You should have the dough neatly folded up in the bowl.
After the third set, let the dough rest for the remainder of bulk fermentation.
5. Divide and Pre-shape – 12:45 p.m.
Uncover your bulk fermentation container and gently scrape the dough out of the bowl onto a clean work surface. Using a bench knife, divide the dough directly in half and pre-shape each piece into a loose round. Let the rounds relax uncovered for 30 minutes.
6. Shape – 1:15 p.m.
First, lightly oil your Pullman pans with olive oil or another neutral oil. While this isn't strictly necessary when using a USA Pan Pullman pan, it's a little insurance just in case.
I shaped this dough in my typical method for shaping a pan loaf. Check out my guide to shaping pan loaves for detailed instruction.
Once the dough is shaped into a long tube, transfer each to their pan, seam-side-down. At this point, you can sprinkle on any toppings you'd like, I added white sesame seeds to one loaf, and instant oats to the other.
7. Proof – 1:30 p.m. 3:30 p.m. (2 hours room temperature)
Cover the pans with a large, reusable plastic bag and seal shut. Let the dough proof at room temperature, around 72-74°F (22-23°C), for 2 hours.
Overnight proof option: before the 2 hour counter proof, cover the pans with bags and place them in your home refrigerator to proof overnight. Bake them the next morning as indicated below. Expect a slightly more sour flavor.
8. Bake – 3:30 p.m. (pre-heat oven at 3:00 p.m.)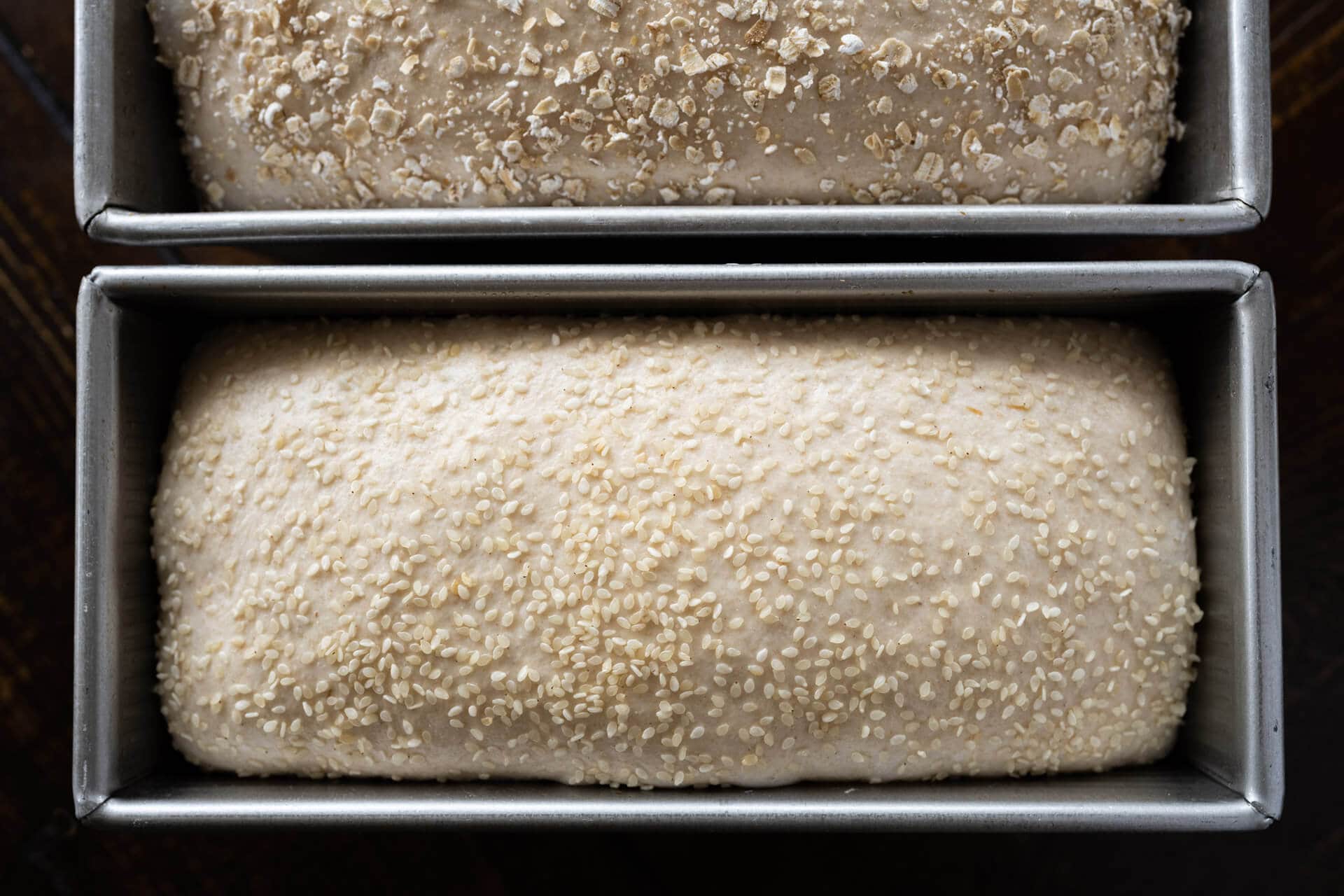 Check on your dough: it should have risen just below the top of the Pullman pan and be very light and airy to the touch (see above). If it's not quite there, give it another 15 minutes and check again.
I steamed the oven for this bake as described on my post on baking with steam in a home oven.
Preheat your oven, with rack at the bottom third run and a pan with lava rocks on the bottom, to 400°F (205°C).
Once your oven is preheated, remove your proofed loaves from their bags and slide them into the oven. Carefully pour a cup of ice into the pan with lava rocks at the bottom of the oven and quickly close the oven door.
Bake at 400°F (205°C) for 20 minutes with steam. After this time, vent the oven, remove the steaming pan(s), and close the oven door. Bake for an additional 30-35 minutes until the top is well-colored and the internal temp is around 205°F (96°C). Remove the pans and gently knock out the loaves onto a wire rack. Return the loaves to the oven to bake for an additional 5 minutes without their pans to add extra color to the bottom and sides.
Let the loaves cool for 2 hours before slicing to ensure the interior is fully set. These will store incredibly well as described in my post on how to store bread.
---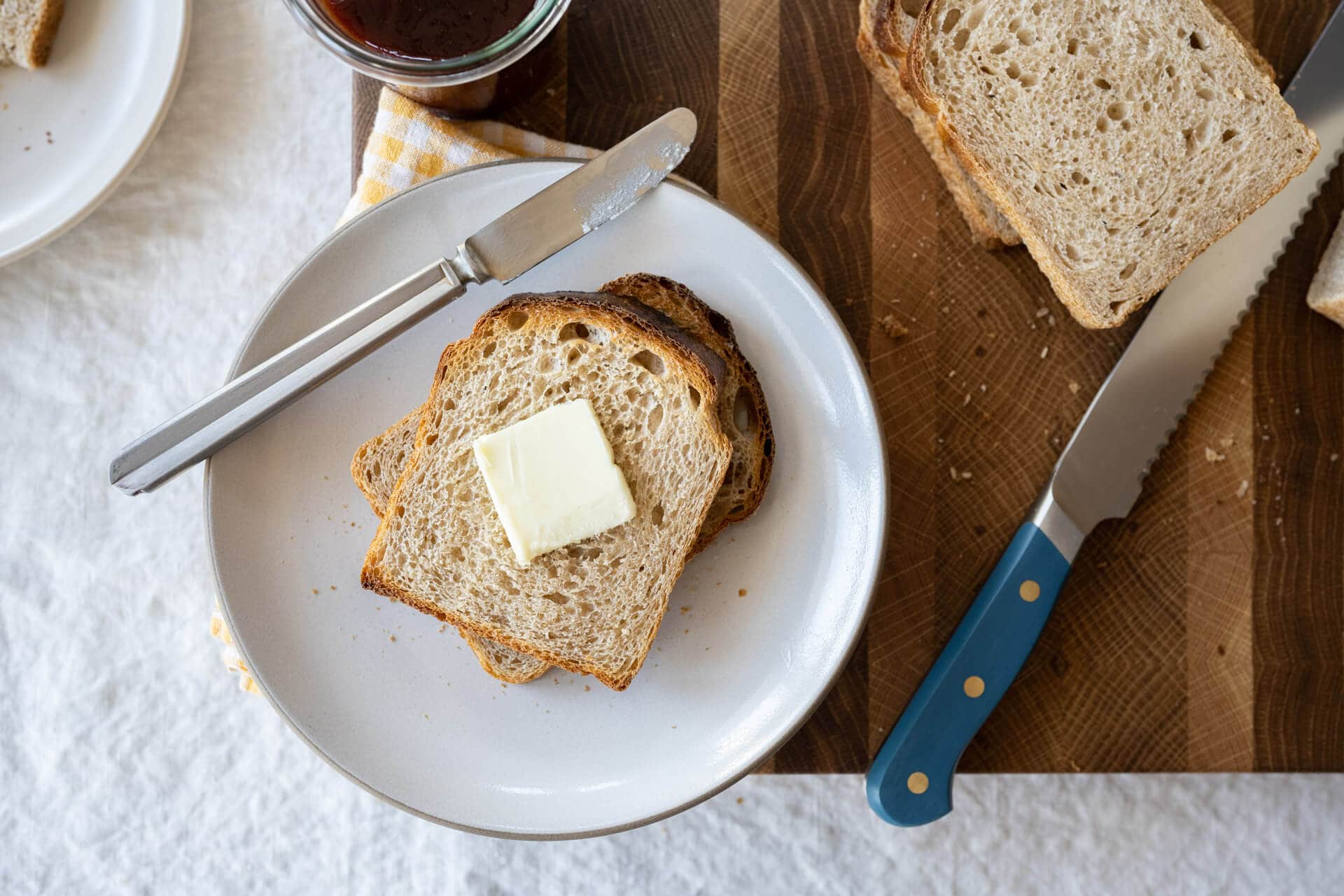 This bread has a delightful flavor that has little sourness. The overnight, mild levain with all white flour helped to this end as did the direct bake (no overnight cold-proof). The sourness that does slyly peek through comes at you at the very end of each bite, a gentle, but welcome, pop of flavor.
What I love about this bread—besides the tender interior, flavors created through natural fermentation, and flavorful wheaty abundance, of course—is the shatteringly thin crust that forms when a slice is toasted (see above). We have the Pullman pan to thank here, and while a mouth-melting slice of bread is delightful, the added crunch in each slice is downright satisfying. And I think this might be the secret success of this bread: it's soft, without excessive oil, eggs, or butter, for kiddos to love it, but still shores up enough strength to carry any ingredient you throw at it.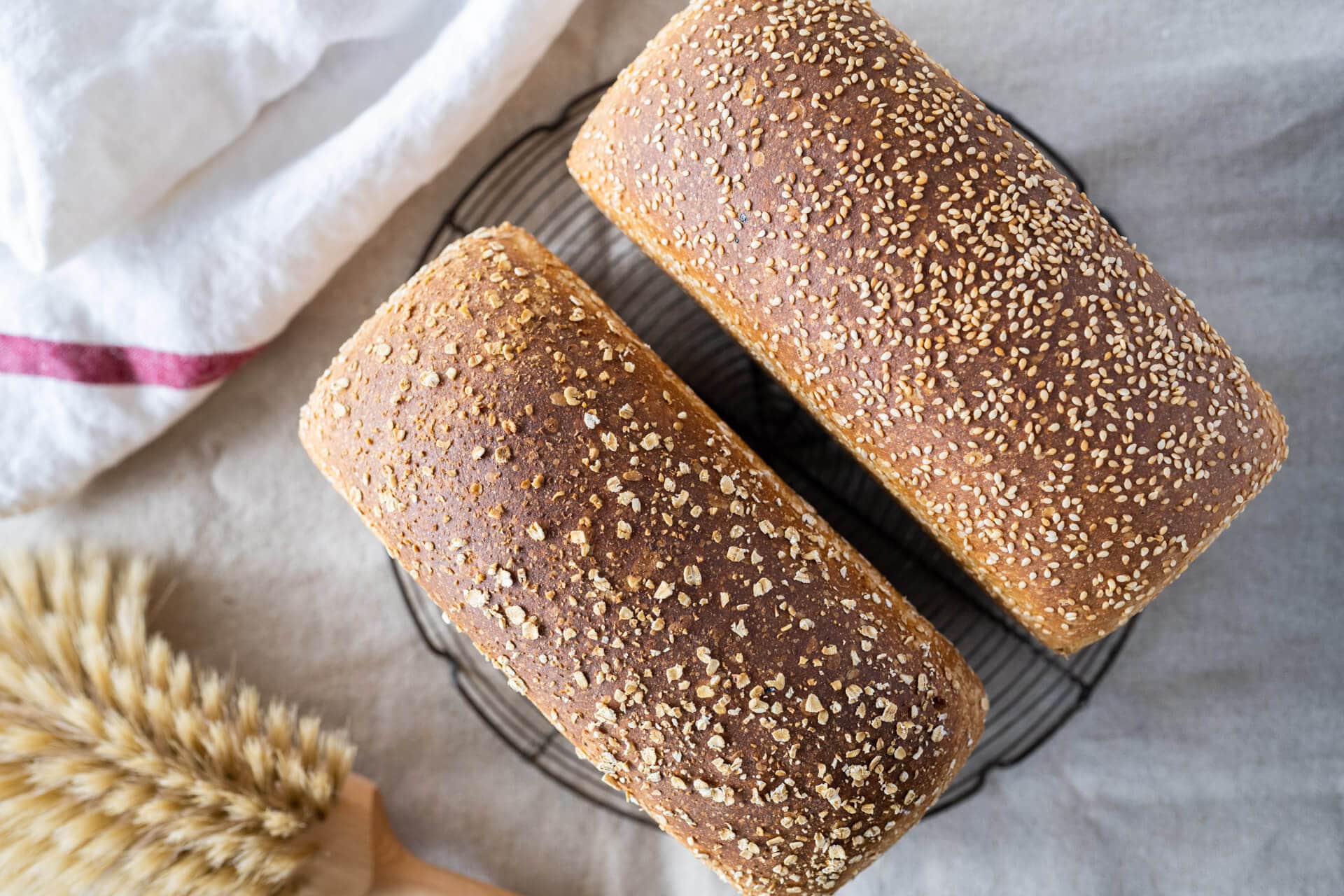 As I finish typing up these final words, I still can't get the idea of crunchy peanut butter out of my mind. Shall we confess it's time, yet again, for another amped-up PB&J? Buon appetito!
If you use this recipe, tag @maurizio on Instagram and use the hashtag #theperfectloaf so I can take a look!