It's the weekend, and your kids are climbing and crawling all over your early morning attempts to sleep in. What's one to do? Some might pull the covers higher. Others might shoo them away with an early morning grumble. I'm different; I'm already in the kitchen before they attempt to thwart any sleeping in; already measuring and mixing, cracking eggs, and using my sourdough starter to make sourdough pumpkin pancakes. The half-empty can of pumpkin puree from another take at my pumpkin cinnamon bread—already a fading memory of wonderful indulgence—is on the docket for the day's sourdough pancakes.
These golden sourdough pancakes are delightfully light and fluffy, despite the large addition of pumpkin puree. Whisking the egg whites helps with their airiness, but I like to think my sourdough starter—while hardly given the time to ferment the newly added flour—plays a role. The flavor of the pumpkin is pronounced but not overbearing. And I think the flavor combination of cinnamon and nutmeg takes these pancakes sufficiently into pumpkin pie spice territory—just enough to get you there but not so much as to go overboard.
If you have freshly roasted pumpkin (from a pie you've made recently, perhaps), it will work very well in these sourdough pumpkin pancakes. You can also take my approach and go with my easy choice for anything pumpkin, canned pumpkin puree (I used Libby's pumpkin puree).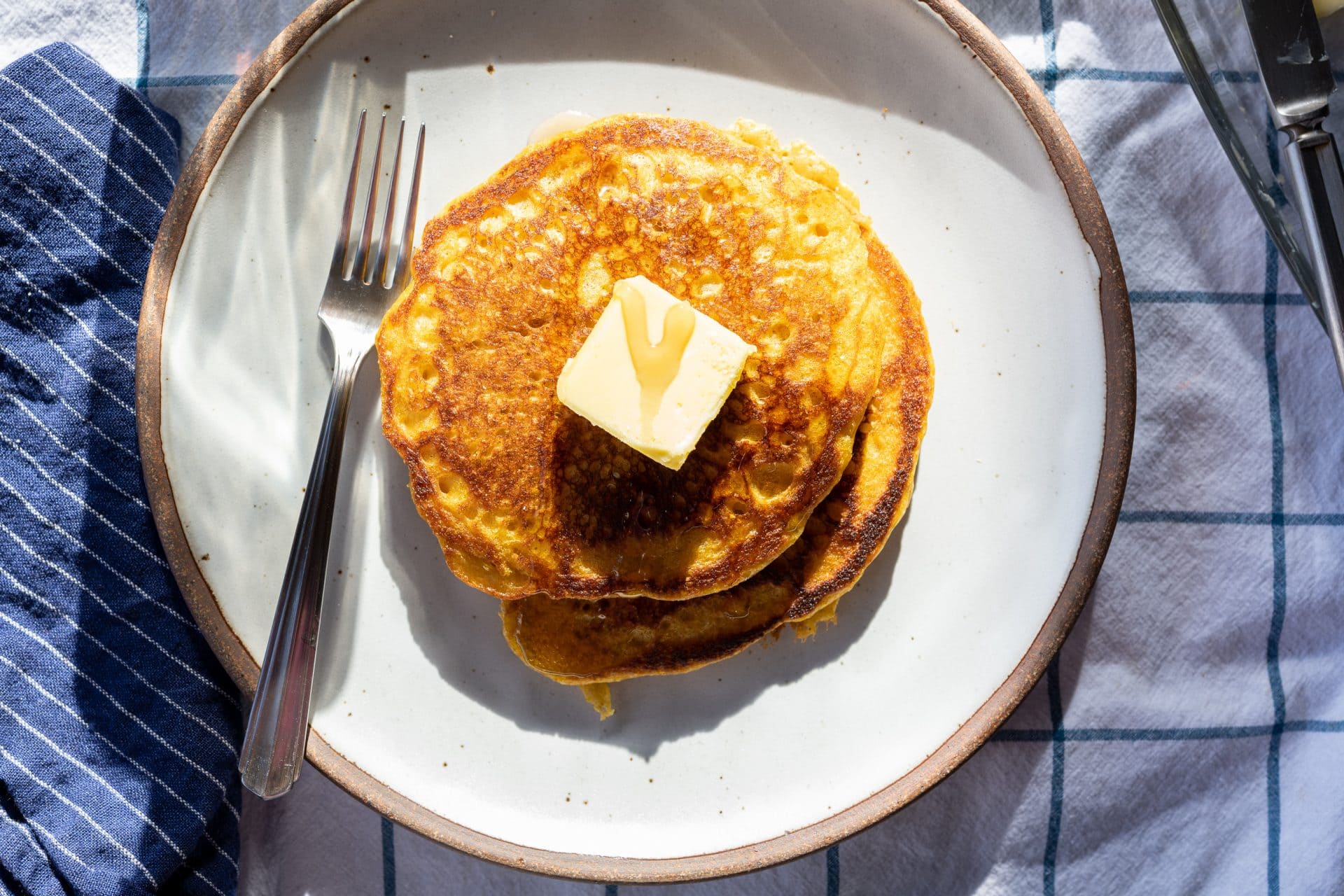 If you follow me on Instagram, you know I'm a consistent weekend indulger of sourdough waffles and sourdough pancakes. And I'll cautiously admit, over time, I've seemed to become a waffle person (which is why you see so, so many waffle posts and just a few pancake appearances). But these pancakes are such a treat they might have the power to sway any stalwart from one camp to the next—myself included.
Spices
For spices, I kept it rather modest with a good helping of ground cinnamon and a light sprinkle of nutmeg. If you want to go the full pumpkin spice pancakes route, add 1/8 teaspoon of ground ginger and 1/8 teaspoon ground cloves. Alternatively, you could omit the spices altogether and add 1 teaspoon of premade pumpkin pie spice mix.
I added cinnamon, nutmeg, ginger, and ground cloves in testing. While very good, I found the cinnamon and nutmeg listed in the recipe enough to give me sufficient "pumpkin spice" flavor for these sourdough pumpkin pancakes.
Overnight Fermentation Option
I like to make these sourdough pancakes the morning of breakfast, but you could also let the batter ferment overnight. Like my other sourdough starter discard pancakes and waffles, mix the buttermilk, melted and cooled butter, ripe sourdough starter, sugar, and flour to a mixing bowl and combine. Cover the bowl and let it ferment—at room temperature—overnight. In the morning, add the remaining ingredients and proceed with the recipe as instructed.
Sourdough Pumpkin Pancakes Batter Consistency
A question I often get with my other waffle and sourdough pancake posts here: what should the consistency of my batter be like? For this sourdough pumpkin pancake recipe, the batter is loose enough to pour off a spoon, but rather slowly.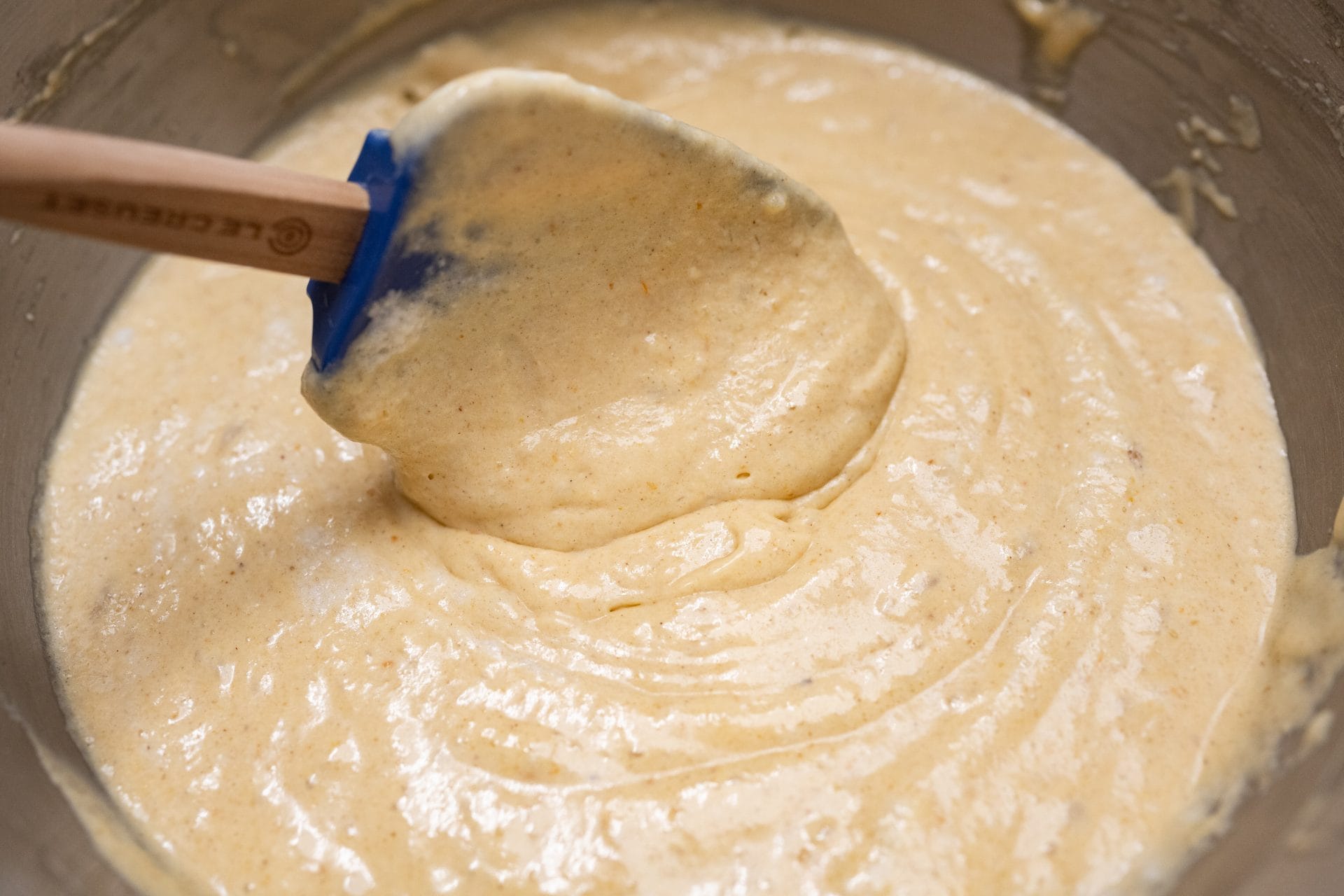 I've found if the batter is too loose—like European-style yogurt, perhaps—you get a little less rise when making these sourdough pancakes. Conversely, if the batter is too thick and firm, add buttermilk, one tablespoon at a time, to loosen the batter.
---
Print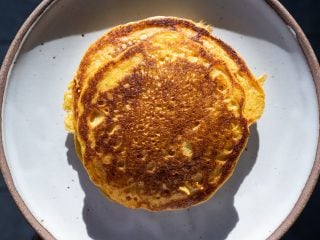 Sourdough Pumpkin Pancakes
Prep Time:

25 minutes

Cook Time:

15 minutes

Total Time:

40 minutes

Yield:

12 large pancakes

Category:

Breakfast

Cuisine:

American
---
Description
These sourdough pumpkin pancakes are delightfully fluffy and have just enough pumpkin flavor and cinnamon spice. They're fantastic simply with butter and maple syrup but taken to the next level with a dollop of crème fraîche and fresh fruit.
---
2

large eggs

300g

(

1 1/4 cup

) buttermilk

75g

pumpkin puree (I used Libby's canned pumpkin puree)

150g

(scant

1 cup

, stirred down) ripe sourdough starter

180g

(

1 1/2 cups

) all-purpose flour

3/4 tsp

cinnamon

1/8 tsp

ground nutmeg (optional)

25g

(

2 tablespoons

) granulated sugar

1 teaspoon

sea salt

1 teaspoon

baking soda

1 teaspoon

baking powder

63g

(

1/4 cup

or 1/2 stick) melted butter
---
Instructions
Separate the eggs: whites in a medium-sized bowl and yolks in a large mixing bowl.
Whisk the yolks in the large mixing bowl and add the buttermilk, pumpkin puree, and sourdough starter. Stir or whisk to incorporate.
To a medium mixing bowl, add the flour, cinnamon, nutmeg (optional), sugar, salt, baking soda, and baking powder. Whisk to incorporate.
Add the wet ingredients to the dry ingredient bowl. Stir in the melted butter, and stir until everything is just combined and no dry bits of flour remain.
Whisk the egg whites to stiff peaks and fold them into the batter.
Lightly grease a hot griddle. Drop about 1/4 cup of the batter onto the greased griddle and cook until light brown and bubbles start to appear on top, then flip to cook the other side.
---
Notes
For more pumpkin flavor, add up to 100g of the pumpkin puree. Note that the more puree you add, the looser your batter will be, and you might need to add flour to compensate.
You might need to adjust the amount of buttermilk in the recipe to adjust for your sourdough starter's hydration and to adjust for your flour. When fully mixed, the batter should be rather loose and will slowly pour off a spoon.
If the batter is very thick, add buttermilk, a few tablespoons at a time, until the batter loosens up.
These freeze incredibly well. Any leftovers can be cooled, stacked in a freezer bag, and frozen. Reheat in a toaster.
Keywords: Pumpkin, sourdough, starter, breakfast
---
What's Next?
I hope you like these sourdough pancakes as much as I do! This past weekend I did my usual: get up before anyone to get my sourdough starter ready for bread baking, but I skimmed some of my starter and made these pumpkin pancakes. If you have enough pumpkin puree, make a double batch and freeze half for quick and easy pancakes during the week.
Or, use some of the leftover pumpkin puree to make my sourdough pumpkin dinner rolls.
If you're more of a sourdough waffle person than a sourdough pancake person, and I won't fault you for that one bit, this sourdough pumpkin pancake batter would work very well in your favorite waffle iron. Or, check out my top 3 sourdough starter discard recipes for my favorite sourdough waffle recipe.
For more ideas on what to do with your sourdough starter discard, see my sourdough starter discard recipe page.
Buon appetito!
If you use this recipe, tag @maurizio on Instagram so I can take a look!