This is one of the recipes from my cookbook Baking Bread with Kids that we cook the most in my house. We love taco Tuesdays (I know we're not the only ones!), and making sourdough tortillas is a great after-school project. I often recommend these tortillas when people ask me what recipe to start with in the book if they've never opened a bag of flour before. They don't call for many ingredients, the dough is easy to handle, and honestly, they're pretty hard to mess up. Even a wonky-shaped and uneven homemade tortilla fresh off the griddle is better than any tortilla from a plastic bag.
The original recipe in Baking Bread with Kids doesn't call for a sourdough starter, but I often add some because I always have it around and it adds a tangy layer of flavor that's delicious. I encourage you to try a batch with starter, though the recipe works equally well without it. You can even easily try batches with and without to see which version you like best.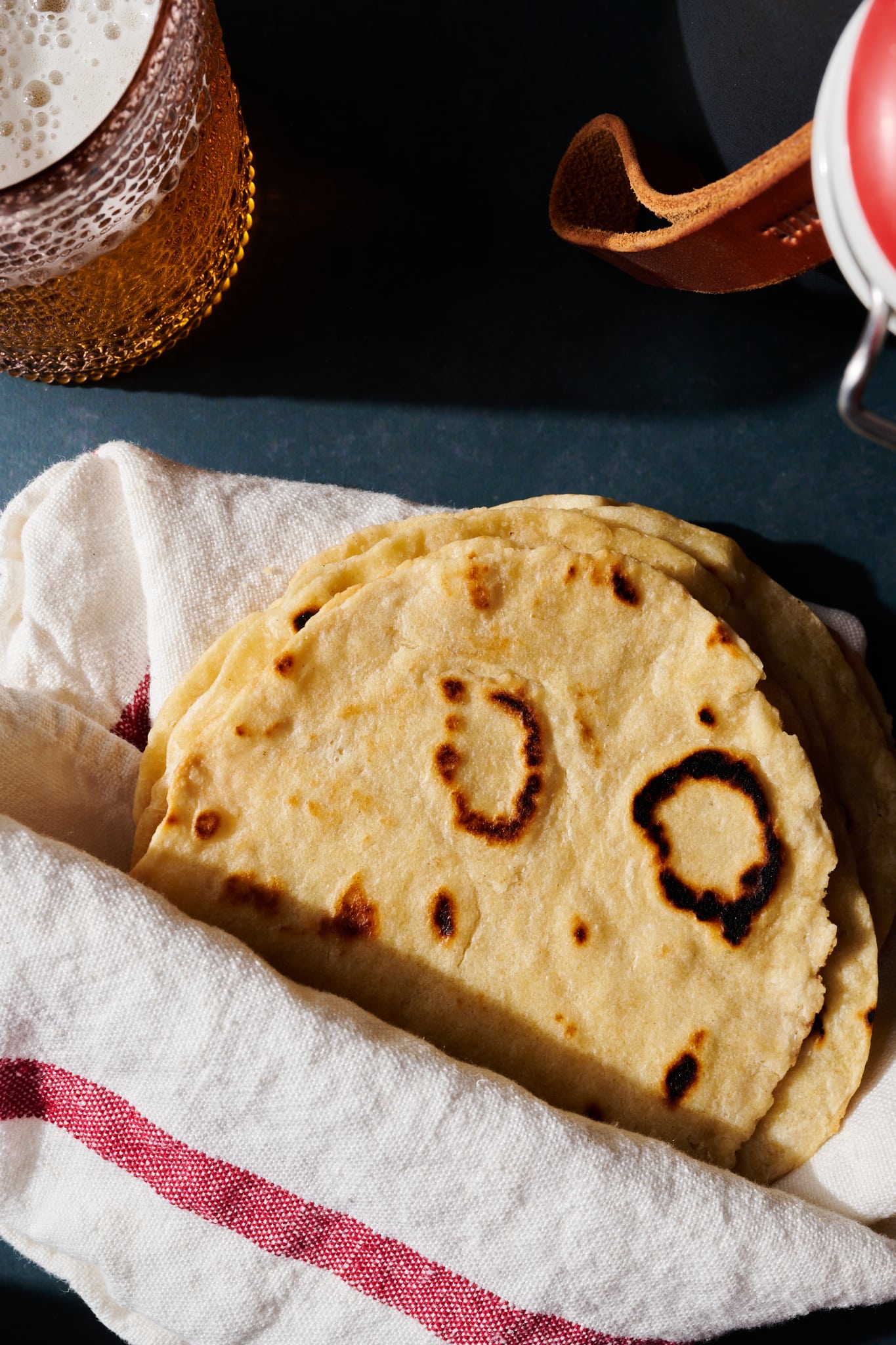 I recently added the step of freezing the rolled, stacked sourdough tortillas before cooking them on the griddle (see Step 5). This brief chill time helps them peel off the paper more easily–plus you can griddle as many as you want and save the rest in the freezer for later. They keep well for up to a month in the freezer (no need to thaw, just drop them straight onto the griddle from the freezer), but after you've griddled them, they're best eaten immediately.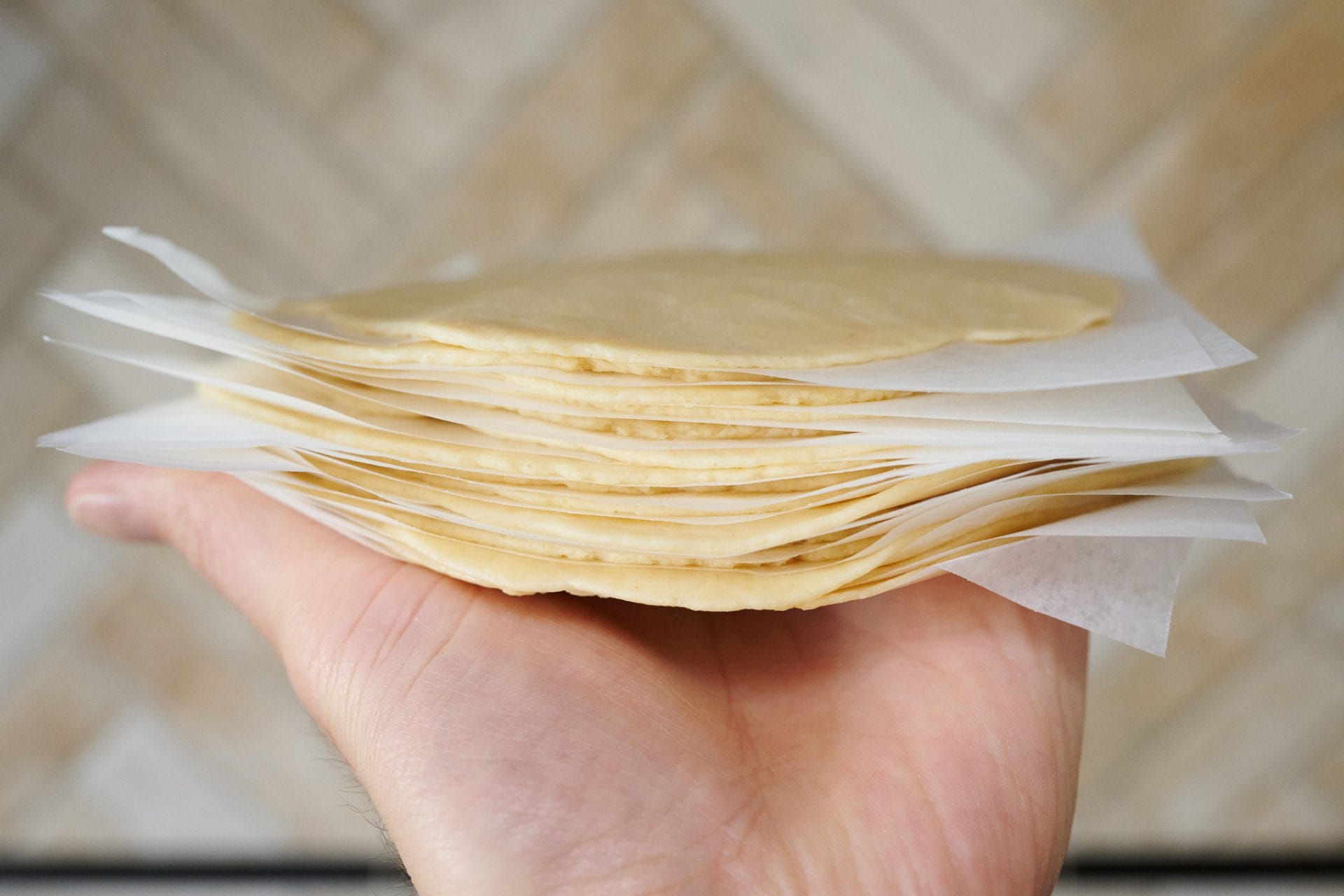 Flour For Sourdough Tortillas
While I also love tortillas made with corn, I am a huge fan of soft, tender flour tortillas. For a while, my kids didn't realize that there's a difference between the words 'flour' and 'flower.' They started calling these "bumblebee tortillas" because they associated bumblebees with flowers and thought we were making 'flower' tortillas. The name may just stick for forever in our family.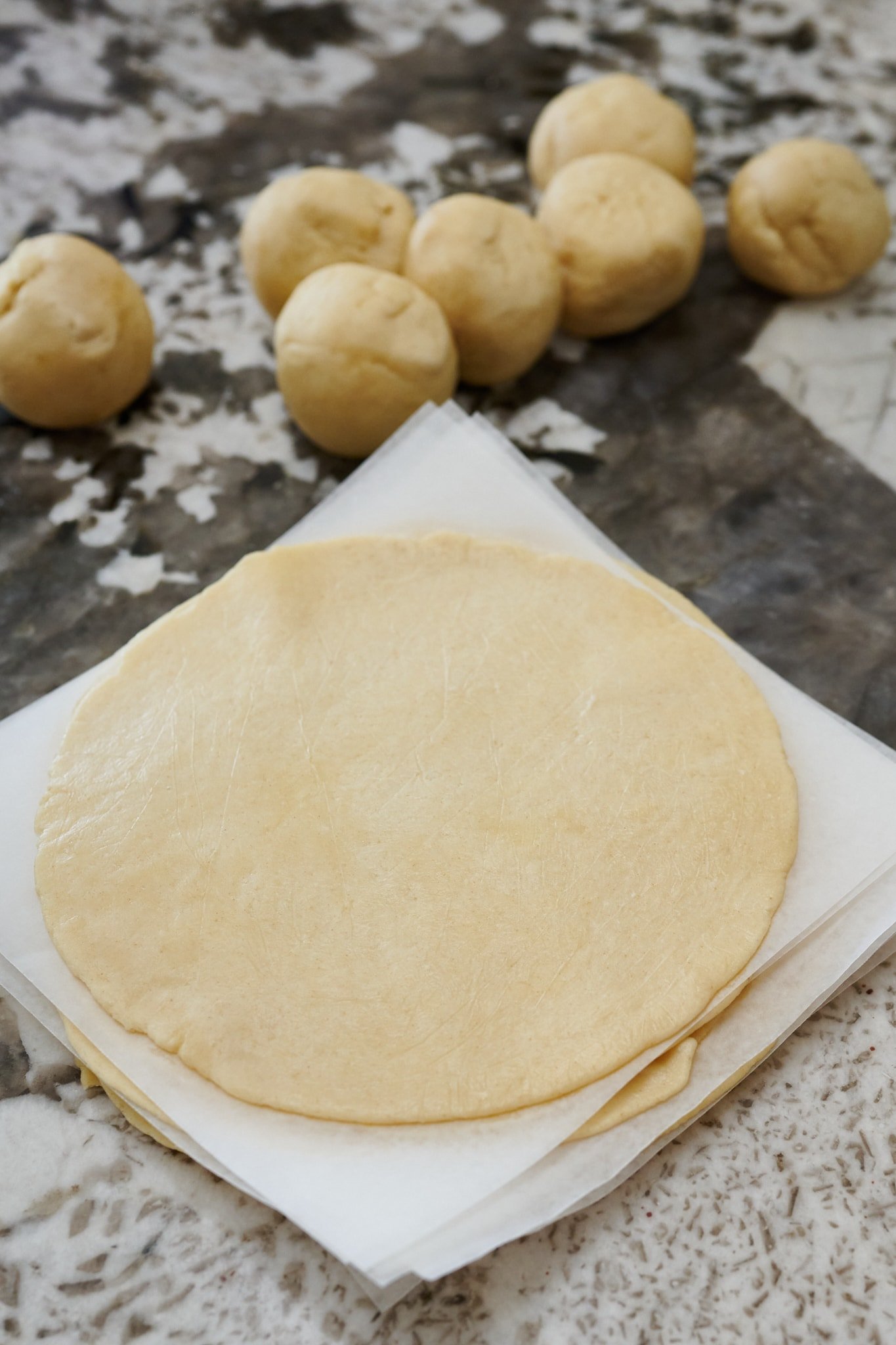 The flour you use makes a huge difference here. In Northern Mexico, tortillas are often made with the local Sonora wheat, which is a very low-protein, soft white wheat. I often use pastry flour since it gives you a similarly soft and tender tortilla. If you're able to find Sonora wheat flour (Hayden Flour Mills is a great source), it will make the ideal tortilla. If you can't find either, all-purpose flour will work just fine (they will not be quite as tender but will be just as delicious).
Sourdough Tortilla Recipe
Print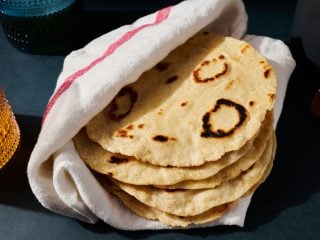 Sourdough Tortillas
Author:

Jennifer Latham

Prep Time:

3 hours 30 minutes

Cook Time:

20 minutes

Total Time:

3 hours 50 minutes

Yield:

18 tortillas

Category:

Lunch, Dinner

Cuisine:

Mexican
---
Description
Easy and delicious sourdough tortillas made with few ingredients, an easy to handle dough, and honestly, they're pretty hard to mess up. 
---
350 g

pastry flour, Sonora wheat flour, or other soft white wheat flour (or all-purpose flour)

½ cup

cold lard or coconut oil 

175 g

(3/4) cup ice-cold water 

9 g

(1 1/2 teaspoons) fine sea salt

50 g

(1/4 cup) ripe sourdough starter or discard (optional)
---
Instructions
Put the flour into a medium bowl. Add the lard and, using your fingers, blend the lard into the flour until the mixture is crumbly and the pieces of lard are pea-sized.

In a small bowl, combine the water and salt, stirring until the salt is dissolved. Stir in the starter, if using. Pour the water mixture into the flour mixture. Using a spoon or your hand, stir until well combined. Knead the dough by hand a few times, just until the dough holds together and forms a cohesive ball.



Wrap the dough in a clean kitchen towel or beeswax paper, or put it in a sealable container. Refrigerate for at least 2 hours and up to 2 days.

Remove the dough from the fridge and unwrap it. Divide the dough into 18 equal pieces, each about the size of a small apricot. Roll the pieces between your palms or against the table until they are evenly round.


On a very lightly floured work surface, use your hands to flatten each ball into a disc. Then, using a rolling pin, roll each disc until it is about 6 inches in diameter. (If you have a tortilla press, you can use it to flatten the balls, but you'll probably want to finish them with a rolling pin anyway—these are best when they are pretty thin.) Transfer each tortilla to a sheet of parchment or waxed paper, stacking the tortillas between sheets of paper so that they are flat and not touching. Freeze the tortillas for about 1 hour.



Preheat a cast-iron skillet, griddle, or comal over medium-high heat (if you're using a cast-iron skillet, you may want to smear a little vegetable oil very lightly on it before preheating). The baking surface needs to be plenty hot, so give it a few minutes to preheat.

Griddle the tortillas one at a time until both sides have golden-brown blisters, about 60 seconds per side. The tortillas may puff up a little as they cook, but they will flatten as they cool. Keep the finished tortillas in a covered dish or wrap them in a clean kitchen towel to keep them warm while you work.



The tortillas are best served right away. If you have some left over, you can store them in an airtight container for a few days and quickly reheat them in a hot skillet before serving, or freeze for up to 1 month.
---
Notes
After all the dough balls are rolled out into discs and stacked on parchment paper, the dough can be frozen and kept for a month. Take them out and cook directly on the griddle as desired.
Keywords: Tortilla, sourdough, taco, burrito
What's Next?
After making these sourdough tortillas, if you're looking for more ways to use up your discard, check out the roundup of all our sourdough starter discard recipes.