I think we might starve in my house without weeknight pizzas. As much as I love a good outdoor pizza oven party with a toppings bar and a prolonged session of baking and chit-chatting, sometimes you just need something easy and hearty to throw in the oven. Enter this cornmeal skillet sourdough pizza.
This pizza takes some inspiration from one of my favorite country loaf variations, the polenta porridge country loaf. I love a cornmeal pizza, but adding dry cornmeal to the dough can sometimes give you a dry dough. I decided to approach this one with the general philosophy of country sourdough, but since you're not making a finicky free-form hearth loaf, you can add everything at once and mix well.
I use Cairnsprings Trailblazer bread flour for this (which tends to be a thirsty flour). Because this flour is essentially a Type 85 flour, which makes it more whole grain, I usually add another tablespoon or two of water. If you're using King Arthur Bread Flour, which is a high-protein white bread flour, or another similar, this will probably be the right amount of water. This dough is designed to be on the wet side, which gives you a really fluffy, crusty pizza. It also makes it easy to spread out in the pan.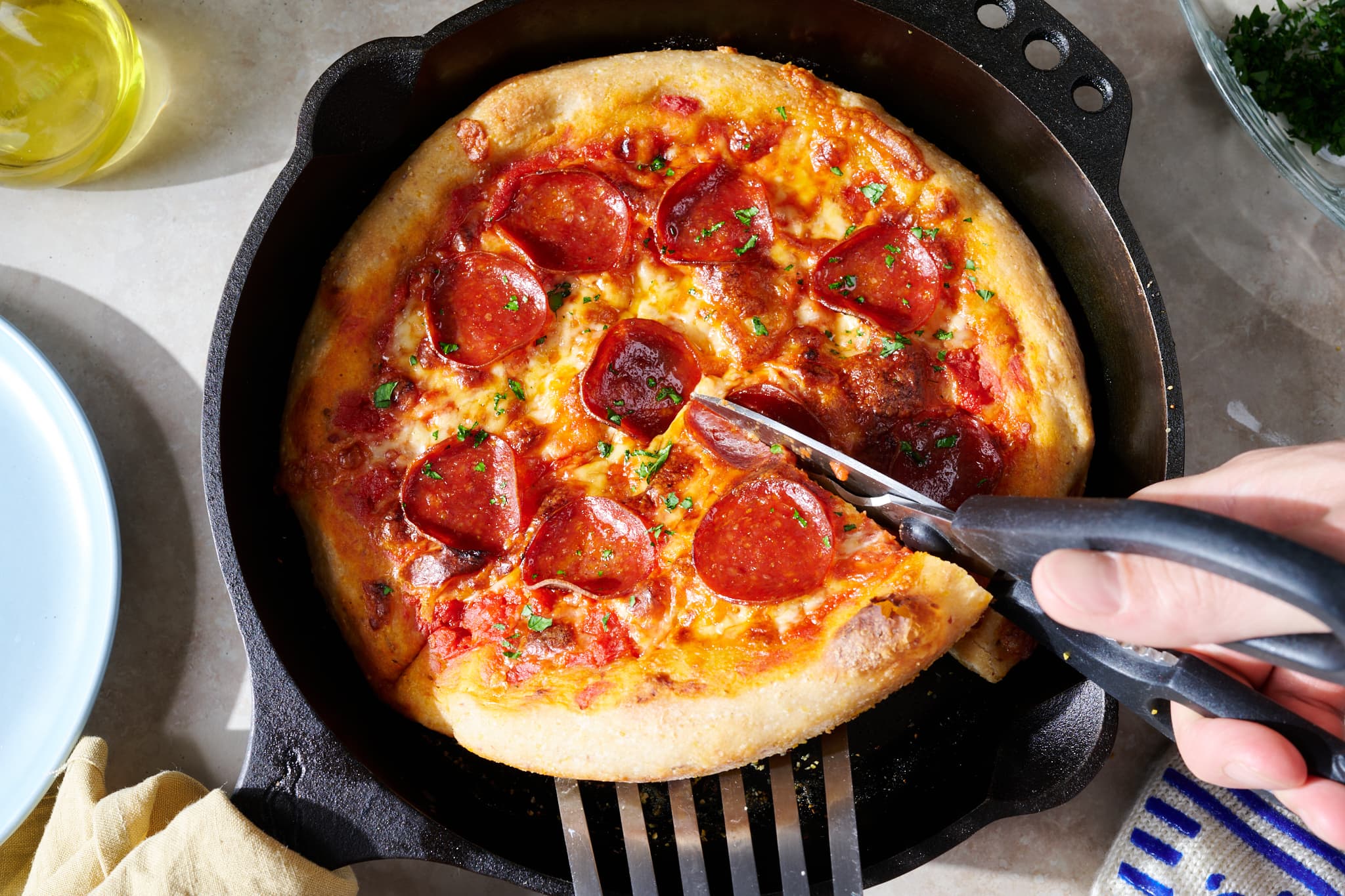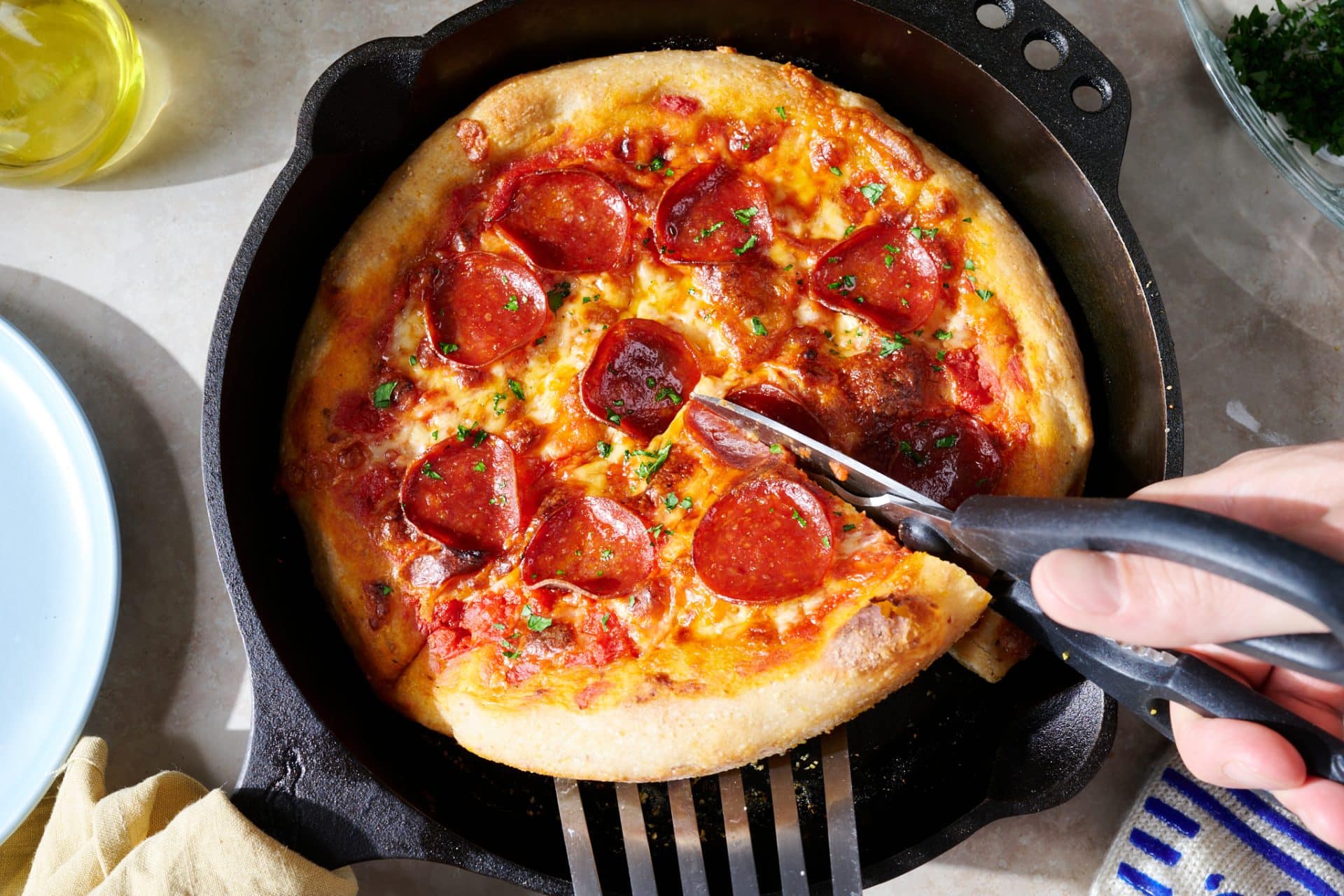 You can use cornmeal or polenta for the porridge addition, but be sure to use cornmeal when you dust the pan. They are both made from ground corn, but polenta is coarser and will be too toothy on the outside of the pizza.
Cornmeal Skillet Sourdough Pizza Recipe
For tips on calculating baker's percentages or modifying this formula, see the guide to baker's percentages (baker's math).
Vitals
| | |
| --- | --- |
| Total dough weight | 800 grams |
| Prefermented flour | 12.5%2 |
| Sourdough starter in final dough | 25.0% |
| Hydration in final dough | 50.0% (Does not include the water in the cornmeal porridge.) |
| Yield | Two 400g pizzas |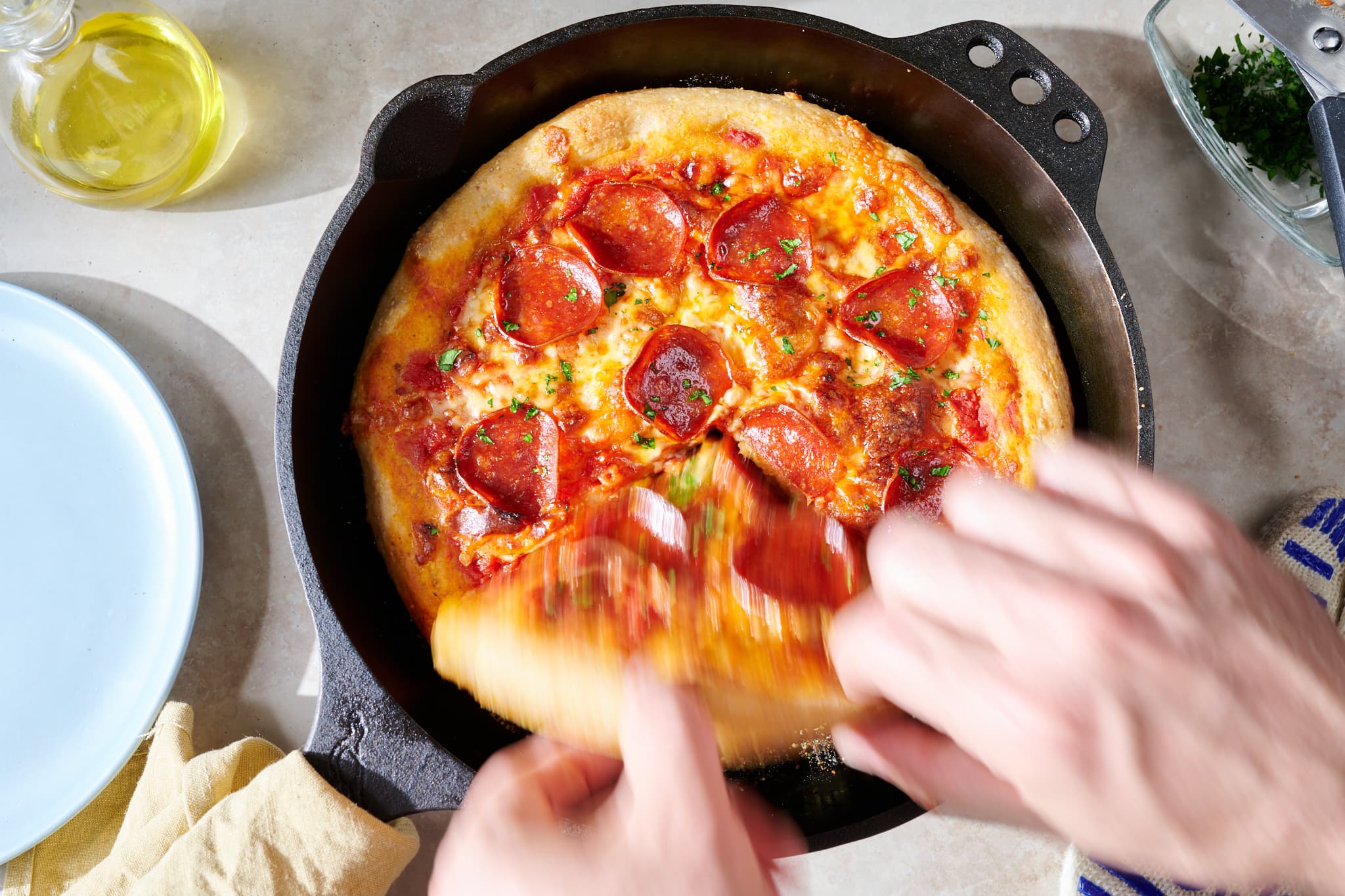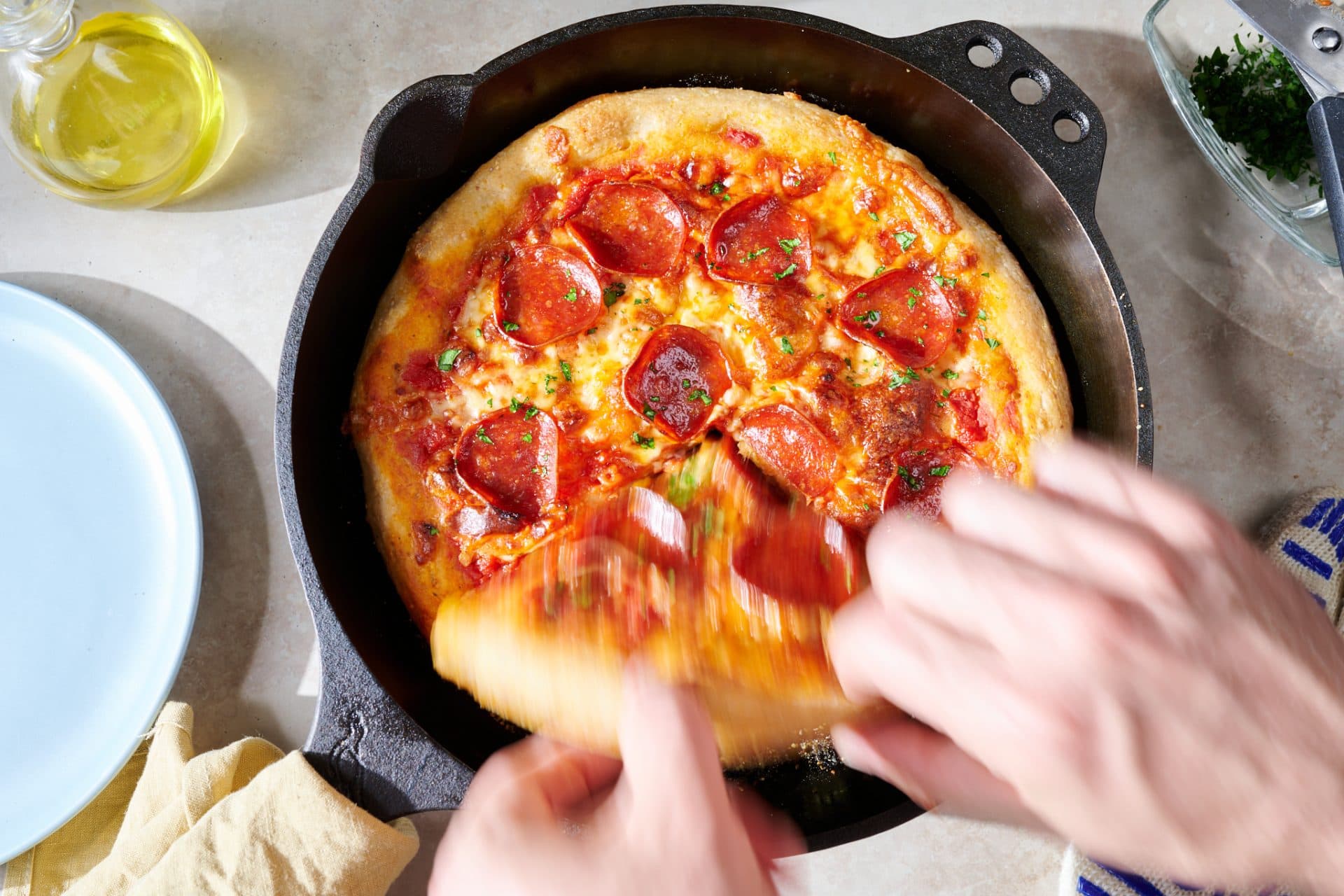 Total Formula (Everything You Need to Make the Recipe)
Desired dough temperature: 82°F (28°C) (see my post on the importance of dough temperature).
Note that in the final recipe, the cornmeal porridge is scaled up slightly to cover loss during cooking, just to ensure there is enough porridge to cover the dough requirements. The table below shows the final dough percentages and ingredients, but you'll need slightly more cornmeal (or polenta) and water to make the porridge.
| Weight | Ingredient | Baker's Percentage |
| --- | --- | --- |
| 337g | Type 85 Bread Flour (Cairnsprings Trailblazer Bread Flour) or High-Protein White Bread Flour (King Arthur Baking Bread Flour) | 100.0% |
| 41g | Cornmeal or Polenta | 12.3% |
| 329g | Water (Soaker and Mix) | 97.5% |
| 8g | Fine sea salt | 2.5% |
| 84g | Ripe sourdough starter, 100% hydration | 25.0% |
Additional ingredients
Cornmeal for sprinkling in pan
Olive oil for greasing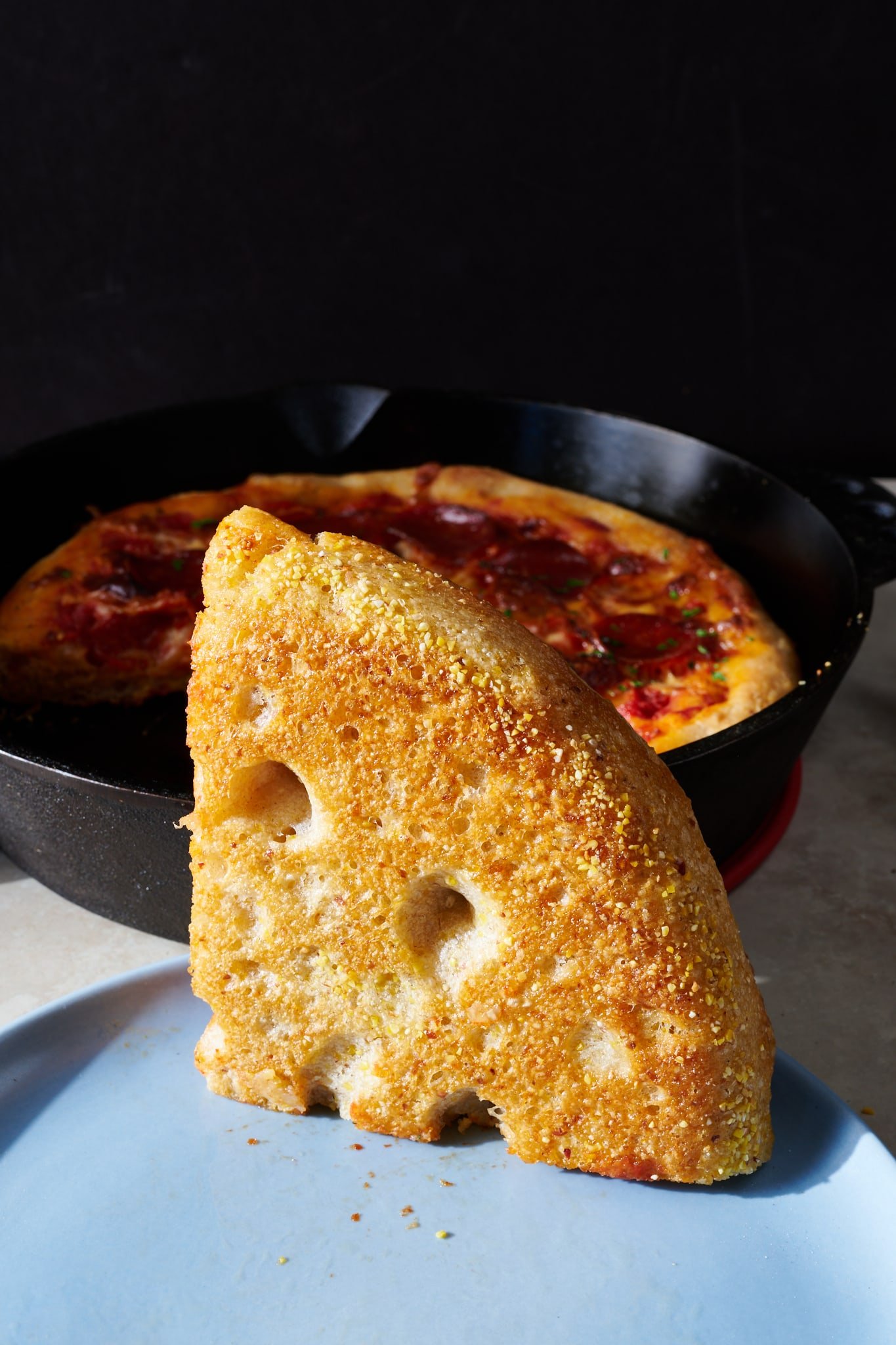 Print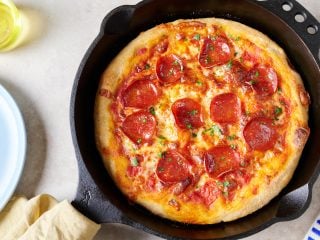 Cornmeal Skillet Sourdough Pizza
Author:

Jennifer Latham

Prep Time:

5 hours

Cook Time:

30 minutes

Total Time:

5 hours 30 minutes

Yield:

2 pizzas

Category:

Lunch, Dinner

Cuisine:

Italian, American
---
Description
This cornmeal skillet sourdough pizza recipe makes for an easy, hearty meal. The choose-your-own-adventure of topping your pizza is always fun, and the convenience of cooking it in a skillet eliminates the headache of shaping the rounds and trying to shimmy them off of a peel. The dough borrows some of the principles from sourdough country bread, such as a high-hydration and adding a porridge. This means the substantial crust is packed with flavor and has a pleasing, tender texture.
---
Cornmeal Porridge
41g

Cornmeal or Polenta

202g

Water
Main Dough
337g

Type 85 Bread Flour or High-Protein White Bread Flour

127g

Water

8g

Fine Sea Salt

84g

Ripe Sourdough Starter (100% Hydration)

All of the Porridge
---
Instructions
In a medium saucepan over medium-low heat, combine the cornmeal and 202g soaker water. Cook for 10-12 minutes, stirring often, until the cornmeal has thickened and is tender. Remove from the heat and let cool.


In a medium mixing bowl (or in the bowl of a stand mixer fitted with the dough hook attachment), combine the remaining 127g water, sourdough starter, cooled porridge, salt, and flour. Mix until everything is combined. Cover with a clean dish towel and let rest in a warm, draft-free spot for 20 minutes.

Knead the dough in the bowl. To do so, lift up one side, fold it over the middle and press down. Rotate the bowl a quarter-turn and repeat. Continue lifting and folding for about 5 minutes. The dough should be pretty wet and sticky but cohesive. If the dough seems very stiff, you can add another tablespoon or two of water. 

Let the dough rest for three hours in a warm spot—the dough temperature should remain about 82°F (28°C). Turn the dough in the bowl twice at regular intervals during bulk fermentation by lifting and folding (as you did for kneading) a few times.  

After three hours, the dough should have increased noticeably and have bubbles on top and throughout. 

Scoop the dough from the bowl onto a clean work surface. Divide in half and round gently into balls. Let rest on the worksurface for 5 minutes.

Prepare two 10-inch cast iron skillets (or the shallow end of a Dutch oven/combo cooker) by coating them very well with a few tablespoons of olive oil. Sprinkle a tablespoon of cornmeal over the bottom of each pan. (Alternatively, save one dough ball for later, see Notes.)


Coat the dough balls with olive oil, either using your hands or a pastry brush. Set one ball in the middle of each skillet. Gently spread the dough flat in each pan, pressing and stretching with your fingertips. Don't worry if it doesn't quite stretch all the way; you can stretch it more just before cooking.



Let the dough proof for about an hour (you don't need to cover them, as the olive oil coating will keep them from drying out). During this time, preheat an empty oven with a rack in the middle to 500°F (260°C).

After an hour, if the dough hasn't spread all the way to the edges, you can gently press it out a little more.


Top as desired, using a generous amount of toppings. (I usually start with a big spoonful of Bianco crushed tomatoes straight out of the can.)



Cook the pizzas for about 20 minutes until the edges are golden brown. Check the pizzas after 10 minutes. If the toppings seem to be getting dark too quickly, turn the oven down to 450°F (230°C) and finish cooking.

Remove the pans from the oven and let cool briefly. Carefully use a spatula to loosen the edges and remove the pizzas from the pans. If they stick, just take your time and use the spatula to loosen any stuck bits.

Serve immediately.
---
Notes
One dough ball can be saved for the next day or up to two days later. After dividing the dough and balling each piece, place one in a small, oiled container with an airtight lid. Place the container into the refrigerator. To use, remove the dough from the refrigerator an hour before you want to use it, following Step 8 onward, above, with the dough.
Keywords: Pepperoni, cheese, tomato, sourdough, pizza
Cornmeal Skilled Sourdough Pizza FAQs
Can I keep one pizza dough in the refrigerator to use later?
You can keep one of the sourdough pizza dough balls in the refrigerator overnight or for up to two days.
What's Next?
For more tips and tricks to making the perfect pizza at home, be sure to read through the Ultimate Guide to Sourdough Pizza.