This is a quick and easy recipe that makes for a really tasty weekend treat. These sweet (but not too sweet) sourdough blueberry muffins call for some of your daily sourdough starter discard to be mixed into the dough for added flavor. Because the recipe doesn't rely on leavening power from the starter (just the wonderful flavor), you can use sourdough discard from that day's refreshment, or you can use some from a jar you might have in the fridge holding discard over the course of the week (the "discard cache," as I like to call it).
Let's talk about muffins in general. I'm not a huge fan of overly sweet muffins. Growing up, my choice was always for the "healthy muffin" at the bakery, usually containing some mix of whole grains, dried fruit, and occasionally grated carrot. It felt like these muffins were a convenient way for the bakery to use up any leftover ingredients from other baked goods, then dubbed healthy on account of the whole grains in the mix. And I love them!
So keeping with my proclivity toward less sweet, these sourdough blueberry muffins with 30% whole grain spelt flour fit the bill. While they still lean sweet, they're not cloyingly so, and I'd say even a little hearty, given the whole grain flour in the mix. If you don't have whole-grain spelt flour, feel free to substitute it for any whole-grain flour in your pantry.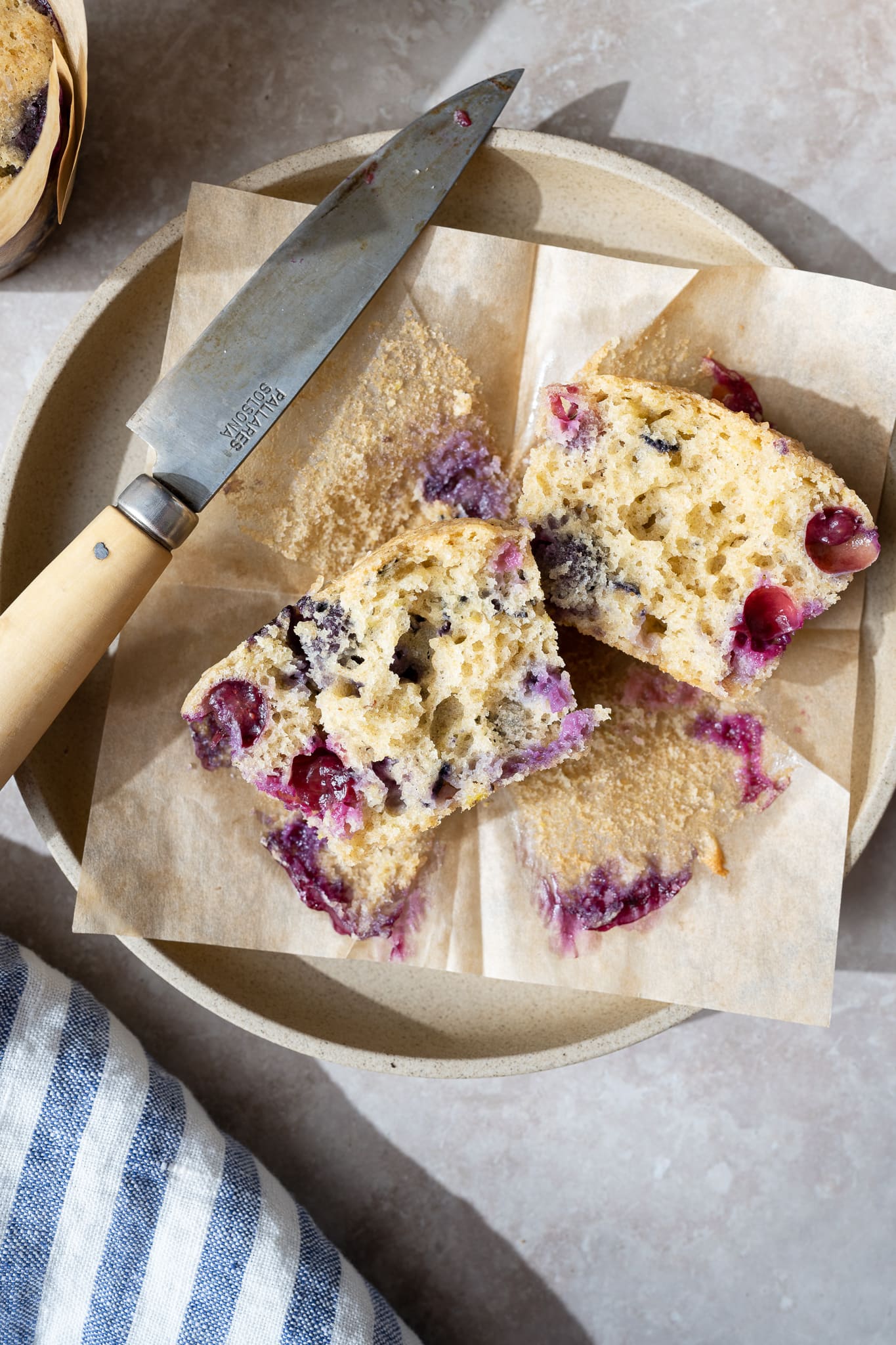 The flavor of these muffins is slightly tangy from the sourdough starter and sour cream, punctuated with a pop of natural sweetness each time you encounter a blueberry. I love the addition of whole-grain spelt which brings a wholesome, nutty flavor to these muffins. In terms of texture, these are incredibly tender with a distinctive crunch from the raw sugar topping.
Speaking of the sugar topping, don't skip this! The sugar sprinkled on the top of the batter before baking forms a sweet, crunchy layer on the top and helps add a textural counterpoint to the soft muffin base below.
What if I don't have fresh blueberries?
If you don't have any fresh blueberries in your refrigerator, that's ok! These sourdough blueberry muffins turn out exceptionally well using frozen blueberries from the freezer. If you go this route, be sure you skip defrosting and leave them frozen. Additionally, skip the step that calls for mashing some of the blueberries. Instead, fold the frozen blueberries into the batter after you toss them in flour, as indicated in the recipe.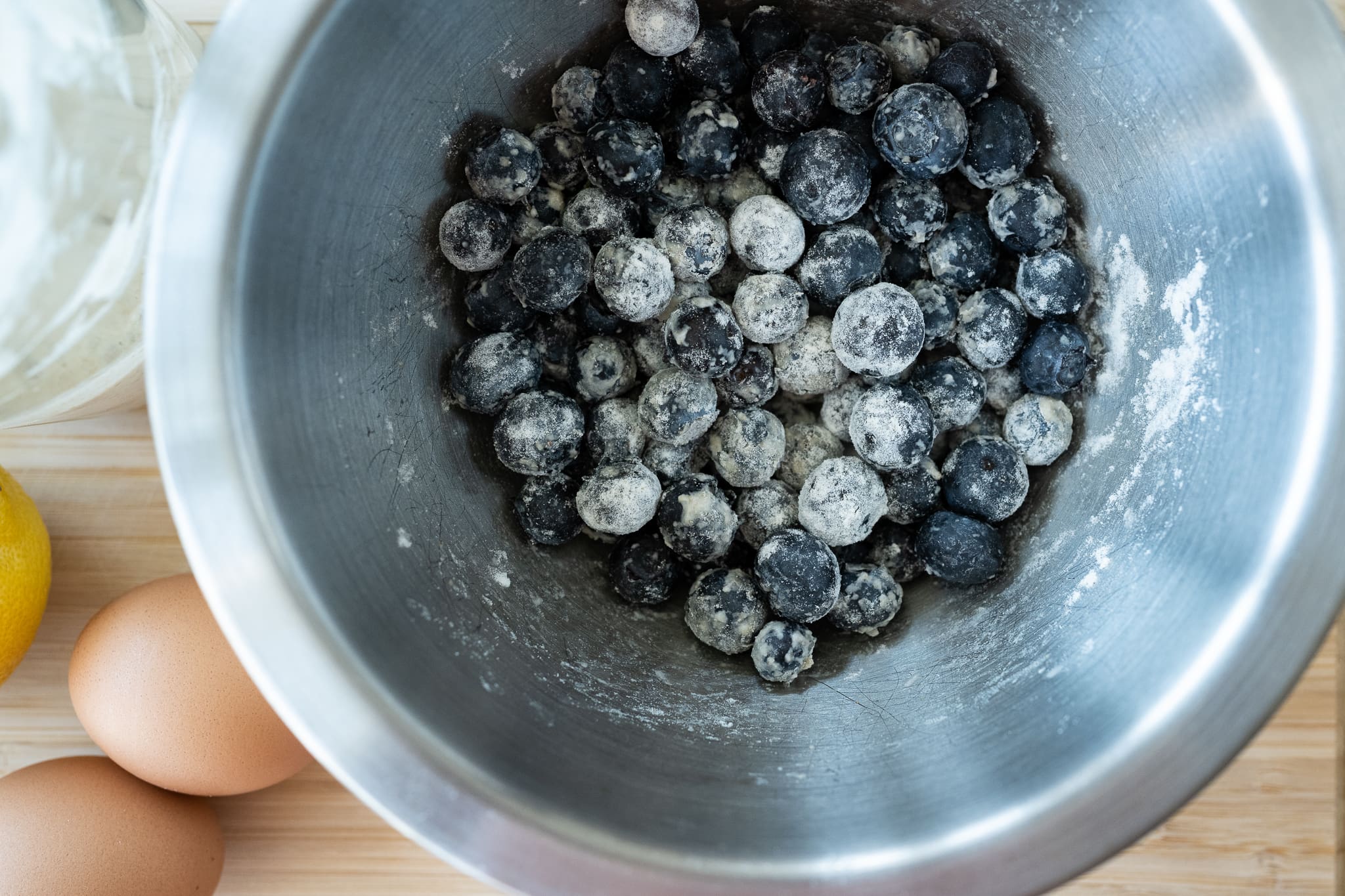 Tossing the blueberries—frozen or fresh—ensures they grip the batter and help suspend them throughout, preventing most of them from sinking to the bottom when the muffins are baking in the oven.
A note on baker's percentages vs. measuring by volume
You might notice this recipe has ingredients measured by weight instead of volume. I develop these recipes like sourdough bread recipes: using baker's percentages. This helps me adjust the ratio of fat to sugar to flour to liquid in a much easier and more precise way, but it's also just a habit here in my kitchen: my favorite kitchen scale is always on the counter and ready to be used! But perhaps more importantly, weighing ingredients is always a little more accurate. However, for ingredients included in small quantities, such as baking powder and baking soda, I measure by volume because they would require a kitchen scale with sub-gram precision, which not all bakers own.
Print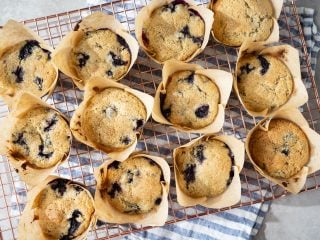 Sourdough Blueberry Muffins
Author:

Maurizio Leo

Prep Time:

30 minutes

Cook Time:

35 minutes

Total Time:

1 hour 5 minutes

Yield:

12 muffins

Cuisine:

American
---
Description
Super tender and delicious blueberry muffins made with discarded sourdough starter, part whole-grain flour, and a healthy measure of whole blueberries.
---
145g

all-purpose flour

65g

whole-grain spelt flour

1 teaspoon

baking powder (

4g

)

1/2 teaspoon

baking soda (

2g

)

1/2 teaspoon

salt (

3g

)

100g

butter, melted and slightly cooled (just shy of

one

stick)

150g

sugar

105g

egg (

2

large eggs)

1 teaspoon

vanilla extract (

4g

)

70g

ripe sourdough starter

52g

sour cream

270g

blueberries
zest of

one

lemon (optional)
turbinado sugar for topping (optional)
---
Instructions
Preheat the oven to 400F (200°C).
In a small bowl, weigh out the called for blueberries. In another small bowl, transfer about 50g of the blueberries and mash with a fork.
In a medium mixing bowl, measure out the called for flour. Remove about a tablespoon of this flour and add it to the bowl with whole blueberries, tossing the blueberries to evenly coat with the flour.
Add the salt, baking soda, and baking powder to the flour and whisk to combine.
In a large mixing bowl, add the melted and slightly cooled butter with the sugar. Stir to dissolve.
Add eggs to the butter and sugar, one at a time, mixing after each until incorporated. Add vanilla.
Measure out the sour cream into a measuring cup and combine it with the sourdough starter. Stir until smooth. Add this mixture to the butter/sugar and mix to combine.
Add the zest of one lemon (optional), the mashed blueberries, and the sourdough starter mixture to the butter/sugar and mix to combine.
Add the flour mixture to the butter/sugar, mixing just until no dry bits of flour remain. Fold in the floured blueberries.
Line a 12-cup muffin tin with muffin liners, and fill each well to the rim. Sprinkle coarse sugar over each well (optional).
Bake at 400°F (200°C) for 10 minutes then reduce the oven to 350°F (175°C) and bake for 25-30 minutes longer until the tops are slightly golden.
Remove muffins from the oven and cool for 5 minutes in the pan. Then remove them to a wire rack. Store loosely covered on the counter.
---
Notes
Sour cream can be substituted with full-fat yogurt.
Whole grain spelt can be substituted with whole wheat flour.
You can use frozen blueberries in place of all, or some, of the fresh blueberries, but use them frozen straight from the freezer (don't thaw). If using frozen, don't mash a portion as called for in the recipe. Instead, toss them with some flour and fold them into the batter as directed.
What's next?
After making these sourdough blueberry muffins, if you're looking for more sourdough starter discard recipes, check these out: